Although I have a pretty good idea who they are, I can only rely on my knowledge and that of some of my associates to successfully identify who might be considered to be a racing pioneer in Vermont. A few things to explain: 1.) I am largely restricting this to stock car racing [unless in other forms of racing brought the person in question to stock cars]; 2.) being a Vermont racing pioneers does not guarantee the person is a native of - or resident in - Vermont; and 3.) even though most of these people are from the 1950's in general, some are from earlier and later times.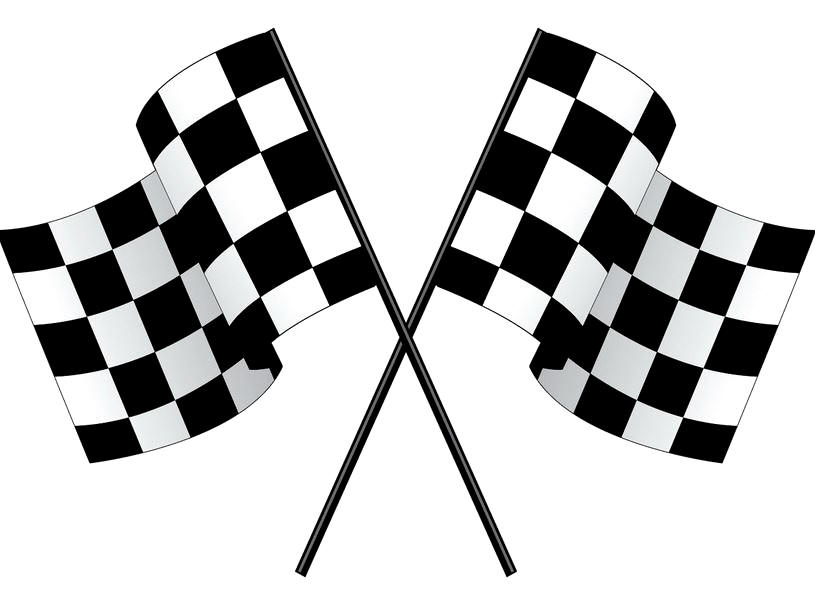 ARMAND LAQUERRE
East Montpelier, VT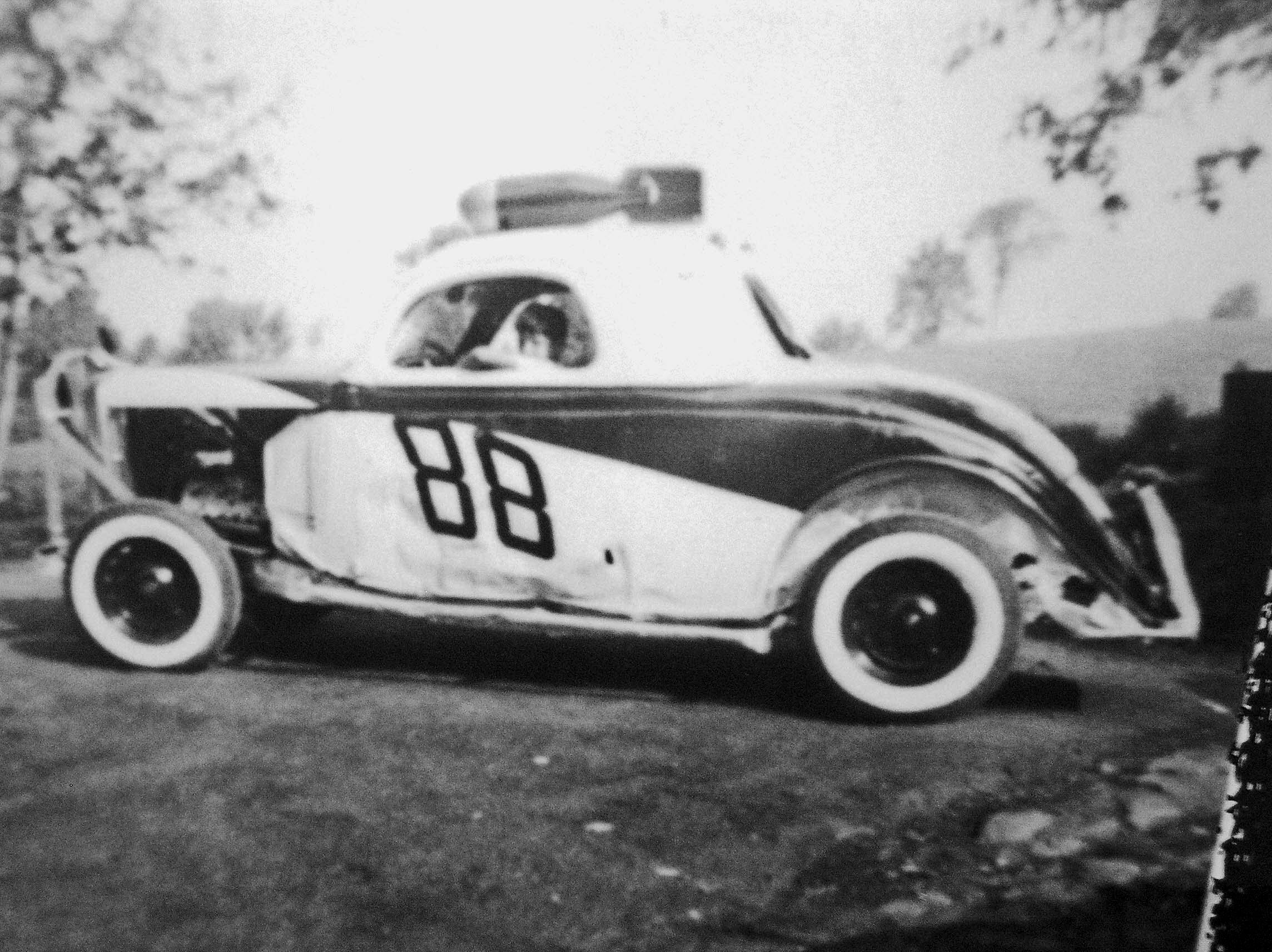 Courtesy of the LaQuerre Family
Armand's Rocket 88 car [possibly that is Joey LaQuerre in the car here ]. The car most likely would have competed at the hometown East Montpelier
track, as well as at early venues like Morrisville, Concord, and even as far away as the Ge - Jo - Clin Speedway in Boltonville.
People around today are oftentimes very familiar with the name LaQuerre, but mostly because of Joey LaQuerre, Sr. - long - time driver and recent race track promoter. The racing LaQuerre family, some four generations strong, was begun - however - by Armand, Joey's father. I am not sure is Armand raced much, himself, but his Rocket 88 car of the late '40's and early '50's was well known.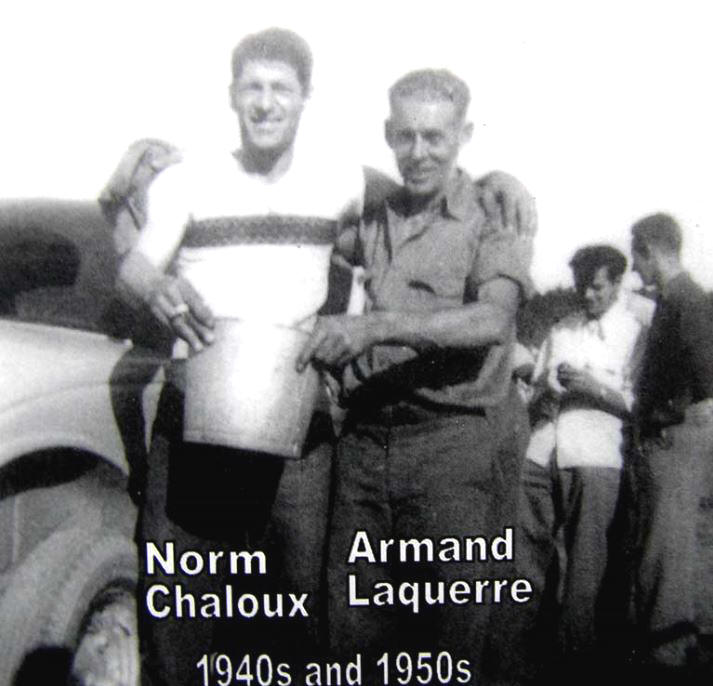 Courtesy of Neal Davis
Armand is seen here with Barre's familiar Norm Chaloux, a muscular granite cutter who made a legendary career driving cars
for other people. He apparently was driving for Armand at the time.
That car number became widely used in the '50's, between the Oldsmobile motor and America's interest in rockets. Leo Nadeau. who ace in southern Vermont, as well as neighboring New York and New Hampshire tracks, was another who used that number designation. Joey LaQuerre, Sr. would start with car ownership [The Hawaii 5 - 0 car] before a highly - successful career in mini stocks, New Tigers, and late models.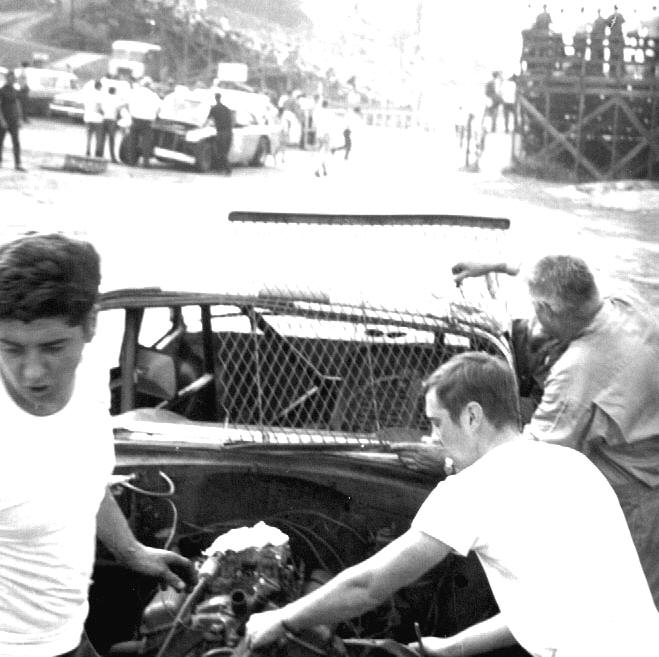 Courtesy of Cho Lee
Joey LaQuerre is seen working on his Hawaii 5-0 car for driver Johnny Gammell. Joey was a huge influence in the mini stock division
and he ran extensively in the New Tigers before a very successful career in the ACT late models. He could arguably be considered
a pioneer by himself.
Joey's sons [and a grandson] also raced - some of Armand's great grandsons.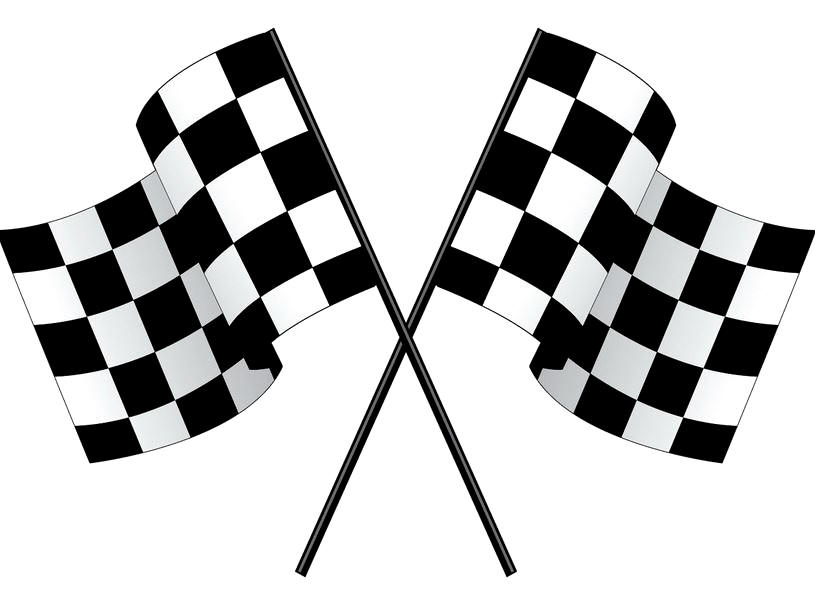 JACKY "SPEED" PETERSON
South Burlington, VT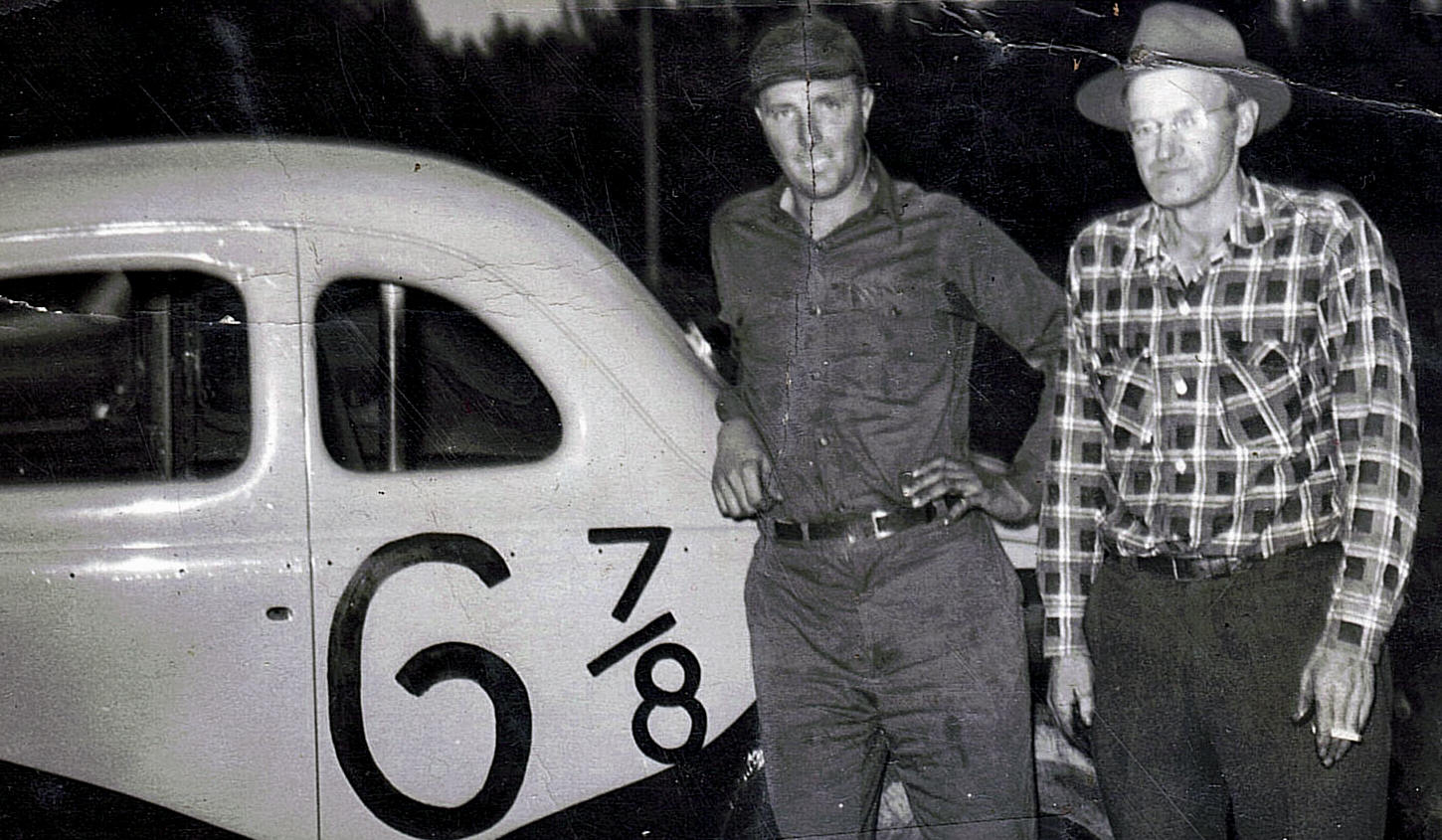 Courtesy of The Peterson Collection
Jacky Peterson [left] is seen here with George Palmetier, a prominent New York stock car owner. Peterson
drove for a number of stock car owners from 1949 to around 1962.
It is a pretty involved story as to how a boy who was deaf from the age of eight became one of the most successful race car drivers of the northern Northeast in the 1950's. The son of a Diamond T truck dealer from South Burlington, Jacky Peterson got mixed up with machinery early, working around the family truck dealership. At a young age, he had a homemade sprint car, which he would tune by "feeling of the engine".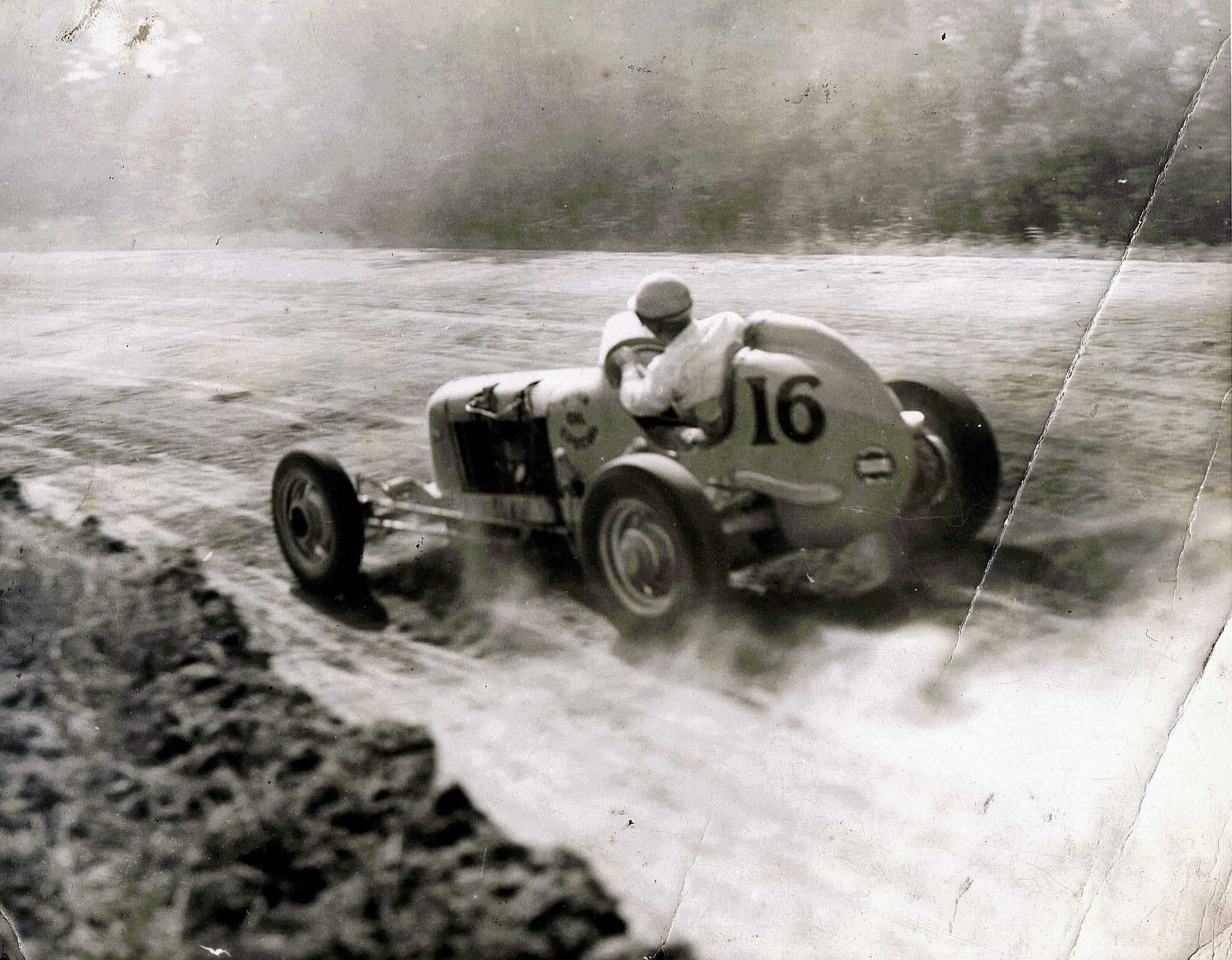 Williamson Photo Courtesy of the Peteson Collection
Jacky Peterson wheels his sprint car around Green Mountain Speedway in Sheldon, VT.
Peterson would race the car at local tracks in Ticonderoga, NY, Sheldon, VT, and would even on take on legends like Tommy Hinnerschitz when the big boys raced at local fairs. He soon realized he would get farther with the burgeoning new stock car racing, and he switched over. While he did race a bit in the 1960's, he Peterson name was made in the 1950's, at tracks ranging from southern Quebec, to Plattsburhg, NY, to the fuive tracks in Chittenden County Vermont and up into the northern reaches of Vermont.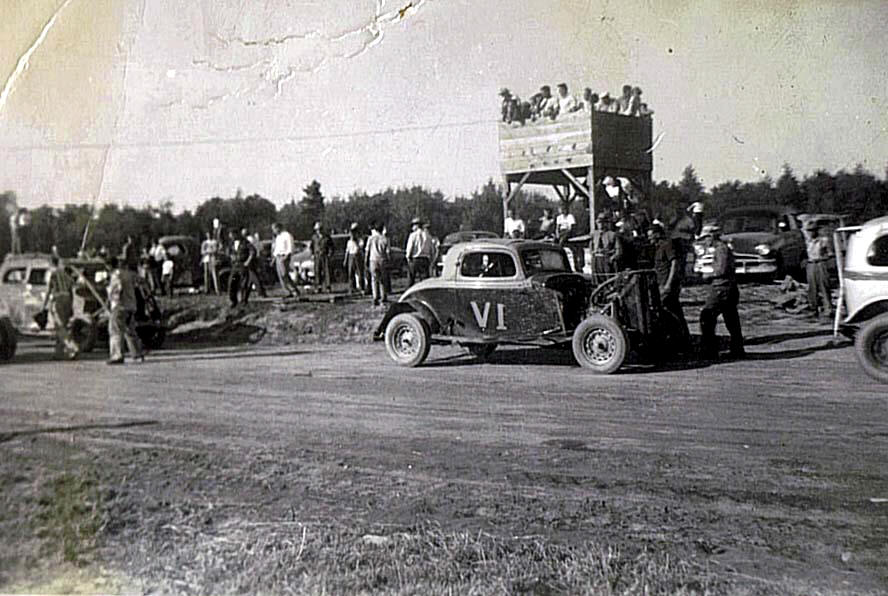 Courtesy of the Peteson Collection
Jacky says this was his first stock car, and he has changed its number from 24 to his familiar V1. This is again at Sheldon.
As of early 2018, Jacky was still soldiering along at the age of 95. He attends the legends' night at Airborne Speedway yearly. He is a 1950 Vermont State Champion, a track champion at NY's Fort Covington Speedway, he won dozens of races, and is undoubtedly one of the most interesting characters I have met.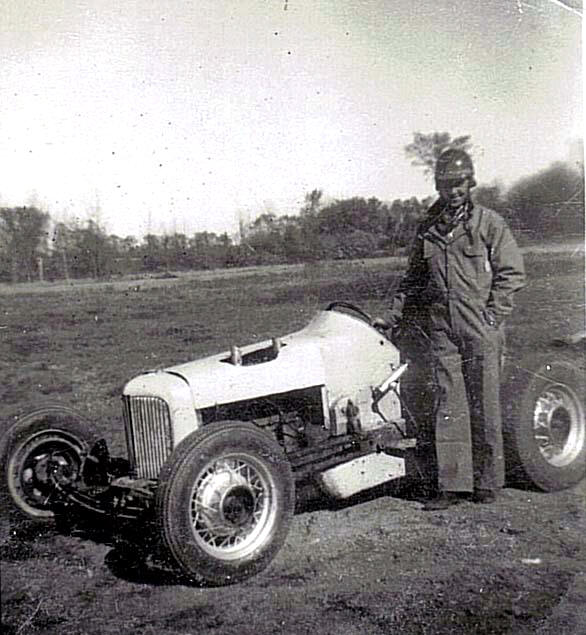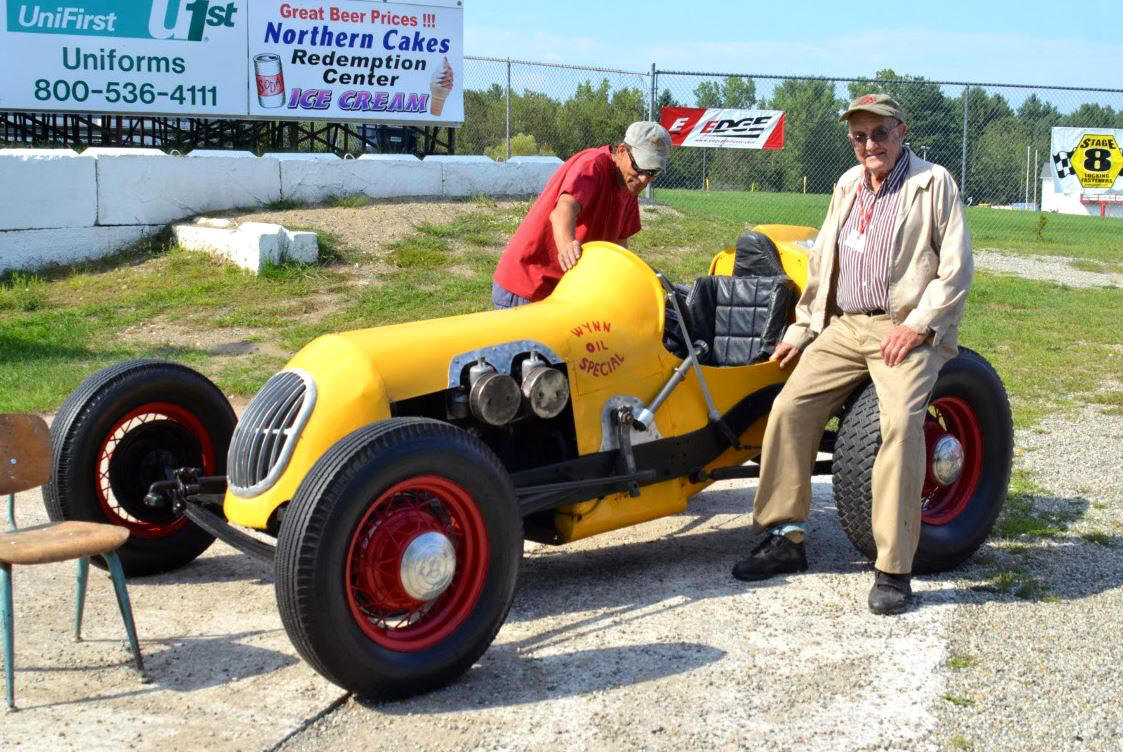 Peterson Collection [left] and Steve McKnight Photo [right]
Contrast Jacky with a sprinter at Ticonderoga's Champlain Speedway in 1949 with him with a replica car he helped build
at age 91, at a legends' night at Airborne Speedway around 2015.
Two Pioneers in the Same Photo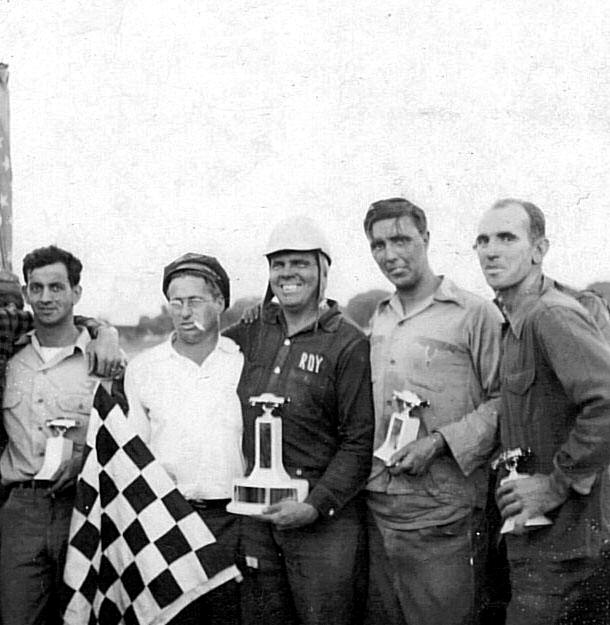 Frank Hart Collection via Arnie Hill
This rare [and sadly cropped off] photo shows Jacky 2nd from right] next to our next pioneer, Pappy Forsyth at Malletts Bay Raceway
in Colchester, VT. Far left is Frank Hart, owner of the photo with a flagger named Henry LeClaire. Driver Ernie Barcomb is at right. The trophy
Forsyth is holding was displayed at the Vermont Historical Society in Barre in 2018 along with other items from George Barber, another pioneer
and car owner for Forsyth in the latter part of the Forsyth career.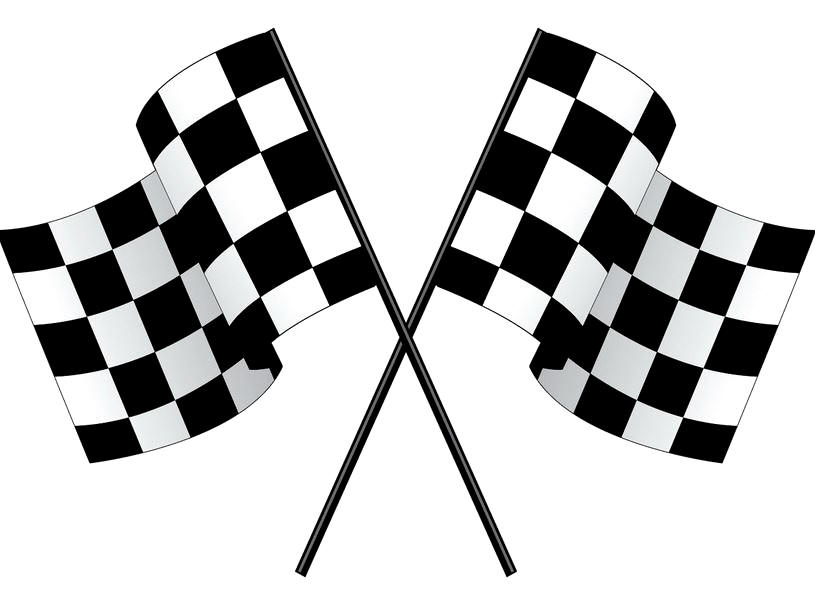 ROY "PAPPY" FORSYTH
Keene, NH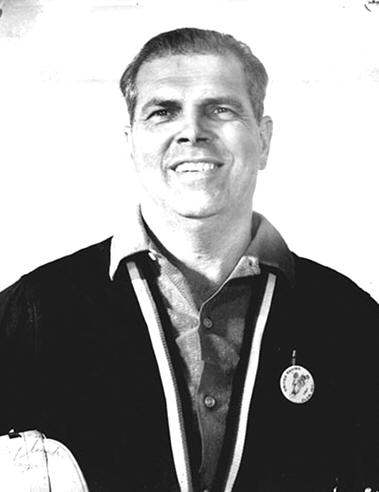 Norman McIver Portrait Photo via Cho Lee
By the time of this Thunder Road Road, Pappy Forsyth was near the end of his career. Still highly succeussful, he went on on top.
A Keene, NH native, Roy Forsyth was already a top runner when he won the first ever feature at Pico Raceway in 1951.
At that time, Forsyth cars were red and white or blue and white #80's- and he probably owned them himself. He was running that talent - laden circuit of tracks that included Safford Park [Cheshire Fairgrounds], Keene, NH; Brattleboro Speedway, West Brattleboro, VT; Rhythm Inn Speedway, Millers Falls, MA; and - later - Claremont Speedway, Claremont, NH.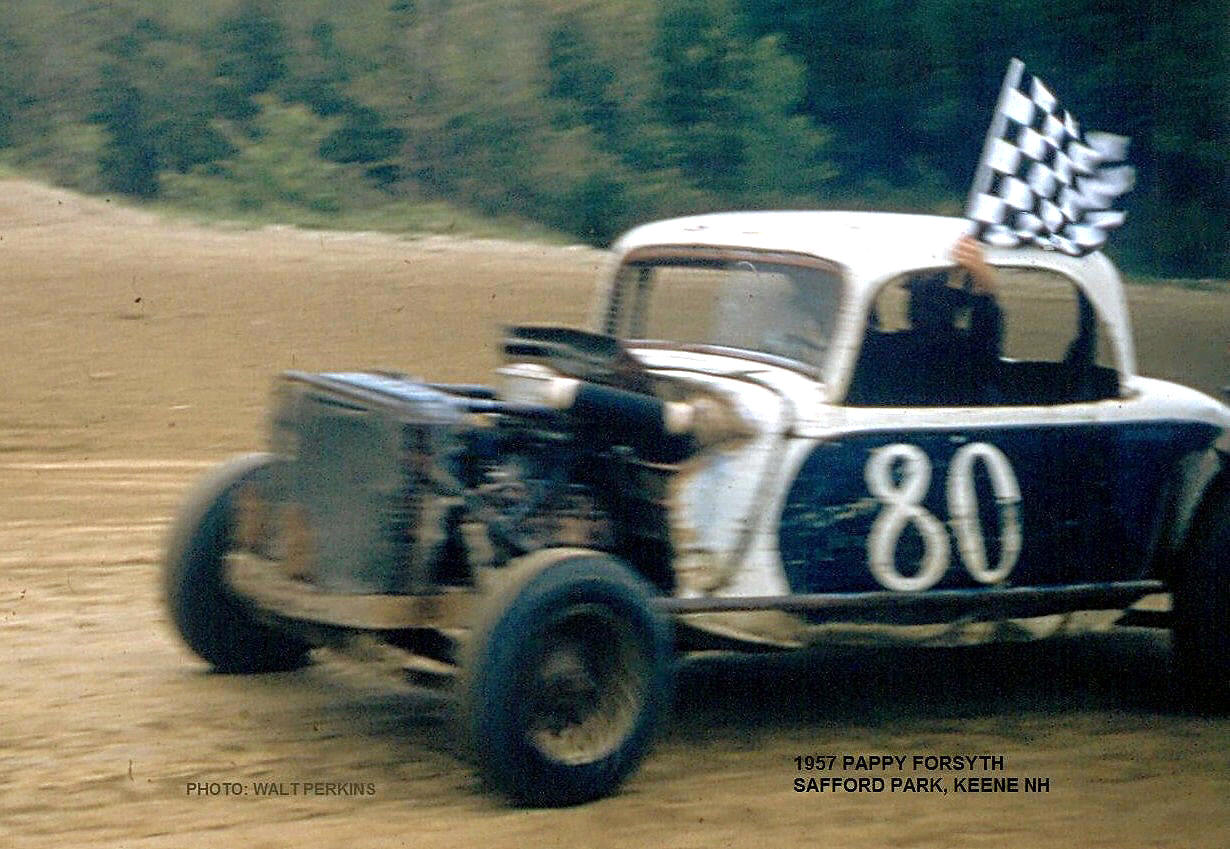 Walt Perkins Photo via Walt Perkins
A typical Forsyth 80 - at Safford Park, Keene - around 1957. He wasn't Pappy yet. He may have already begun driving some for Barber by now, as well.
The Forsyth career really took off around 1952 when he replaced Stub Piper in George Barber's potent #46 coupe out of Bradford, VT. They took the battered, ugly little '32 Ford all over the Northeast, beating most comers. Legend has it that Forsyth beat all the NASCAR stars at Stafford Springs with the battered coupe and was told not to come back until it looked better. When Barber settled in at the new Thunder Road Speedbowl in Barre, VT in 1960, he spruced up the image, building a new #46 and later, a sister #47. Forsyth and Barber would be dominant in the early years of the track.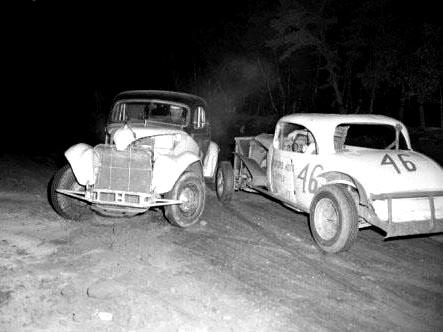 Walt Perkins Photo via Walt Perkins
Timelines, like memories get blurred over time. In this shot [supposedly 1953] Forsyth turns future NASCAR
National Sportsman Champion Rene Charland at Rhythm Inn Speedway. He must have been going back and forth
between his car and Barber's as he is seen above in his car in 1957.
Forsyth, like Steve Danish, was a bit older than many of his competitors and served as a role model. In the early 1950's, he served as president of the Monadnock Stock Car Racing Association, that operated at the early tracks mentioned above. He retired around 1963 or 64, leaving the team to team mate Leland Ingerson and future 46 drivers like Larry Granger and Junior Coffin. Barber would go on to found Bear Ridge Speedway in 1968 as a haven for flat head race cars.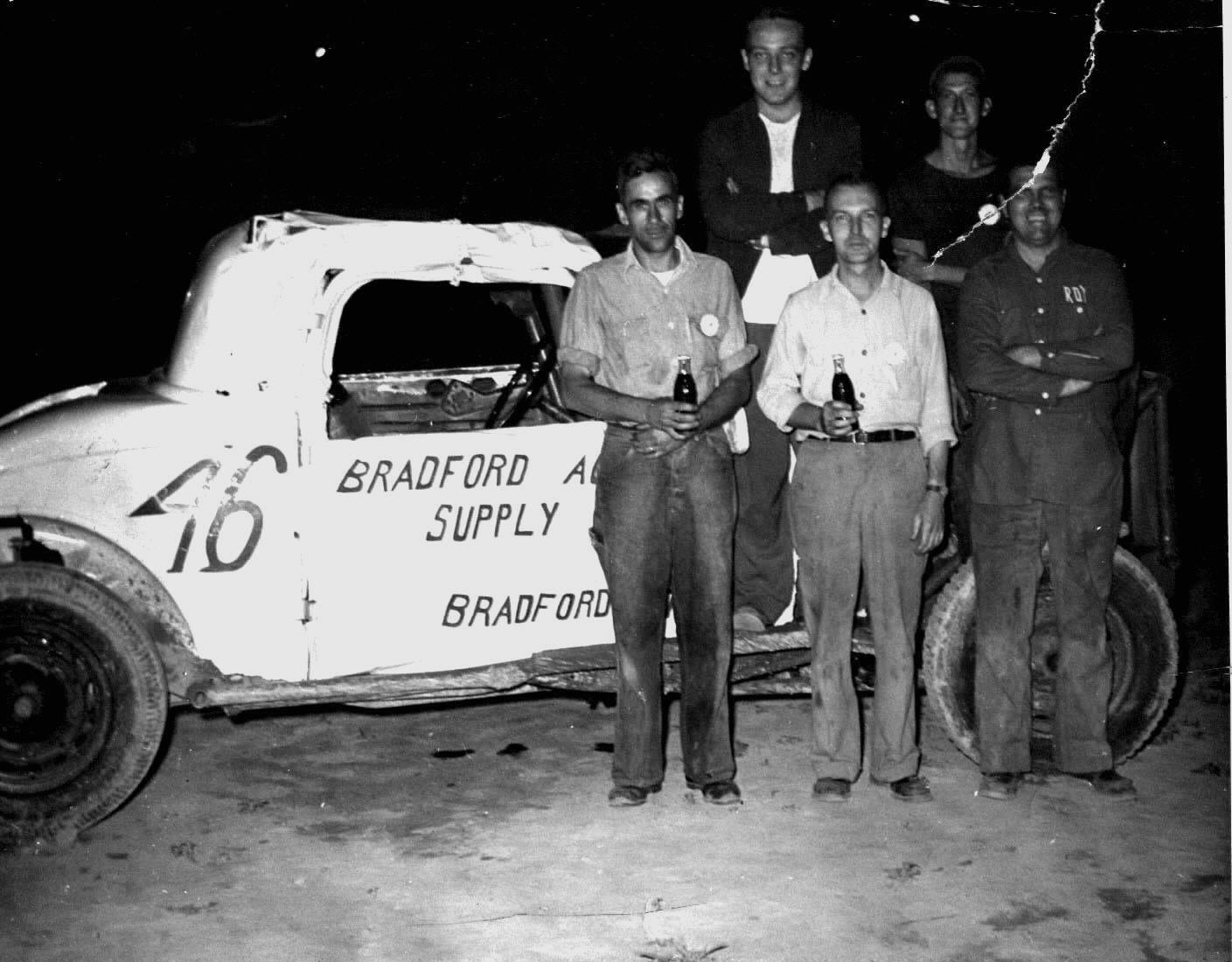 Bob Doyle Photo via Cho Lee
Forsyth [rt] and Barber [ctr] shyly enjoying the big spotlight at Stafford Springs before being told to take their cutdown coupe and don't come back.
Forsyth may be the only one of our pioneers to earn that status in two entirely separate parts of Vermont - the extreme southern area and central Vermont - in separate decades. He was truly accomplished and remarkable.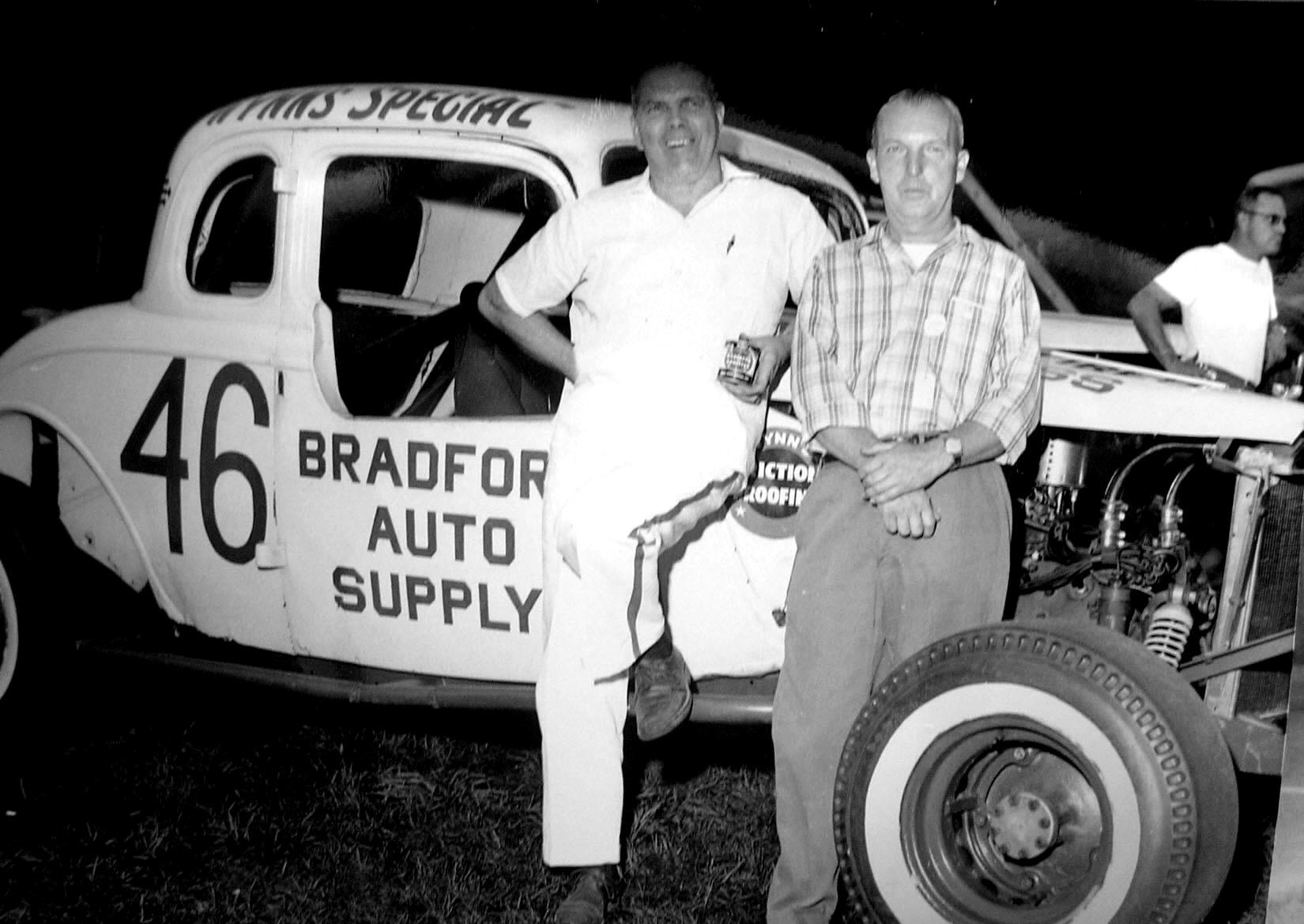 Bob Doyle Photo via Cho Lee
Forsyth and George Barber with a more presentable 46.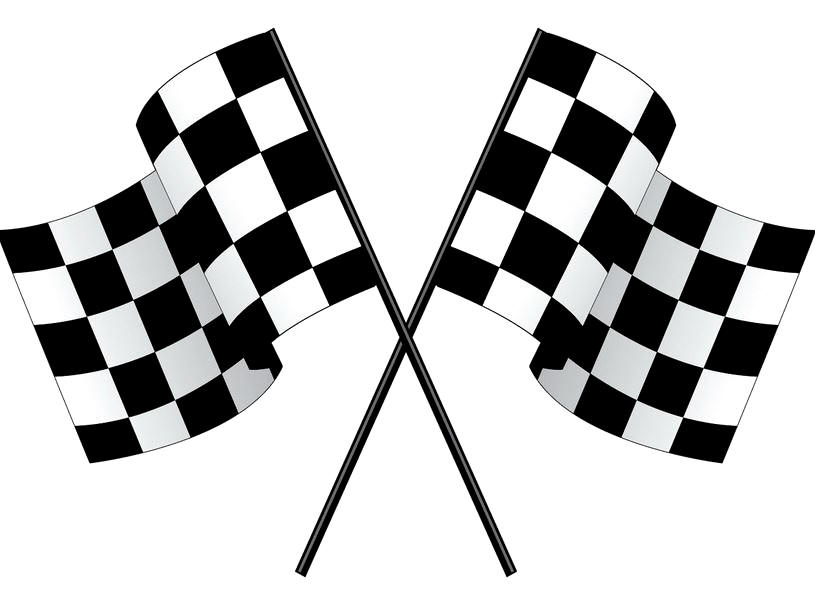 GEORGE BARBER
Bradford, VT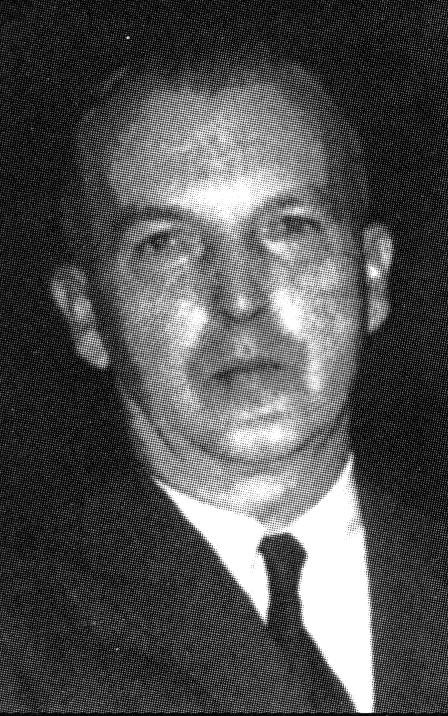 NEAR Photo Collection via Cho Lee
George Barber, ground breaking car owner and founder of Bear Ridge Speedway - racing involvement spanning early '50's to the '70's.

Forsyth might have still been a racing pioneer without our next man but he certainly would not have had as much influence on as much of Vermont without George Barber, an auto parts supplier from the small Connecticut River valley town of Bradford, VT. Barber seemed to come steaming out of nowhere in the 1950's with a cream - colored three window Ford coupe numbered 46 and first driven by local trucker Stub Piper. I am not sure how much Barber ran at the ultra - rough bullrings in his region; but, he soon was invading tracks from Claremont, NH - to Brattleboro, VT - to North Bennington, VT and Stafford Springs, CT.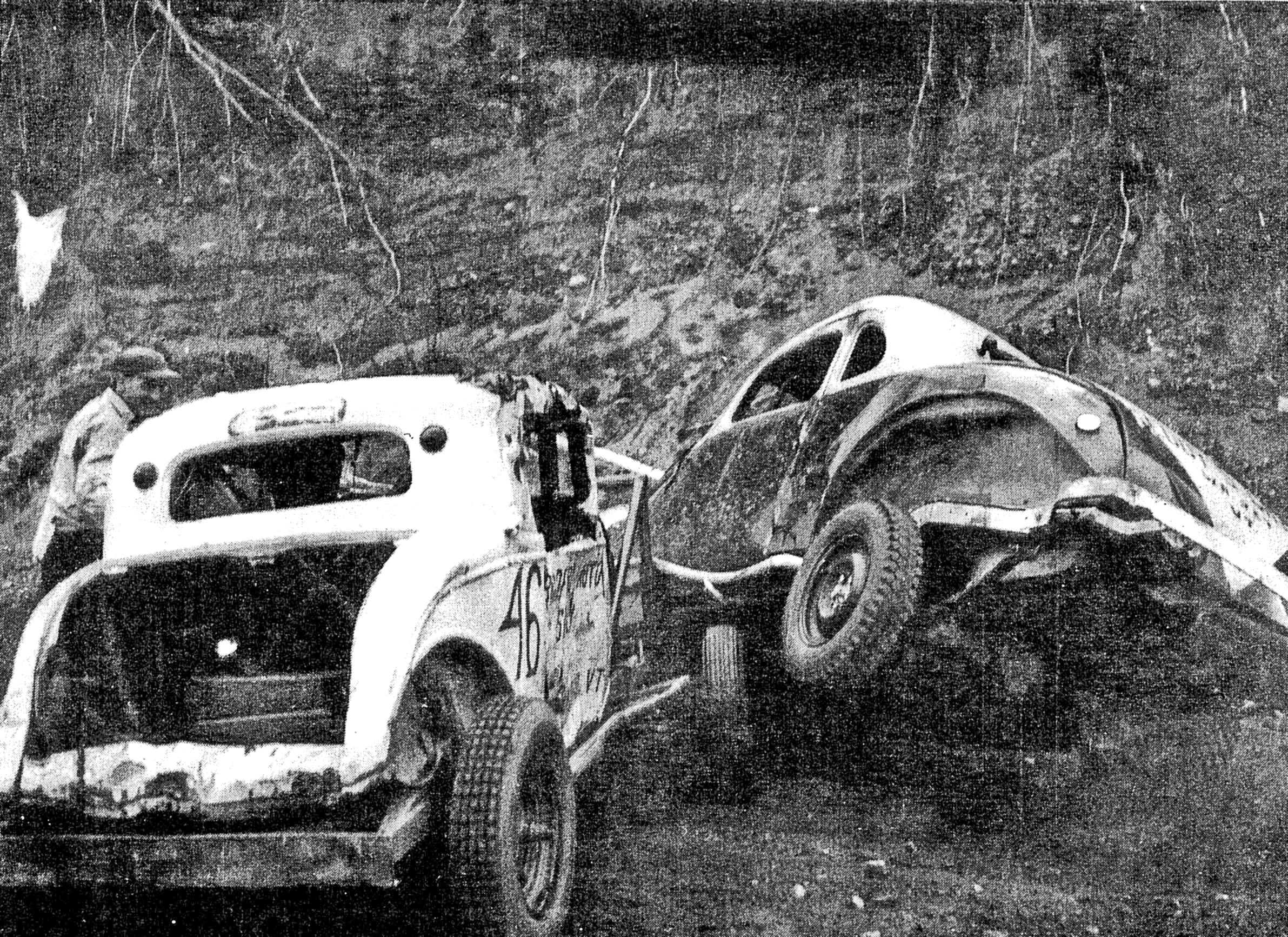 Courtesy of TheMarty Harty Collection via George Hill
The ragtag Barber 46, then driven by Piper, in trouble at Claremont Speedway.
Somewhere early on, it is said that Piper's wife put an end to his driving and Barber made the positive and fateful decision to take on an already - successful Keene, NH driver named Roy Forsyth. The little coupe was a ratty - looking but fast cutdown and the team won almost everywhere they went;, but it said they wore out their welcome at many of the tracks because of the advantage that lightweight rocket had. Fortunately, around that time, tracks Northeastern Speedway [Lower Waterford, VT] and Barre, VT's Thunder Road opened repsectively in 1959 and 1960.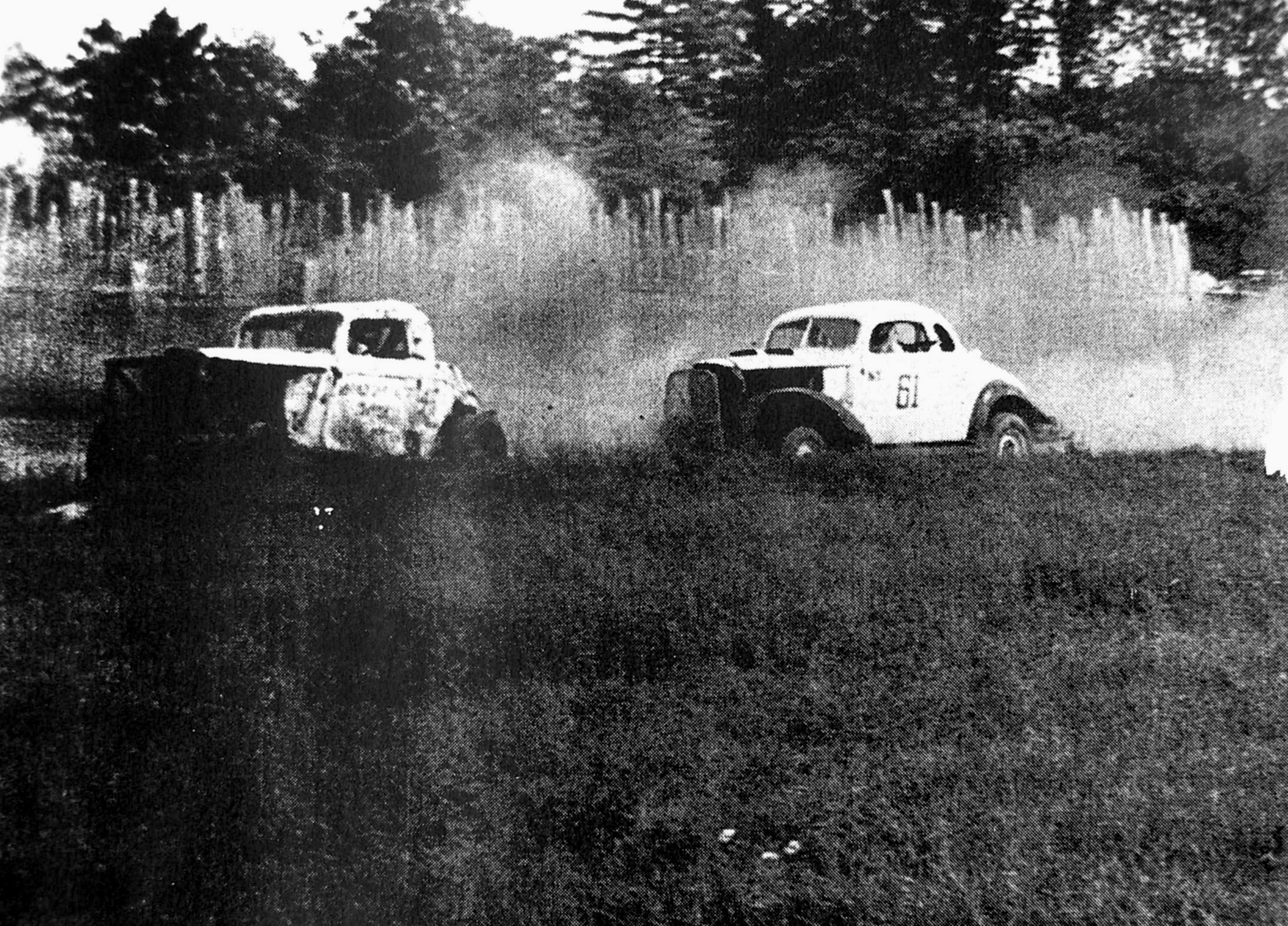 Courtesy of The Danish Collection
The great Steve Danish, another pioneer, finds catching the Barber car a little harder than most at Stateline Speedway near Bennington.
Barber became particularly good at Thunder Road and were so dominant with their new 46 that George built a team car, the #47 for Leland Ingerson. Forsyth, being enough older to gain the nickname "Pappy", would retire before Thunder Road went NASCAR and eliminated the flathead - powered, pre 1936 coupes at the end of 1965. By then, he would have used Forsyth, Ingerson, Larry Granger, and Ray "Junior" Coffin as drivers.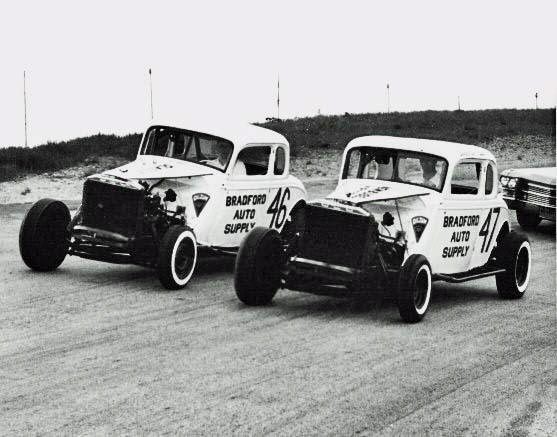 Courtesy of The Barber Collection via Cho Lee
The Barber team, at its height at Thunder Road. Forsyth [left] and Lee Ingerson.
After 1965, Barber and his flat heads, along with dozens of other teams, had no place to race. Northeastern had died out, Catamount Stadium, Thunder Road, Fairmont Speedway, and other venues did not allow the pre - 1936 cars any more for one reason or another. So, Barber took land on a mountain in his home town of Bradford and constructed a rustic, basic fifth - mile dirt track which he dubbed as Bear Ridge after the fact that - more than once - bears were seen shuffling off as the men came to work for the day. The track would be a haven for the flat heads and teams came from all over the Northeast to run there.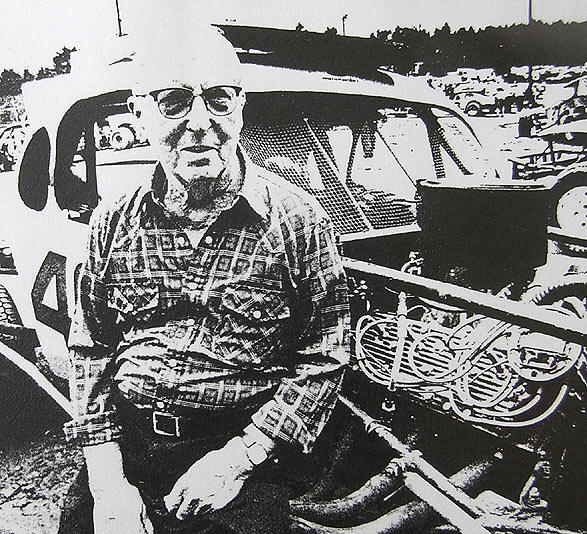 Courtesy of The Bob Doyle Collection via Cho Lee
George Barber at his Bear Ridge track with his last flat head coupe.
George left an indelible mark on Vermont racing that still carries on today, as at least one of his cars [the 46] remains around and the Elms family continues to run Bear Ridge.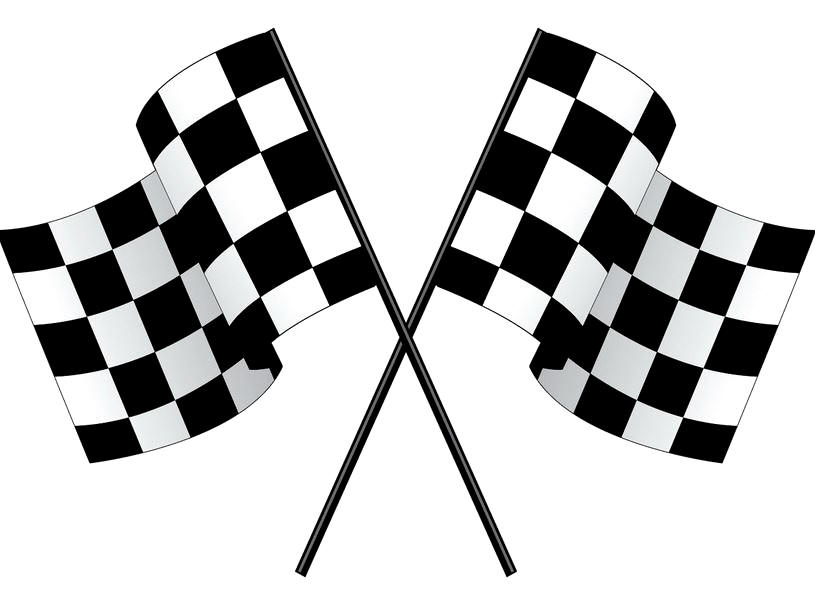 STEVE DANISH
Cropseyville, NY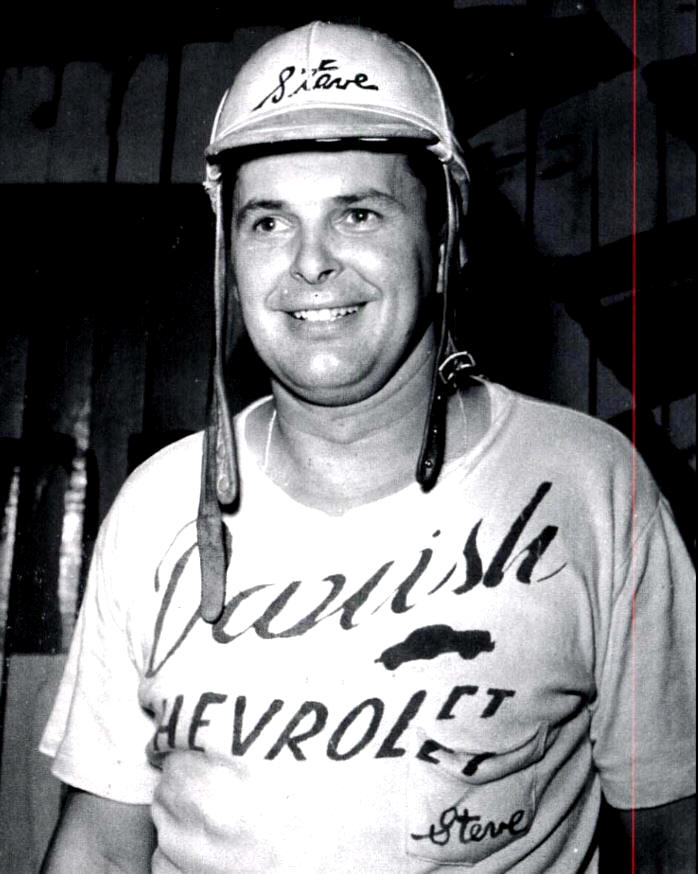 Courtesy of Phil Miller [Danish son - in - law]
Steve Danish was the consummate professional - looking racer, always having team - related clothing on.
One of the first racing names that I was ever familiar with was that of Steve Danish. He would race at the local Pico Raceway and Fairmont Park Motor Speedway tracks. Little did I know then, at age 5, that I would grow up to know both of his children and actually get to take an airplane ride with the man himself. As those two tracks closed and Fonda Speedway opened, I no longer saw Danish run until the early 1960's, when we would go to Fonda; but the stories about him filtered back anyway.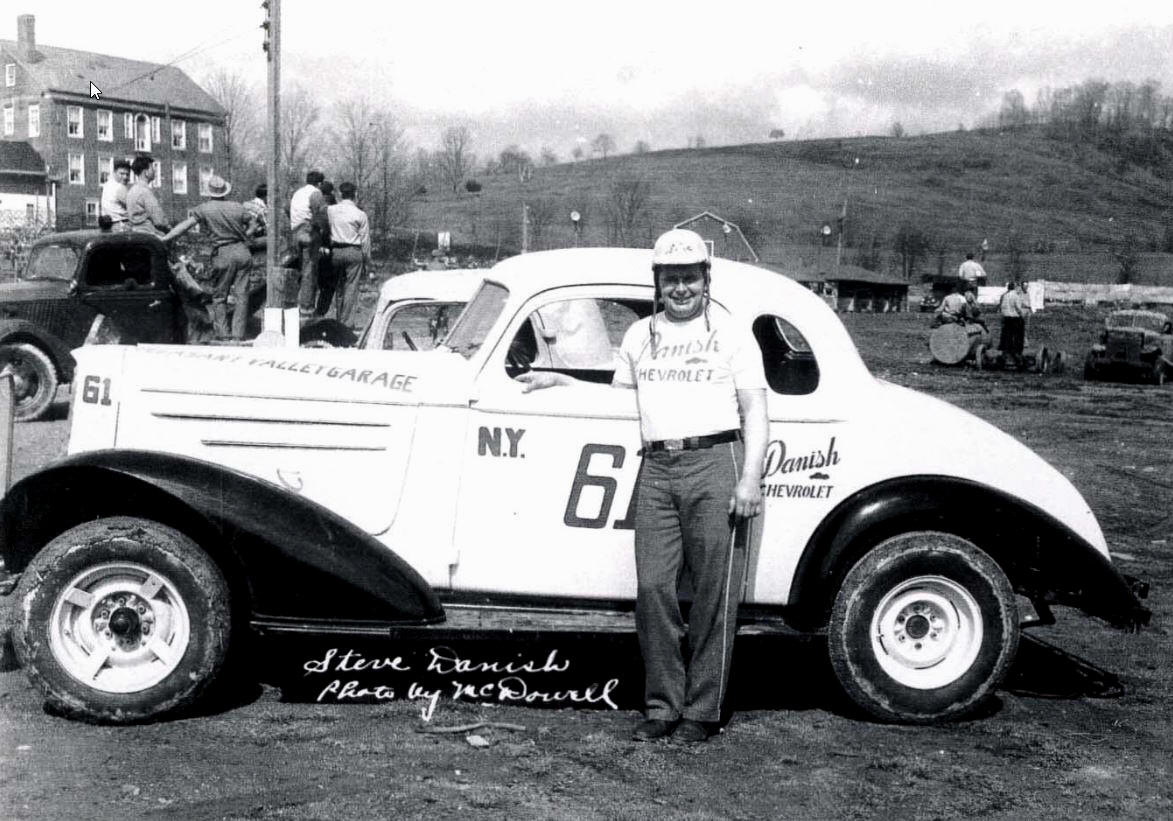 Bob McDowell Photo Ladabouche Collection
Steve Danish poses with an earlier car at Stateline Speedway near Bennington, VT.
Many people from that time and from the central New York racing community simply refer to Steve as "Mr. Danish". Fussy and detail - oriented, the Danish car was flawless in appearance every week; Steve was one of the first to have a uniformed crew; he started many innovations such as a six cylinder motor that competed on an even field with the 327's at Fonda; and he was one of the racers to set a standard on how to handle a sponsor.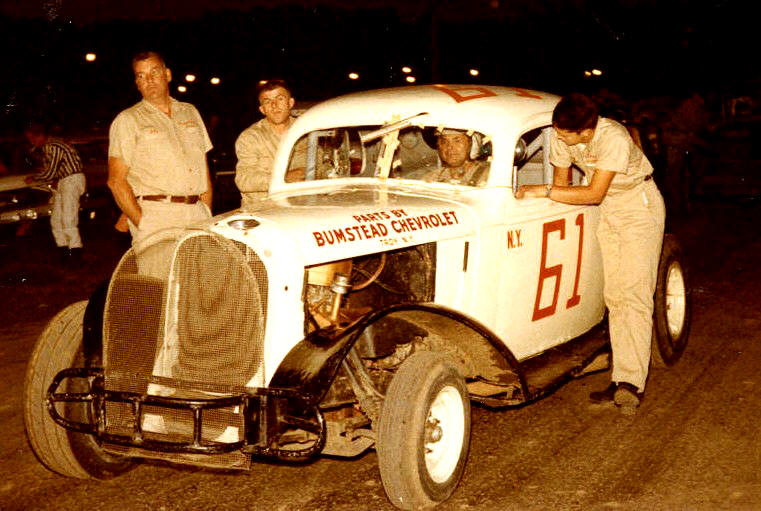 Danish Family Photo
Classic Danish photo: completely uniformed crew and son, John fixing up the saran wrap on the windshield.
Steve pioneered tear - offs before there were such things. The hand - operated wiper would pull it off.
We seldom saw Steve in Vermont after 1953, but his example and his legacy were guiding lights for those who came after him here. He did come and win an extra distance race at Fairmont around 1965, arguably the last conventional feature in his long career. He had, like Roy Forsyth, had begin racing already older than most of his rivals. Such was his influence that many prominent drivers, such as C.D. Coville, would run a #61 in tribute.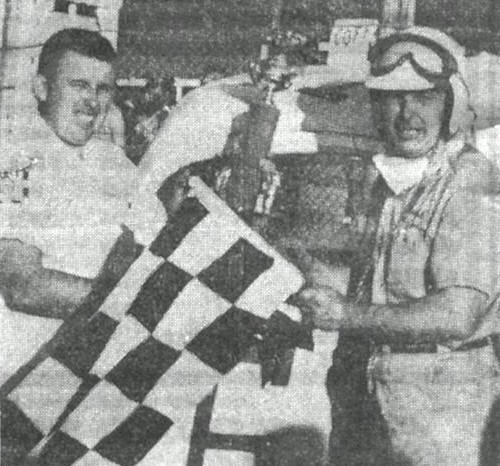 Bob Frazier Photo Rutland Herald Ladabouche Collection
Danish with C.J. Richards, after winning the 100 lapper at Fairmont Speedway in 1965. The six cylinder
motor proved valuable as Guy Chartrand ran out of gas with only a few laps left, handing it to Steve.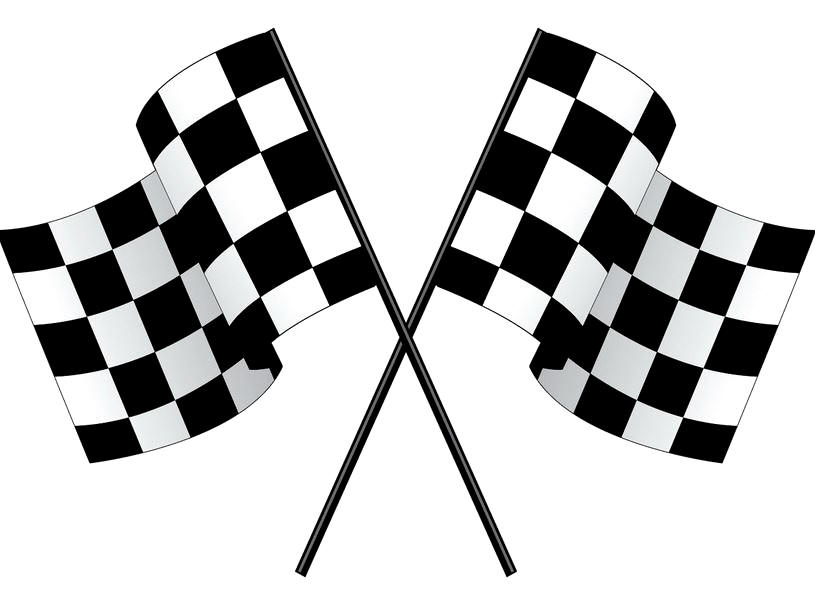 KEN SQUIER
Stowe, VT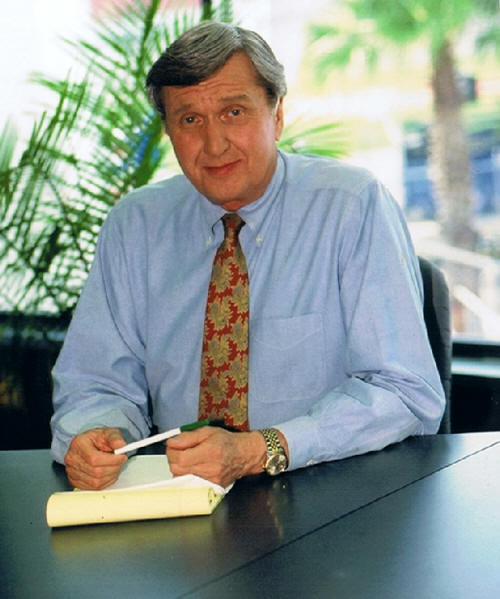 Source Unknown
Ken Squier, in a rare moment when he is sitting still.
Unlike most of our Vermont racing pioneers, Ken Squier is recognizable nationally, having done race broadcasts [including the first fully - covered Daytona 500] for years. The son of a Vermont radio pioneer, a teenaged Ken Squier would mount his bicycle and pedal off to announce races anywhere they would let him after a local promoter, Howard Connelly handed over the mike to him at some loosely organized races in nearby Morrisville around 1950. Ken was soon not satisfied by the local bullrings and would manage to venture as far away as Keene, NH by the time he was in his late teens or very early twenties.

Source Unknown
A very young Ken Squier looks on the background as a woman at Safford Park, Cheshire Fairgrounds Keene, NH is given some
sort of reward. This is 1956. How old could he have been ? How long did it take him to get there in that era of no interstates ?
Again, Ken did not stay satisfied for long just doing announcing at such widespread places as Safford Park, Cheshire Fairgrounds, Keene; Colchester Raceway, Colchester, VT; or Northeastern Speedway in Lower Waterford, VT. Fellow pioneer C.J. told the story of being pressed into service to drive the race car he and his friends had built at Malletts Bay Raceway, Colchester when his friend chickened out. Richards went to a young Ken Squier and bought a helmet from a little business the latter had going on the side.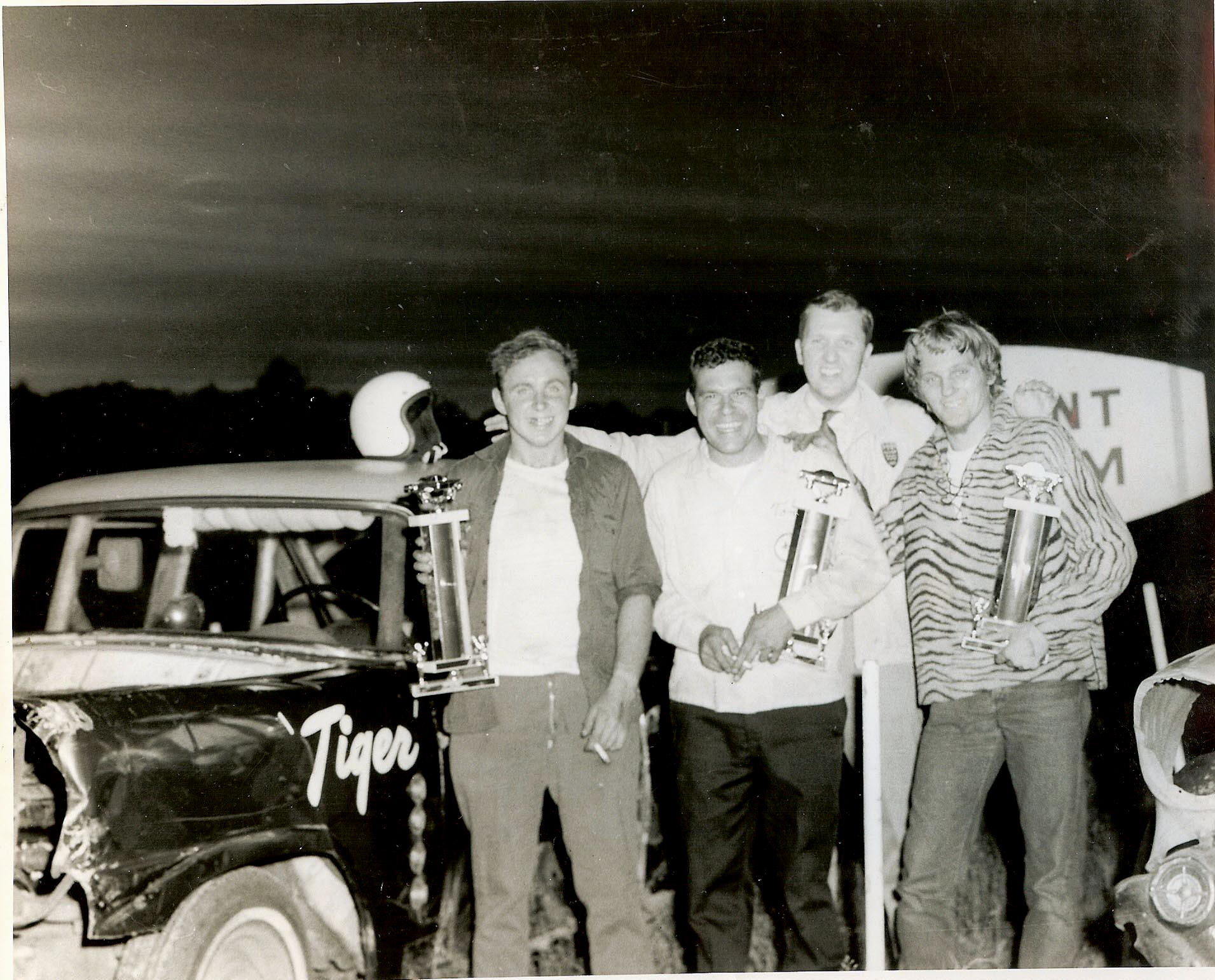 Courtesy of Melanie Mattison Anukem
Ken Squier with some of his rough and tumble Flying Tiger drivers, whom he depended upon
to make his track's transition away from the famed modifieds to late models. From left -
Larry Demar, Tom Tiller, and Lennie "Tiger" Stockwell.
By 1959, as most of the early '50's tracks had died out, a consortium of workers at the Ralston Purina plant in St. Johnsbury had gotten together and planned out a fifth mile, banked race track in Lower Waterford, mere minutes from St. J. Ken would be announcing there; but, so impressed was he with the high degree of organization of the United Racing Club of Vermont, he began planning his own track almost immediately. Ken points out that Thunder Road International Speedbowl [built into a natural bowl in the hills near Barre, VT's granite quarries] was designed for midget cars to race on. He points out that they were too fast there to be safe and the local flat head coupes were brought in instead.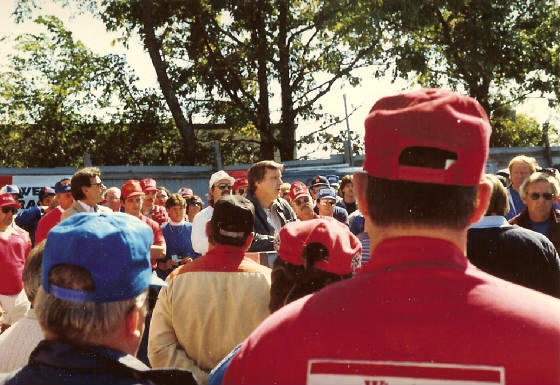 Courtesy of Mike Cain
Ken Squier [center] and Tom Curley [above guy in blue hat] conduct Catamount's final pit meeting in 1987. Catamount fell by the wayside
but Thunder Road and the American - Canadian Tour went on to prosper for years.
T Road was [and is] a success, with Squier going on to also be co - owner in Catamount Stadium in 1965. While he was using his gig at CBS Sports to further the sport of racing nationally, his tracks prospered in Vermont, the coupes being replaced by late models by 1968. With strong partnership from Tom Curley, the racing grew from a weekly event to the very powerful touring series that still exists, in similar form, today. Although Catamount would close by 1978, Squier and Curley held onto T Road until 2017. Today, Ken is still a prominent figure in stock car racing.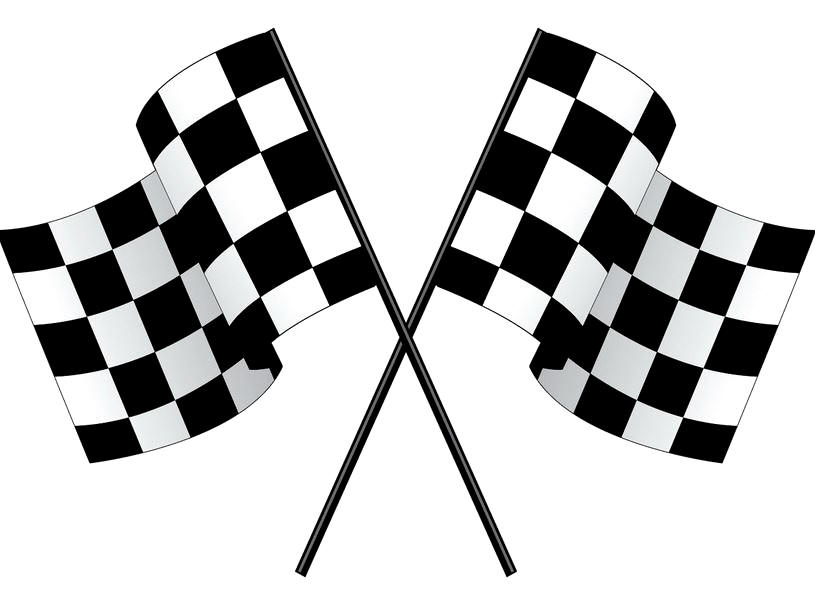 CHARLES "C. J." RICHARDS
Fair Haven, VT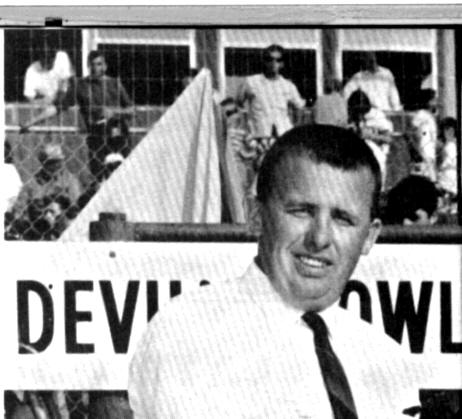 Courtesy of Mike Cain
Chuck "C.J." Richards began a little later than some of the other pioneers but his effect on Vermont racing in undeniable.
A young Charles Richards was brought to the local Fairmont Park Motor Speedway by his farmer father in 1949 to see some of that new car racing. The venue had been around forever, once sporting nice covered stands and lots of stable and paddock area. Now, it would only run about a year and a half and close, leaving the county virtually without racing. After a brief flirtation with racing himself, Richards would spend those hours on the farm plotting to get involved in the sport. In 1962, he would re - open the track, simply call it Fairmont Speedway, and off went a promotional career that would last for decades.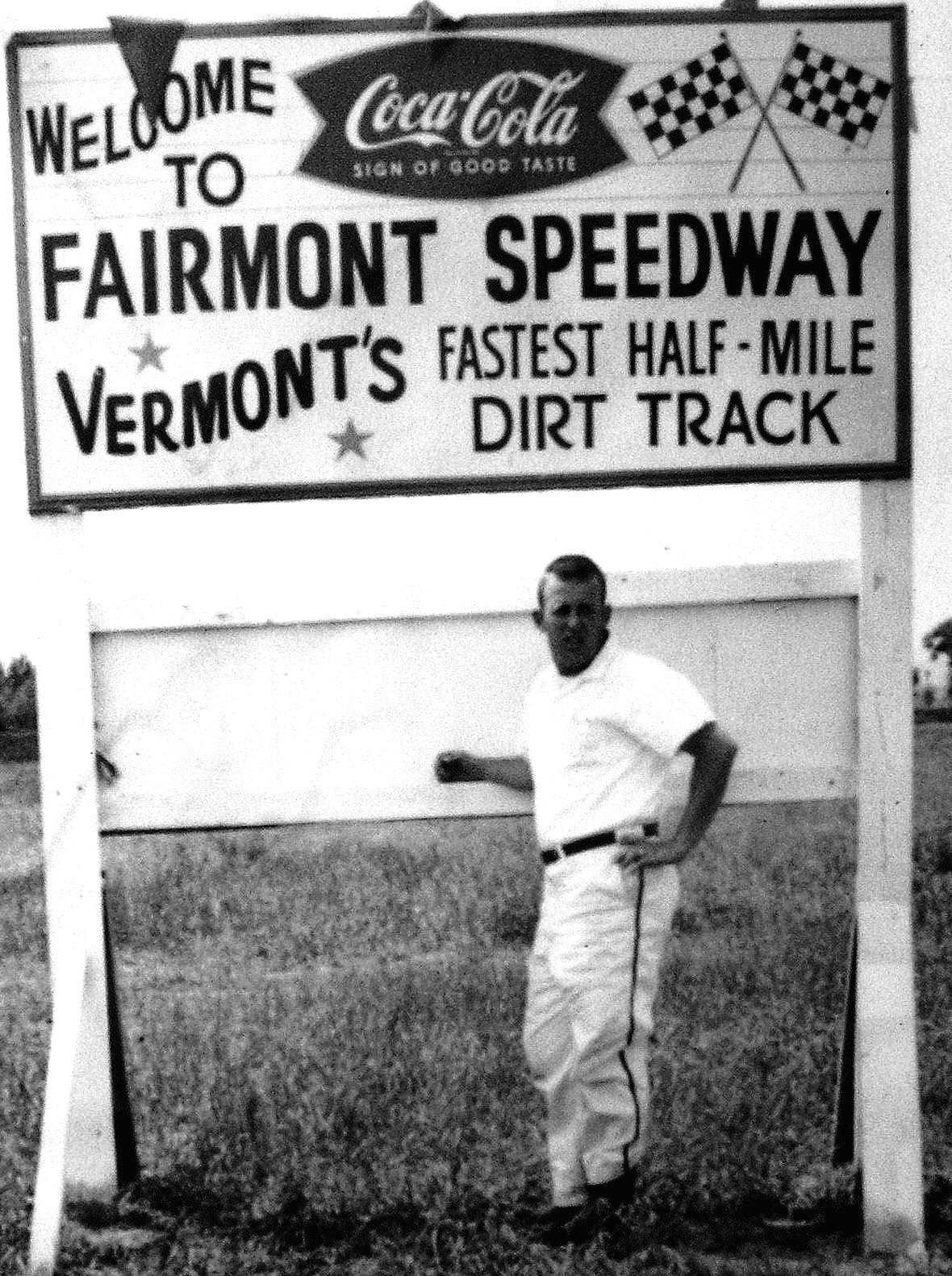 Courtesy of C. J. Richards
Chuck "C.J." Richards, perhaps a little apprehensive at this point, poses with is new speedway sign in May of 1962. To underscore
the promotional savvy [and yes, the B.S.] with which he ran his operations, the track was the only half mile in Vermont.
Starting off with an organization called Fairmont Racing Association, the youthful but savvy C.J. would run his track, occasionally dallying with the Otter Creek Speedway, a track near Vergennes, that started out with NASCAR. His first major coup [besides surviving the first season] was a race held at the Vermont State Fair in Rutland that attracted the largest crowd to view a sporting event in the state up to then and for years after. It is thought by many he had a hand in the show at the fair in 1961, staged by Lebanon Valley Speedway, as a means of whetting the county's appetite for the return of weekly racing.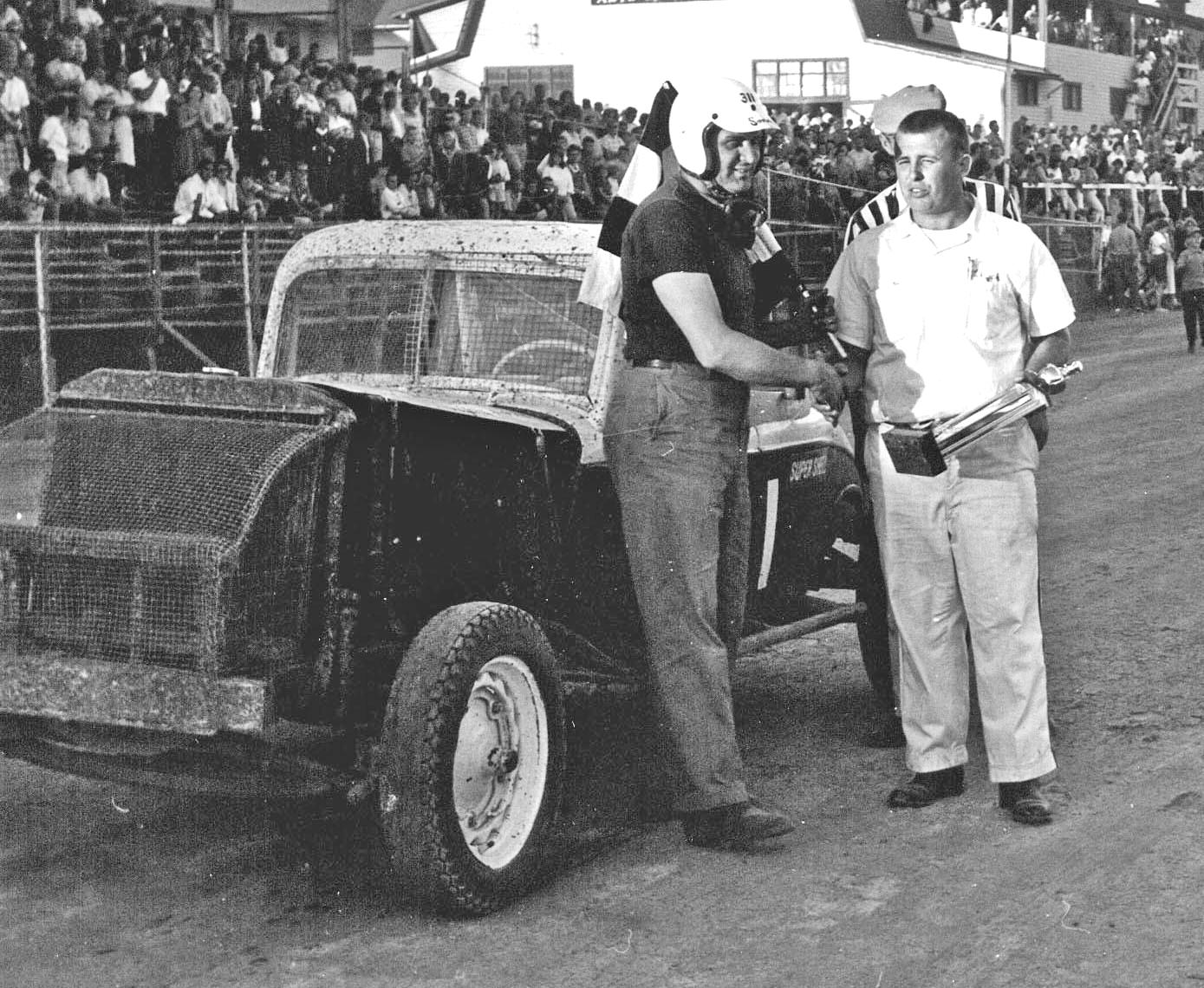 Courtesy of C. J. Richards
Liklely stressed and exhausted, Richards, trophies the winner of the big 1962 fairgrounds race, Sonny Rabideau. Rabideau had particiapted in he Valley show the year before
and was summarily planted into the turn one fence by Valley regualrs who resented the invasion by a lightweight cutdown car. With dust and a lowering sun. the race
had two huge pileups and the Vermont State Ploice thought aobut calling the race off. Note some of the 10,000 + crowd is spilling out towards the two men.
Richards would soon tire of the nagging Fair Haven select board and - by 1967 - had moved his operation north to West Haven, on Route 22A. Devil's Bowl Speedway is still in existence today, having finally been sold out of the Richards family about seven years ago. The organization was now called the CVRA [Champlain Valley Racing Association] and it would eventually encompass the Bowl, Airborne Speedway, and Albany - Saratoga Speedway in Malta, NY at one point or another.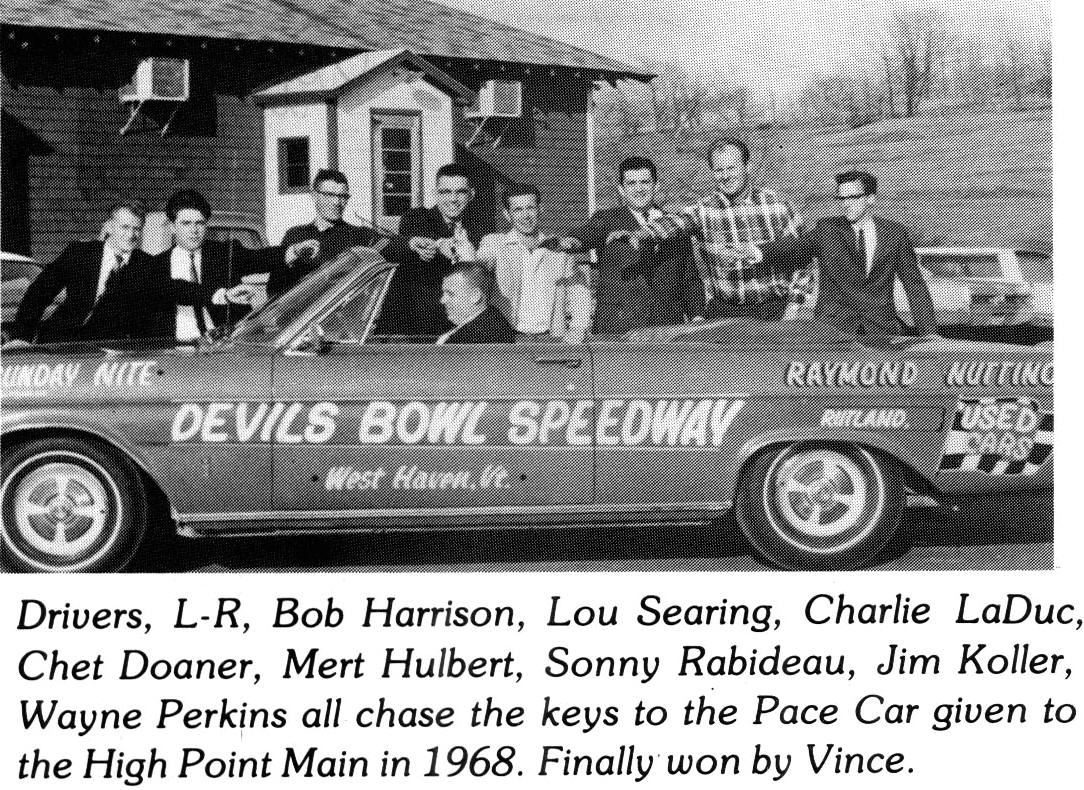 Everthe promoter at Devil's Bowl, Richards, dangled the pace car as an enticement in 1968. I have to wonder if Quenneville GOT the car
or if he got to use it for a year. Ya never knew whith C.J.
Richards was a master financial manipulator, once appearing to sell out Devil's Bowl for a couple of years until things picked up with the help of always popular Albany - Saratoga. He once hosted a series of races with the track's dirt modifieds that brought in some of the top names in the NASCAR WInston Cup or Grand National class at that time. Not as flamboyant as the Northern NASCAR neighbors to the north, C.J.'s way was to keep races regular, feed the crowd well and as cheaply as possible, and try to keep it all local. Families who are on their third generation running at Devil's Bowl are a testiment to the mark C.J. Richards left on Vermont racing.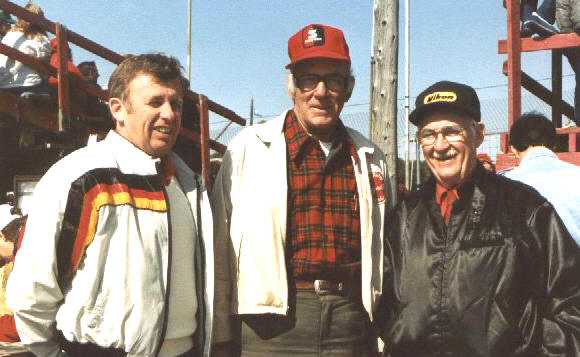 Courtesy of C. J. Richards
Three of Vermont racing's more influential figures around 1970: Richards, Bear RIdge promoter Chuck "CV" Elms,
and photogrpaher / Bardhal dealer Bob Doyle of Montpelier.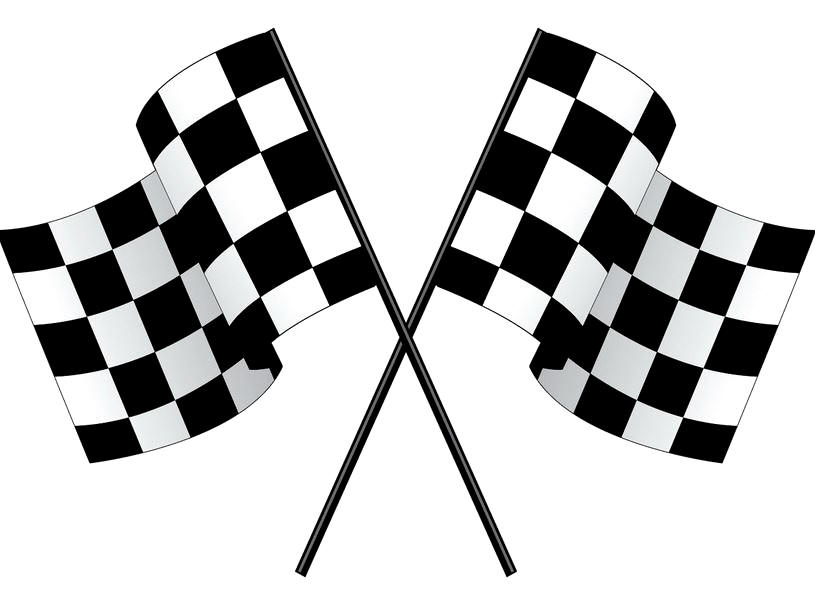 GEORGE ROGERS
Castleton, VT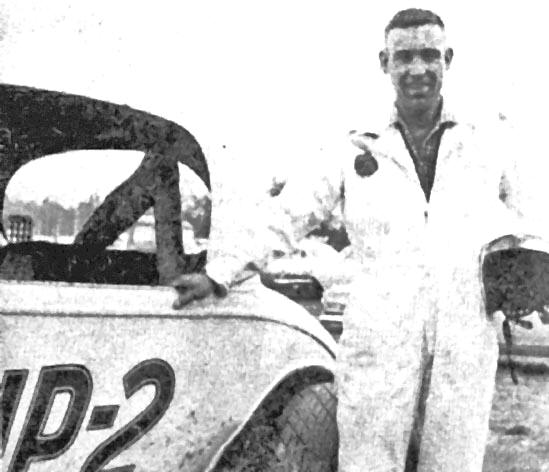 Bob Frazier Photo Cavalcade of Auto Racing
George Rogers with his third and final UP-2, at Fairmont Speedway in 1965. At first GMC six powered, it kept up wih the overhead V-8's.
George Rogers' career lasted only from around 1951 to 1967, cut short by an illness; but, his influence on the sport around the southern part of Vermont went on a lot longer. A master welder, Rogers was fielding a 1936 Chevy coupe at tracks like Fairmont Park Motor Speedway, Fair Haven; Pico Raceway, Rutland; and even further away at Stateline Speedway, North Bennington; Mettawee Speedway, Granville, NY; and Warrensburgh Speedway, Warrensburgh, NY.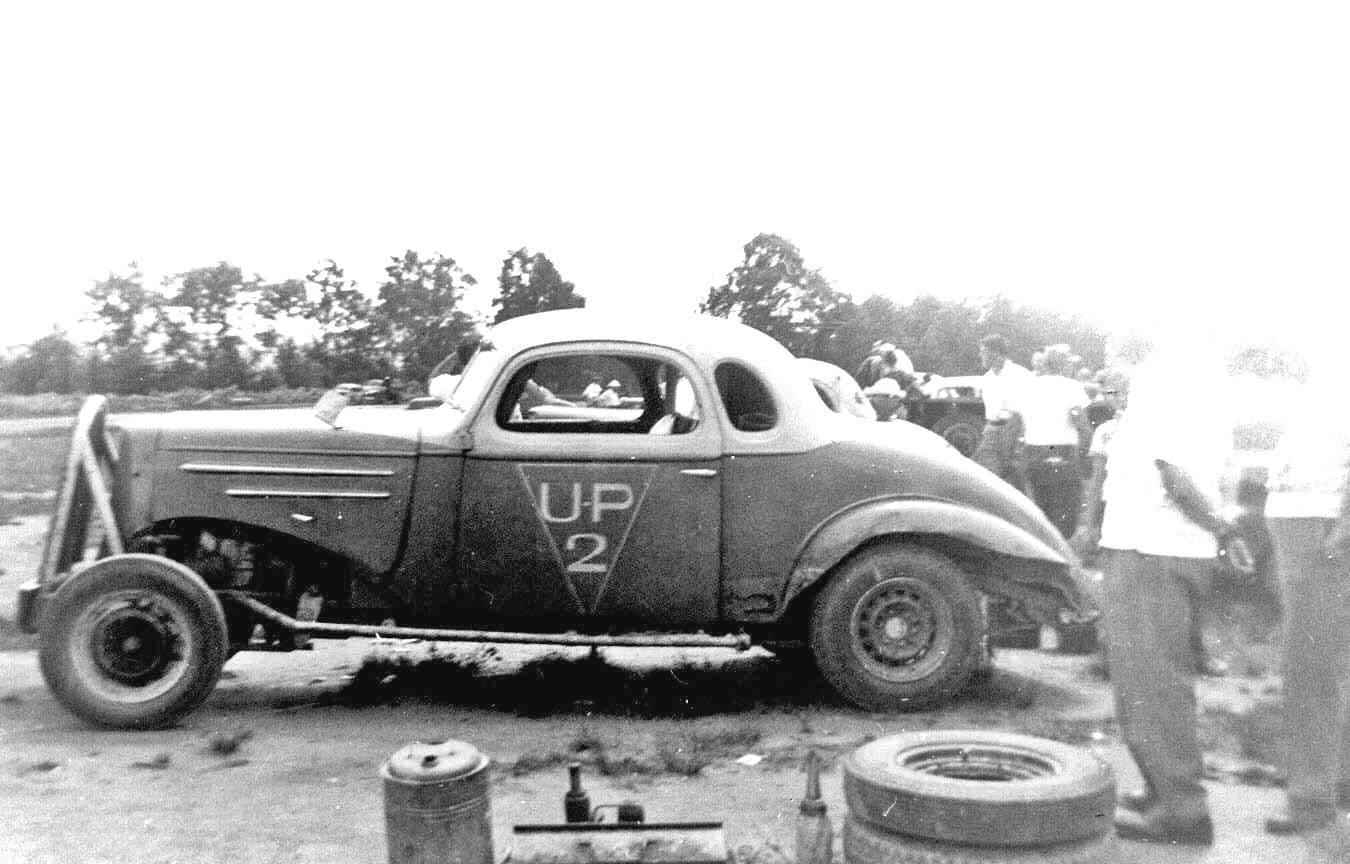 Courtesy of Mark LeFrancois
George Rogers' original UP-2, at Fairmont Park Motor Speedway around 1951.

Until his final 1956 Chevy late model at Devil's Bowl at the end of the 1967 season, Rogers' trademark car number was UP-2. That stood for "You pee, too" and it's a long story about a little boy. Rogers ran in the early 1950's, after which I lose track of his career until 1962, when he re - appeared at C.J. Richards' Fairmont Speedway with a 1936 Chevy coupe, all white, with an unusually high ground clearance [but it worked for him].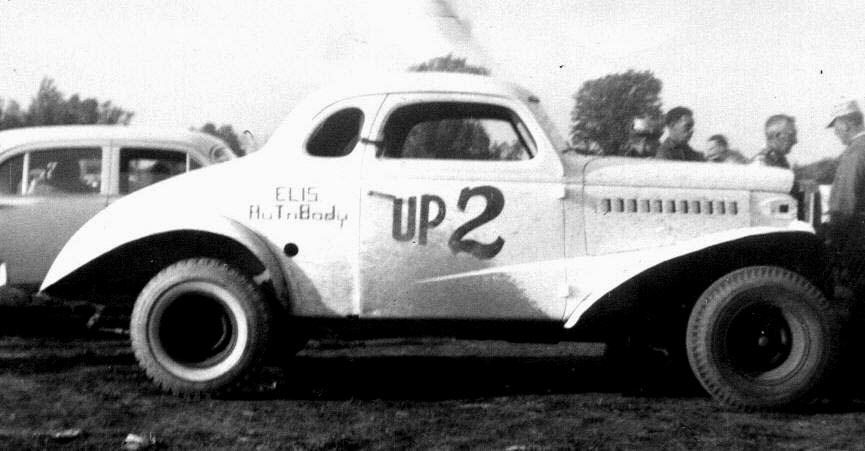 Ladabouche Photo
The second UP-2, at Fairmont. In the 1964 that high clearance allowed George to avoid striking a driver laying in the track after a bad wreck.
When Fairmont went to the overhead V-8 sportsman in 1965, Rogers stubbornly held onto his GMC six engines and constructed an ultra lightweight flat top coupe which ran well with the overheads until he finally stuck an overhead in it in 1966. Meanwhile, George was instilling his welding skill and stubborn traditionalism in son, Butch, who soon was racing and in the manufacture of racing wheels. When C.J. RIchards departed Fairmont and built Devil's Bowl in 1967, George was not seen for most of that season. He came out with a new, unpainted '56 Chevy late model numbered 20 and proceeded to upset all the favorite in winning the track's state championship race at year's end.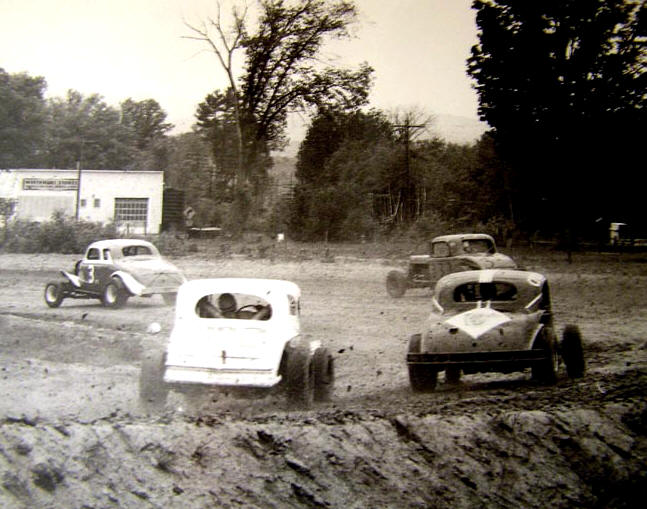 Bob Frazier Photo Courtesy of Wes Moody
Rogers chases the overhead V-8's of Vicne Quenneville, Sr. Howard Stevens, and Cecil Bosworth [far right] into
Turn 2 at Fairmont in 1965. At this time, the car was almost certainly running to the GMC six motor.
The would go on to future accomplishments with Ray Nutting, but George was seriously ill and would not be seen much more at races after that. Nutting would drive the car as #351 and keep Rogers' name on it all that next year. Butch Rogers would late produce some of the most unique and effective Camaro late models ever at the Bowl. One of his customers would be Nutting's son, Lee. Seldom is there a discussion at the Bowl about the formative years of racing in the area without the name of George Rogers coming up.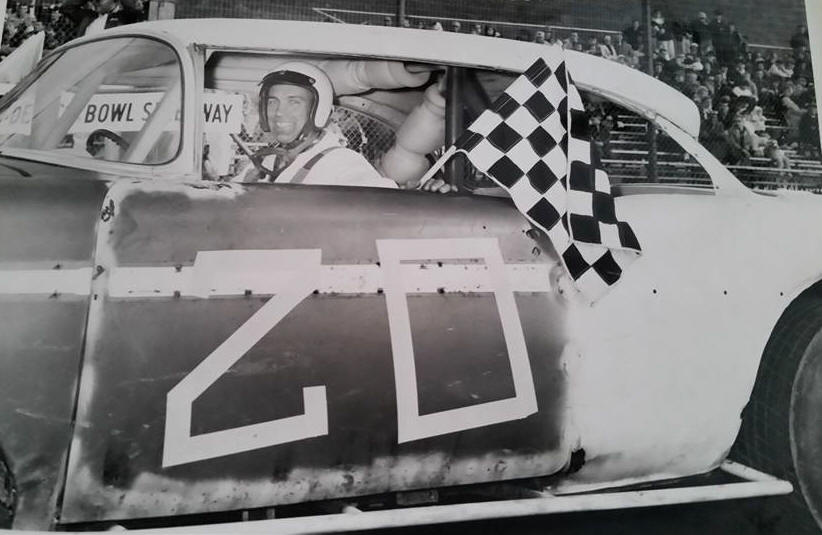 Courtesy of Tim Rogers
George's final win was a major accomplishment, considering he hadn't raced all season and likely didn't feel very well.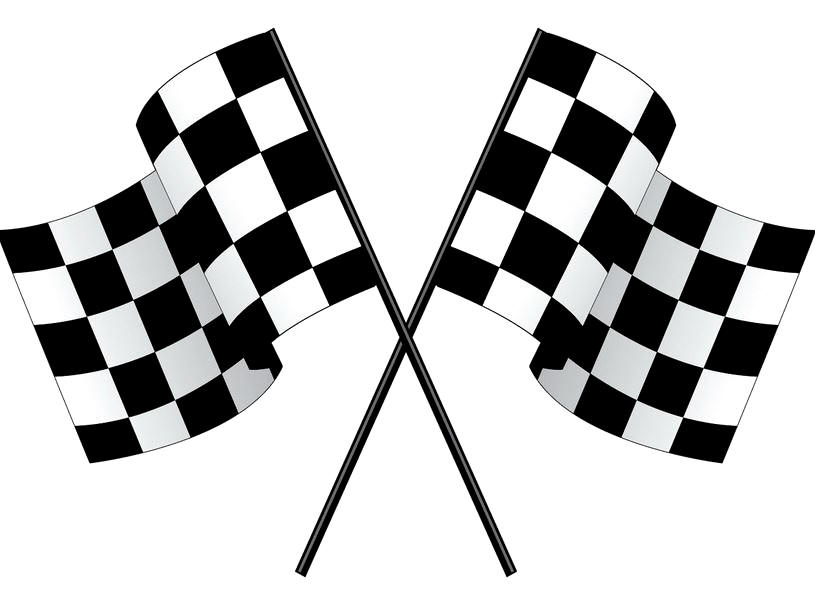 HARMON "BEAVER" DRAGON
Milton, VT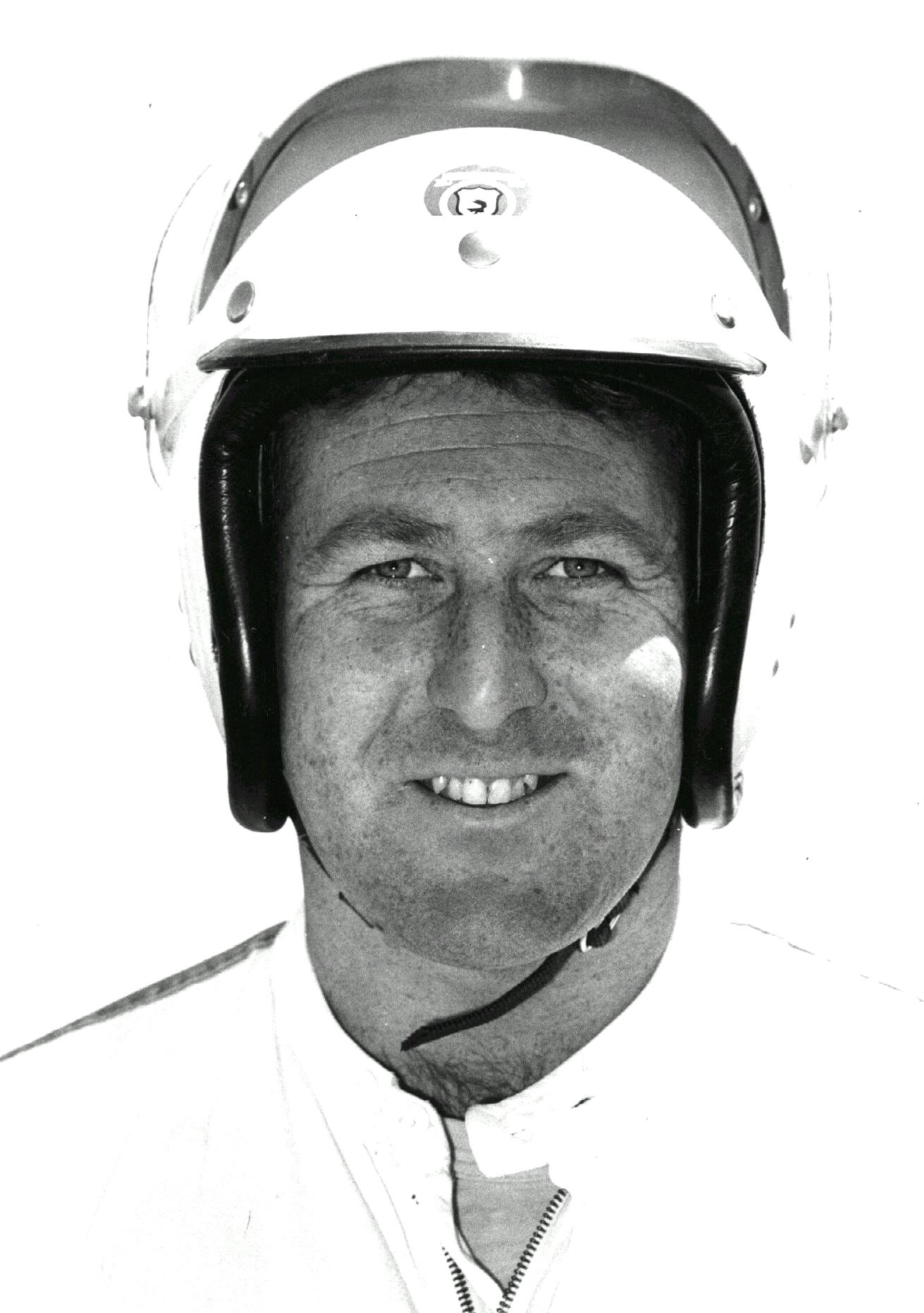 Bob Doyle Photo Courtesy of Dragon Family
Beaver Dragon, at the beginning of his late model sportsman career.
Beaver Dragon was a true hometown hero when he ran at Catamount Stadium because Milton is the only place he has ever lived;, and despite, his stellar career, he would just be another excellent Vermont driver were it not for the sheer number of decades his involvement in racing has spanned and his acceptance of other roles in the sport. Since a group of interested neighbors took a kid with unusual mechanical aptitude and stuck him in a Buick coupe to race at Malletts Bay Raceway in the mid '50's, Dragon has been a central figure in northern Vermont stock car racing right up to his current role as a Vermont state racing commissioner.



Photo Courtesy of The Bougeois Family


It takes a village to raise a racer. A young Beaver [with helmet] with supporting townspeople including [from left] Mr. Pratt, John Bourgeois [a 2nd father figure] and CVPS executive Keith Lombard. Many other others helped field the car, which Beaver admits was "pretty cheated up" - some sort of blasting liquid in the fuel.



Photo Courtesy of The Dragon Family


The B Class Ford, which also served as his first Flying Tiger, brought him
into the late model world. It was also pretty cheated up, with a shaved
flywheel and more.
Beaver has raced successfully in 1950's jalopies, in hobby level Flying Tiger cars, in dirt sportsman coupes, and - ultimately in NASCAR and ACT style late model sportsman cars, earning track championships, circuit championships, and dozens of feature wins. Along with brother Bob, son, Brent, and nephew Scott - the Dragon family has made a deep impression on the sport from the mid '50's through 2017. Despite his myriad accomplishments at his beloved Catamount, he is likely best remembered for his spectacular end over end crash at the track's last serious race program in 1987.



Photo Courtesy of The Bougeois Family


Beaver pulled off one of the more legendary victories n Vermont racing history when he upset of field of modifieds [that included the likes of MacTavish and Stevens] at Catamount with a sportsman coupe around 1966. Here he is in Victory Lane with Bourgeis and ace mechanic Ernie Preiss [[left].



Photo Courtesy of The Dragon Family


The Ray Richards - owned sportsman coupe Beaver raced at
Devil's Bowl from around 1968 through 1971. Bob Dragon [arms folded at right]
said something htat is cracking up the crew that includes future 1973 Northern NASCAR Rookie of the Year Bob Ellis [leaning on hood].
Despite the fact that his first sporting love may be deer hunting, Dragon has left a legacy that will be matched by only a few in the history of Vermont racing. If he ever succeeds in finding a car he could restore into one of his former rides, he will also fill the role of vintage car participant as well. A young boy who, by his own admission, was so unnerved by watching stock cars race he had to leave and sit in the family car - became one of the more fearless drivers for years after. He is a personal hero of mine, as well as a good friend.



Photo Courtesy of The Dragon Family


Beaver's first competiive late model, the Robar/Everest - owned Country Dollar Chevelle. He would have a number of rides, many of which were top
shelf equipment.



Photo Courtesy of The Dragon Family


The Bobby Miller and [later] Skipl Farrell - owned 91 teams featured
arguably the best equipment Beaver would have. He seemed to make
the most of the opportunity.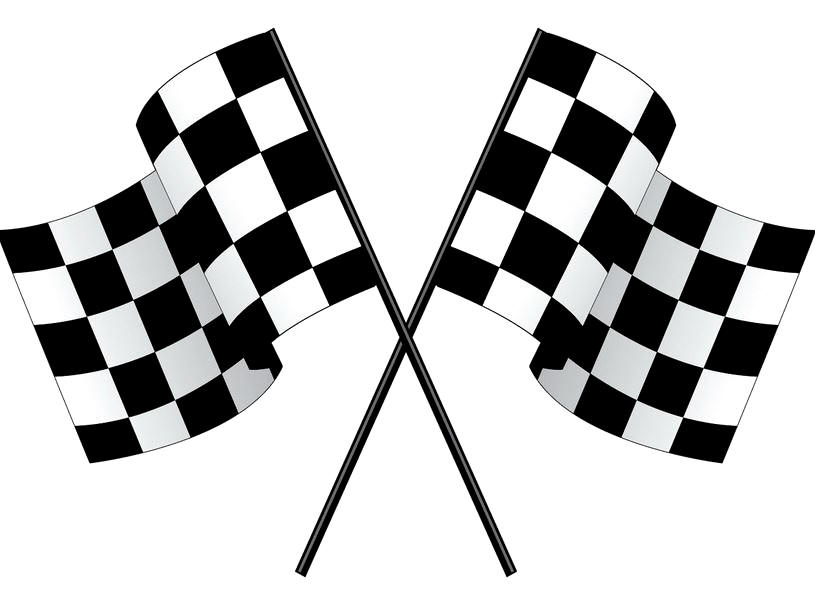 THOMAS M. "T BONE" CURLEY
Barre, VT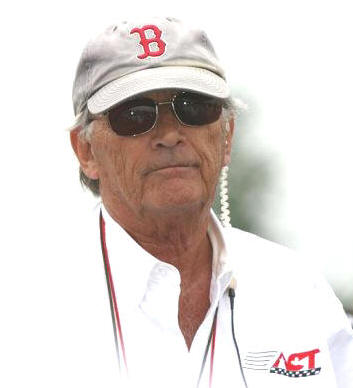 Photo Courtesy of CheckerstoWreckers.com
Tom Curley, well into his promotership career.
Tom Curley never seemed to like me very well; his was the only track for which I didn't have press courtesies [New owners have continued the tradition]. As far as other pioneers go, he came along much later - but his effect on Vermont racing is unique and unmistakable.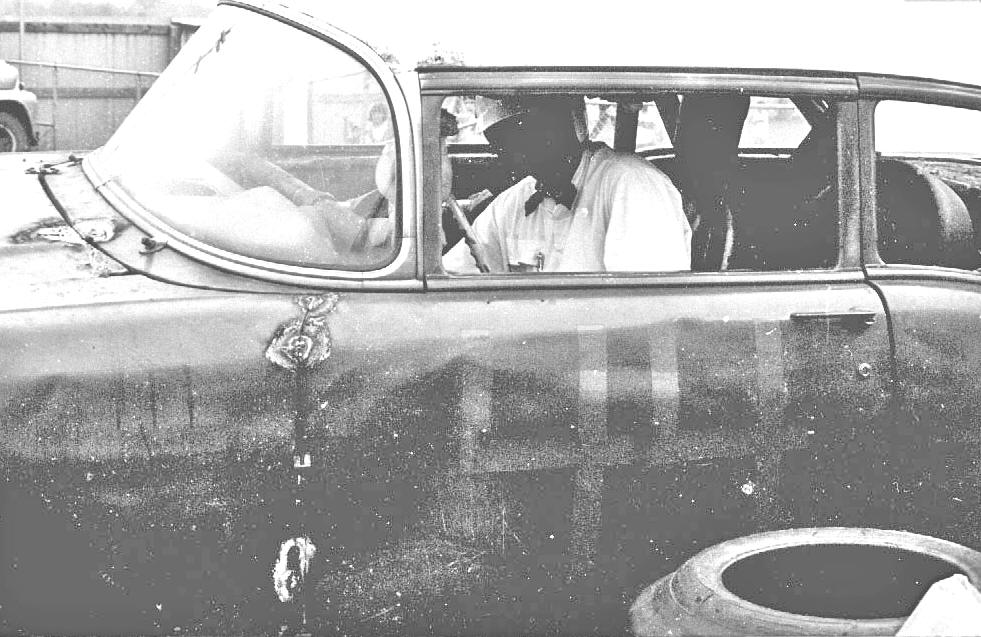 Courtesy of Cho Lee
Ladies and gentlemen,T Bone Curley in the lovely and decorative Frank Lackey 44.
We think of Curley mostly as a promoter, but he did start out as a race driver. When I first visited Catamount in 1968, there was this blue #44 with a driver named T Bone who spent a lot of time spinning out. That was Tom. Always an entrepeneur, he had tried running service stations and a night club. He also was in a marketing scheme called "Mer Checks" that I don't know much about. He re - appeared in the '70's, working with Ken Squier at the Northern NASCAR tracks. By the end of the decade, he and Ken had developed the idea of a touring race series into one of the most successful race programs anywhere in the country.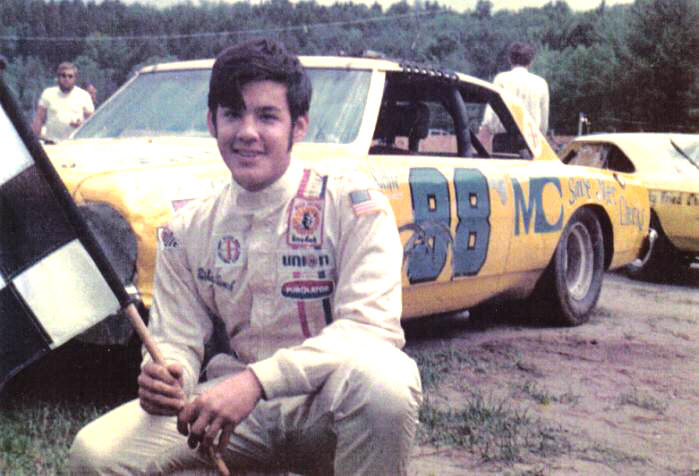 Courtesy of Andy Boright
Curley may not have been at the track much in 1972, but the unmistakable "MC" for Mer Checks is prominent on the Chevelle
of high visibility rookie Richie Panch. The deal was considerable: an Allison Chevelle, a hired pit crew, and financial support from Tom.
Into the 1980's the partners made a couple of very high impact decisions that would affect things for years to come. Firstly, they sold the land out from under Catamount. They would lease the land fom the Greater Burlington Industrial Corporation for the next five years. When it came time to renew the lease, GBIC refused and that was it for Catamount, one of the finest short tracks ever.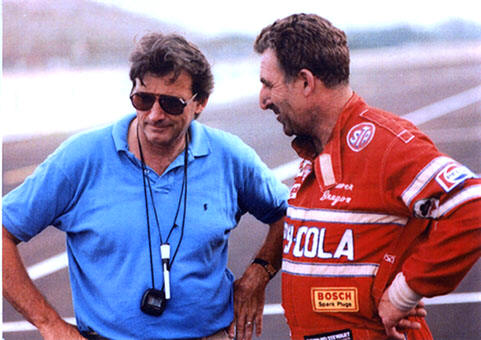 Courtesy of Dragon Family
Tom and one of his most popular stars, Beaver Dragon confer during the first year of the ACT. Dragon stayed on, while brother, Bob and many others left the
tour for the Busch NASCAR North tour to keep their steel bodied cars legal.
Secondly, the Tour chose to cut ties with NASCAR in 1985 [the reasons are several and not simple]. After one season of running with not much of any name, the American - Canadian Tour was born in 1987, and - with it - the end of the steel body late models that were so successful. The ACT tried, for a time to work in with both the American Speed Association and the All Pro series down South but , those two groups had years of experience with the plastic - bodied pony cars ACT was now adopting and the northerners just couldn't really compete.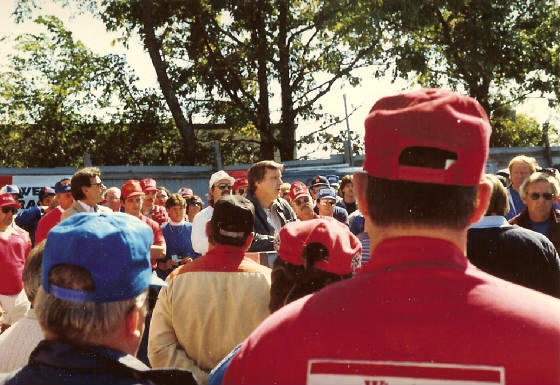 Mike Cain Photo
This photo speaks volumes. It shows the final pit meeting at Catamount in Autumn 1987. Tom is seen above the blue hat. The rectangular form in the
far background is one of the GBIC factory buildings already built and encroaching upon the race track. It was said to be the most somber of meetings.
Curley and Squier would continue to develop the ACT tour into something big, using Thunder Road [and, for a while Airborne Speedway] as home bases. Curley was a pioneer in this touring format; but, perhaps his biggest accomplishment was keeping racing as affordable as possible in a time and climate when racers' self - imposed trends were driving up the cost of racing greatly. His contribution to stock car racing in the later years is considerable and impressive.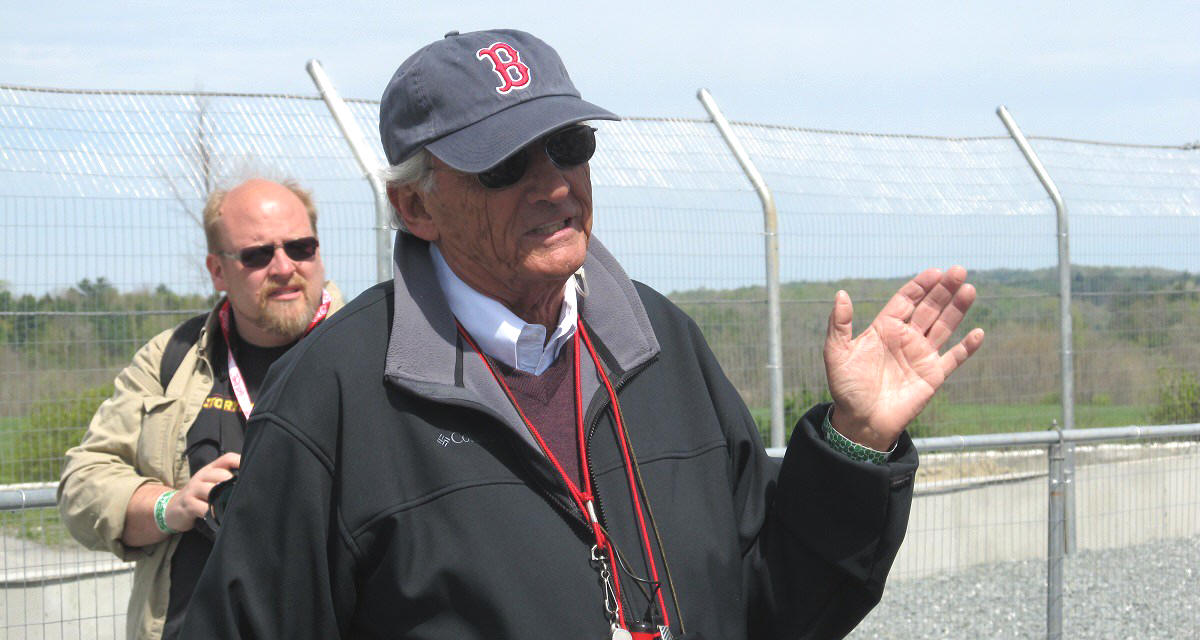 Courtesy of Vermont Motor Magazine
Despite seriously failing health, Curley ran T Road and his ACT until he simply could not get around .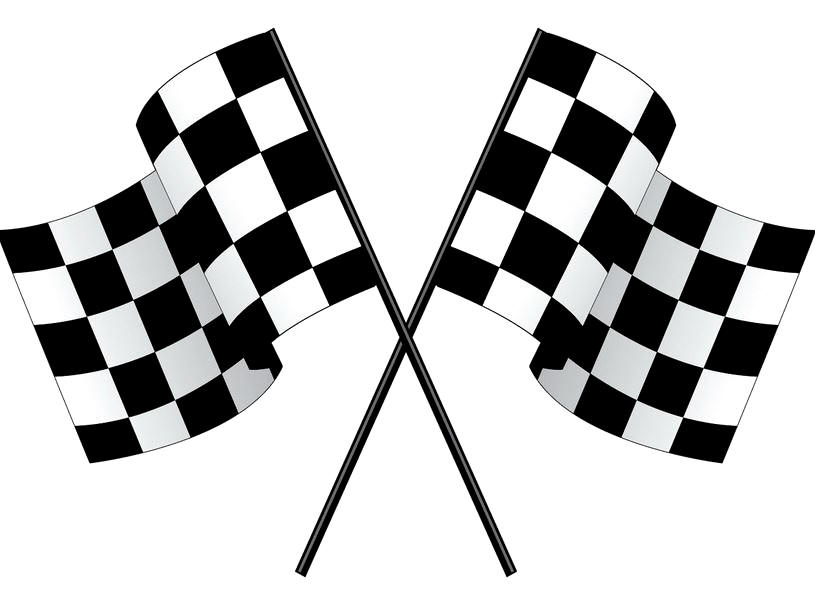 A. K. "ARCHIE" BLACKADAR
Danville, VT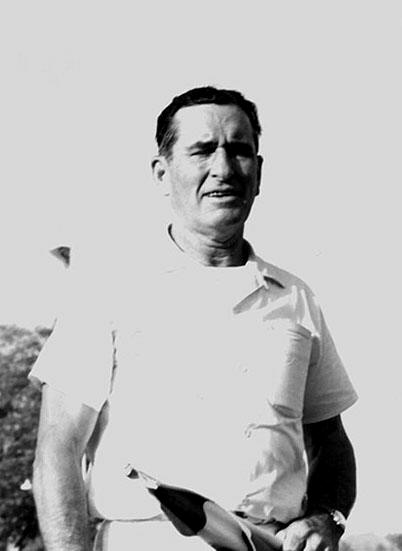 Norman McIver Portrait Photo Courtesy of Cho Lee
Archie Blackadar, in his flagger days at somewhere like Northeastern or Thunder Road.
NASCAR used to like announcers to be really formal and announce all the officials at each race at their various tracks; so, Ken Squier would dutifully name his chief pit steward as "A.K. Blackadar, from Danville". We all knew him simply as Archie. When I conjur up a memory of Archie, I visualize a man with a somewhat stiff, bow-legged walk, leaning forward to anxiously watch every detail of the unfolding action. He had gone from an old school flagger who would start races on the track BETWEEN the rows of unrushing cars, to the chief pit steward at places like Thunder Road and Catamount.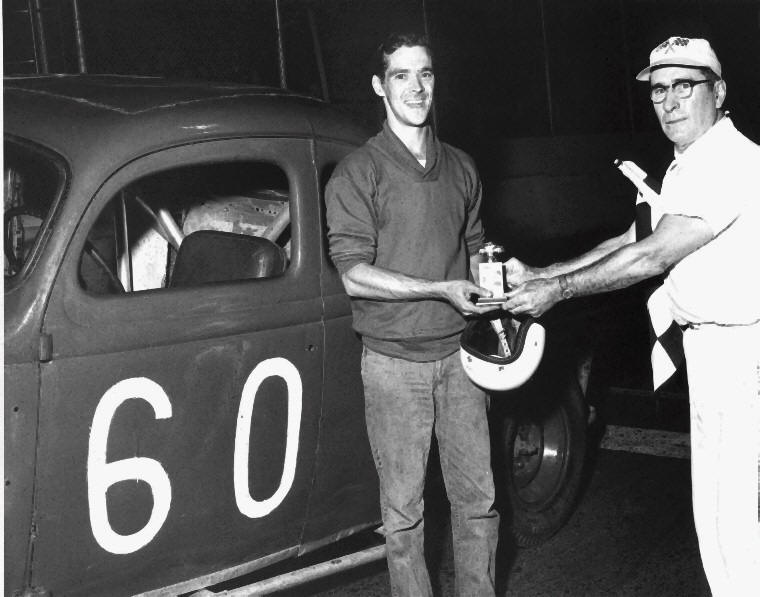 Norman McIver or Bob Doyle Photo Courtesy of Cho Lee
Archie Blackadar,at Northeastern, awarding winner Skip Easter.

Just being a former or official doesn't qualify you to be a racing pioneer. Archie was on the ground floor of the track that arguably ushered racing up in northern New England into the modern era. An old T Road program described him as a "Nova Scotia Scotsman" [although he seemed to grow up in Danville, VT]. Archie raced midgets before WWII but returned to do other race activities. Working in the Ralston - Purina plant in St. Johnsbury, he was part of that forward thinking group of men who founded Northeastern in 1959.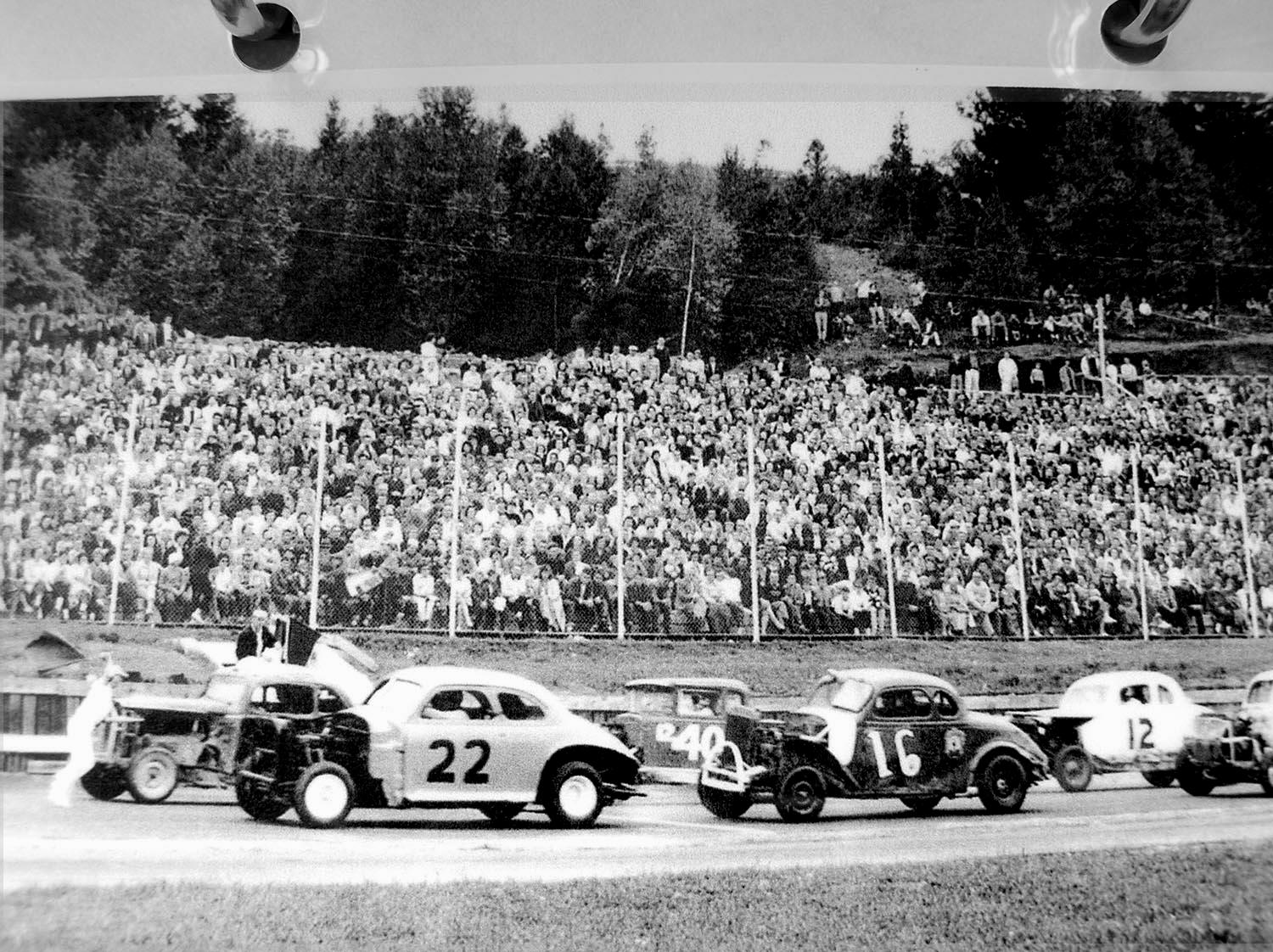 Photo Courtesy of Paul Zampier
Ultimate trust [or crazy ?] A Thunder Road field bears down as Archie prepares to start the race from between the two rows of unrushing coupes.

Northeastern Speedway [with its United Racing Club] was one of the first to have established committees, keep an organized, points - related reward fund, and to institute many safety standards. Archie would be involved with NASCAR, early on, adding tracks like Airborne Park Speedway and Otter Creek Speedway to those original tracks he worked at. He flagged at T Road, and was at Catamount when NASCAR took over Ken Squier's tracks in 1965.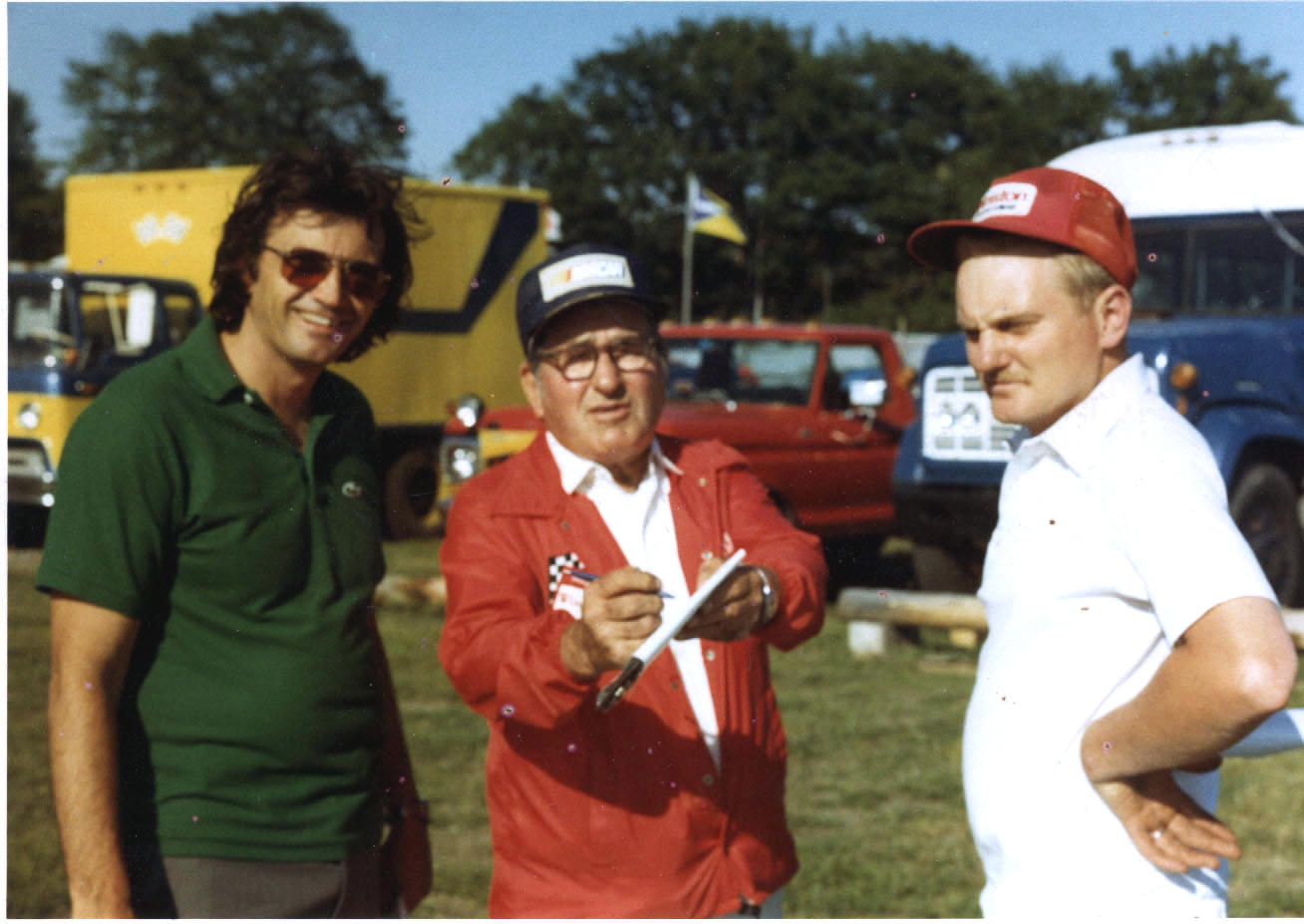 Bob Doyle Photo Courtesy of Cho Lee
Archie makes a point to race director Tom Curley and official Lennie Stockwell during the earlier Northern NASCAR late model days.
Always assisted by wife "Pete", he would go on - past the chief pit steward days - to be a NASCAR official working out of their headquarters. Pete was able to attend the 2018 Vermont racing exhibition at the Vermont Historical Society in Barre and was mentioned as one of the most prominent attendees that day by Gov. Phil Scott. Archie's work, as well as his good - natured fun doing things like posing with a giant Easter Bunny at Catamount every year, are all part of what makes him so special to all of us up here.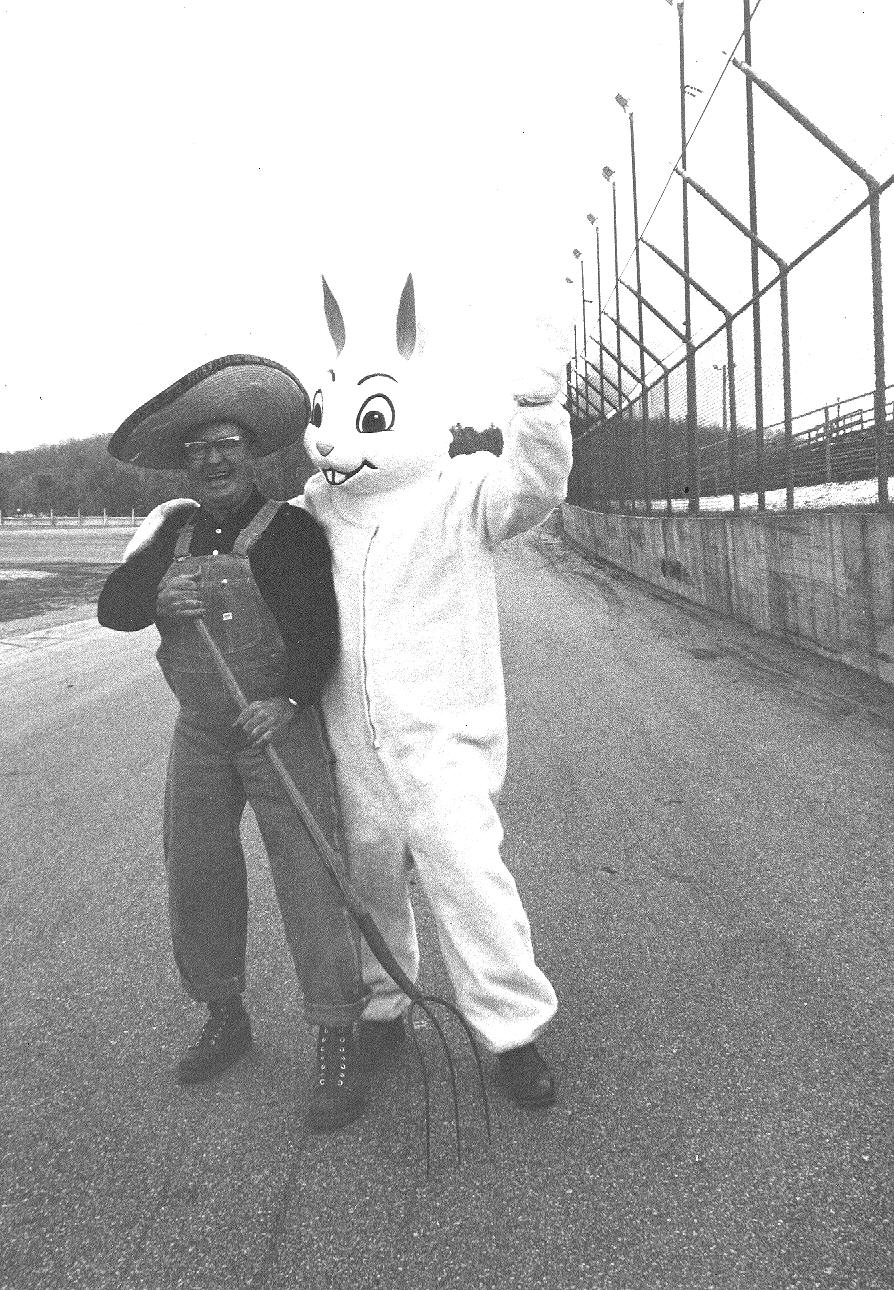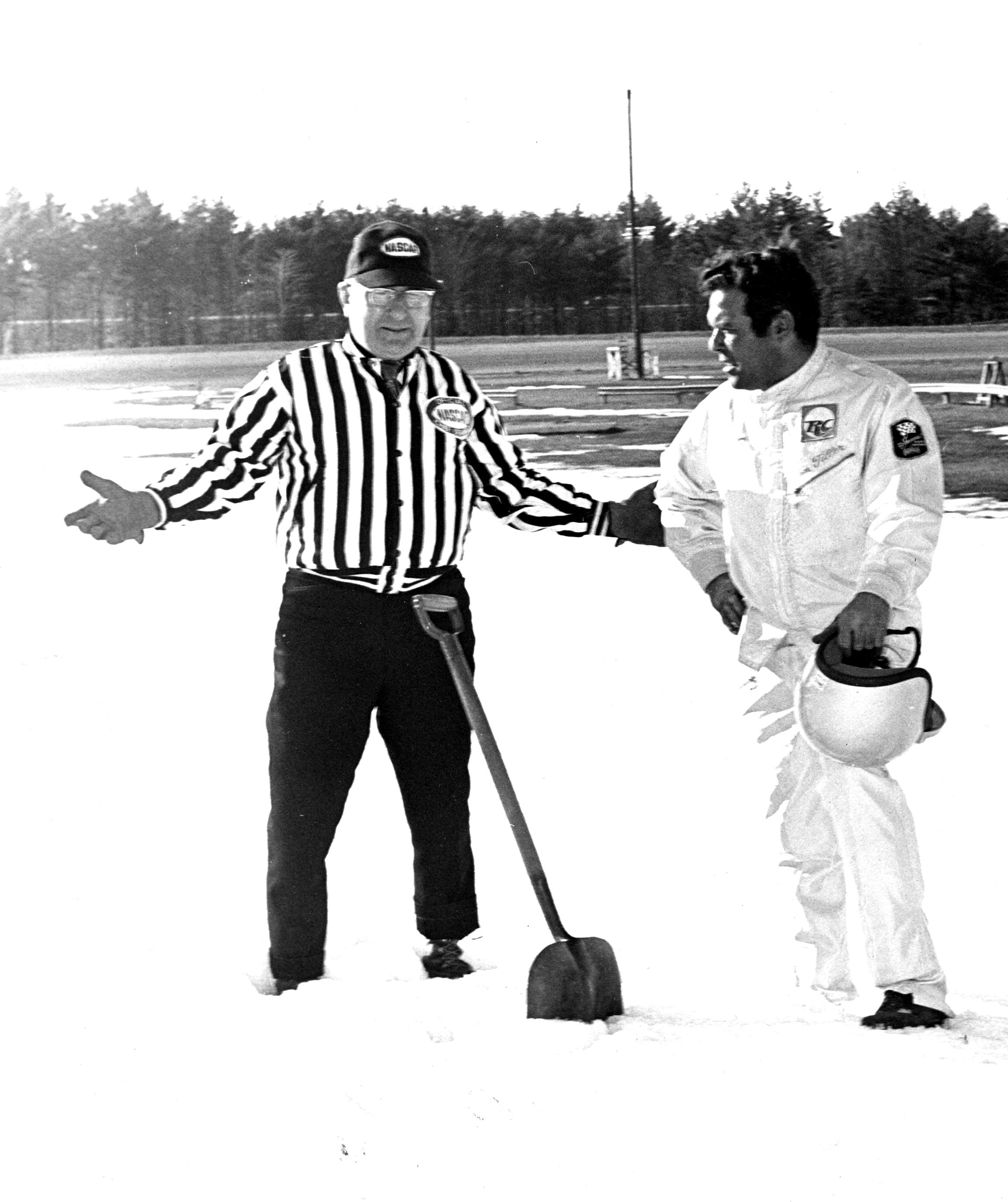 Photso Courtesy of Chris Companion and Cho Lee
Archie was always willing to take a light moment and help promote Catamount or T Road.
Return to the Main Page
Return to the Main News Page
Return to the All Links Page