One Loaded 1950's Race Advertisement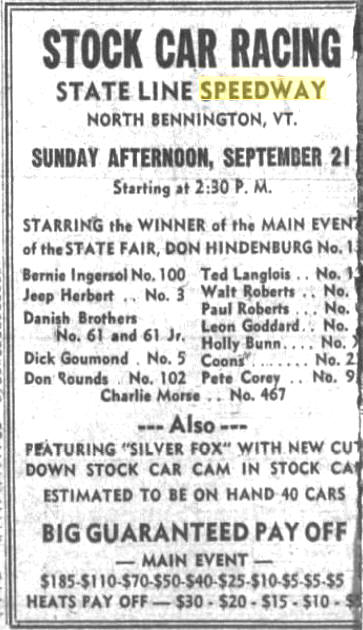 Glens Falls Post Star
This doesn't look like much money but this is when some other tracks in the region offered $5 for winning a heat.
Click on the driver's name to go to his photo.
1952 is an interesting time in stock car racing in that corner that encompassed Vermont, New York and Massachusetts. It would signal the end of the flood of race tracks that sprung up in 1950 and beyond, many not surviving for an entire year. Stateline would see the closing of Pico Raceway in Rutland, VT while Fairmont Raceway in Fair Haven remained running - featuring many of the same names seen in the ad above. The Mettowee Speedway in North Granville, NY would be opening in another year or so and several tracks still operated on various scales in New York and Massachusetts. Even New Hampshire tracks could affect Stateline at times.
Stateline had been in operation since around 1950 and was a rock compared to many of the fly - by - night operations particularly in New York. The track would enjoy this season before the wolves began to show up at the door. Lebanon Valley Speedway, very nearby, would start up in 1953, albeit not in a very impressive manner. It largely drew cars away from tracks like Route 66 Speedway and other New York ovals. Fonda Speedway would also begin in 1953 and would have a far stronger affect on Stateline. Many of the names on the above ad raced regularly at Fonda once the track opened at the Montgomery County fairgrounds.
I have no idea who the mysterious "Silver Fox" was supposed to be, other than he must have come from Connecticut, New Hampshire or Massachusetts, where most of the cutdowns came from. There is no mention in the ad of Vermont drivers, although Rutland's Jerry King would become very successful there - at least by 1953. New York offers Corey, Hendenberg, the Danishes, Bernie Ingersol, Paul and Walt Roberts, Jeep Herbert, and "Coons". The Connecticut contingent included Leon Goddard, Ted Langlois, Hully Bunn, and maybe Dick Gaumond. Don Rounds was from Rhode Island; and Charlie Morse was usually from Massachusetts.
Courtesy of Rick Parry
The car 1 likely driven by Don Hendenberg at this time. Below - a good shot of Don.



From the Fred DeCarr Collection




via Midstate Club


Courtesy of Rick Parry
The Burns & Wilson car 100 likely driven by Bernie Ingersol at this time. Below - a good shot of Bernie.

Bob McDowell Photo
via Phil Miller Collection


Ladabouche Collection


Jeep Herbert flies the checkers at




Stateline with Bob Mott's potent




3 NY. Below - A good shot of


Jeep.



From the Herbert Family Collection






Danish Family Collection
via John Danish
Steve Danish [in car] grabs a cup
of coffee in Victory Lane as
brother, Al, looks on at right. Below - Steve is at left.



Danish Family Collection




via John Danish





Bob McDowell Photo
via Phil Miller Collection
Dick Gaumond, in the only
photo I have.



Bob McDowell Photo




via

Phil Miller



Bob McDowell Photo
Rounds Family Collection


via

Don, Jr.


Don poses at Stateline. A savvy
promoter of himself, he has a
local ad on his car for this track
[likely he traded doors]. He usually used the number 101.




Rounds Family Collection




via

Don, Jr.

Bob McDowell Photo
Ken Gypson Collection


Ted Langlois poses at Stateline.


Below - a crop of the best photo I have of Ted.

Bob McDowell Photo
Ken Gypson Collection



8MM Frame Capture
Via Dan Ody's Old Speedways DVD's
Walt Roberts runs outside of Charlie Morse at Stateline.

Bob McDowell Photo
via Phil Miller


Bob McDowell Photo
via Phil Miller Collection
This car is very apt to be the one Paul was running at Stateline.
Below - a better look at Paul.

via George B. Hunt

Both Photos 8MM Frame Capture
Via Dan Ody's Old Speedways DVD's
Leon Goddard wins a heat at
the grand opening of Pico Raceway. Below - The
best shot of Leon I could manage.


via Otto Graham Collection
Bristol, CT driver Hully Bunn
was a cut above most drivers of
the era. He is only one of two driver trusted to drive Steve Danish cars.



via

N.E. Vintage Mod Site

Bob McDowell Photo
via Phil Miller Collection
"Coons" is Ed Coons and this
is the car referred to in the ad.
Below - A bit closer look of
the North Hoosic, NY driver.

Bob McDowell Photo
via Phil Miller Collection

From the Fonda History Book
Legendary Pete Corey, with Art
Spoar and his 95. Corey only drove this car early in a long career. Below - A much better view.



Courtesy of Black Jack Racing




Bob McDowell Photo
via Bruce Carman Collection


and Tom Schmeh


Charlie Morse drove this Ed Winn
car 467 almost exclusively in
a hugely - successful 1950's
career. Below - A little closer
view.

Bob McDowell Photo
via CJ Richards Collection

Return to the Main Page
Return to the Main News Page
Return to the All Links Page