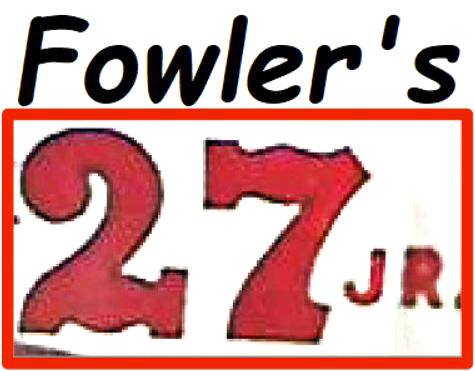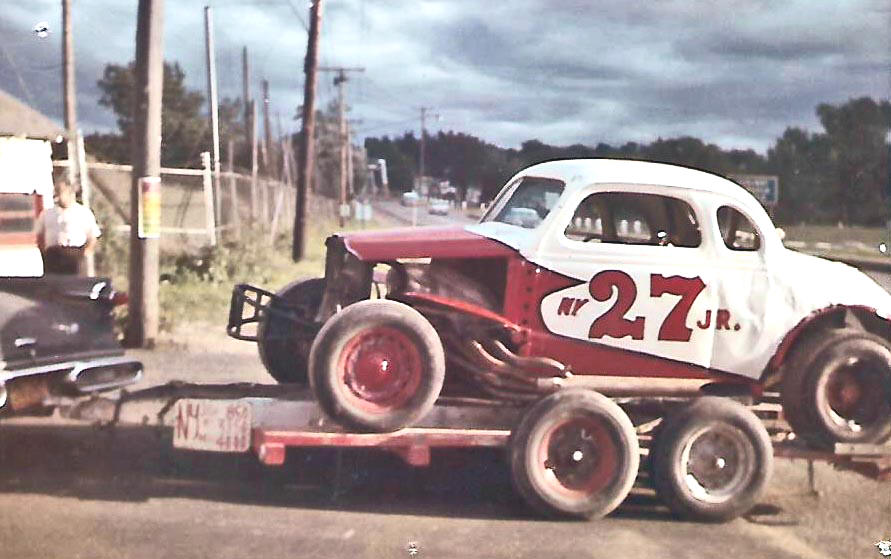 Ladabouche Photo
The Bill Fowler - owned 27 Jr sportsman entering Fonda on a rain - threatened Saturday afternoon in 1964.
I had heard or read about Bill Fowler's 27 Jr before I ever saw it. My uncle and I hadn't been to Fonda for a while, but I somehow knew not so much about the car or the team, but rather the man Fowler currently had driving the car. Jolly Ollie Palmer's career went back well into the 1950's, making it possible for me to have seen hom and his # J-O car at Pico Raceway in 1952. I wasn't very old then but I knew that stock cars usually had numbers, not letters - and I had noticed his car.
So, when both when we had learned about his driving at Fonda and when a man in town had said something about him, I became aware, that trip to Fonda, that we were going to see another of the men who had run so well at Pico. His name would join those of Steve Danish, Spence Parkhurst, Walt ROberts, Jeep Herbert, Pete Corey, and Ken Shoemaker as New Yorkers who made a big splash at that Rutland, VT - based race track.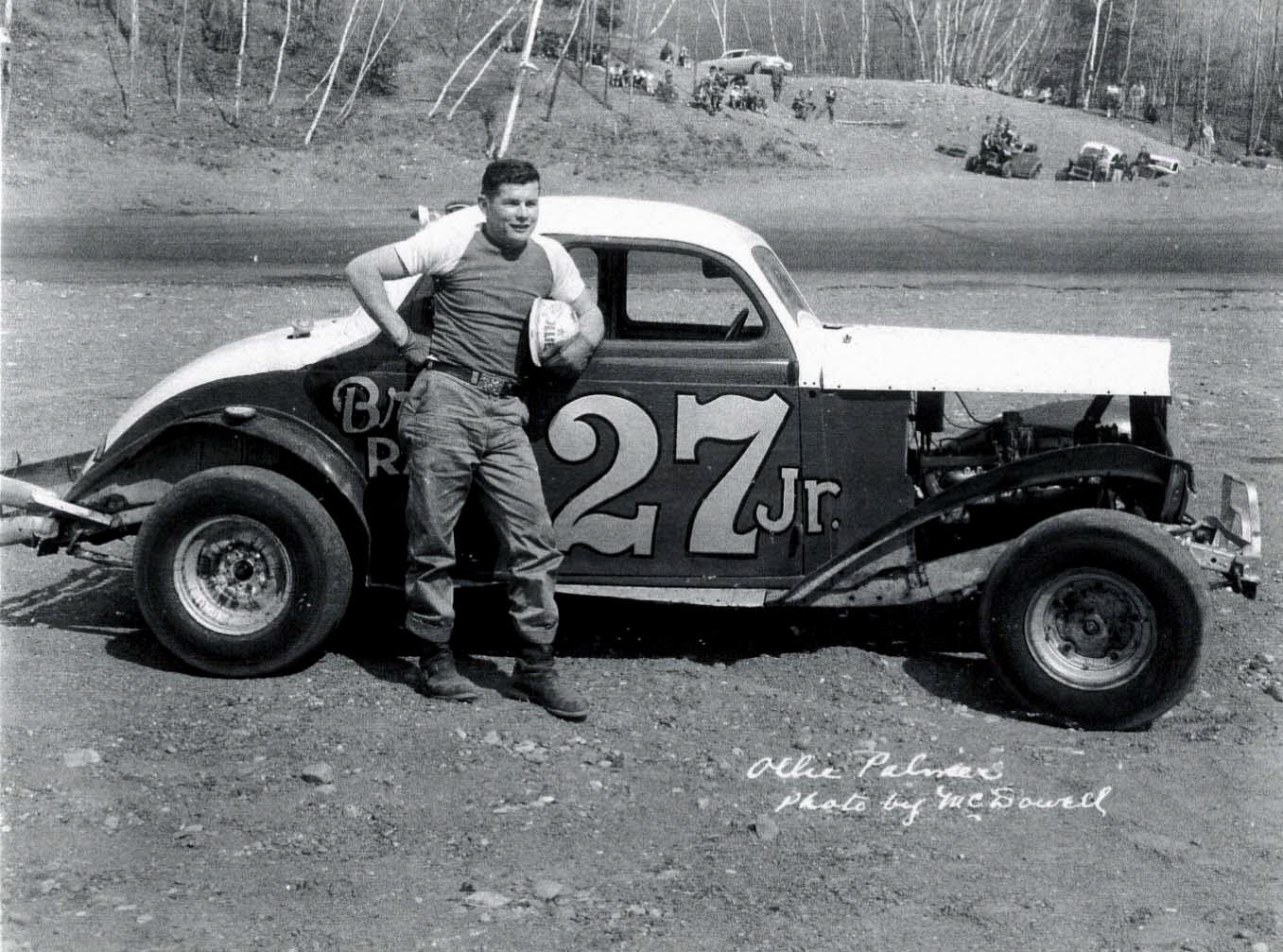 McDowell Photo via Phil Miller
This early 50's Pine Bowl shot underscores my theory that the 27Jr may have been born as an offshoot of the Brush Radio team.
I had gotten in the habit of standing out on Route 30A, trusty Kodak box camera in hand, to get shots of the cars as they slowed to enter the gates. This year, I had a much better old camera, and the 27 Jr. was one of the first shots I got. From what I can determine, Bill Fowler goes back to the earlier days of the Pine BowlSpeedway, having an association with the Brush Radio and TV #27 team. In fact, this is probably why he not only used a "Jr." version of that car number, but also he seemed to either have the sign painter copy Brush's numer font [or maybe he actually just boought an old Brush 27 and added the "Jr".
At any rate, Bill came back around 1964 with a nice red and white '37 Chevy with that same style 27 on it. He apparently first used Schenectady's muscular Paul Marshall as driver. But, by the time I saw the car, Palmer had it [like he did in the '50's]. The rear section of the body had been bobtailed by then, as well. The teammade an end - of - the - season trip to Fairmont Speedway, where I saw it again. Never saw Palmer drive again. He dumped a newer version of the front stretch at Fonda and must have gotten replaced.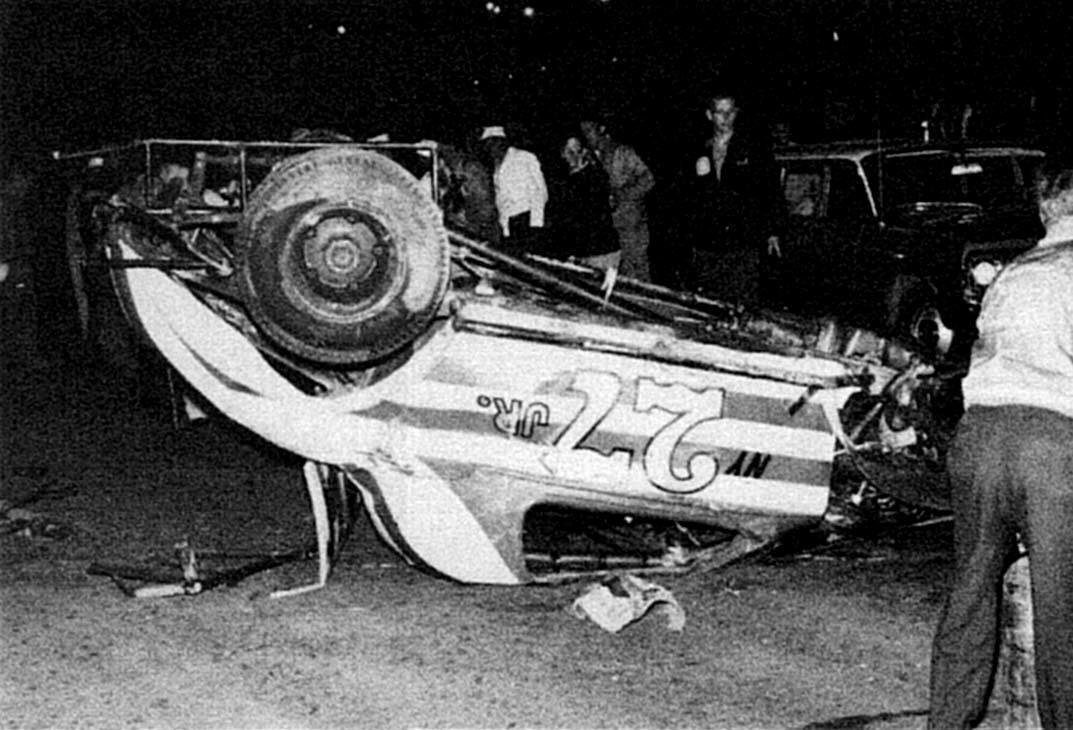 Russ Bergh Photo via the Ed Feuz Collection, Fonda Book
Ollie Palmer dumped this Fowler entry in almost exactly the same manner and spot as he had one of his own J-O's, years before.I think Fowler
and Mrs. Jolly Ollie may have agreed that it was a good time for the Jolly one to retire.
The Fowler 27 Jr team would go on for a number of more seasons - into the modified era. After going through two of the three Kotary brothers, Bill would field cars for the likes of Jerry Pennock, Ken Shoemaker, Rene Charland, and more. The team seemed to die out in the 1970's.

Bob McDowell Photo
via Phil Miller
The 27Jr team also had notable driver Link Pettit. Fowler drove the car, himself, as well.

Russ Bergh Photo
Via Rick Parry
Paul Marshall with the Fowler 27jr, when it still hd the full body in the rear.

Russ Bergh Photo
Via Rick Parry
This Corey photo shows the Paul Marshall version of Fowler 27jr, in the background.



Ladabouche Photo


Ollie Palmer

was still driving for this late season visit to Fairmont in 1964.

Via M.E. Jordan
Jolly Ollie with the as yet - unblemished 1965 version.
Still had that Cromwell helmet.

Frank Simek Photo
The car was passed on to Rome's enigmatic Tiger Tom Kotary.

Russ Bergh Photo
Tom, winning one.

Russ Bergh Photo
via David Kilmartin
The next car was a modified and the driver was Robbie Kotary, younger brother of Tom. The outfit he is wearing is all 27Jr themed.



Source Unknown
Robbie at Malta.

Source Unknown
More Robbie.

Ladabouche Photo
This shot at Fairmont shows a 1965 version - probably the last sportsman 27Jr. Jerry Pennock was driving then.



via John Gallant
The team had a good run with this sedan and driver Jerry Pennock. This is at Malta.

Gater News Photo
The Gater caption says Jerry had beaten Lazzaro here at Fonda.

Frank SImek Photo
Another Jerry win.

via David Kilmartin
Jerry again.

via Ted Devarennes
A drawing of Jerry wit the sedan.

From Dan Ody's 8MM
Old Speedways DVD's
A 27 Jr coupe at
Malta, likely with Shoemaker.


Bob Mackey Photo
Via MIke Watts, Sr
This Airborne photo shows Ken Shoemaker with the
27Jr, now a coupe.


Bob Mackey Photo
Via MIke Watts, Sr
This Airborne photo shows Ken Shoemaker with the
27Jr, now a coupe.

Via Brad Charland
Rene Charland was another top driver to run a 27Jr.
Return to the Main Page
Return to the Main News Page
Return to the All Links Page
New York Drivers and Owners Link Page