A LOOK AT ONE GREAT ARTICLE
A 1959 Preview On Lebanon Valley
in the Schenectady Gazette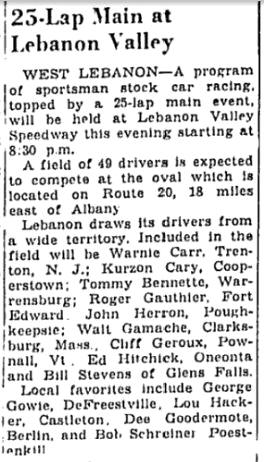 Schenectady Gazette Archives
This article appeared in the summer of 1959. The interesting aspect is the varied list of drivers mentioned. Unlike
Fonda and some of the other tracks in the area, the Valley was really a mixed bag - a place drivers and teams from
all levels and regions of racing could give it a try.

Lebanon Valley Classics
1. Warnie Carr towing
into the early
Lebanon
Valley pits.


Midstate Classics
2. Kurzon "Moose"
Cary.


Ladabouche Photo
3. Tom Bennett
with the Harrington
19NY.


Gauthier Family Photo
4. Roger Gauthier,
here with the
Bill King 90NY.

Lebanon Valley Classics
6. Walt Gamache burying
it into the wall.

Ladabouche Photo
9. Wild Bill Stevens'
little girl does her
part in dad's pit.

Ladabouche Photo
10. George Gowey,
who ran various
small tracks in
the Capital District.




No Photo For:
5. John Herron
7. Cliff Geroux
13. Bob Schreiner



Rex Chase / Don Phoenix Photo




via Midstate Car Club


Ed Hitchcock

Cavalcade of Racing Photo
Courtesy of Joe Grossetti
11. Lou Hacker.


Courtesy of Chris Companion
12. Dee Goodermotte [2nd from left] and his
"country pit crew" made up mostly of Tanners.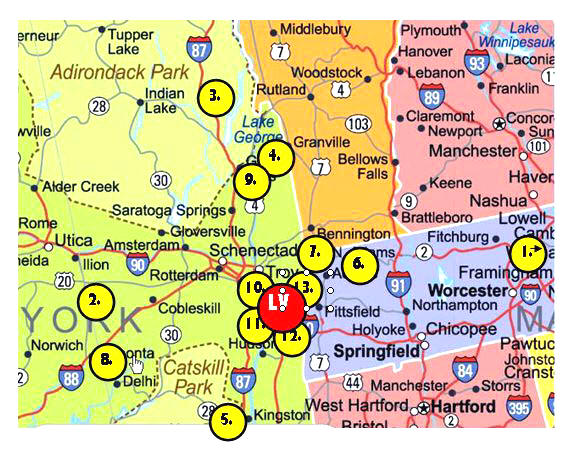 This is a very wide - ranging area from which the Valley drew cars - particularly in that era of few interstates.
Return to the Main Page
Return to the Main News Page
Return to the All Links Page