THE BILL'S BACK IN TIME COLUMN PAGE
Copies of my column in Mark Thomas' "Racin' Paper"
Column #8
BILL'S BACK IN TIME
By Bill Ladabouche
SOMETIMES THINGS AREN'T ALWAYS AS THEY SEEM – ESPECIALLY WITH GUYS NAMED ERNIE
One of the all-time great names in Thunder Road history has got to be Shannon Tomasovich. I am pretty sure Tomasovich means "son of Thomas", in Russian; but I regret that I don't know which specific language [Bylerussian, Georgian, etc.]. Watching Shannon race is particularly satisfying because he is one of the thousands of Milton, Vermont kids I have taught in this 38+ - year career of mine in that community, the former home of Catamount Stadium.
Shannon runs a Flying Tiger Sportsman car – a bright red #71; and many people assume that – given his growing up in Milton during the Catamount era – that it is a tribute to the famous red #71 of Bobby Dragon. Not the case, however. Shannon was brought up by the Ernie Barcomb family, the patriarch of which was uncle to NASCAR North's famous Ron Barcomb. Ernie, who is remembered by most of us as the tall, thin, but muscular brother of Herb Barcomb, both of whom were permanent fixtures in Ron's pit area for years.

Gene Gagne Photo
This is a familiar shot of Shannon at Thunder Road. His car doesn't handle well most of the time. The red #71 only coincidentally looks like a Bobby Dragon car.
Before Catamount and Thunder Road, NASCAR had already made inroads into the Vermont racing scene at Malletts Bay Speedway, in Colchester, and at Otter Creek Speedway, in Waltham. Moreover, Airborne Speedway, across Lake Champlain in Plattsburgh, New York, had been a NASCAR stronghold for years. Ernie Barcomb was a regular at Malletts Bay, and he probably tried Otter Creek and Airborne a few times, as well. It is his #71 that is dedicated with the on-dashboard photo Shannon keeps in his Tiger Sportsman.

Ladabouche Photo
This photo of Ernie, at Malletts Bay, is only the second one I have ever found. As you can see it is copied straight from the frame in which it sits at the Barcomb home.
Shannon, Ernest Barcomb, Jr., and the crew have had a tough 2006 season, scarcely qualifying for a few features until July 27. When I arrived in the pits Ernest quickly pointed out that "it feels better to Shannon". And feel better it did ! He finally won himself a heat, and proceeded to run one of the toughest features I have ever seen driven. Starting on the pole, Shannon fought the ill-handling [and very old] car, keeping the lead for over fifteen laps before before the far – superior car of Jeff French got by. Then for the remainder of the 40 lap Mid-Season Championship, he held off Brian Delphia and others – while finding himself every which way but tight with the ornery little red car.
Delphia, despite being highly frustrated, drove it cleanly and never did get by Shannon. Veteran announcer Ken Squier pronounced that Shannon had done a masterful driving job with one of the worst – handling cars to ever finish in the top three at any race he had seen. In Victory Lane, Shannon said he was simply having to dirt track to stay in the chase. Bobby Dragon would have even had to have been impressed with that job; but, somewhere up there above, Ernie Barcomb was smiling the most.
When Thunder Road went over to a NASCAR sanction around 1964, the eyes of several Northeast points chasers lit up. You would be surprised who suddenly acquired a ride in the famous Thunder Road coupe, that year, to boost themselves in the NASCAR national points races. T Road always had a lot of Western New Hampshire drivers – in fact, they sort of dominated the place; but few came from Eastern New Hampshire. Dover, New Hampshire's ageless Ernie Gahan was one of the Easterners who suddenly saw the tiny Barre speed bowl as a big opportunity. He had been driving not only his own 50NH, but also Sonny Koszella's 15's in a quest to finish high in the national points chase.

Courtesy of Cho Lee
There were few stranger – looking rigs than Marty Hardy's number 28 and 9/10, seen here spinning in Turn Three at Thunder Road. Others in the picture I know include #? Tubby Hatch and Dwayne Remick [far right].
Gahan would wind up with a very unusual-looking ride for a year at Thunder Road: Marty Hardy's immaculate, but very angular number 29 and 9/10. I have no idea why so many of those guys in the Golden Era liked to have off – beat fractions in their numbers [ Trombley's 5 and 7/8; Connor's 6 and 7/8; Nephew's 6 and 7/8; Messina's 3 and 1/7; etc], but this one was one of the wildest. Ernie scared up a bunch of points that year, but he must have seemed strange, running a car so different in setup and appearance than anything we usually saw him in.

John Grady Photo
Shown here with a rare stint in the Chris Drellos flagship 111 car that was usually associated with Ken Shoemaker, Ernie drove almost anything it took to get NASCAR points.
Gahan was joined, that year, by three – time NASCAR National Sportsman Champion Rene Charland, then from Agawam, Massachusetts. Charland had landed the #68 George Hay coupe out of Hardwick, Vermont, and he probably had an advantage over Ernie because was one of the most established and successful car owners that Thunder Road had at the time. He ranked with owners like the legendary George Barber. It must have been beneficial to Charland, as I believe that was one of his Championship years.

McIver Photo
The George Hay coupe was driven by Rene Charland for a year.
Here's a little memory jogger from the early 1970's: How many of you remember when almost all Saturday night race cars were hauled in old school buses ? Webmaster Otto Graham recently got a request from someone, somewhere over there in New York who apparently hadn't ever seen this phenomenon. I can kill two birds with one stone in this column by showing a row of such haulers at Catamount while, at the same time, showing a good picture of the aforementioned Ernie Barcomb in his later years, sitting on nephew Ronnie's hauler. This shot shows Russ Ingerson in the twilight of his NASCAR late model career driving the Blake & Loso #72 [the former George Horn car] down the pit ramp at Catamount around 1974ish. That ramp, by the way, is some of the only remaining asphalt from the Catamount facility.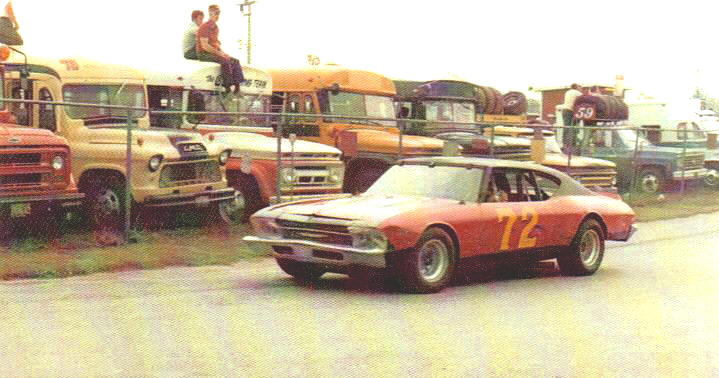 Courtesy of Andy Boright
The taller man on the roof of the hauler is the late Ernie Barcomb

Please email me at wladabou@comcast.net if you have any photos to lend me or information and corrections I could benefit from. Please do not submit anything you are not willing to allow me to use on my website - and thanks. For those who still don't like computers - my regular address is: Bill Ladabouche, 23 York Street, Swanton, Vermont 05488.
AS ALWAYS, DON'T FORGET TO CHECK OUT MY WEBSITE: www.catamountstadium.com
Return to the Main Page
Return to the Columns Link Page
Return to the Main News Page