THE BILL'S BACK IN TIME COLUMN PAGE
Copies of my column in Mark Thomas' "Racin' Paper"
Column #7
BILL'S BACK IN TIME
By Bill Ladabouche
HOT CARS, HOT MOMENTS; BUT NOT ALWAYS SUCH A HOT TIME
The best memories I have of racing probably still come from the old Fairmont Speedway in Fair Haven, Vermont – C.J. Richards' first CVRA promotion. Right from the first show, on Memorial Day, in 1962, there was an unimpressive – looking little old yellow Hudson coupe with very plain, homemade numbers on it. The driver was Ed Baker, from Warrensburg, New York. The car didn't look like much; the car didn't sound like much; the driver was not loud or flamboyant; but, man! could that thing motor !
Baker's coming from Warrensburg was big thing in terms of racing heritage, as Fairmont's first announcer, Bill Barsalow, Sr. would explain. We now know that at least one race track in the Warrensburg area was called Ashland Park. It may have been the old fairgrounds [just like Fairmont], and – according to race programs from various tracks I attended – there were a ton of Bakers racing out of there: Ed, Stu, Dick, Vern, and Lennie were all Bakers named on one race card or another. But, except for one visit from Stu and a few from Lennie, Eddie Baker was the main attraction of the family.

Ladabouche Photo
The 6 PACK at the Rutland fairgrounds with a new paint job. The guy I call the loyal crewman is at work in the background. He might be one of Ed's brothers - Vern.
A big, pleasant man who always wore a red and white golf shirt, Ed Baker was a liquor salesman whose route took him right through the same territory that supported Fairmont Speedway. I just thought he was the greatest thing since sliced bread; and so, when he would arrive in Castleton to service the mom and pop stores there, this Castleton State College was thrilled to see him and actually have him remember my face. Ed's best year at Fairmont was 1962, in which he won a number of times. In 1963 Richards' tech people got the bright idea that the cars had to have a hood and fenders; so Ed and his faithful crewman [it might have been a brother] installed them on the Hudson. They looked ridiculous but they didn't slow down the yellow #6 PACK much. I suppose the number might have come from Ed's sales involvement with alcoholic beverages. Who really knows ?
Baker was cooperative with almost anything the track asked him to do. When Richards decided to hold a race at the Vermont State Fairgrounds in Rutland, Baker's was one of the teams that attended – and they even spruced the drab little Hudson up with a new paint job that week. The car had an odd device for clearing mud from Ed's view. Instead of the flip-up plastic squares that so many drivers were bringing into play then, Baker had a sliding device – almost like the service window at a snack bar. When that piece became too caked to see, he'd slide it aside. I don't think he had another windshield underneath it, however. [The days of real men, etc.]. Other than that and the very unique almost – air-blasting sound the Hudson engine made, the little yellow coupe he stiff-hitched in every week was not very remarkable. [It was just good].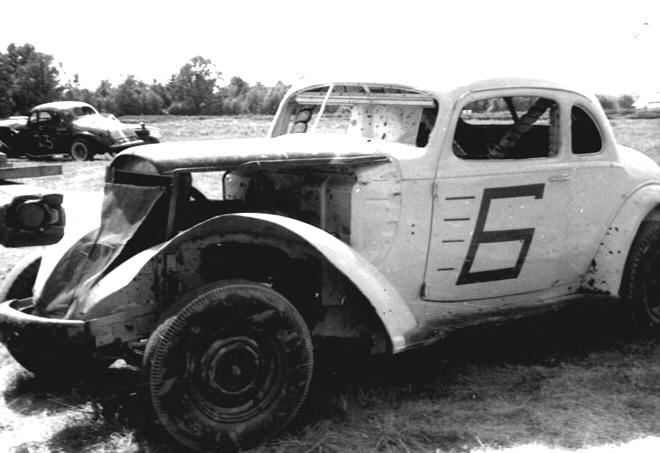 Bob Frazier Photo, Ladabouche Collection
The crossfire model in 1964. You can really see Baker's unique sliding windshield.
In 1964, when the old coupe had apparently run its course, Baker came out with a new Hudson. I would say it was a Terraplane body and the track management promoted the hell out of the fact that it had "the Hudson crossfire engine" in it. Well, Ed did run it, but never with the success of the older car. He didn't really finish out the year and I have never seen him again. These men and these cars were what made racing so much more interesting back in the day. None of those guys used crate engines and you didn't need decals to tell one car from the next. If anyone in Ed's day had seen the kind of hauler the racers have today, he would have figured someone was hauling race horses somewhere. I wish I knew if Ed was still around. Anyone out there know ?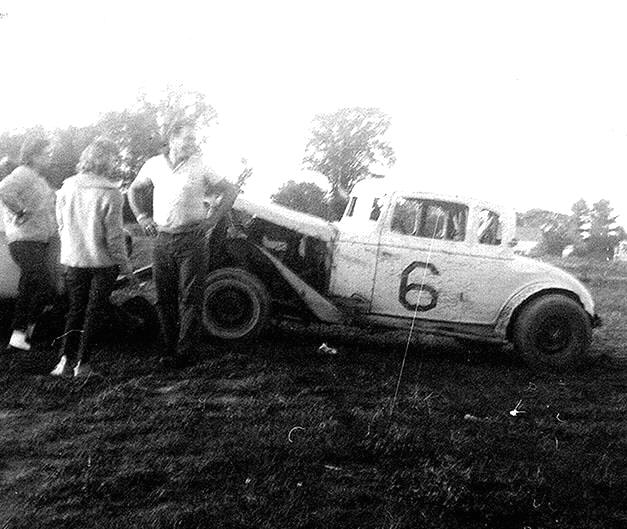 Ladabouche Photo
This shot, in the fading light of a fall afternoon, shows Ed Baker with who I would imagine are his wife and maybe his mother. He is wearing "the shirt".
Another good guy who also raced for C.J. Richards, but who never crossed paths with Ed Baker, was Bernie Kentile. A native of the Lake Placid/ Saranac Lake region of New York, Bernie was a close buddy of Wes "Slugger" Moody, and he joined Moody in racing at Airborne, Saranac lake, and other tracks in the 1960's. Bernie was around when Moody promoted Airborne for C.J. in 1985, but he didn't race then. I remember him as a powerfully – built man who could have driven one of those mods if he wanted to. Then, some years later, Bernie decided he was going to get one of those new dirt modifieds and give it one more try – maybe to race with his boy at some point.
By that time, unless you wanted to be hauling great distances, you would probably race Devils Bowl in order to access a clay oval. It was there that Bernie ended up having a terrible crash, with fire involved. He had apparent premonitions about the wreck, but he did completely understand them. What follows are some notes I made after talking to Bernie at Airborne in July:
Bernie Kentile talks of the fiery crash he had at Devils Bowl that ended a sort of comeback career. He wanted to participate in the sport with his son and had a modified for dirt. He had obtained a STOCK CAR RACING magazine that particular month, and one of the featured articles was about fires in racing: "Trial By Fire". For some unexplained reason, the article troubled Bernie deeply - more than other such article ordinarily would have. He would thumb through the magazine and purposely skip over the fire article. Whenever the magazine was tossed down in the shop, it would seem to flop open to that article and Bernie would move enough pages to cover it up.
Other people would bring that issue to the shop or want to discuss the article; but, Bernie could not - for some reason - look at it or talk about it. It really bothered him [and that, in itself spooked him because he really didn't know why]. The weekend of the fateful race at the Bowl, the magazine ended up in his way a number of times and he would carefully move it away so that the pages to that article were not exposed.
Bernie admits he had given some thought to the driver's compartment in the modified before any of this came to the fore. He had the steering wheel replaced to one with a smaller diameter, and he made some other modifications so that he, not any twenty year-old at the time, could exit the car more quickly and without removing the steering wheel if it came to that. it just made him feel a little more at ease with driving in the close-quarters of that modern dirt modified.
The exact circumstances of what caused his accident that night are not all that crucial to the story; but, the fact that he ended up rolling on the retaining wall violently does matter a lot. Bernie was holding onto the tiny steering wheel for dear life as the car was making every effort to mimic a high-speed carnival ride. He was totally aware of all that was going on. He said there was an eerie slowness about the whole thing; there was no fear. He was also holding on to other parts of the car and he knew flame had burst out everywhere. He realized his hands were fire, and that his fire retardant suit was maxing out - but there was no terror and no pain.
One of the photographers had the presence of mind to start snapping, while in fear that the driver in this car was already gone when he saw a black outline in the blinding, searing flame, wiggling out the window of the capsized wreck. Kentile actually crawled out, through the fire calmly and worked his way away from the car, He was badly burned but he still felt almost peaceful and very calm - with no pain. The rest is not that important. He has recovered better than doctors thought and he never allowed them to removed any burned parts of his arms or hands. It worked out. Bernie said, during that whole sequence, at one point that magazine article occurred to him and he actually thought how ironic it all was.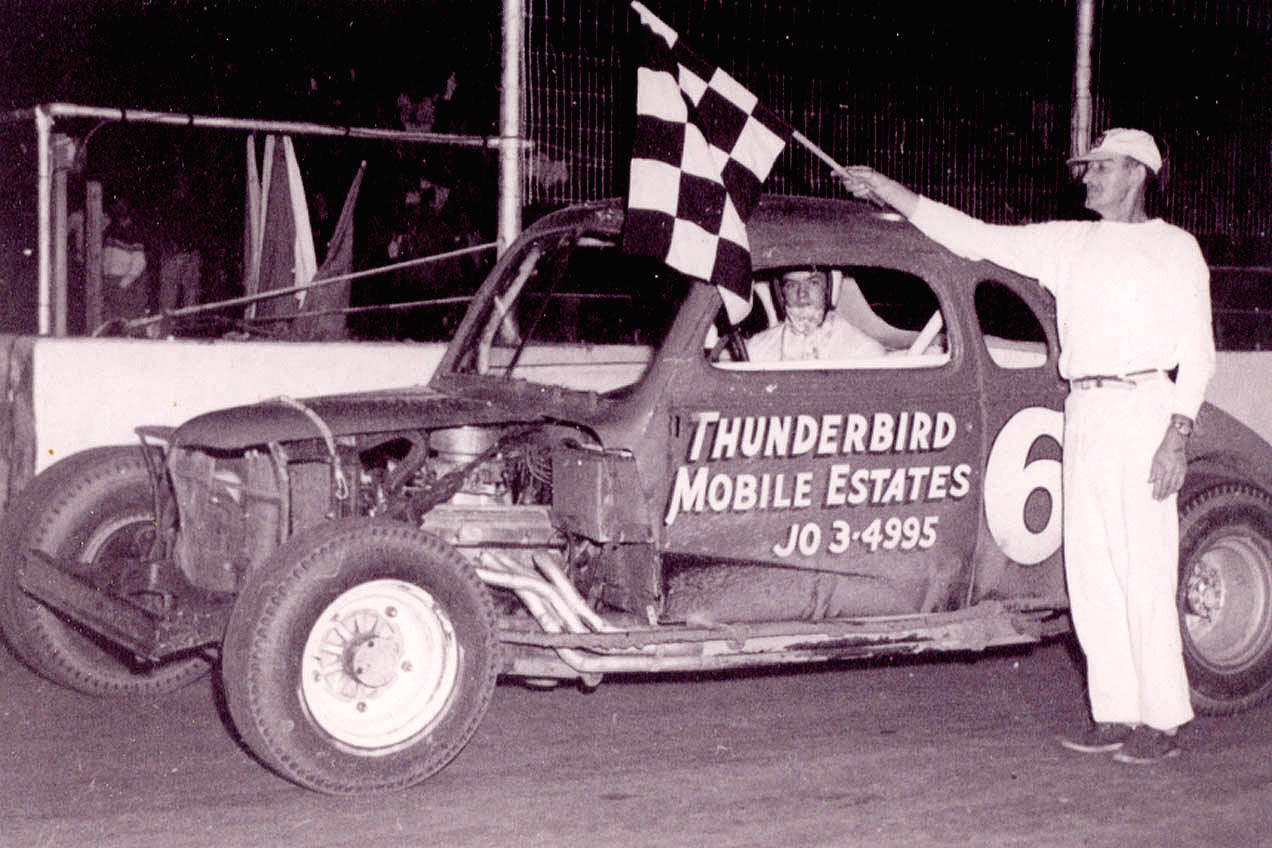 Courtesy of Mike Watts
Bernie Kentile, with starter Art Prairie, in happier times at Saranac Lake Speedway around 1964. This photo was acquired after the column was written.
To my way of thinking, that is one of the more remarkable stories I heard this year – almost movie material. It was good to see my old friend Bernie and be able to talk tio him. I do wish the subject could have been more pleasant. With apologies to Bernie, I have absolutely no photos of him at the present time, so this portion has none. Even if I had one of the wreck, I wouldn't publish it. Hopefully, as I continue my race history work, a photo of Bernie Kentile will present itself. Speaking of photos, I do not know what is happening to some of my photos I send in with these columns. I apologize for the way some have looked this summer. They aren't like that on my computer, and I am working with Mark to see what we can do about them. I will include a favorite photo of mine – because I know people like seeing them.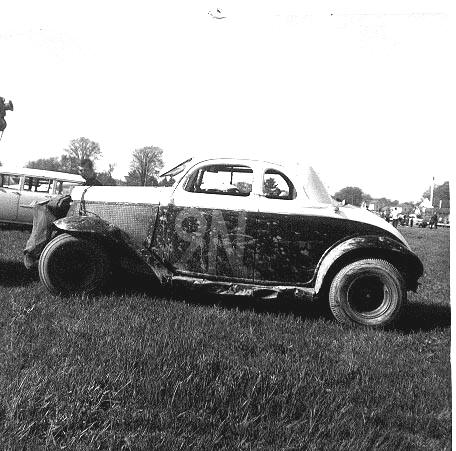 Ladabouche Photo
This car was driven at Fairmont, around 1963, by Foster Wendell – from Greenfield Center, NY – according to the race program. Foster had a great year in the late model division at Devils Bowl about five years later.
2/8/08 Post-column commentary: This 9N car appeared at Fairmont only two or three times. The first time, I am reasonably sure it was in the hands of Foster Wendell, the Greenfield Center, NY driver who became a well - known late model driver up into the Devil's Bowl era. Wendell ended up driving a #61 '55 Chevy late model sponsored by J.C. Durick Insurance at the Bowl for a while and won some races. Later the gorgeous red Chevy was driven by Johnny Peoples, of Wilton, Vt.
The 9N, at one point or another, re-appeared at Fairmont with Whites Beach regular Orlando Pappa. Orlando had come to Fairmont on a few different occasions with assorted cars, but he was far more regular at Whites Beach [and maybe places like Ashland Park, Warrensburgh].
More 2/8/08 post - column commentary: Former Thunder Road and Northeast Speedway star Henry "The Frozen Logger" Montandon was mentioned in the previous column I put on the site. I understand from Cho Lee that Henry is now is very failing health. We wish him the best.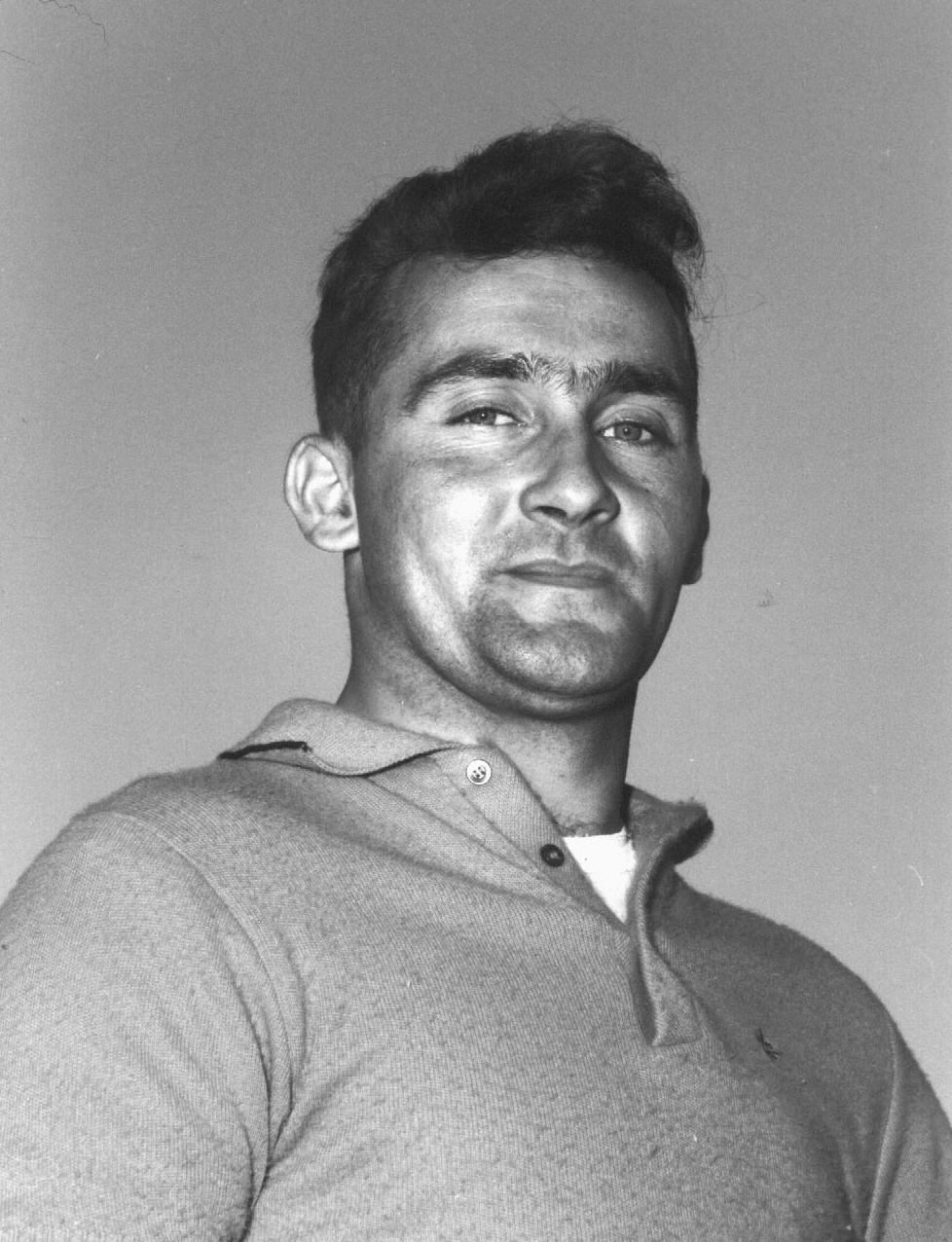 McIver Portrait Courtesy of Cho Lee
Henry Montandon, "The Frozen Logger"
Please email me at wladabou@comcast.net if you have any photos to lend me or information and corrections I could benefit from. Please do not submit anything you are not willing to allow me to use on my website - and thanks. For those who still don't like computers - my regular address is: Bill Ladabouche, 23 York Street, Swanton, Vermont 05488.
AS ALWAYS, DON'T FORGET TO CHECK OUT MY WEBSITE: www.catamountstadium.com
Return to the Main Page
Return to the Columns Link Page
Return to the Main News Page