THE BILL'S BACK IN TIME COLUMN PAGE
Copies of my column in Mark Thomas' "Racin' Paper"
Column #6
BILL'S BACK IN TIME
By Bill Ladabouche
CHOOSING MY TOPICS WITH THE CLICK OF A MOUSE
Sometimes picking something to write about is simple, other times it is impossible. This time, I got this marvelous idea: go through my photo files [the ones I use for the website] and see whose names jump out. I didn't get far before I hit two good ones. You see, the photos folders always start with any pictures whose file names contain the car number ( such as the number 2X and ) are right up at the beginning of a huge folder. BINGO !
After my uncle and I had been to Fonda a couple of times and were not quite as awed at the level of racing there compared to the lumpy, dusty little ovals back home, we were surprised, one Saturday night, to see an fairly ugly, and totally unfamiliar car tow into the Track of Champions. What was more shocking , this guy was really showing the usual cast of sportsman superstars the way around the odd-shaped half mile clay oval.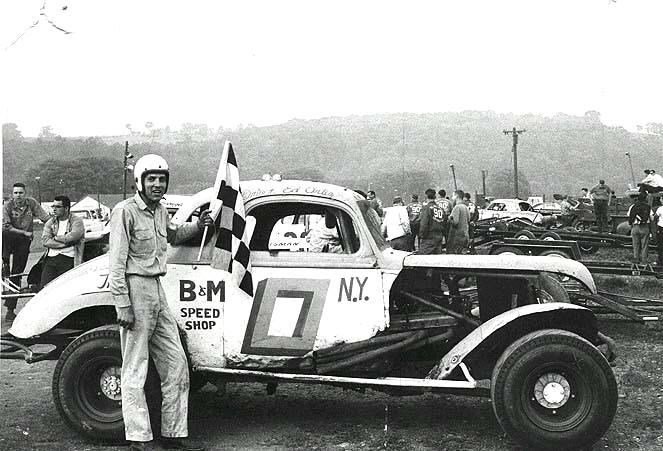 Russ Bergh Photo, Ladabouche Collection
Ed Ortiz poses at Fonda on an ominously foggy evening. Note the specs on the roof. Tom Douglas, future car owner for Jack Johnson sits, arms folded behind.
It turned out this guy with the really homely #0 Chevy was named Ed Ortiz, from Ransomville, New York [or as announcer Mike Valchovic would put it –" Eddeee Or-teez, from Raaan- sumvillle"]. The car looked like it had painted with a brush, the body was drilled full of holes in the rear half, and the driver was an unassuming, bespectacled man. But, boy could that thing fly ! I actually think Ed won a feature or two at Fonda, and this was not easy in the Golden Era in the 1960's.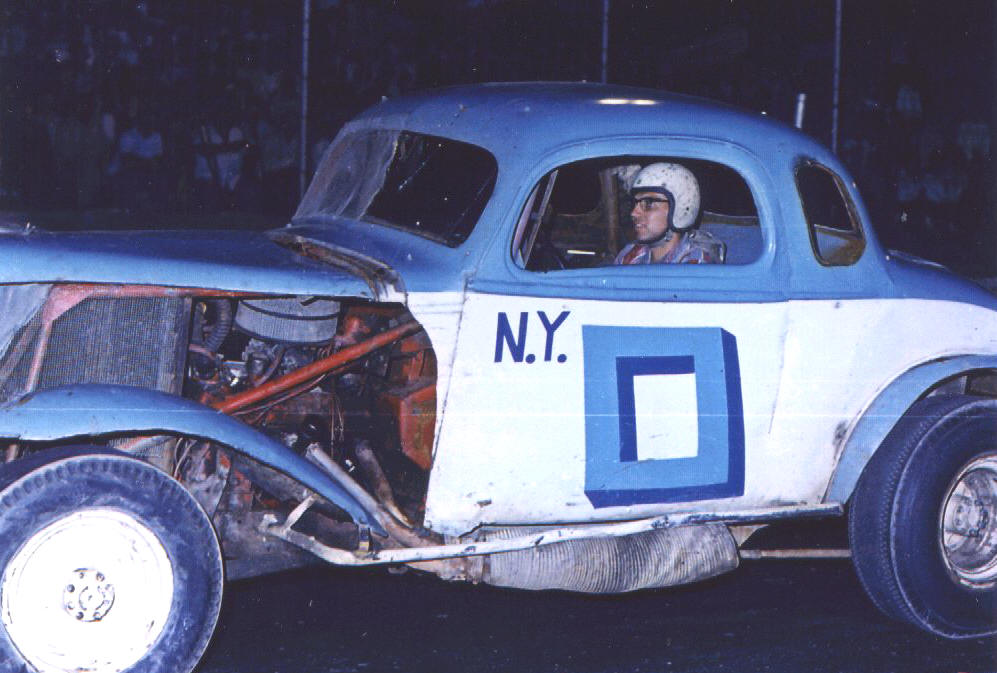 John Grady Photo
Ortiz, ready to roll, with the drivin' specs on.
When you saw Ortiz in or posing with his rough-looking , no-nonsense sportsman coupes, he generally made sure the glasses were off. My favorite is one in which he has them sitting on the roof of the car. In another shot, he has them in his hand. But I saw only one shot of him, wearing the glasses, seated and ready to go. Apparently, he could not see well enough to drive a race car without them.
According to stories surrounding Ransomville Speedway, Ortiz owned some property on which he allowed a race track to be started – to keep some of the local youth from risking their lives [and others' lives] on the streets. Later, a better speedway was started in the location it is still functioning today, but the old track is still somewhat in evidence on Ed's property.
Some information from a site on Ransomvillle offers this information [and I thank them for it] : An unbelievable racer, Ed Ortiz won races and championships at nearly every race track he raced.
The original Ransomville Speedway was built behind his service garage during the mid-1950's, in order to keep the kids from racing on village streets.
In 1958, the Ransomville Speedway you see now was opened by a group called the Ransomville Slo-Pokes.
In 1962, Ed was able to come home with the Ransomville Championship. Ed returned in 1998 to run in the Pro Stock class. In true Ed Ortiz fashion, Ed was able to claim a feature win. Ed is also a member of the FOAR Score Hall of Fame.
Ed Ortiz is one of those remarkable stars like Bill Wimble and Dick Nephew, who could come back after years of retirement and still excel in a race car. When I think of Fonda in those magic days – he is one of the names I will always remember – despite the fact he wasn't necessarily a regular there.
One of the next numbers to come up was 2X, and that, of course was the famous Judkins car from Connecticut. The thing is, with Bob Judkins building the Pinto and [supposedly] starting the Pinto revolution in modified racing, many people forget what a hoss the old '37 Chevy coupe was – long before Pintos were scarcely a thought. The Judkins 2X first was seen in my area with the legendary Ed Flemke aboard.

Tony Morodino, Jr. Website Photo
A Southern New England win for the 2X and Eddie.
The 2X was enough of an engineering marvel, in and of itself, but when you take into consideration that Flemke, himself, was an extremely smart racing mind – at least for that period – the combination was unbeatable. The Fonda regulars had their hands full when the Judkins car showed up. After Flemke was either gone from the team or did not choose to make the trips North, Fonda legend Kenny Shoemaker climbed aboard and made it fly just as fast – if not faster.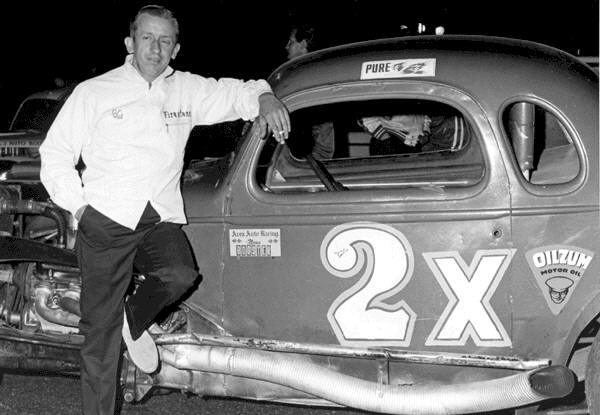 Photo Source Unknown
A familiar sight for years in the racing world.
I suppose the car appeared at Fonda after the transformation to Pinto sheetmetal, but I wasn't there to see it. I know the team hauled into Devils Bowl, at least once, with Gene Bergin at the wheel so they apparently would run on dirt. At any rate, the Judkins red 2X race cars were some of the finest and most prestigious rides any driver could ever hope to land.
One of Vermont's most storied race drivers was nowhere near Judkins in technology or notoriety, but he might have been one of the most colorful drivers to ever sit in a coupe. Chester T. Wood was from the small Vermont hamlet of Orange [which was naturally in Orange County].Chet began to get the urge to drive when Northeast Speedway was running, way up in Lower Waterford, Vermont – near St. Johnsbury. By the late 1950's he had himself a stock car of sorts and began racing up there.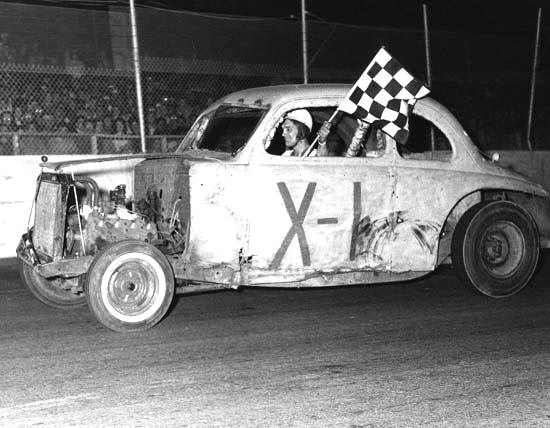 McIver Photo Courtesy of Cho Lee
Probably Chet's first car – at Northeast Speedway. It was enough to scare the hell out of Henry Montandon.
Former Thunder Road and Northeast Speedway star Henry "The Frozen Logger" Montandon tells of hjis experience with Chester T./ He relates how, one night at Northeast Speedway, they decided to tear down the top three in the feature. They checked engines, springs, - and they even took a sample of the gas. Well, they never did figure out what Chester was using because, by the time was race was over, whatever he was using had eaten the plastic container he used as a gas tank and there was nothing left.
Montandon tells another story, wherein he and another driver used to borrow the services of one of Bellevance Trucking's big granite hauler to get all three cars to Waterford at once. They would often stop over at Lloyd Severance's place in East Barre and pick up Chester T. and his car, too with a dump truck that had come along for the ride. One particular night, the gang wanted Henry to take Wood's car out for a few laps.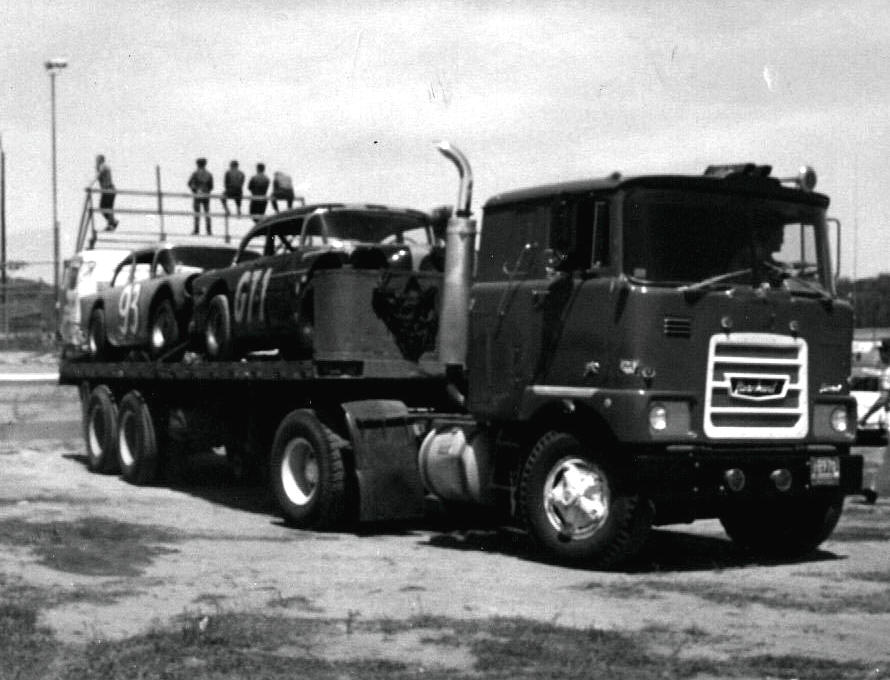 Courtesy of Cho Lee
Bellevance Haulers were very apt to double as transporters for Barre race cars. This is at Catamount around 1968.
Even today, Henry's face becomes much more animated when telling this: "I don't even remember if Chester was still running the tractor seat in the car or not, because after I got going out there I looked down and saw way too much race track underneath me. He had almost no floor in the thing. I then saw saw that about half the car was held together with baling wire. Two or three laps - that was enough for me, thank you just the same !"
Chester T. Woods went on to race in the earlier days of the Northern NASCAR late model sportsman cars, and I have often related the story of how his ratty – looking 1962 Plymouth outdid the heavily – financed professional race operation from Massachusetts in a season opener at Catamount around 1970. Although he is gone now, Chester T. stories continue to abound – especially among the old hands in the pit bleachers at Thunder Road on a Thursday night in the summer.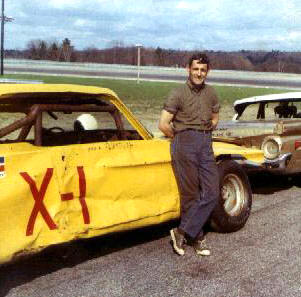 Courtesy of Rich Palmer
The one, the only Chester T. Wood.
Please email me at wladabou@comcast.net if you have any photos to lend me or information and corrections I could benefit from. Please do not submit anything you are not willing to allow me to use on my website - and thanks. For those who still don't like computers - my regular address is: Bill Ladabouche, 23 York Street, Swanton, Vermont 05488.
AS ALWAYS, DON'T FORGET TO CHECK OUT MY WEBSITE: www.catamountstadium.com
Return to the Main Page
Return to the Columns Link Page
Return to the Main News Page