THE BILL'S BACK IN TIME COLUMN PAGE
Copies of my column in Mark Thomas' "Racin' Paper"
BILL'S BACK IN TIME
By Bill Ladabouche
Site Column #56 from My Column 71
SOME INSIDE INFORMATION ON ROGER THE DODGER
The first time I ever heard of Roger Gauthier was my first trip to Fonda. But, most of my Gauthier memories come from Fairmont Speedway. Gauthier, whom I always thought of as being from Fort Edward, NY, is sometimes listed as being from Hartford; but, some of the New Yorkers I have talked to think maybe he hadn't moved. So, maybe one is a township within the other.
I honestly cannot recall what Gauthier would have been driving at Fonda as early a1961. I have received a considerable body of notes from Charlotte Gauthier – Berry, who I assume is Roger's widow. Gauthier's career was too short due to a broken neck in the late 1960's and – more tragically – his life was over way too short, at 55, as well. The first ride I see Roger in is the #90 of Tom Hammond, from Amsterdam. Roger, along with Dutch Reed, drove for Hammond, although Reed is considerably more associated with the team.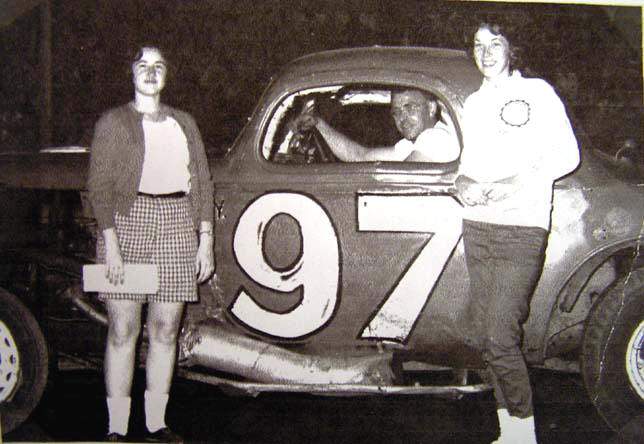 A tall young Charlotte poses with a friend in front of Dutch Reed,
in the Joe Romano #97 at Fonda. [Gauthier Collection]
In 1960, A very young Gauthier had met a girl, apparently at Fonda, and would marry her soon after. In the early 1960's, photographer Russ Bergh often photographed fans on the track with their favorite drivers. Charlotte is seen, as a youngster, posing with two different drivers: firstly, with Jeep Herbert her first hero with J.R. Earl's sedan; later, with Roger's friend, Dutch Reed and the Romano 97. Maybe that is the connection that led her to Gauthier.
Gauthier and Reed seem to often cross paths, and I imagine they were pretty good friends. Reed, the older, seemed to hail from the Glens Falls area. They both spent some time in the Joe Romano 97 cars very early in the '60's before Tiger Tom Kotary's infamous turn in the car. Roger looked very young in most of these early photos. Of course, he WAS young, but he also had a youthfulness about him that would belie his age.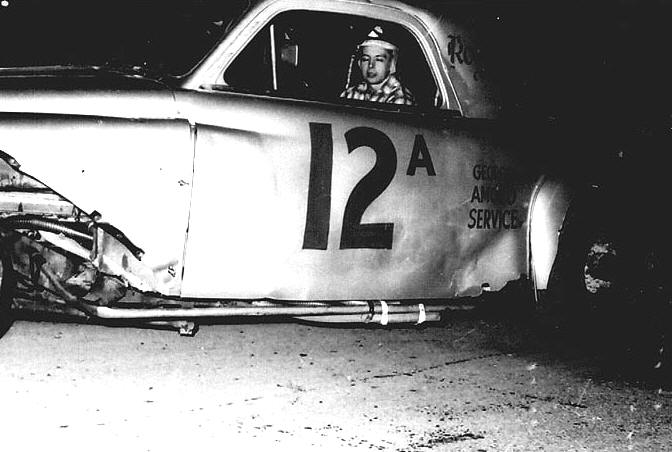 A youthful Roger Gauthier looks out from the heavy old 1951 Chevy coupe of Donald Gallo
after a Fonda heat win around 1960. [John Grady Photo]
When Gauthier's name first began to crop up at Vermont tracks like Otter Creek Speedway [first] and then Fairmont Speedway, he had moved to the blue 12A at Fonda. The 1951 Chevy coupe was a decidedly non-competitive ride. It eventually ended up in the hands of Ronnie Battaglia, while Gauthier gravitated to Fairmont for a few years. Gauthier's first decent ride in Vermont came when Whiting, Vermont's curmudgeonly car owner Norm Scarborough bought a coupe from Bruce Willey, of Bellows Falls, Vermont. The 107, which had been re-painted blue and dubbed "The Moonlight Gambler" became the dominant car at Fairmont by 1963.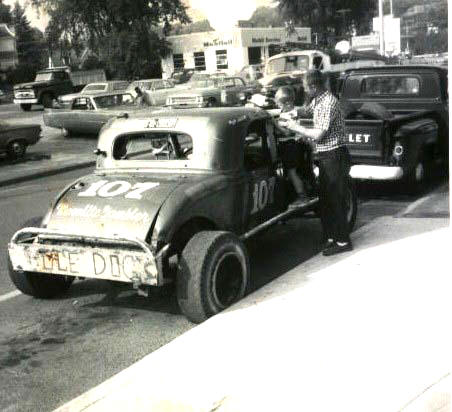 Gauthier's title – winning #107 after Norm sold it to Art Visconti. That's Art and his son, present –
day driver Mike, in Granville. [Visconti Family Photo]
The combination of Gauthier and Scarborough was a terror at Fairmont from the outset. They won a number of features and ended up, according to some of Charlotte's clippings, as the CVRA Champion that year. The car had been run at Claremont Speedway, where power was not as much of an issue; but Scarborough made sure the powerplant was beefed up for the Fairmont half mile, which was much more of a horsepower track.
After that season, Scarborough sold the car off to Art Visconti of Granville, New York – an act that had been done at least two times prior. That car would go through Visconti, before ending with with Charlie McMahon, who supposedly finished it off around 1965. Scarborough would disappear for a while before returning with those potent #24's he had for Russ Shaw.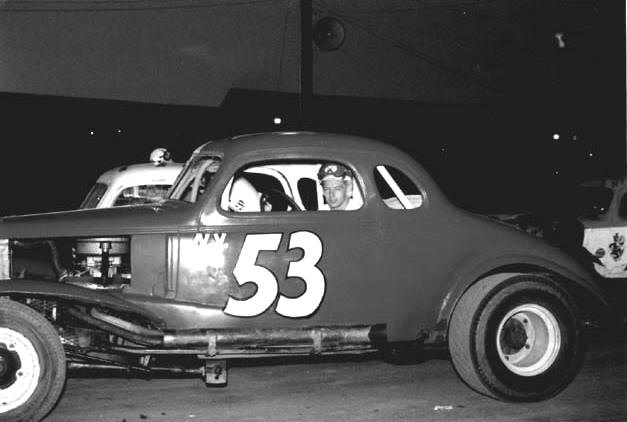 Roger, in the beautiful Charles Habreck 53, at Fonda. This one helped him win a feature
at Victoria around 1964. [John Grady Photo]
Roger landed on his feet. He would occasionally fill in for Ken Tremont, Sr.'s drivers at the Valley, and he also hooked up with a new car owner, Charles Habreck, of Amsterdam. The red #53 Habreck 1936 Chevy coupe was one of the most beautiful cars of that period. Roger ran Fonda, although not with any great success. But he did become a feature winner at that paper clip – shaped Victoria Speedway at Duanesburg, New York, a track that featured a mix of some of the best and worst from Fonda and Lebanon Valley. Winning a feature there was no small feat.
Gauthier also returned to Fairmont in 1964 with the Habreck 53. He did not appear on a regular basis, but the car's wonderful appearance and Gauthier's performances earned the car a spot on the CVRA calendar that came out after the 1964 season. Again, the paths of Dutch Reed and Roger Gauthier would cross. In that general period of time, both would driver the famous Tony Villano yellow and black #37, which had been made famous by Pete Corey.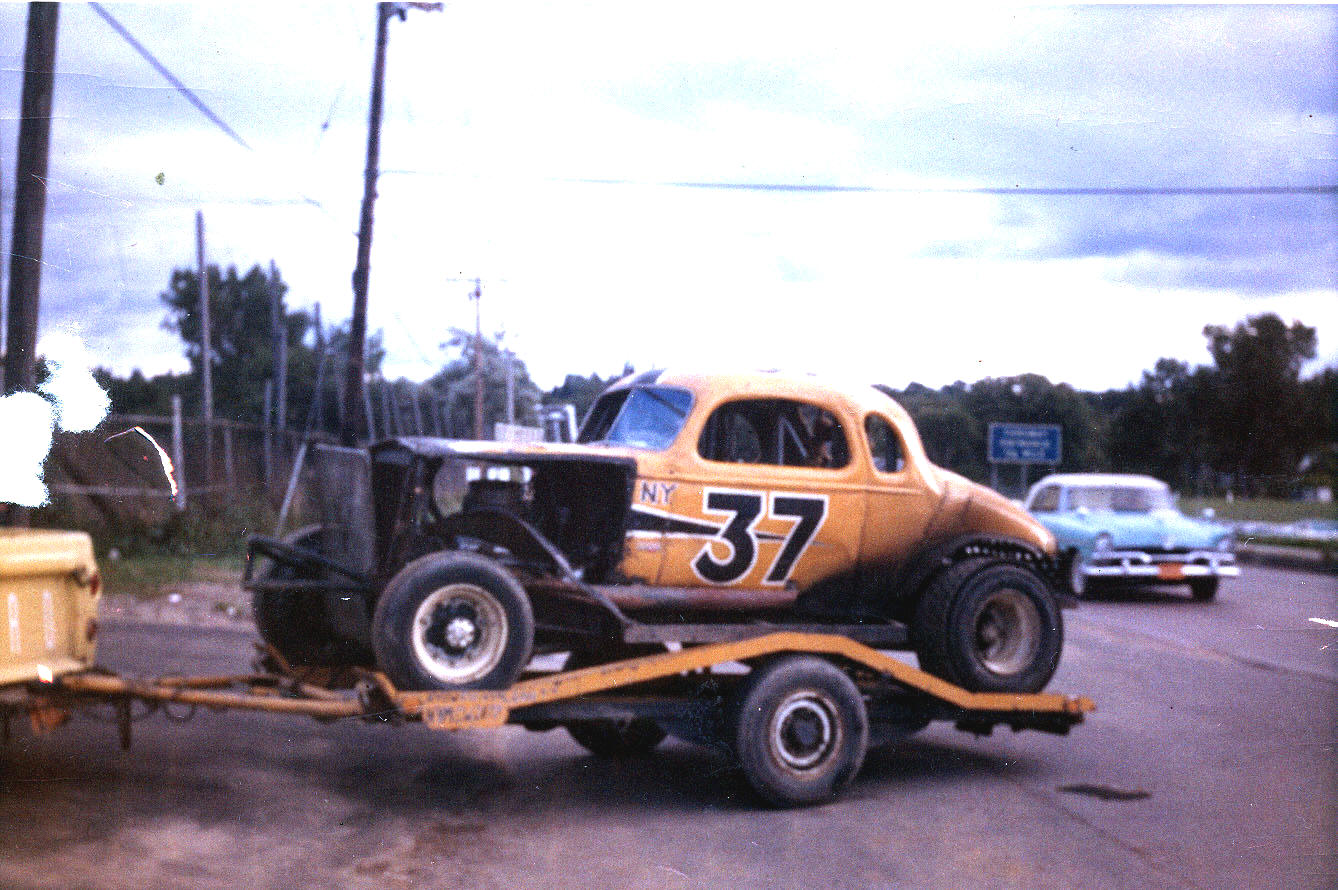 Roger would be one of the drivers to follow Pete Corey and Jeep Herbert in the Tony Villano
37 at Fonda and Fairmont. [Ladabouche Photo]
The Villano car had a long pedigree. Having started as the Kitler 37 at Stateline Speedway, the car went over to A.C. Caprara until the 1960's, when Villano acquired it. The car saw such famous drivers as Pete Corey, Jeep Herbert, and Jack Johnson. It also enjoyed the services of good drivers like Gauthier and Reed. It was also well driven by Jerry Pennock and had a few one-timers like the journeyman Wayne Coon, of Delanson, NY. Gauthier seemed to have the car at Fairmont at the beginning of the 1965r season, before joining forces with Al Ryan.
1965 was another banner year at Fairmont for Roger. Driving the A.G. Ryan Hay and Straw #28 V-8 sportsman, he and Ryan won enough to get another title. That car began the long string of famous Ryan 28's which went all the way through the 1970's, the '80's and continues on today. Jack Ryan took over from his father, began building what he called the Lazer Chassis, and had the honor of owning Vince Quenneville, Sr.'s last feature-winning ride. The spent some time in the Saratoga Auto Museum.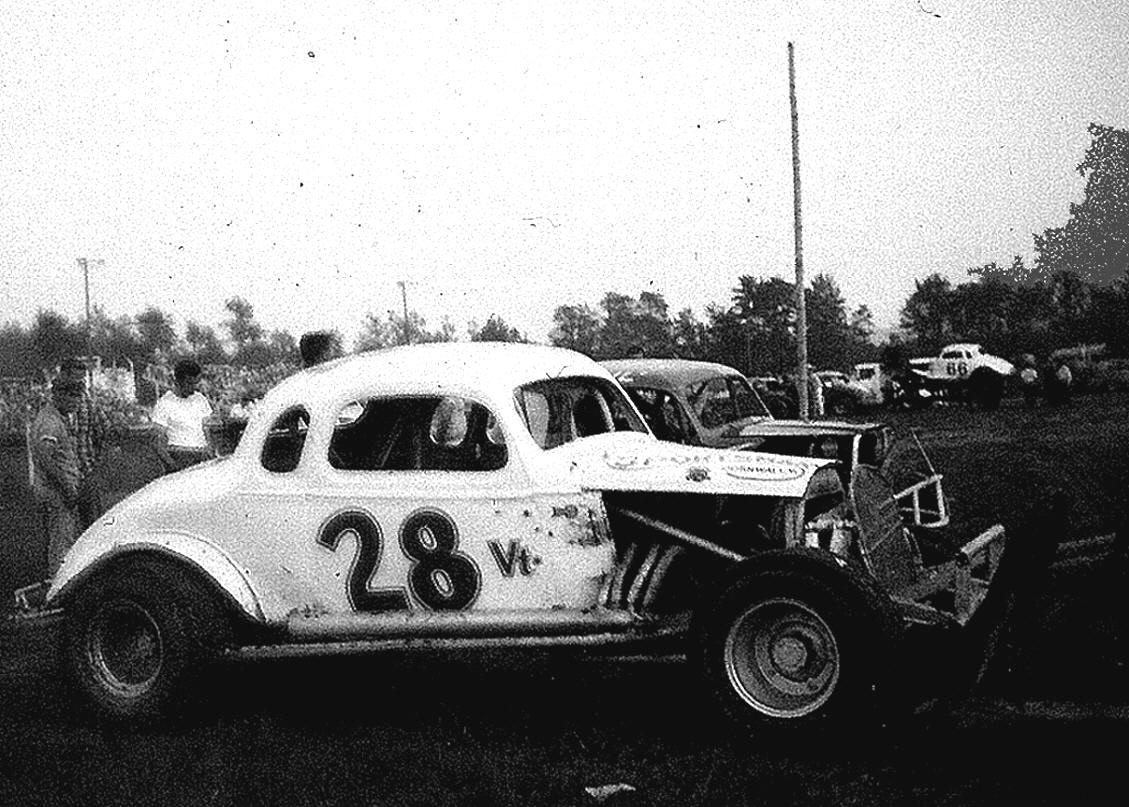 The A.G. Ryan 28 sportsman at Fairmont in 1966. [Ladabouche Photo]
Roger went on, when CVRA closed Fairmont and moved to Devil's Bowl by 1967. He drove a little longer for Ryan, whose cars were then numbered 128. During the last year of Fairmont and the first years of Devil's Bowl, Norm Scarborough had produced some powerful cars for young terror, Russ Shaw, of Bomoseen, Vermont. By the end of 1966, apparently Norm had tired of Russ tearing up equipment. Norm had built a fairly – advanced Mustang – bodied sportsman and he kept Shaw in the car only a brief time before putting Roger back into it at Devil's Bowl. The team won another title, in between stints with Ryan.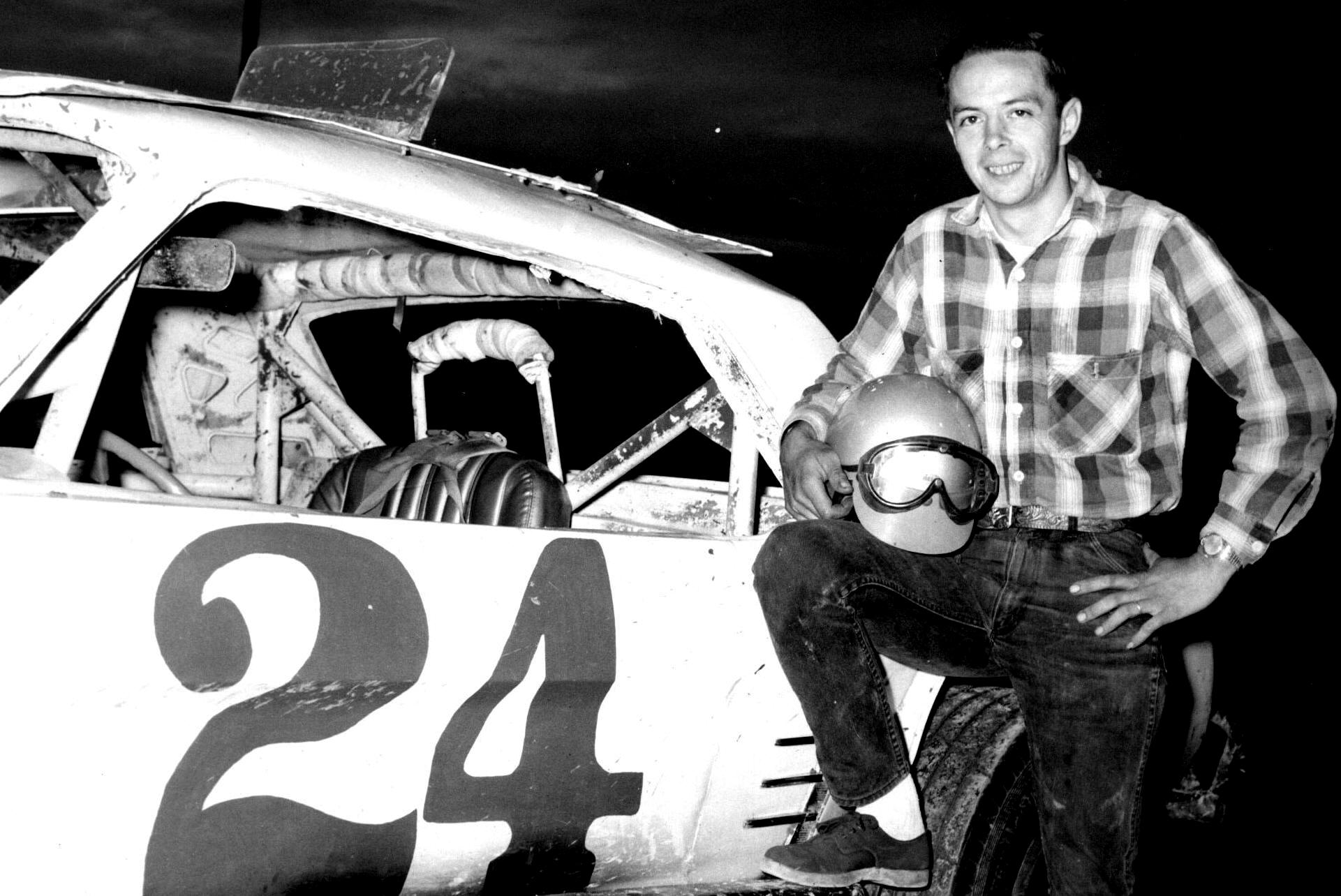 Roger, with the potent Norm Scarborough Mustang at Devil's Bowl.
[Bob Frazier Photo Courtesy of CJ Richards]
Scarborough went back to original driver and neighbor, Quenneville, and Roger eventually wound up without a consistent ride. During this period, he began driving Clayton Ryan's potent #211 [again, a team for which Dutch Reed had once run]. The 211 team was doing fine at the Valley by 1968. One afternoon, he was approached by CVRA promoter C. J. Richards to drive a car for his brother, Ray, at Granby, Quebec. The #75 coupe was usually driven by Harmon "Beaver" Dragon, a star at Catamount Stadium, and Dragon's commitment up North had left Richards with no driver for the weekend. Roger jumped at the chance to try his luck.
Charlotte points out that, this particular time, she chose not to accompany her husband to the races. It was probably a good thing. According to Gauthier, the throttle struck on the car and he could not do anything to cut his speed before crashing the car violently. He ended up hospitalized in Canada, with a broken neck, among other injuries. Mike Richards relates that the #75 was so badly damaged it was sold to a Quebecer for scrap and just left there. Beaver Dragon was disgusted enough to go ahead and have a committee of friends purchase the Pelletier / Falzano Chevelle – and he never really was a regular at the Bowl again [except for when the Bowl ran Northern NASCAR for a while].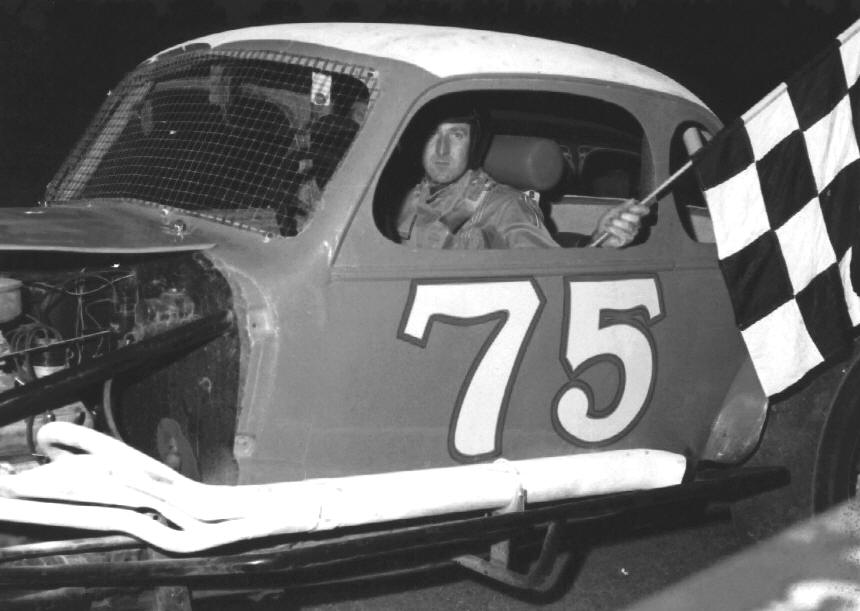 Beaver Dragon with the Richards 75 coupe, in which Roger was injured in 1968. [Dragon Family Photo]
Gauthier tried a little more racing after he recovered, but Charlotte would never again watch him drive. By then, sons Chip and Scott were there for support before launching their own careers in CVRA Pro Stocks. Roger eventually retired, but he did not enjoy retirement for nearly long enough before dying at the young age of 55. He had been a Fonda driver, a Victoria, Devil's Bowl, and Fairmont feature winner, a Lebanon Valley driver, and he even did stints in the Durrum #222 midget.
The Gauthier family should be and are very proud of what was accomplished by the man, about whom Fonda announcer Mike Valchovic would always intone, "Ra-a-wger GAAUth_EE-er, from Fort Edward". I cannot recall a time at Fairmont when he did not drive really well. I cannot find anyone who had anything bad to say about the man. What more could anyone want ?
Return to the Main Page
Return to the Main News Page
Return to the Columns Link Page
Return to the All Links Page