THE BILL'S BACK IN TIME COLUMN PAGE
Copies of my column in Mark Thomas' "Racin' Paper"
BILL'S BACK IN TIME
By Bill Ladabouche
Site Column #44 from Column 59
AND THAT'S THE REST OF THE STORY !
The famous radio personality, Paul Harvey, had a very popular radio program during which his most famous line was "..and that's the REST of the story !" I he talked in bursts of volume change, and he must have done some great research to come with some of the material he did. At one point in time, it was the thing to do to tune into to Paul Harvey for his daily show.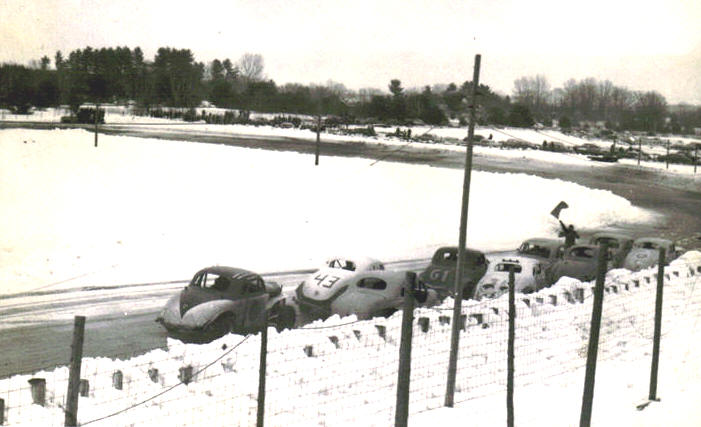 This vintage photo shows the field for the first of these races taking the green. I can recognize George
Bridges and probably Dick Nephew. The car with the lights on the back of the roof is probably Charlie
Trombley. The other numbers are not clear. [Bob Mackey Photo]
We actually got to Paul to come to the Frozen North Country, one time, in 1960 – when Airborne Speedway was hosting its fairly strange winter ice races. I used to think these races, one of which was called "The World Championship of Stock Car Ice Racing", were held on some nearby lake; but, apparently they were run right on the dirt at Airborne [it was not paved until sometime in the 1960's].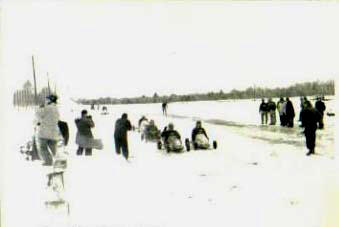 A field of cars that appear to be midgets acknowledge honorary
flagger Paul Harvey at Airborne in 1960. Harvey, in a pure
white outfit later ran in one of these little cars and
came in covered with mud. [Bob Mackey Photo]
The staff decided it would be a great thing to have some celebrities involved in these once – a - year occasions. One invitee was a noted U.S. Olympic bobsled racer from nearby Lake Placid. Perhaps the most famous guest was none other than Paul Harvey, himself, who flew in to New York to act as honorary flagman for the feature that day.
Harvey was a very tall man, and he towered over most of the people with whom he posed. He left behind a number of photos because he was very gracious about allowing photo ops with just about any Airborne staff member who asked, from the looks of it. What brought Harvey to mind, was the second portion of this column, which will fill in a lot of followup information on an event and a car I have spoken of many time before.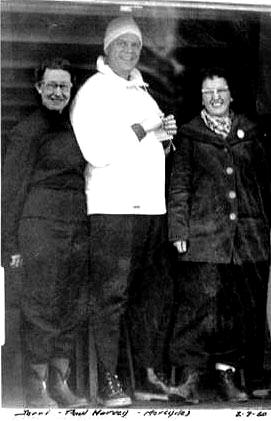 Here Harvey's considerable height is apparent as he poses with
Mrs. Mackey and Mrs. Don Hayes – probably a scorer. [Bob Mackey Photo]
Airborne staged these races at least two times and possibly three. They don't appear to be successes, from the attendance point of view, but they must have helped the frustration and cabin fever of the North Country racing population during those long [non-snowmobile] winters. Rod Ritchie was the apparent winner of one event, as evidenced by the Bob Mackey photo of Rod receiving a trophy there; but I can only guess that maybe George Bridges and Dick Nephew won the other events.
One of my fondest and clearest memories of racing I personally attended was that first week, Memorial Day, 1962, at C. J. Richards' newly re-opened Fairmont Speedway, which he had advertised as Vermont's fastest half mile. Starved for racing after years of no regular programs, I was ready for a track within reasonable driving distance of home to actually start up and operate.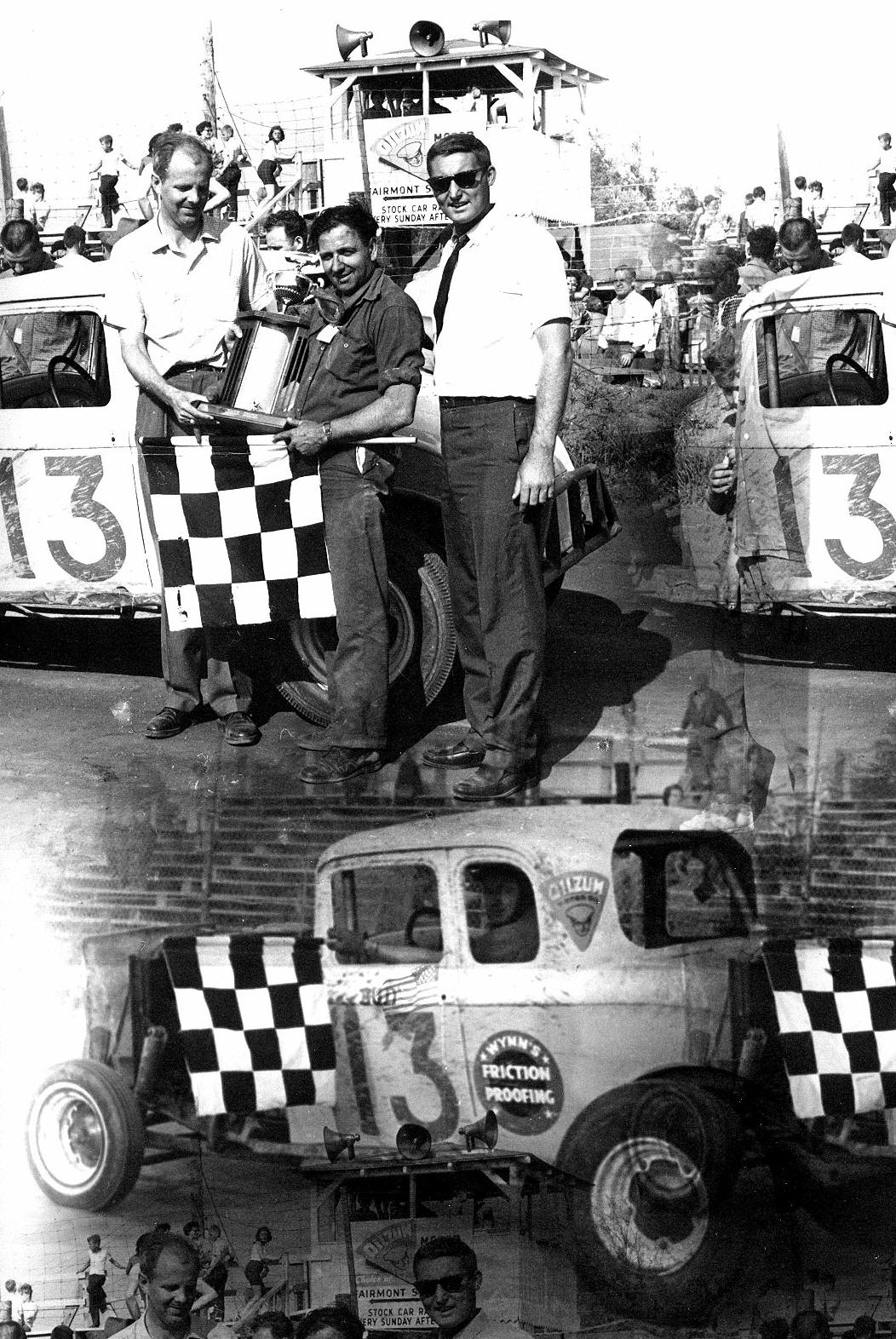 From this double-exposed photo pane, I got this great shot of Buddy taking his
victory lap at Fairmont in 1962, becoming CVRA's first feature winner.
[Bob Frazier Photo Courtesy of C.J. Richards]
To make a long story shorter, the winner of the feature that day was not one of the drivers who had been hyped in articles in The Rutland Herald. It was a Keene, New Hampshire driver named Buddy Bardwell. I had no way to take photos that day, but I did catch up with Bardwell at some show being run at Otter Creek Speedway, not long after. Buddy later told me that he was delighted to see the car in an article wrote in the 1970's, and that he – before that time – had almost forgotten that car.
You see, Buddy Bardwell is a legend – a Hudson – driving legend, and that little feature winner at Fairmont was a Ford. Buddy, whom I now count as a good friend, recently sent me a letter and supplied a large number of details about his little yellow and white #13 coupe. And now…. The REST of the story !
The 1932 Ford coupe was built in 1955 for Harvey Rousseau, brother of the famous cutdown driver Art Rousseau. Then numbered 20, the car was owned for Keene's Art Cody to drive. Don Cary built the car for Rousseau. He had also built Art Cody's famous yellow #33, which I believe came later and was owned by Henry Merrill. With Rousseau as owner and Cody as driver, the #20 had an engine built by the legendary driver Roy "Pappy" Forsythe. All seemed promising until the stock car at the Cheshire Fairgrounds in Keene were closed to stock car racing around the beginning of the '60's.
#20 crew members Phil Hackler and Fred Lawrence showed up over at Buddy's shop, one after with the bad news about the Keene track. They also heard Harvey was selling the #20. Although they had heard it was already sold, Buddy encouraged them to go over and check this out. They returned dejectedly soon thereafter with news that, not only was it sold, but that the boys from Orange, Massachusetts were there to pick it up.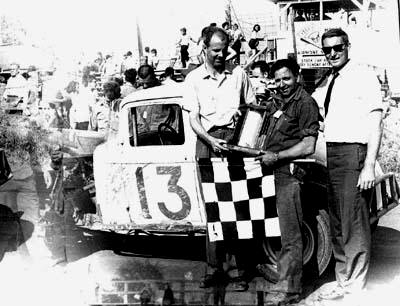 Buddy strikes a pose with the large trophy in the Fairmont Victory Lane. He is covered with the very kind of dirt
old Harvey Rousseau always envisioned the car would run on.
[Bob Frazier Photo Courtesy of C.J. Richards]
Then the phone rang. Harvey had found out these guys were planning to chop the stock up for the drag races that were held in Orange. Harvey had refused to take their money and, reportedly, told them to get the hell out of his dooryard. That car was made for racing on dirt and that was that. When Lawrence and Hackler put in their bid for ownership of the car, Rousseau wanted to know who would be the driver, the pair said "Buddy Bardwell". Well, Rousseau said he didn't know who the two crewmen were, so they'd have to bring him over to vouch for them.
Harvey made Bardwell assure him that he [Buddy} would drive the car for that season before handing it over to them. Buddy pointed out to the eager crew that the engine, the way it was then, did not have the oomph to win many races. The engine kept fouling the plugs, and the gear in the rear end was all wrong. On Monday, before the opening of Fairmont, compression tests were taken and the car was found to have the wrong rings. Heads were pulled off – bore and piston work was in order.
On Tuesday, new components were obtained and installed by that evening. On Wednesday, the front end was set up on the car. Thursday, the gears were removed from the rear end and it was made ready for new gears. The new gears arrived on Friday and were installed. By Saturday, the rear end was ready and the car was finished up. The new owners had hashed over the color scheme and the number. After first worrying about what Harvey might think, they decided ,what the hell, it was their car now. The old maroon paint and the number went in favor of the yellow and white scheme with the number 13.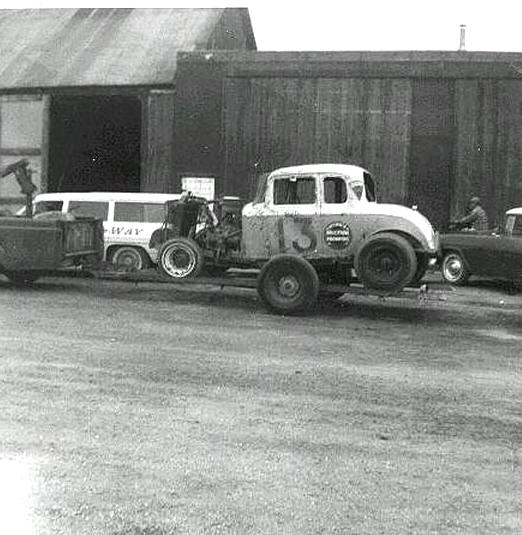 That same Ford coupe appeared at Otter Creek Speedway a little later in 1962. But, the longer, bumpier track was much harder for Buddy's little Ford to handle. [Ladabouche Photo]
So, on Sunday [after church], the team headed out for Fair Haven, Vermont. As has been described previously, Buddy came out the winner that first afternoon at Fairmont, in the blinding sun, against the likes of Butch Jelley, Art Cody, Ed Baker, Dick Pennock, Frank Hatch, and many other established stars of the day. Bardwell did not stand out in the qualifying rounds, as Dick Gerard, Frank Hatch, and another whose name I can't recall won the heats. But, by feature time, all the work that had gone into Harvey's coupe had paid off.
Buddy insists that he and the car won a number of features that year and the track championship. I cannot say exactly how many they won, but his success did breed some discontentment among some of the other competitors. During one feature in that first season, Buddy was running fourth, behind the car of "some foul – mouthed guy from the Rutland area" [whose name I am leaving out because he is still active at Devils Bowl]. The race was red flagged, and the rule went into effect whereby no one could work on the cars.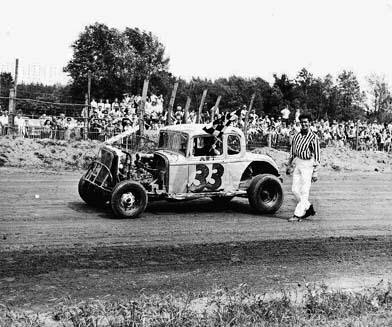 Art Cody took plenty of checkered flags that first season in the Henry Merrill 33. [Bob Frazier Photo]
It is debatable, even to this day, whether wiping a windshield is regarded as working on a car; but either Fred or Phil had wiped the windshield. The "foul-mouthed guy" was hollering at C.J. Richards, wanting Bardwell to be disqualified. After all, he pointed out, the New Hampshire team had won two in a row by then. Bardwell had come all the from the rear and had caught the guy's driver in only ten laps. C. J. was looking for a way out of this mess without losing either team for the season.
He leaned in to Bardwell and said quietly, "You start in the rear, and I'll make it up to you later."
The foul mouthed guy kept hollering anyway ,but the race went on and Bardwell still won. Bardwell did miss one week, when he was in the hospital for a non – race – related reason. It was one of the best seasons Buddy apparently ever had.
Return to the Columns Link Page
Return to the Main News Page