THE BILL'S BACK IN TIME COLUMN PAGE
Copies of my column in Mark Thomas' "Racin' Paper"
BILL'S BACK IN TIME
By Bill Ladabouche
Site Column #40 from Column 56
SOME PHOTOS ARE WORTH A THOUSAND WORDS
[Although I'm Too Lazy to Write That Many]
The once and only time my uncle and I got my aunt to journey all the way from the Rutland , Vermont area to Fonda Speedway, things didn't go real well and she never went back. We figured we had it made when we chose a clear, warm night to bring Aunt Kaarin with us. What we didn't know was the plain white coupe that had arrived early, along with Ed Ortiz, was going to make things very complicated before the night was over.
I was already familiar with Ken Meahl, from Lockport, NY because he had arrived at Otter Creek Speedway, incognito, in 1963, with a primered 1936 Chevy coupe that ended up winning over the highly – favored Fonda cars like Ken Shoemaker [in the Chris Drellos 111] and Bill Wimble [in the McCready 33]. As I have told many times before, it turns out that the primered coupe was the property and creation of a kid too young to drive it himself – one Jerry Cook.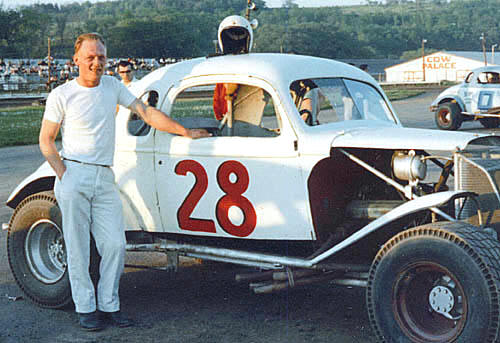 Ken Meahl smiles shyly with the Snediker 28. He may not have smiled if he had known what he was about to do with the car. Ortiz is the background. They may have been nearly the only ones there yet because they had come from such a distance.
[Photo Courtesy of Bill Fifield]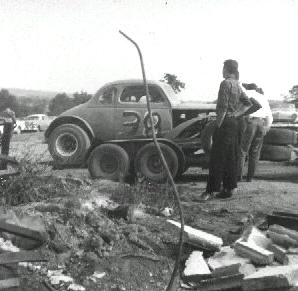 The Jerry Cook - owned Meahl car at Vergennes in 1963.
[Photo Courtesy of Bill Fifield]
At any rate, by 1964, Cook had managed to drive his own car and Meahl had gone on to the #28 team of Walter "Red" Snediker, from Rochester. That night, while he and Ortiz were running the Fonda regulars a lot more competitively than anyone expected, Meahl became airborne on the front stretch, traveled about thirty feet in the air, took the wires off the announcer's stand, and landed on his roof in front of the stands [which included my horrified aunt]. We didn't get home until four in the morning. Thanks Ken.
Meahl apparently was fast but somewhat of a threat to his own wellbeing in that car. I recently saw an old photo of another wreck [maybe at Syracuse] in which he had managed to completely rip the roof off Snediker's car. Those western New York cars were very fast – perhaps having a few little innovations that the Fonda guys weren't allowed to have. Ortiz would venture back to Fonda more – and even win there; by Ken was seldom seen there again.
I can remember Don Rounds, from Rhode Island, since the time he and the Lebanon Valley regulars came to the Vermont State Fair in Rutland and staged a stock car feature. I had not seen stock car racing in a very long, as every local track had died out. I clearly recall the beautiful sky blue 101 with the pirate flag flying above the roof. I don't know how many more times I got to see Don, who was still running the same car over ten years later at Lakeville, but I certainly followed his progress in newspapers when I could.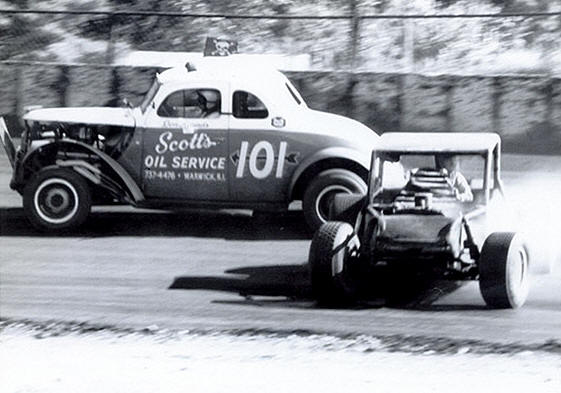 Don breezes by as a much more sophisticated modified car spins on the straightaway.
[Courtesy of Don Rounds, Jr.]
Rounds appeared at early tracks like Stateline, Rhythm Inn, and many others, but I associate him the most with Lebanon Valley. He ran there quite regularly until the car technology exceeded either his budget or his desire to continue re-doing the car. So he ventured off to the bucolic little Connecticut, where he ran until he apparently retired. That nice car is still available to be seen at the occasional auto show, and Don still attends some vintage racing reunions. He is still a strapping, barrel – chested figure of a man.
The interesting part of the Lakeville experience was the often strange mixture of cars that ran together at the track. I know little of it, except that Dan Meservey bravely tried to keep it afloat, the track made STOCK CAR RACING magazine, and Lew Boyd was among those who ran cars there. I believe the Rounds car was usually at a technogical disadvantage, being nearly the same car that had run Rutland years before. But, his steadiness and experience probably brought him home more smoothly that some of the faster but less smooth performers. I always loved that car !
Northern Vermont racing was considerably less know in the racing world because it did not enjoy a close proximity to the early hubs like southern New Hampshire and the New York Capital District. There were many tracks in the immediate Burlington, Vermont area; for instance, the town of Colchester had four or five different tracks in the 1950's, all by itself. There were all these tracks, but little is known about them – unless you can track down some of the few surviving participants.
One of the more successful competitors in Colchester, in South Burlington, at the fairgrounds in Essex Junction, and even across the lake at Airborne Speedway in Plattsburgh, New York, was Burlington's Bob Bushey. Working closely with Ralph Bushey [apparently no relation] Bushey ran cars numbered as "Spud 19", probably because Ralph was a wholesaler of potatoes. Bob was one of the many drivers who ran principally at the Malletts Bay track, a NASCAR – sanctioned cinder oval near what it now Interstate 89.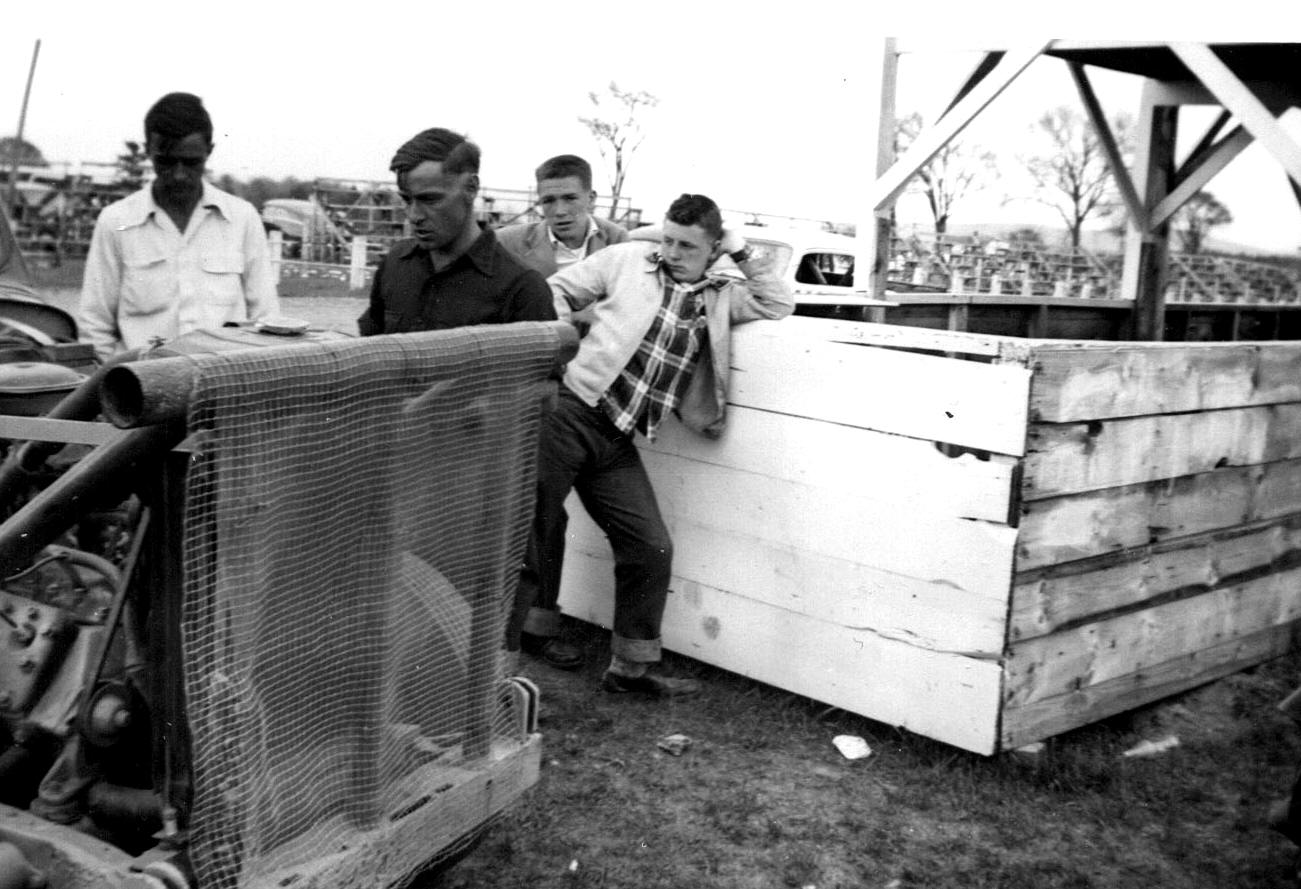 Some curious onlookers hover around the Bushey pit area, probably trying to
discover what made the Spud 19 run so well.
[Bushey Family Photo]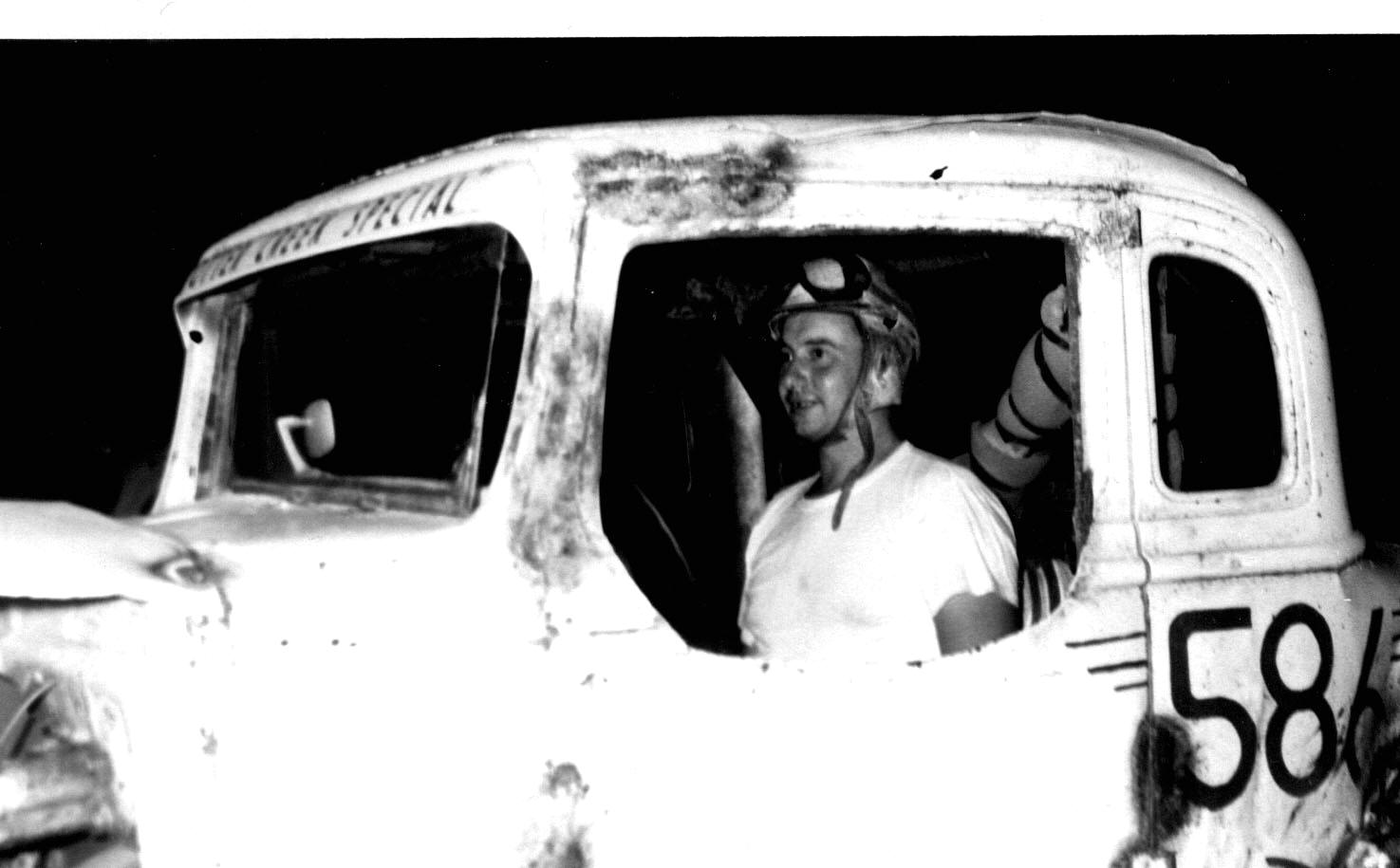 Bushey, when driving the Sullivan/Bull 586
[Photo Courtesy of John Rock]
Malletts Bay, owned by Walter Barcomb, was clearly the best of the various 1950's Burlington – area tracks, and he went through a period when he virtually owned the place. According to one of the old drivers, Malletts Bay was a track which featured a succession of streaky winners, each of who would enjoy their time in the sun, winning everything in sight as long as their luck held out.
I haven't been able to make contact with Bushey yet, but it is supposed to happen this summer, thanks to Jack Anderson. I do know this, I had heard of his prowess from dozens of people, ranging from little-known old drivers to guys like Beaver Dragon and the late Dick Nephew. The photos he allowed me to access are some of the first to give us a look into the world of 1950's racing in northern Vermont, and I am sure there are tons of stories to be shared.
Johnny Gammell is one of the most popular and well-like stars of the Thunder Road / Northeastern Speedway region. A former Vermont State Champion, Gammell's best years were in the special little flathead Fords that dominated racing in that region from the 1950's to 1965. Gammell seemed to find the most success at nearby Northeastern Speedway, in Lower Waterford, Vermont, but he won some of his biggest races at Thunder Road. He also ran at Northfield and Catamount.
By the time I met Johnny, he was on the end of a career. I never saw in competitive equipment. His last good ride was for a young, up and coming car owner named Joey LaQuerre, who had acquired the former GT-1 of Larry Granger and had it re-lettered as "Hawaii 5-0" [after the TV program of that time]. This was Gammell's last big chance, as the slick black 1955 Chevy was a runner. Johnny ran pretty well until he dumped it off the track at Barre around 1968. The photo of him dejectedly walking away from the wrinkled LaQuerre car tells a lot: maybe Johnny knew the moment had passed. He tried driving substandard cars for two more owners before wisely getting out around 1970. He remains active and has been inducted into the NEAR Hall of Fame. He is still one of the nicest guys you'd ever want to meet and a great ambassador for the sport.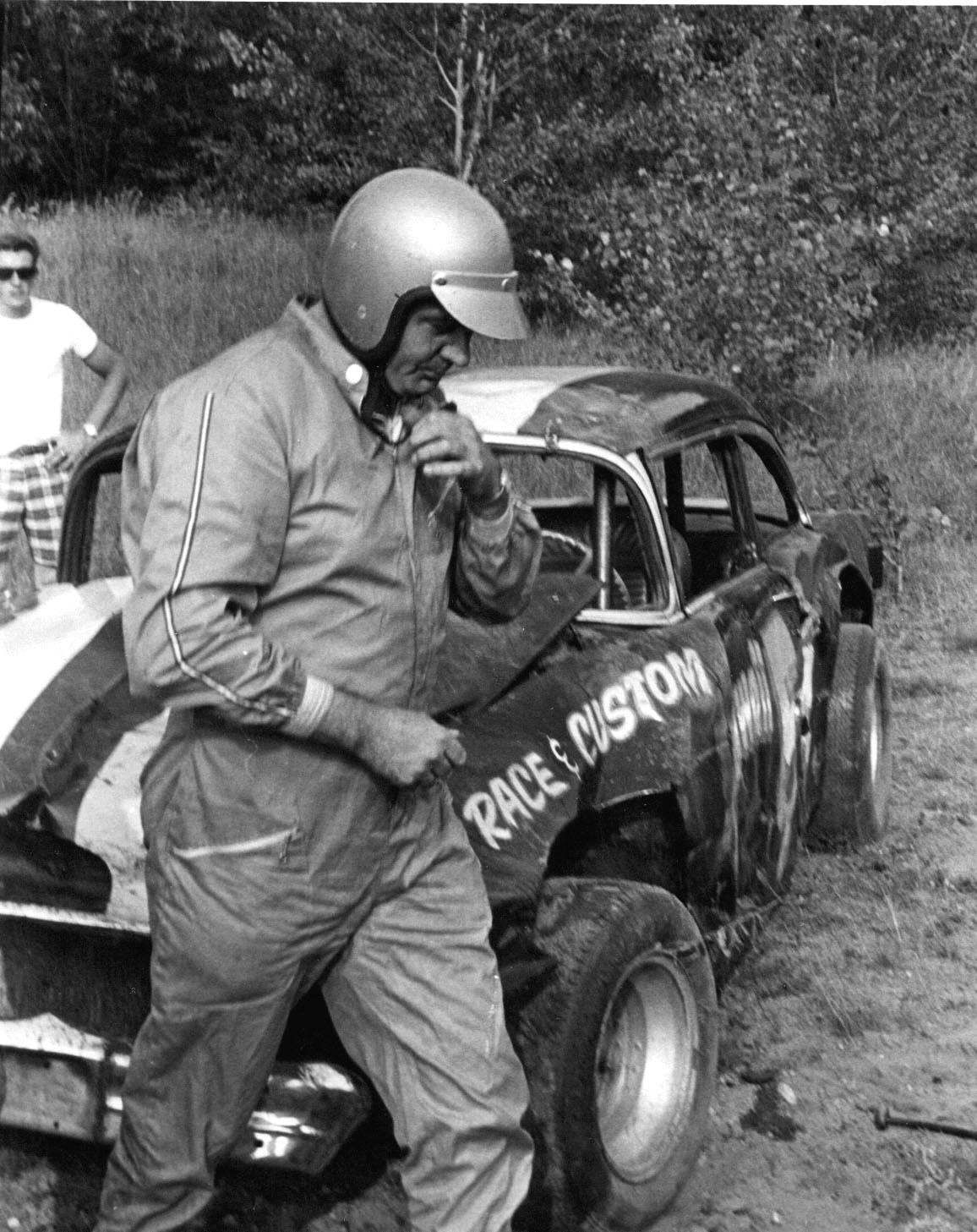 Gammell walks away from the Hawaii 5-0 wreck. It appears to have rolled.
[Courtesy of Cho Lee]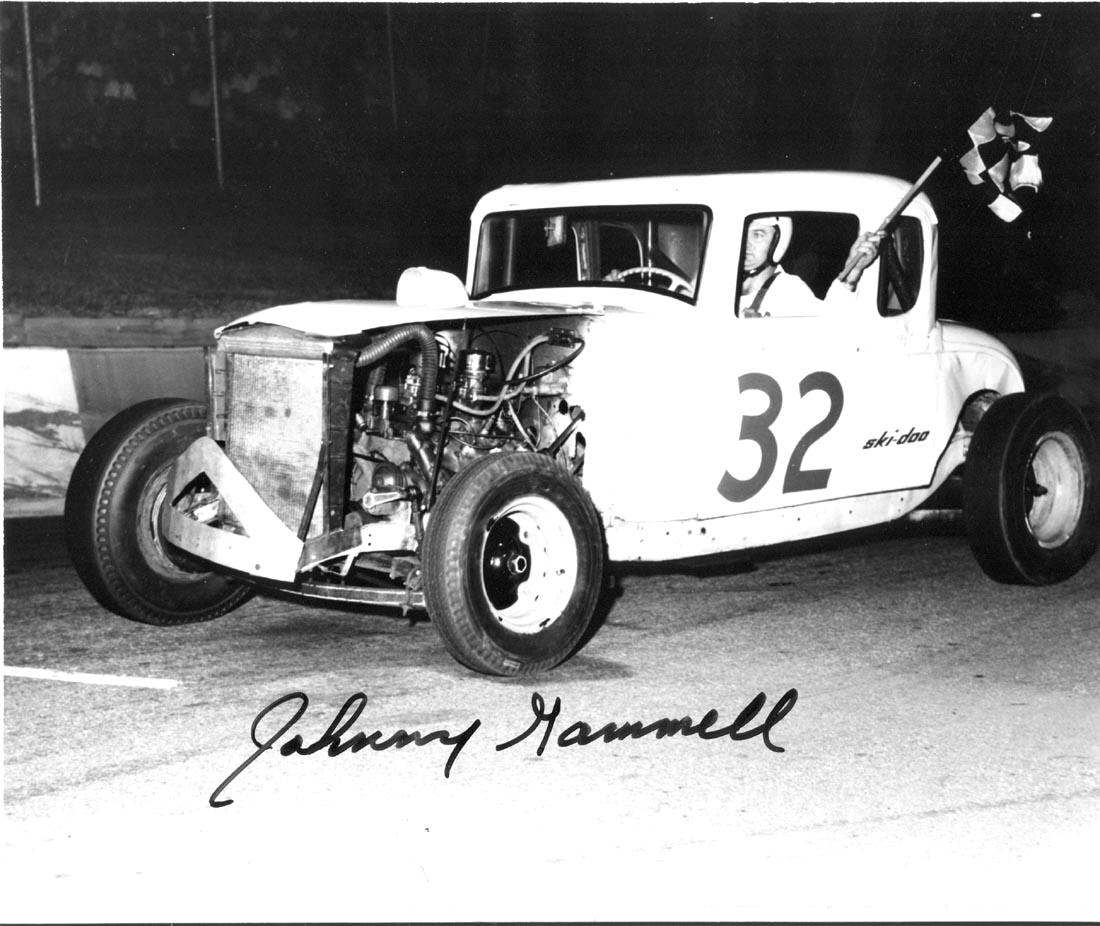 According to Cho, this is a rare shot of Gammell winning with a
C.J. Richards - owned coupe.
[Photo Courtesy of Cho Lee]
Return to the Columns Link Page
Return to the Main News Page