THE BILL'S BACK IN TIME COLUMN PAGE
Copies of my column in Mark Thomas' "Racin' Paper"
Column #36 from Column 49
BILL'S BACK IN TIME
By Bill Ladabouche
C. J. 'S FIRST PROGRAM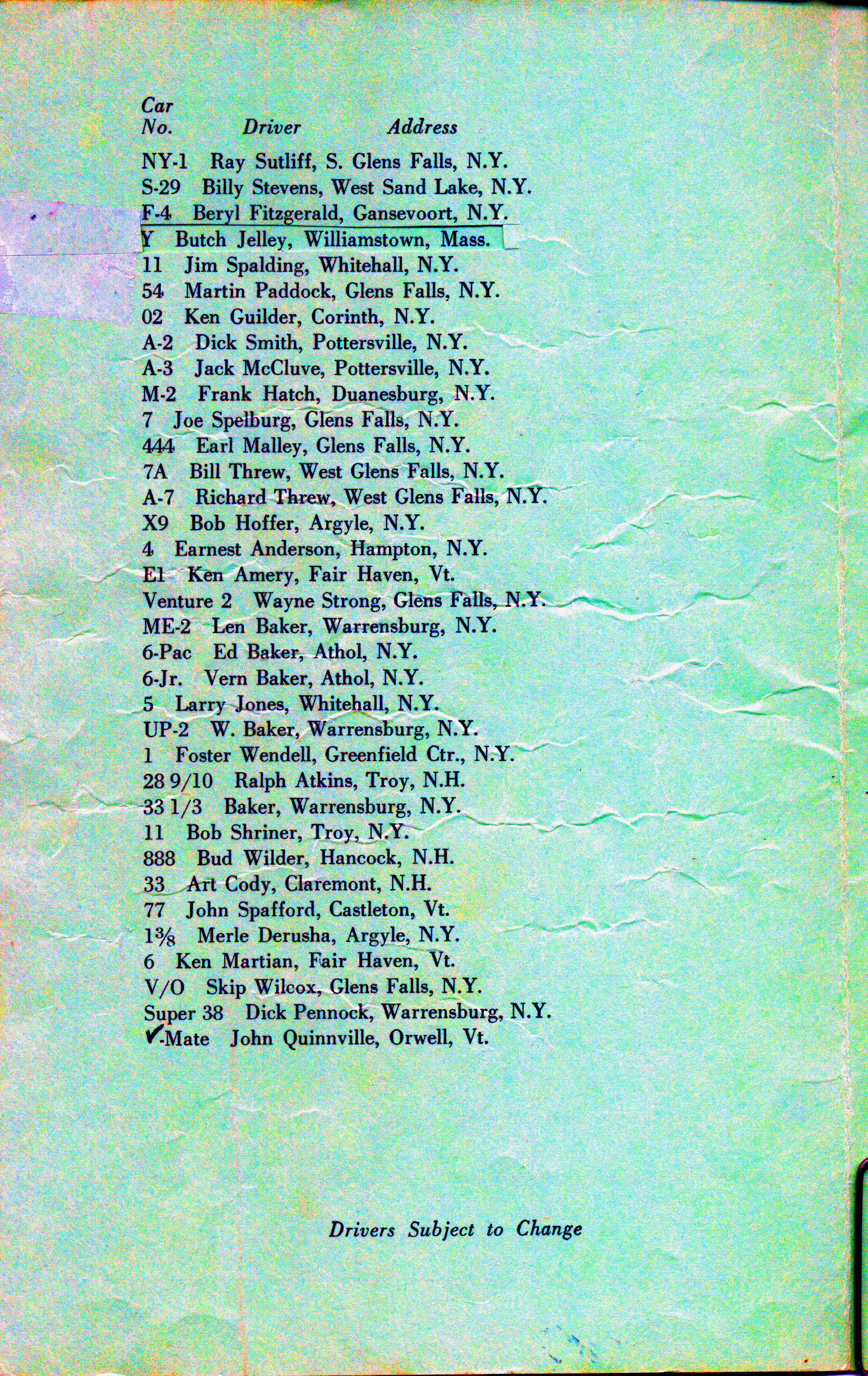 I am lucky enough to have saved some of my racing items from my youth. Usually, either a guy's mother cleans everything out [like thousands of dollars of my early '50's baseball cards] or he just throws them away, himself. But, in the case of a few of the programs I got going to the races with my uncle – they somehow survived. If only I could have known then about the history preservation work I am doing now – I could have saved much more and written more things down.
At any rate, a couple of original programs from the first year of C. J. Richards' version of Fairmont Speedway [and the Champlain Valley Racing Association] have made it through the years, in the dark recesses of a forgotten briefcase. Although I had cut a couple of names out of each, the combined programs presented a full drivers' roster [which, by the way] is able to seen on the Fairmont Speedway page of my website.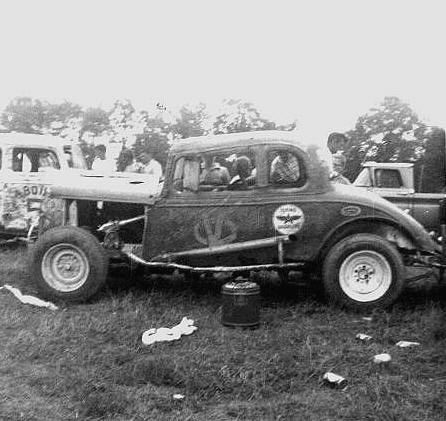 The VO of Skip Wilcox was one of those strangely-numbered cars at early Fairmont Speedway. Seen in the background is the ABOUT 5 of Art Rivers, another head-scratcher. [Bill Ladabouche Photo]
That first roster was very interesting. For one thing, many cars sported weird, highly-created numbers in those days – as opposed to today's NASCAR insistence on sterile, numerals – only identifications. You had more designations like the Venture 2 of Wayne Strong, the VO of Skip Wilcox, the ABOUT 5 of Art Rivers, the Checkmate of John Quinnville, the UP-2, and many more than you did the "normal" numbers like John Spafford's plain ol' 77. Add to that all the letters and fractions in that era – like Merle Derusha's 1 and 3/8 and Leon Reed's ½ - and you have the strange numbers of the early days. They all meant something to the owners.
Also, C.J. had apparently done a lot of legwork before he ever opened the gates to his first race on Memorial Day, 1962 – because his roster sported a delicious variety of names. There were very old drivers from dying tracks like Warrensburg and Whites Beach; there were representatives from Massachusetts, New Hampshire, New York, and Vermont. The roster ranged from new, totally –unknown teams like Kenny Martin [misspelled Martian in the program] to relative stars like Art Cody.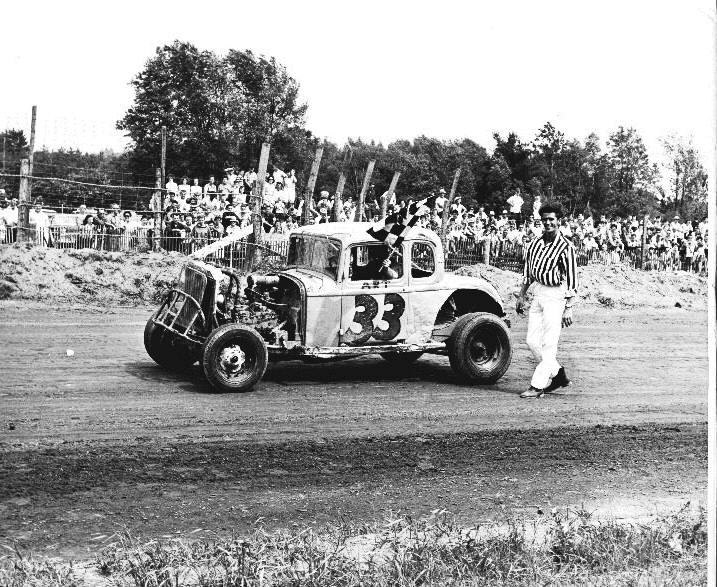 Art Cody was among the biggest names to appear at Fairmont in C.J.'s first season. Here he gets checkers from starter Danny Rumpf. [Bob Frazier Photo]
Only since I began this serious historical research, have I come to appreciate just how interesting that first program roster was. For instance, I had barely noticed one entry until recently: "28 and 9/10 Ralph Atkins, Troy, NH." So little attention had I paid, that I thought, for thirty years, that it said "Troy, NY, as I had never heard of the New Hampshire town of the same name. After having talked with Barre, Vermont historian Cho Lee, I found out that this was, in fact, the car of famed early car owner Marty Harty, and that the car driver – at that time – was his best sponsor, Atkins [ a local garage owner]. The Harty car had appeared at Thunder Road in its earliest seasons, with a driver named Roger Lancey at the helm. According to Lee, Ernie Gahan also drove the car at Barre. To my knowledge Harty never actually showed up at Fairmont.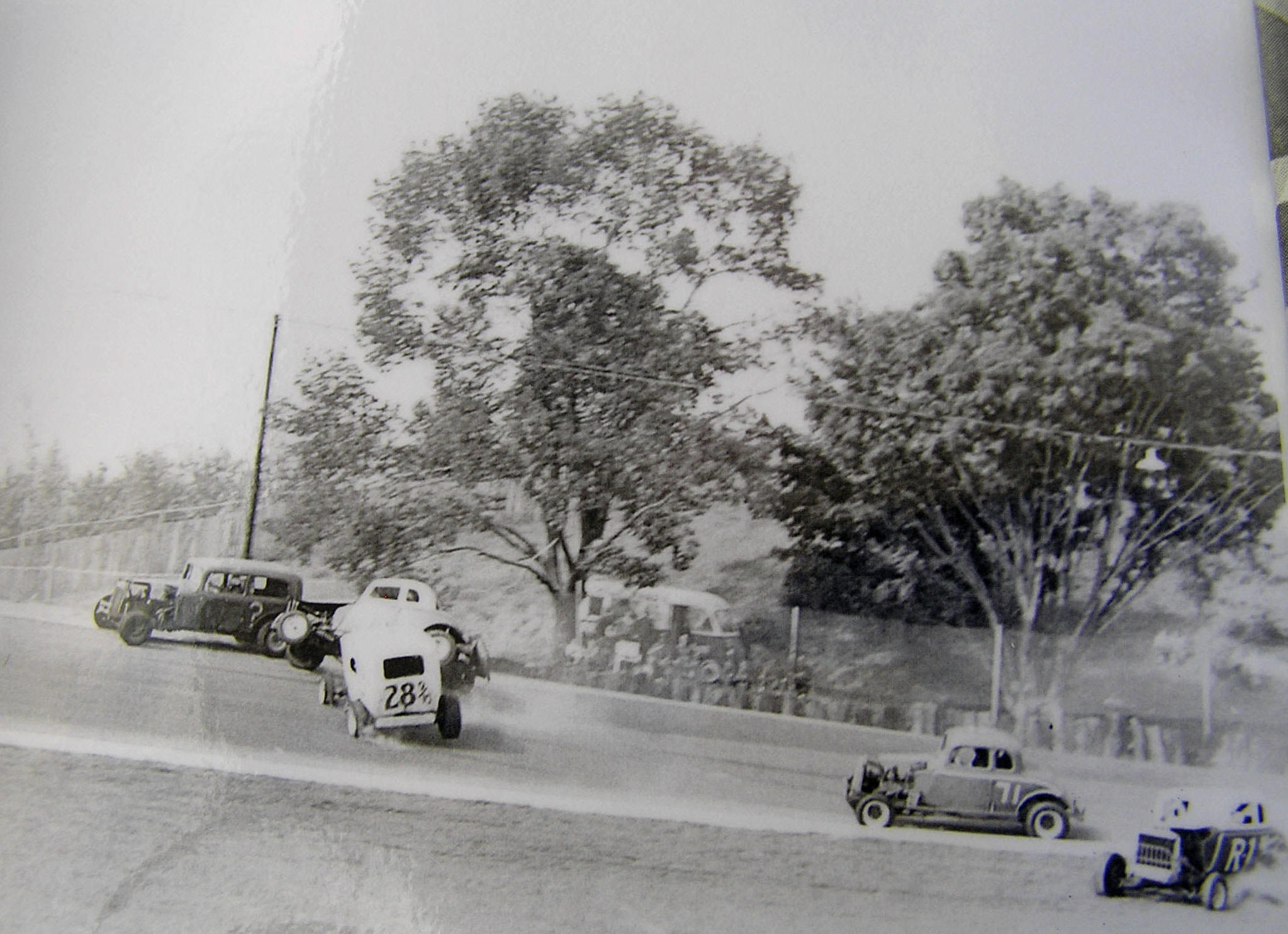 The 28 and 9/10 is involved in a Thunder Road spinout with Roger Lancey at the wheel. Also recognizable are the ? of Tubby Hatch and the R1 of Dwayne Remick. Lee isn't sure who 71 is. [Courtesy of Cho Lee]
Another noteworth entry [whicj also never made it that year] was "444 Earl Malley, Glens Falls, NY". Firstly , that is Earl Maille, and secondly he had bee seriously injured in a career – ending crash at Warrensburg. The car did make it to Fairmont by around 1964, with Maille's associate and future Dexter Dorr house driver Rapid Ralph Palmer, a Glens Falls native who would briefly live in Pittsford, VT. The big old sedan, a leftover from the wars at Ashland Park in Warrensburg and probably at Whites Beach, performed .acceptably at Fairmont, although the V8 sportsman cars were starting to take over by then.
C.J.'s driver roster was brimming with guys who had been displaced by the closing of Ashland Park [after its highly-suspicious grandstand fire around 1960]. There were four separate Baker teams, alone: Ed Baker – 6PAC, Lennie Baker – ME2; Vern Baker – 6jr [Vern customarily served as Ed's crew chief]; and another Baker [no first name given] with Red Smith's 33 and 1/3. Besides the Bakers, Warrensburg had sent Dick Pennock – SUPER 38; Doug Potter, from Pottersville, NY; the team of Dick Smith and Jack McClure from Pottersville; and there was also listed an UP-2, Wilbur Baker. I can only recall that strange number being used by Vermont legend George Rogers, so I don't know if it was a misprint or bona fide. I would have to say that Ed Baker, with his famous Hudson 6PAC, was the best of the W'burg bunch. The car had been made famous at Ashland Park by the legendary Wally LaBelle, of Glens Falls; and, Ed won several features with the car.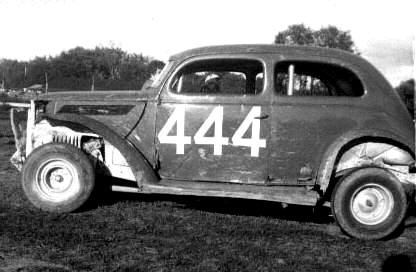 The sedan driven by Maille and Palmer was previously an Ashland Park fixture. [Ladabouche Photo]
As C.J. field his first race program on that sunny, dusty Memorial Day in 1962, the first cart out, on to the track, for practice was a freshly-painted 1940 Ford sedan numbered #7. The announcer id'd the guy as Little Joe Spellburg, from Glens Falls. The car looked fresh and snazzy, although I do remember the big old roof was not well supported, so it would visibly wiggle on the bumpy track. As it turned out, neither Spellburg nor the car were all that new. The car had run at Warrensburg, having been owned by Johnny Jones and driven by the early legend Wally LaBelle. Spellburg, whose real name I thin was Earl, had driven at Whites Beach, probably Warrensburg, and even at Fonda on occasion. The car remained at Fairmont around two years, and had a few guest star drivers like George Baumgardner.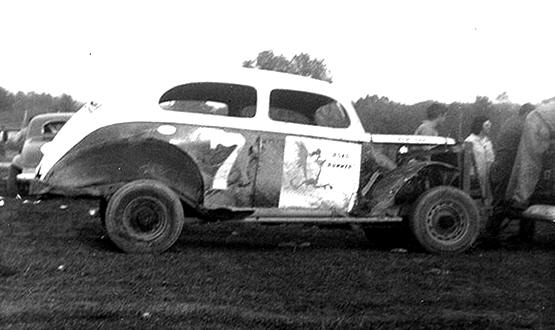 Little Joe's car had the roadrunner on the side. Ralph Palmer later bought what was left of it and always had a roadrunner on his cars thereafter. [Bill Ladabouche Photo]
One entry I am intrigued with is "888 Buddy Wilder, Hancock, NH". I am familiar with Wilder. He was always around the Claremont Speedway boys, and he did drive on occasion. But we, from the Fairmont days, only recognize the George Ingalls 888 as that of Cecil Bosworth. Bosworth and Ingalls sometimes dominated certain periods at Fairmont. So, if Wilder, a journeyman at best, ever drove for Ingalls, it must have been pre-Bosworth.
The car numbered "Checkmate" also appears on the bottom of the list, identified as being driven by John Quinnville of Whiting, VT. I heard of John before I ever did Vince, Sr.; but, apparently they names are not spelled the same and they are not related. The car, owned by Phil Russell of Salisbury, VT is associated with him by most people – not Quinnville. And yet, when Vince began to drive Norm Scarborough's 00 at Otter Creek, the name"John" was on the roof above the door. Who knows ? I first saw the Checkmate at Otter Creek in 1961, and it was John driving. Russell ended up having two of the Checkmate Hudsons and he managed to do fairly respectably, albeit a bit on the rough side.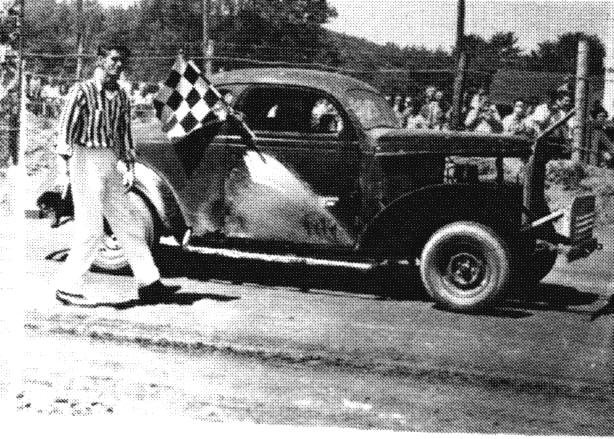 The Checkmate [this time with Phil Russell] get checkers from Danny Rumpf around 1963 at Fairmont.
[Bob Frazier Photo Courtesy of Norm Vadnais]
I do believe the dying Whites Beach Speedway promotion also sent its share of cars over the first two years at Fairmont; but these were often obscure, almost anonymous guys. I notice the NY-1 of Ray Sutliffe, South Glens Falls; the 1 and 3/8, Merle Derusha, Argyle, NY, A7, Richard Threw, West Glens Falls; 54 Martin Paddock, Glens Falls; 11, Bob Shriner, Troy, NY; and 02, Ken Guilder, from Corinth, NY. Guilder's car was a marvel of race engineering. I never saw anything quite like it. It must have been dragged out from behind some barn about once a year, gassed up, and brought out – judging from how it looked and ran.
A couple of the guys I think must have been either Whites Beach or Ashland Park leftovers either went on to have a little fame or had already their fifteen minutes in the '50's. For example, besides Maille, a few others had, or would have, their moments in the limelight. Foster Wendell, of Greenfield Center, NY, would go on to be fairly successful in the semi-late model divisions at Malta and at Devil's Bowl. Bill Threw, whose 7A was apparently a team mate to Richard's A-7 won the second-ever feature at C.J.'s Fairmont track. Bob Hoffer's X9 went on to be purchased and re-purchased three times, finding its best results with Vince Quenneville in 1963.
Add in drivers, like Beryl Fitzgerald, from Gansevoort, NY, who virtually disappeared after running with C.J. for one year – and guys like West Sand Lake's Bill Stevens, whose beautiful 1940 Ford # S-29 seldom made it through an entire heat race [I think he hated getting it dirty ] and you round out a truly fascinating program roster. Ed Wynn's yellow and white team Fords – Y, Butch Jelley and M-2, Frank Hatch was about to go in separate directions. Jelley would go one to a hall of fame career, while the older Hatch would leave the Williamstown, MA area to settle in Duanesburg, New York and become a neighbor of Jack Johnson's.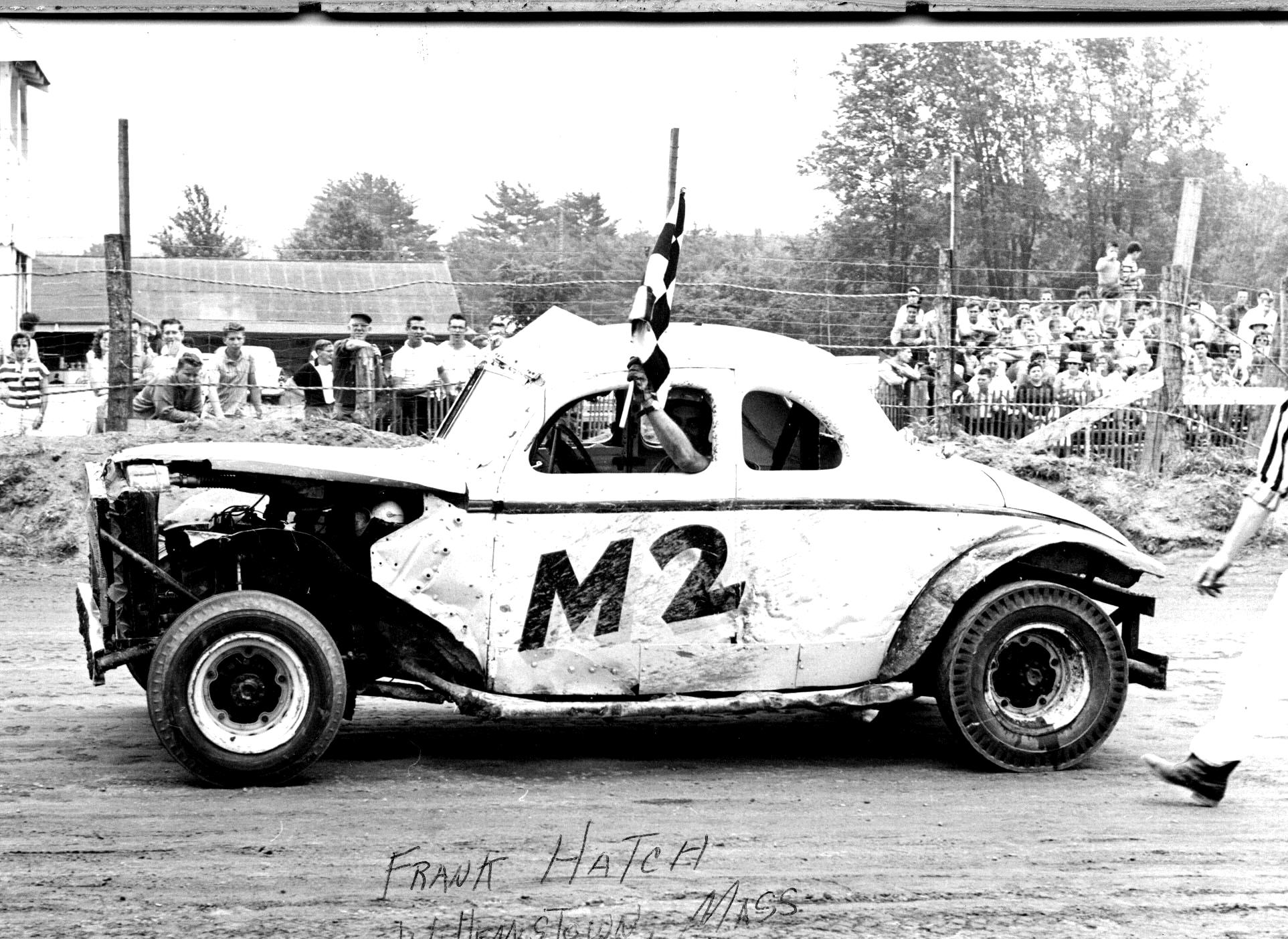 Frank Hatch took Ed Wynn's M2 to a few wins at Fairmont, including this – the very first high handicap heat win in 1962. Hatch would move to New York and Jelley would drive the car for his friend, Ed Wynn, a few times. [Bob Frazier Photo Courttesy of CJ Richards.]
To most people, there is nothing remarkable about a wrinkled old race track program – at least not until you start actually reading into what is written on it. I actually believe, an entire book could be written on that small green manila paper program – misprints and all. Just the roster alone is a history, not to mention the vintage advertisements of long-defunct business and the old – style stock, stock drawing of a period stock car on the cover [the same stock that probably adorned the covers of a thousand other tracks' programs in that era]. If you have any of these types of things - cherish them or donate them to someone, like me, who will see that they are preserved.
Return to the Columns Link Page
Return to the Main News Page