THE BILL'S BACK IN TIME COLUMN PAGE
Copies of my column in Mark Thomas' "Racin' Paper"
Column #35 from Column 48
BILL'S BACK IN TIME
By Bill Ladabouche
THE ABSOLUTELY AMAZING BUDDY BARDWELL
IT'S A SMALLER WORLD THAN YOU THINK
I was never a particularly effective racing fan or good retainer of racing history information until a young C. J. Richards re-opened the old Fairmont Park Motor Speedway and renamed it Fairmont Speedway – in 1962. By then, I was in my sophomore year and old enough to actually understand and appreciate what was unfolding on the track before me. Besides, the relative lack of any racing action to view for ten years had made me very hungry to absorb any racing I could see.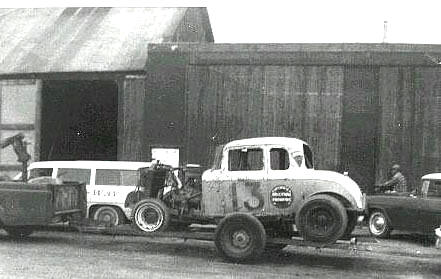 The first Bardwell car I ever saw wasn't much to be impressed with – until you saw it run. A lot of folks remember the
Otter Creek track, and how you went through Hi Monroe's yard to get down to the pits.
[Ladabouche Photo]
With that in mind, it would stand to reason that I would be particularly impressed with whomever won C.J.'s first race program at Fairmont. It turned out that that person winner was Keene, New Hampshire's Buddy Bardwell, a man whose name had not been used with the pre-race hype that was appearing in the Rutland Herald in the weeks before that Memorial Day opening race card. After that, it would be enough just to watch and admire Buddy Bardwell.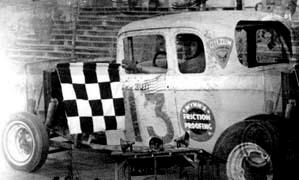 This double exposed shot shows Buddy in Victory Lane at the first Fairmont
Speedway program in 1962. [Courtesy of C.J. Richards]
But, our paths would later cross in some unpredictable ways. Firstly, by the late 21970's, I was writing a nostalgia – oriented weekly column in Speedway Scene. This eventually led to two things: Bardwell becoming aware of my work; and my joining the fledgling vintage racing group, NEAR, the New England Antique Racers. Upon attending my first NEAR meet at Claremont, around 1979, I chanced to meet and converse with Buddy Bardwell. He was astounded to see how young I was, considering the era that I discussed freely in my columns. Bardwell wanted me to take his legendary bullhorn-bearing Hudson coupe around the track, but rain intervened and that never happened.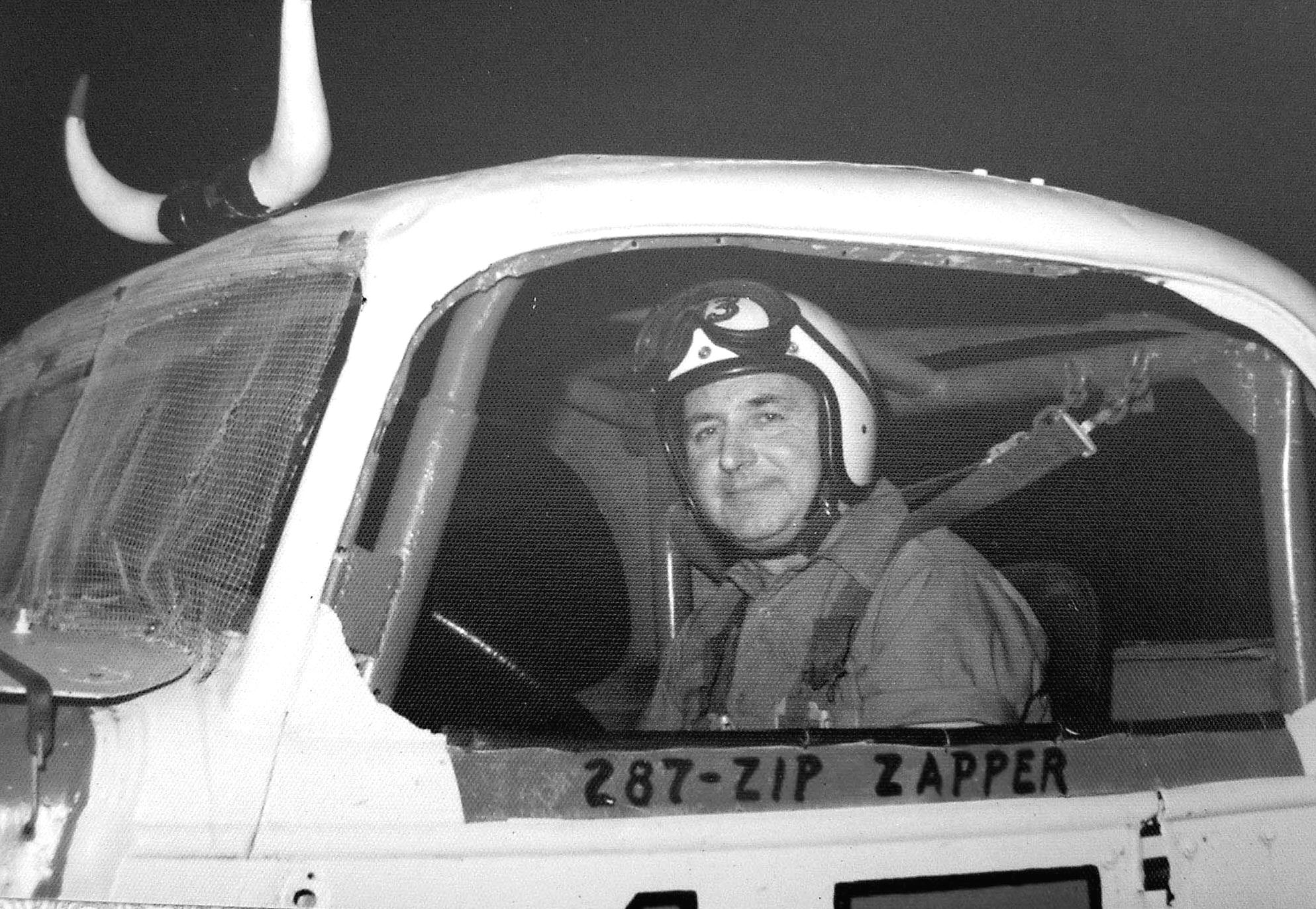 Buddy has spent almost as long on the vintage car circuits as he did on his active racing career.
[Courtesy of Paul Zampieri]
Years later, we would meet and talk again at several vintage car meets. It turned out that I had lived next door to Buddy's sister for twenty years and never knew it. Racing can be a very small world. In my most recent meeting with Buddy, at the fortieth anniversary of Bear Ridge Speedway, I was brought to marvel at what a remarkable specimen he really is. At around 80 years old, he was preparing to haul his #13 Hudson all the way out to Indiana, alone, to participate in some rally for Hudson enthusiasts – given that he has the last remaining active Hudson race car in existence.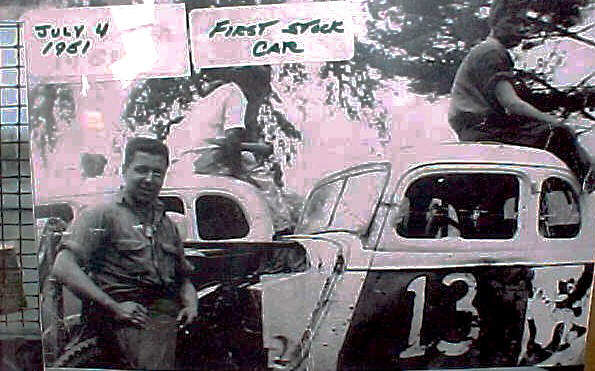 This shade tree beauty is Buddy's first car, the one he probably ran at Pico Raceway.
[Bardwell Collection]
Buddy's career began around 1951 – probably near his native Keene, NH. Racing in that region could include the Cheshire Fairgrounds in Keene, as well as places like West Brattleboro, Vermont, the Rhythm Inn Speedway in Millers Falls, Massachusetts, and maybe even the Fairmont Park Motor Speedway, at an old fairgrounds track in Fair Haven, Vermont. When the trio of Romano, Newman and Franzoni established Pico Raceway in Rutland, Vermont in 1951, I would get to see Buddy for the first time – although I cannot recall it.
Bardwell is positive he ran Pico, at least a few times. If so, he would be running against some of the best stock car racers in the area during Pico's short-lived history. Rivals could range from local hero Al Romano, to Steve Danish, to George Janoski, Rene Charland, Spencer Parkhurst, Jeep Herbert, and many more. There is no record of any particular wins at Pico, but Bardwell was on his way to stardom around Keene, Claremont, Stateline Speedway, and – in the early 1960's – at Fairmont.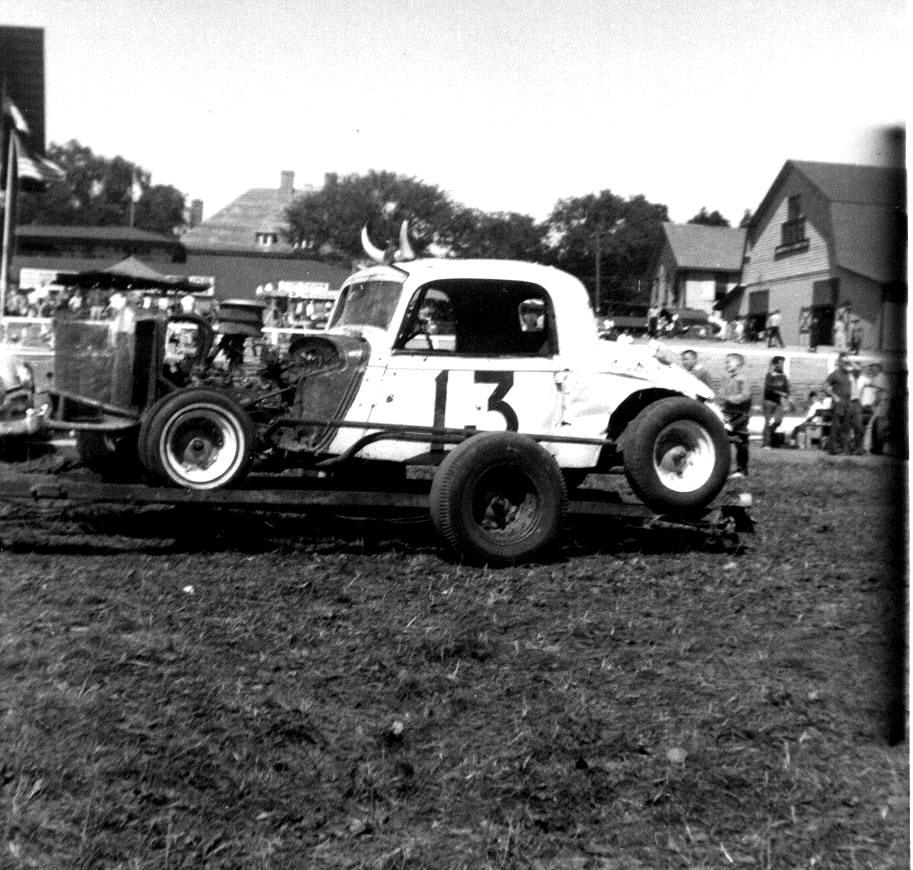 Here, the familiar bullhorns-bearing Hudson coupe is towed into the Rutland fairgrounds for an open show in 1962.
[Ladabouche Photo]
In my neighborhood, Bardwell would eventually appear at Fairmont and at Otter Creek Speedway, up North near Vergennes, Vermont, and later at Devil's Bowl. He would also run Richards' special "open" shows at the Rutland, Vermont fairgrounds. When the V-8's began to take over the sport in our area, we saw less and less of Bardwell and his Hudson, although he did run occasionally at Devils Bowl, where he would sometimes manage to show up the sportsman cars in his heat.
Bardwell would run in a few more venues after the V-8 sportsman revolution. He was seen frequently and successfully at Bear Ridge, a track built by George Barber especially to provide a haven for the flathead racer. He would be joined by fellow flathead legends like Cecil Bosworth and George Ingalls, Roy Forsythe, and the Cody brothers. Ted Brown and Sonny Rabideau, other stars from that area and that era, chose a different path and began running in V-8 cars at Claremont and Devils Bowl respectively.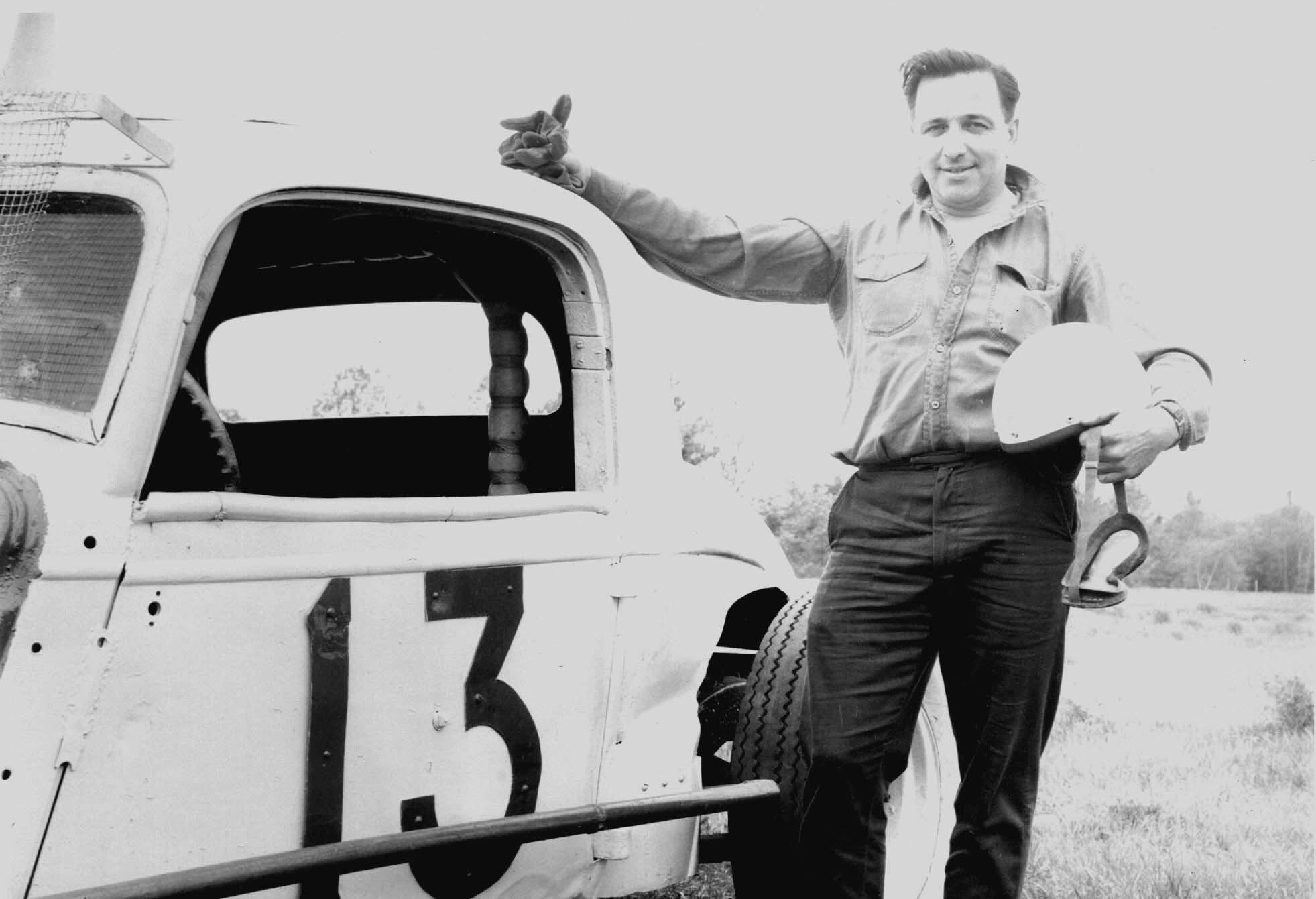 This familiar pose at Fairmont Speedway, taken by Bob Frazier, was during the prime of Buddy's career.
[Bob Frazier Photo Courtesy of C.J. Richards]
After, the Hudson became even a little outmoded for Bear Ridge, Bardwell began the third phase of his career – vintage racing. Traveling with NEAR programs and as far West as the Midstate Racing Club in New York, Bardwell still ran his coupe as hard as the vintage rules allowed. In New York, I do believe he was allowed to run harder than NEAR shows preferred that he run. As of 2007, Buddy was still at – loading up his car, traveling to places far away like Bear Ridge, and running the little white coupe as hard as he could get away with.
As far as I know, barring health problems, Buddy Bardwell will appear at a vintage race car meet near you in 2008. The car is not restored, like most of his contemporaries – it's the same little, slightly wrinkled rocket he has ridden for over forty years. About the only concessions to progress are a better seat, a driving suit, and a thermostatically-controlled fan on the engine. I also doubt he kept his hoods on with bungee cords in the early days. Other than that, you're looking at the same #13 Hudson I watched tear around Fairmont in the 1960's. Thanks for all those thrills, Buddy !
Return to the Columns Link Page
Return to the Main News Page