THE BILL'S BACK IN TIME COLUMN PAGE
Copies of my column in Mark Thomas' "Racin' Paper"
Column #32 from Column 45
BILL'S BACK IN TIME
By Bill Ladabouche
GORDON AND VICTORIA – A ROYAL COUPLE ?
Racing started up after World War II about everywhere in the U.S. at once; and there were certain guys who could genuinely be called racing pioneers – guys who were among the first to take the sport from ridiculous – looking jalopies to actually race cars of a sort. In Vermont's Champlain Valley, one such man was Gordy Owen.
From what I can gather from pictures [because I haven't met him yet], Gordy was a tall, thinly-framed young man with a lot of charisma and a natural ability to drive vehicles fast. When a ton of half-assed little race tracks were springing up all over the place, there was Gordy, along with the Busheys, the Trayahs, the Farnsworths, Red Dooley, Rex Shattuck, Jackie Peterson, the Waynes [Chandler and Chapman] and a host of others, ready to take the sport into a permanent place in the sports scene in Vermont.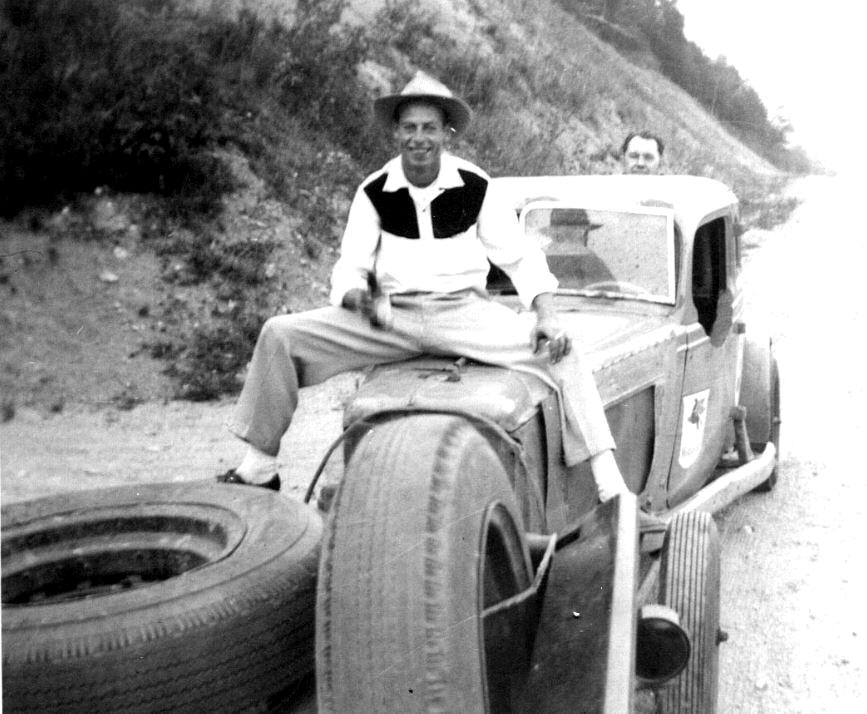 Tall, thin, and charismatic – but not afraid to be a clown, at times. [Owen Family Photo]
As of now, it is not clear when Gordy started out racing, but I do know one of his first really serious race efforts was with Burlington, Vermont potato wholesaler Ralph Bushey, a strong patron of early racing. When such tracks as Colchester-Bayview Speedway [known to most as Malletts Bay]; Ivanhoe Smith's Green Mountain Raceway; and Harvey Moody's informal five-eighths mile Colchester Raceway were joining the Greer track in South Burlington, Ralph and Gordy were showing up in the damnedest-looking rig you ever did see. It appeared to be your standard late thirties coupe, but the roof was completely removed as were all the fenders – completely [which was odd at the time]. The Bushey – sponsored car was professionally lettered, as were all Ralph's cars.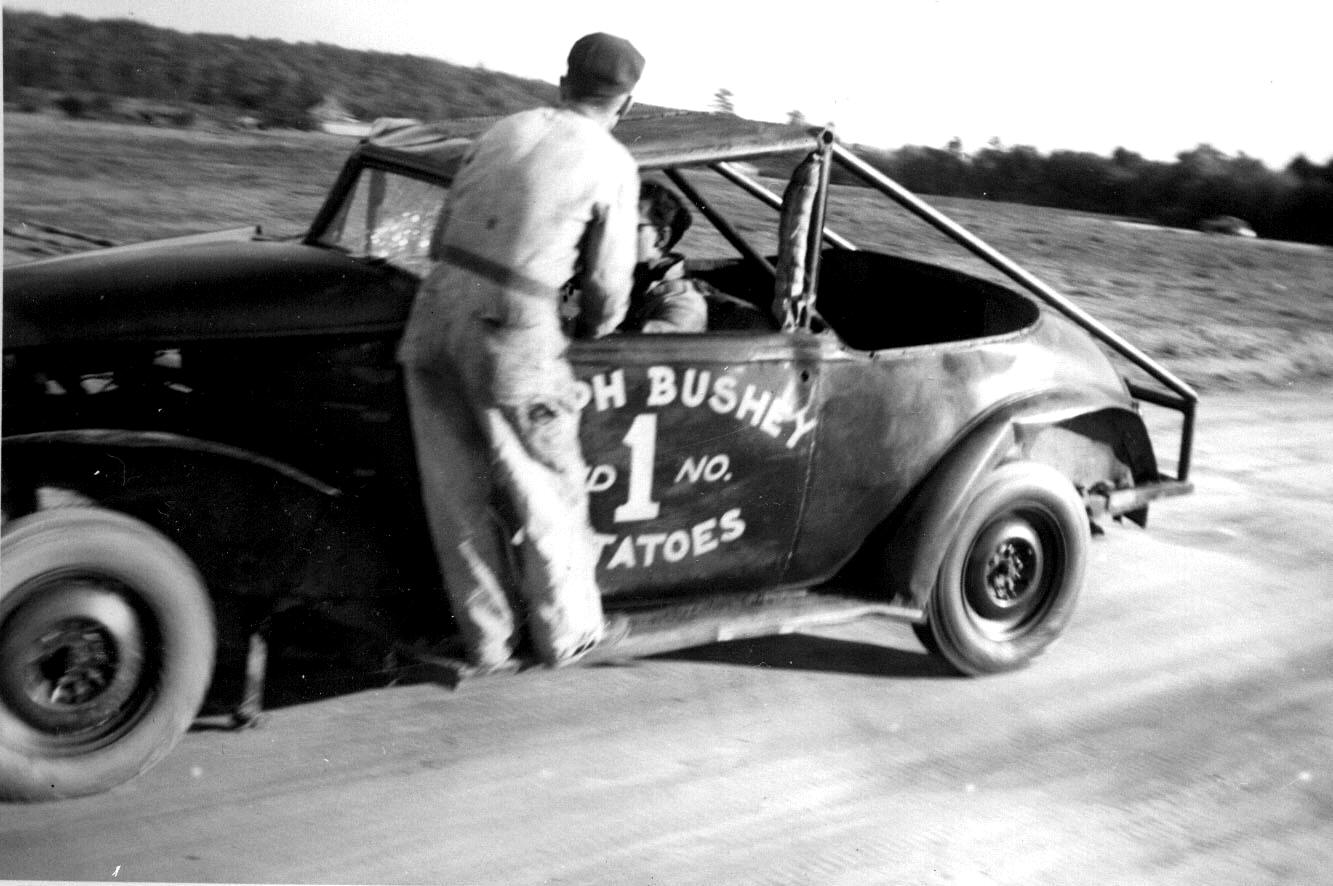 Gordy hitches a ride on the running board as a mechanic drives the first Ralph Bushey car in the pits at Smitty's Green Mountain Raceway around 1953. [Bushey Family Photo – Courtesy of Jack Anderson]
Bushey and Owen family photos show Gordy, with that car, trying out a number of local ovals – with varying degrees of success. He and Ralph raced that particular car for what looks like about a year. Bushey was also connected with Bob Bushey, fielding a car called the Spud 19 [in obvious reference to Ralph's business]. It is not clear if the two Busheys were even related, as that is a common name in the Chittenden County area of Vermont even now. What seems to have happened is that Ralph and Bob had obtained a #358 coupe from someone and had eventually changed the numerals to Spud 19. The car was distinctive, with chrome bumpers along both sides as rub rails.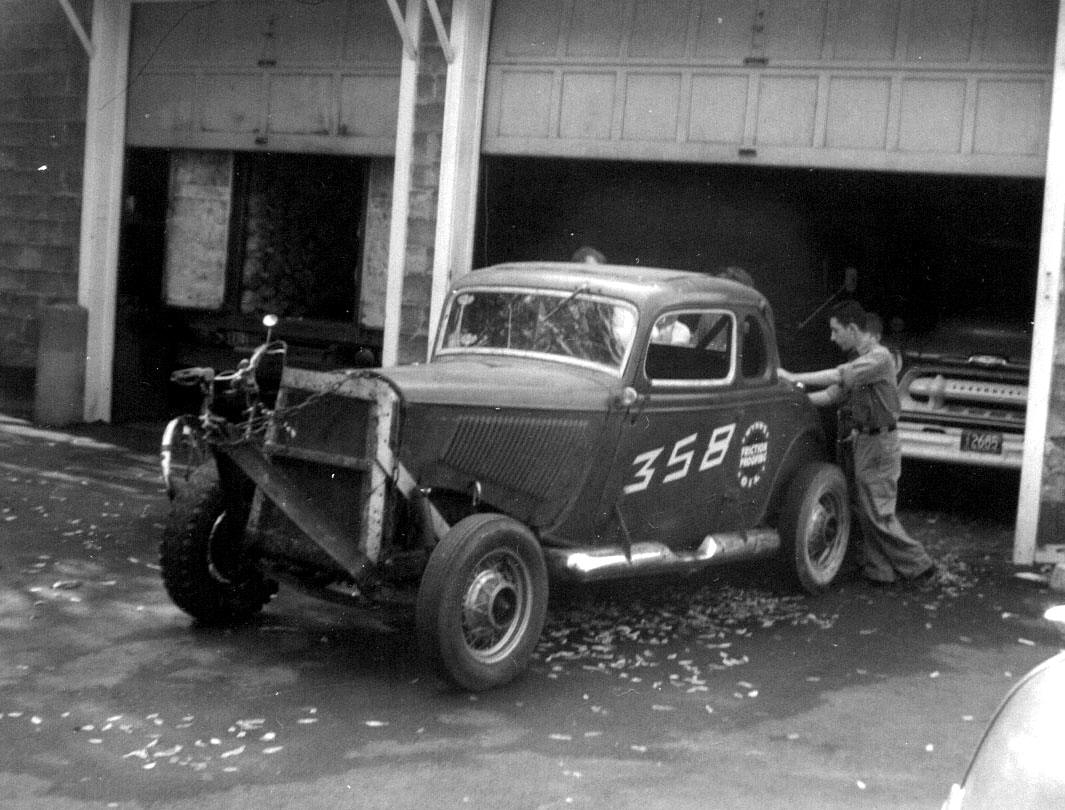 Ralph and Bob Bushey work around the first Spud 19 [the former allen Maskell car]– before it was relettered
[professionally of course]. [Bushey Family Photo Courtesy of Jack Anderson]
When Bob Bushey ended up with a spiffy new 1936 Plymouth coupe numbered Spud 19, the old car seemed to end up at the disposal of Gordy Owen. Owen was apparently pretty effective with old coupe, as he not only won races as far away as Canada – but he was once approached to drive Art Barry's cut-down modified #909 at the fairgrounds of the Champlain Valley Exposition, in Essex Junction, VT – around 1955. After the mid –fifties, I haven't picked up much info on what Owen was doing in the racing scene; but, according to son, Cliff, when Bob Pratt [a crew member of Owens'] bought and brought the Jack DuBrul Daytona Beach Permatex Pontiac Bonneville to the old Otter Creek Speedway in 1962, Gordy Owen was at the wheel.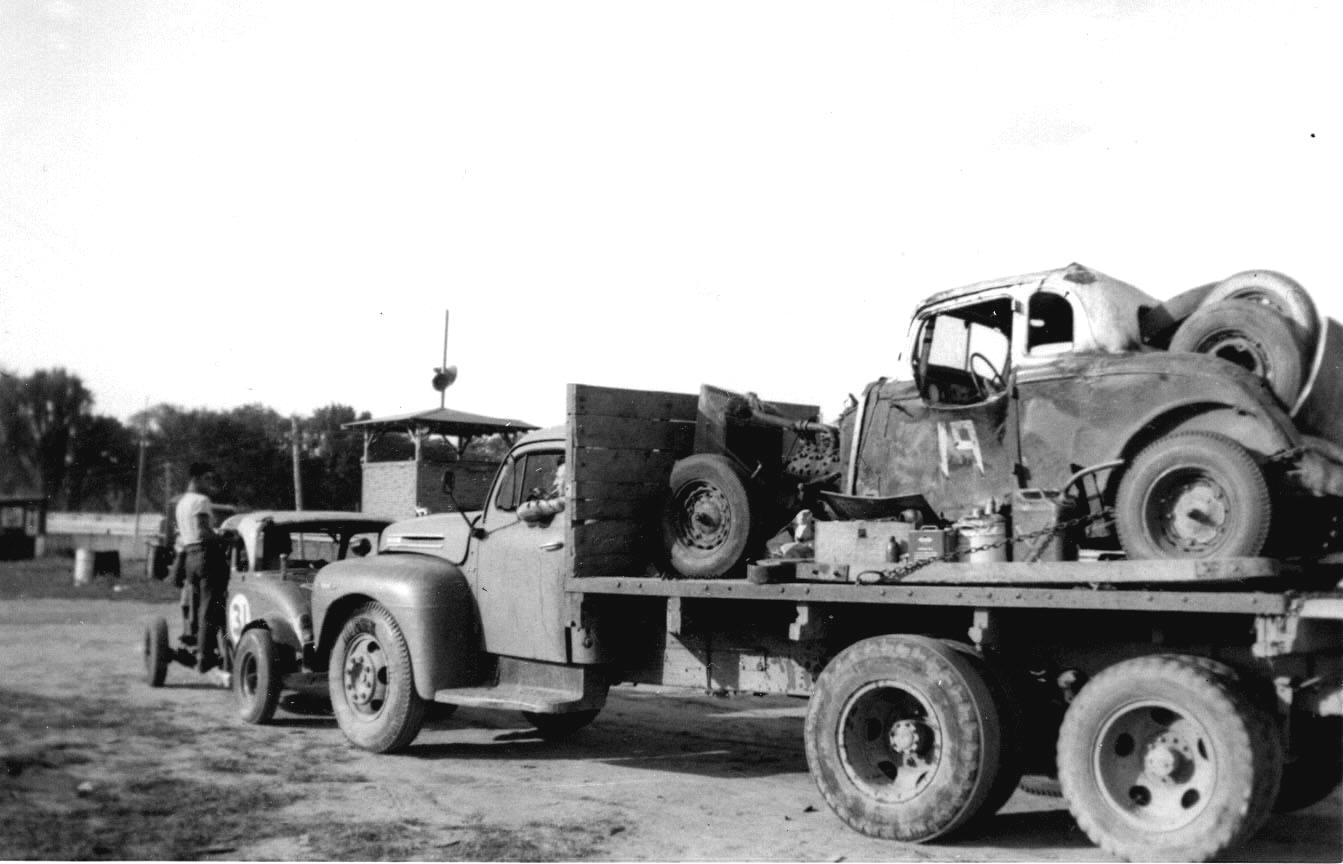 Gordy, with the former Bushey car now called #31, getting a push from Rex Shattuck going into Smitty's track around 1954. [Bushey Family Photo Courtesy of Jack Anderson]
Although it was Pratt's name over the door, Bob was never a very eager driver, and he watched, as Gordy struggled with the over-powered, too-heavy monster on a long, dusty dirt track against NASCAR sportsman fields with the likes of Bill Wimble, Kenny Shoemaker, Dick Nephew, and more in attendance. Needless to say, the car mostly spun its wheels and it did not return for more frustration after that one trial. The car kept popping back up in Vermont and New Hampshire until someone finally crushed it; but the Otter Creek experience was apparently the last of Gordy's racing.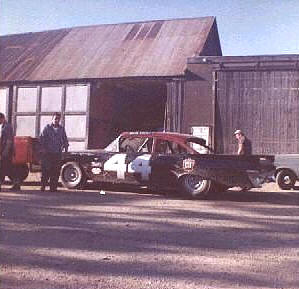 Bob Pratt tends to the big Pontiac as Gordy leans against the truck, at left.
This is after the Vergennes trial of the car. [Ladabouche Photo]
Gordy went on to have a big business with huge mobile cranes, and his son, Cliff, tried racing at Catamount with [of course] a car built by Bob Pratt. The was, again, too heavy and it ended up being Mike Barry's first LMS. Gordy Owen saw the sport grow from rather grotesque jalopies to fairy sophisticated mid-60's sportsman cars. He was programs in which spectators were struck and killed, although he, himself, was as safety conscious as anyone in that era could be. I can't wait to interview the man.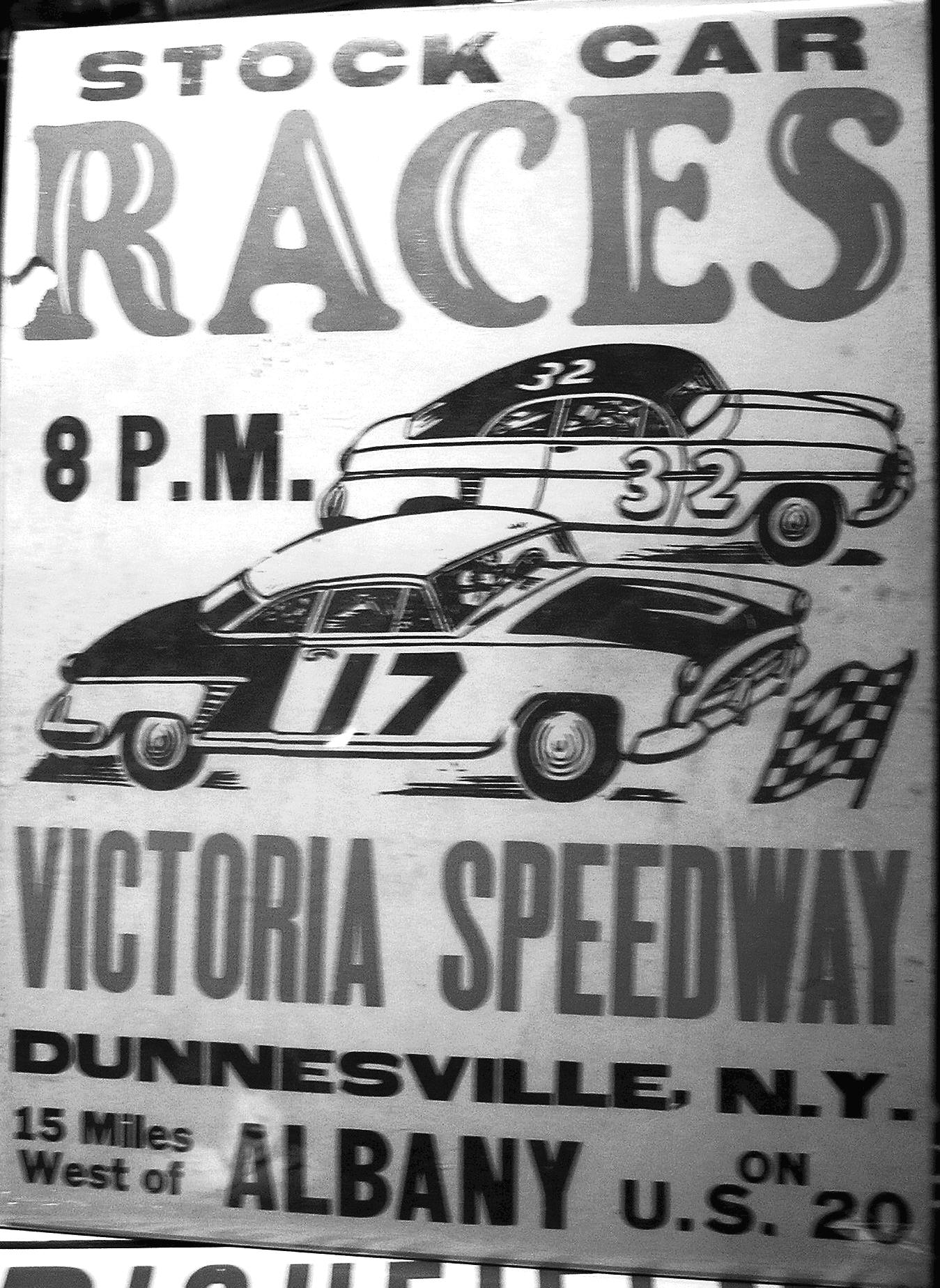 Oh well, they tried. [Courtesy of Ken Gypson]
Although the column title sounds like a royal wedding, the Victoria part of it was a half-baked, but beloved, paper clip – shaped dirt track in the middle of New York. Victoria was located either in Dunneville or Duanesburg, New York – depending on whom you asked. The fact that people could not even agree on where it was does not bode well for the longevity of the place. As it turns out, it lasted longer than a lot of tracks in that time, but it was always plagued with both bad weather luck and the unceasing pressure from the NASCAR, an organization that fined any driver who dared race on an unsanctioned track like Victoria.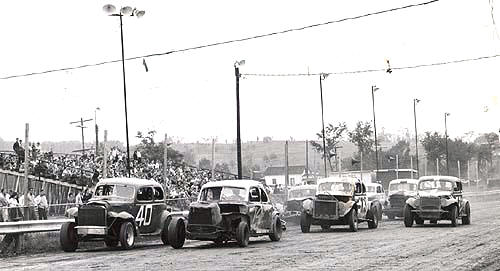 A heat starts out at Victoria with the usual oddball mixture. Low buckers Harold Betts [40], WayneCoon [74] and Johnny Perry [13] try to outrun the heavy Fonda iron like the Richard Welch 77, Pete Corey's Tony Villano 37, and Roger Gauthier. [Herbert Family Photo]
Victoria became famous as the Friday night track that ran before the big Saturday night affairs at Fonda and Lebanon Valley. I remember hearing about in the grandstands at Fonda, every damned time I went down; but, I could never determine much about it. Probably, that was because the little oval, very horse – track – like in nature, never really amounted to a whole lot. But, the alloyed fields made up of Fonda regulars [sporting pseudonyms to throw off NASCAR], regulars from Lebanon Valley, and locals from other venues like Whites Beach and the like made for what must have been a really different scene.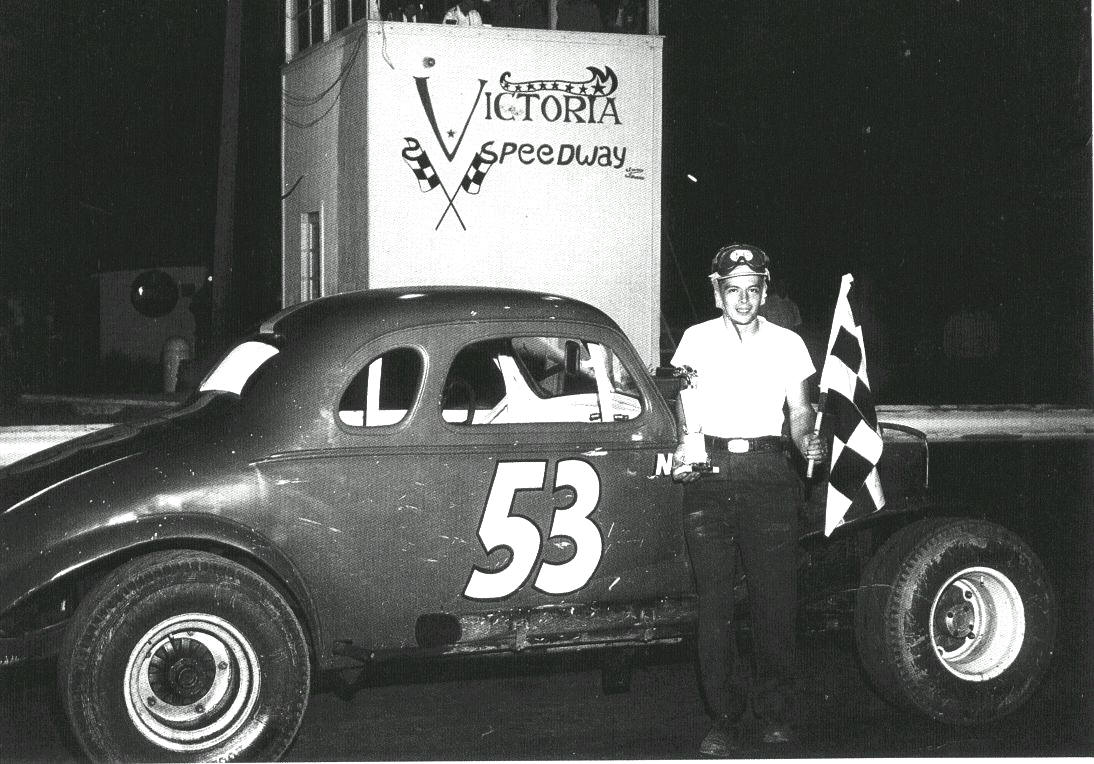 Roger Gauthier, with the pretty Habreck coupe, wins one at Victoria. [Bob Novak Photo Collection]
Guys like Roger Gauthier, whose Charles Habreck – owned red Chevy coupe never did much at Fonda, could be a feature winner at Victoria. This was the starting off spot for the amazingly long career of George Proctor; this was the place Jack Farquhar cut his teeth with his gorgeous lavender #685, owned by the combo of Teresco and Mancini; this was the place where Schooch Schoonmaker might finally lock wheels with Jim Luke; and this was the place with the most wonderful racing names in the world: Jay Tee, Flex Hose, Nutsy Fagan, Bob Alou, and the like.
After a fashion, being the usher into the racing weekend in the Central New York racing world no longer cut the mustard, and Victoria closed. But it lives on in all those record books and with all those John Grady photos. In the '90's it was supposedly turned into a horse track of some sort. From what it sounds, that's about what it was configured for anyway. The half mile dirt track in the long field near Duanesburg was to be no longer, and many of the region's less powerful runners – the Lefty Quandts, the Harold Betts, and the Doc Blanchards had one less place to run without being run over by the high-powered Pete Coreys of the world.
<![if !supportLineBreakNewLine]>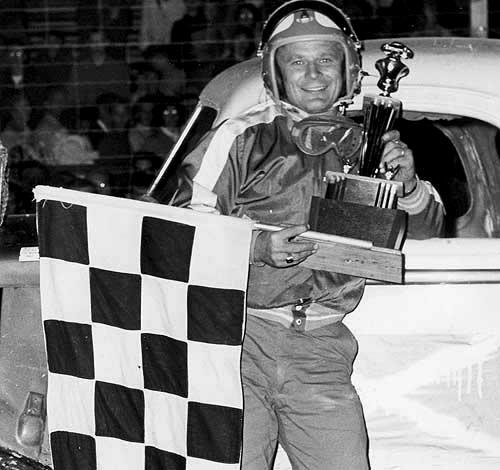 <![endif]>
Howard "Little Jeep" Herbert may have been the master of racing names at Victoria, using monikers like Flex Hose, Pete Moss, and Bob Alou. [Source Unknown - probably Herbert Family]
Return to the Columns Link Page
Return to the Main News Page