THE BILL'S BACK IN TIME COLUMN PAGE
Copies of my column in Mark Thomas' "Racin' Paper"
Column #31 from Column 44
BILL'S BACK IN TIME
By Bill Ladabouche
AN AMAZING COMBINATION OF RACE LEGEND, EDUCATOR, AND POLITICO
In the years between 1954, when Pico Raceway closed its doors, and 1962, when C.J. Richards opened Fairmont Speedway on a semi – permanent basis, the chances for me and my uncle to see any stock races were few and far between . We had driven all the way to Malletts Bay in 1958; we had digressed from a trip to New York City to see relatives and had gone to Weisglass Stadium on Staten Island; I had witnessed the Lebanon Valley presentation at the Rutland fairgrounds in 1960; and we had seen a few races in the cow pasture at Otter Creek Speedway in 1961.
To try and help me satisfy my urge to have some connection to racing in the interim, my uncle had graciously joined NASCAR, primarily so we could get the NASCAR Newsletter that came out a few time a year. I wish I had kept all those race entry forms for the Grand National races of that era- they'd be worth something today ! I can clearly recall one newsletter that came in the mail around 1960. On the cover was a photo of Airborne Speedway driver Melvin "Bob" Bruno, with one hand out the window of his #66 coupe keeping a calming hand on his over-excited eldest son, Chris.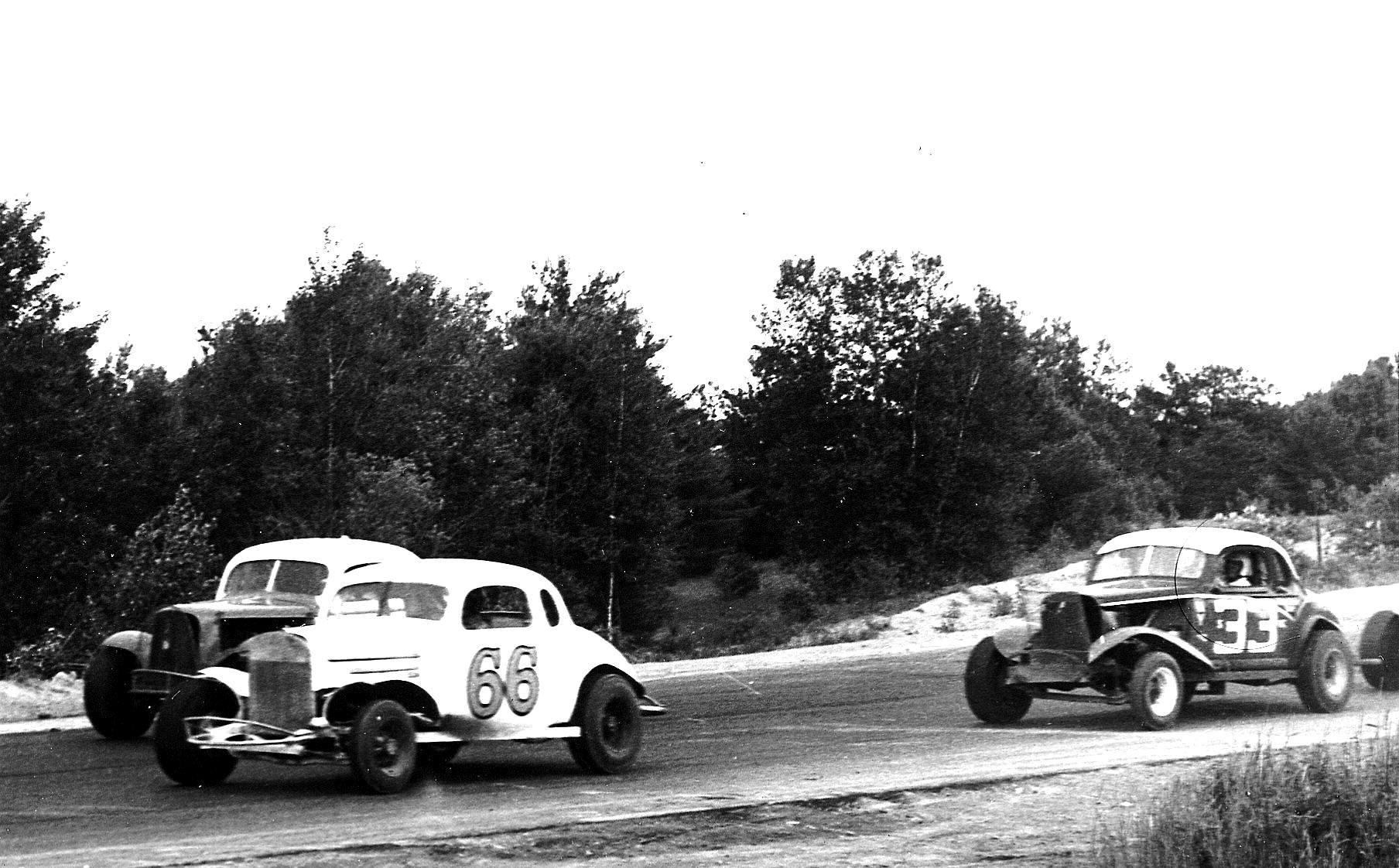 Bob Bruno leads future national champion Bill Wimble in the car that was shown on the cover of the NASCAR Newsletter. [Courtesy of John Rock]
I never forgot that picture, and I managed to see Chris Bruno last Saturday night at Airborne, when his dad was honored. The week before, I had been lucky enough to spend quite a long time in the VIP tower at Airborne talking to Bob, resulting in over six pages of notes. Bob was, and still is, a little different than most of the drivers of his era. Articulate and college educated, Bob had been a prime prospect in baseball, actually managing to play in Vermont's Green Mountain League- a league which featured future major league stars like Whitey Ford.
Signing with the Phillies, Bruno played in the entry – level minor leagues in Carbondale, Illinois and in Terre Haute, Indiana. Then the Korean War came along, and he ended up in the service. After 1954, he decided not to try and revive his major league dreams. He got married and took a job. After having thought about going into law practice, Bob finally decided upon taking a teaching position – in a school associated with the huge Plattsburgh Air Force Base, a branch of the Strategic Air Command. He had briefly lived in Rochester, New York and had tried his first racing at Spencer Speedway, nearby.
When Bruno ended up back in the Plattsburgh area, the natural inclination was to seek out racing at he local Airborne Speedway and also at nearby Saranac Speedway. At various times, he had driven a #000 flathead Hudson hobby class car at Airborne and was even allowed to run the car in the top division at Saranac Lake [because, as he points out, the more powerful sportsman cars would just spin their tires all the time]. He also drove the MB2, owned by George Bridges and a man named McGee. He raced some with his car, a #11 at Airborne in between gigs with other cars. Most, if not all, of his early racing was on dirt.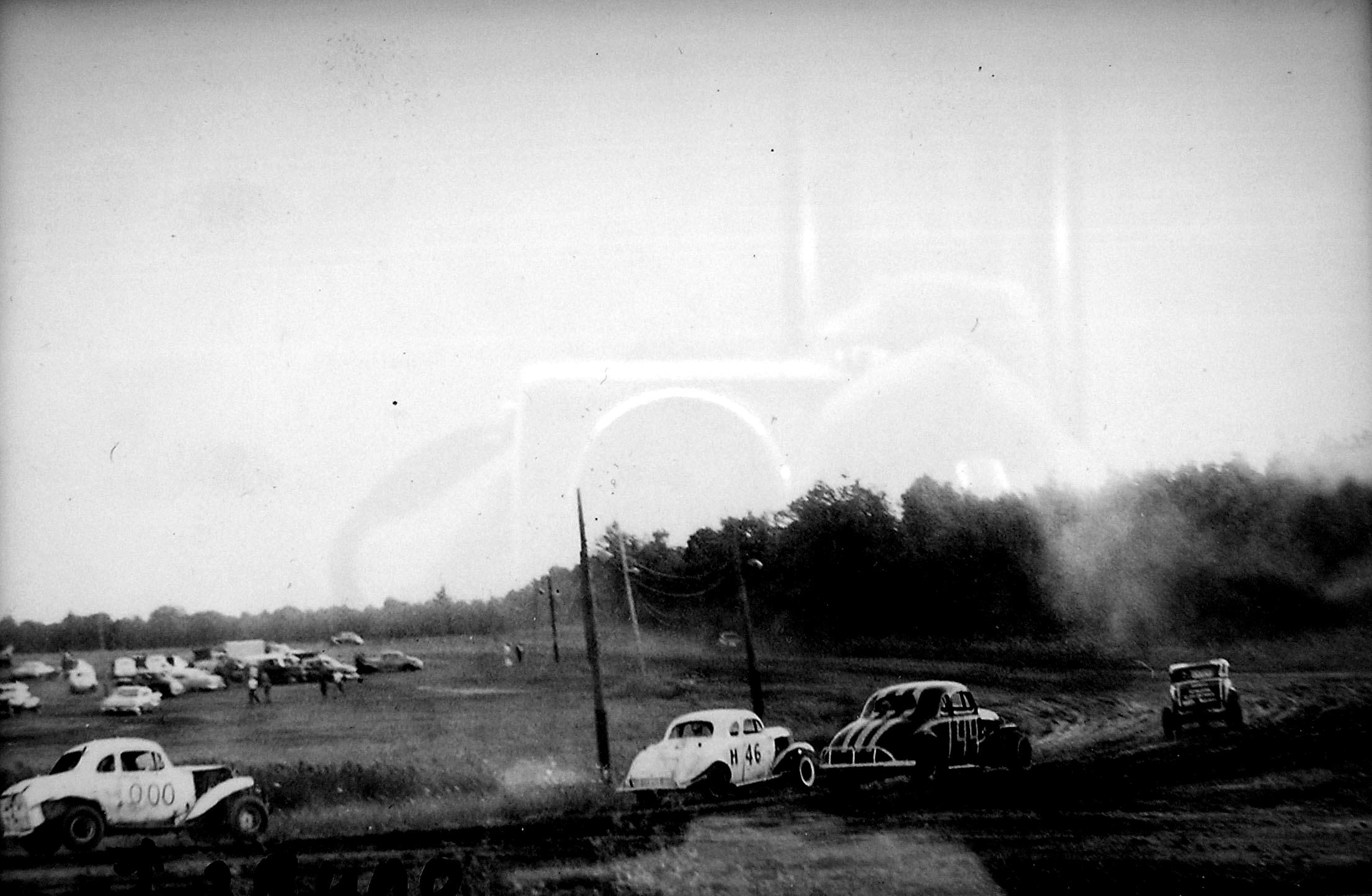 Bruno, in an early ride – the flathead Hudson 000 runs on
the dirt at Airborne. [Courtesy of John Rock]
The one Bob Bruno got from all this driving was GOOD ! He finally attracted the attention of a crackerjack car and engine builder named Vic Wolfe, a self-made man who had come into the Plattsburgh area and who was amassing a considerable empire of property and businesses. By this time, Bob was winning features in New York and even at Malletts Bay, Vermont's Colchester-Bayview Speedway. The Wolfe opportunity was a fat one, but Wolfe's car at the time was a Pontiac and Bruno was adamant about driving a Chevy. Wolfe, at the time, was using Bud Besaw as the driver and the car didn't finish on any consistent basis.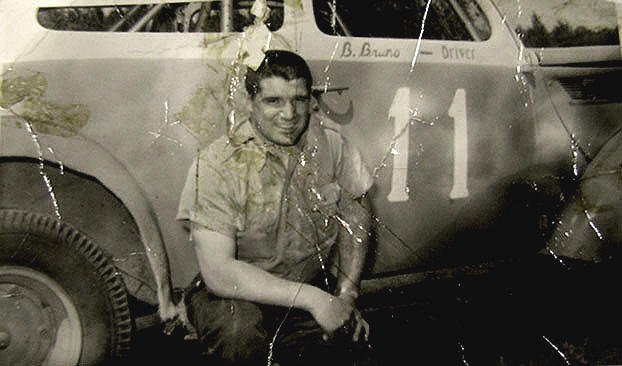 Bob with his own #11, an early Airborne ride. [Courtesy of Gary Nephew]
Vic Wolfe, along with his crew of Jack Rugar and Wesley Mitcher, had decided big changes were in order; so, out went Besaw and the Pontiac. Wolfe and Rugar were considered experts at welding and engine building, and Mitcher was – according to Bruno – an astonishingly strong man who was willing to do whatever had to be done to aid the team effort. Mitcher and another man once had hand-carried an engine across the pits. Soon, there was a white 1937 Chevy coupe with big, red numerals #66. The success was immediate and the schedules of many race teams in those days was grueling: Fury Speedway in Canada on most Tuesday and Thursday nights; Saranac Lake on Friday nights; Airborne on Saturday night; St. Jerome in Canada on Sunday afternoon, and Riverside Speedway near Montreal on Sunday nights. Then was that stuff called work, sleep, and the family.
One year, in their race efforts, Bob, Vic, and the team won 30 out of the 45 races they attempted. Vic Wolfe owned one third of Airborne, but the track still had a bounty on Bruno's head one year. An extra $100 if someone could beat Bruno. Purses then were only $300, and – with another bonus – another guy come walk away with $450 in one feature, while Bob would earn only $300. Every year, at the end of the season, Wolfe would sell the car [or at least one of the cars] to someone in the region. One became Frank Hodge's Canadian coupe, keeping the same color and number scheme; another became the familiar Harold Healey #70 driven by Ernie Ried, of Massena, NY.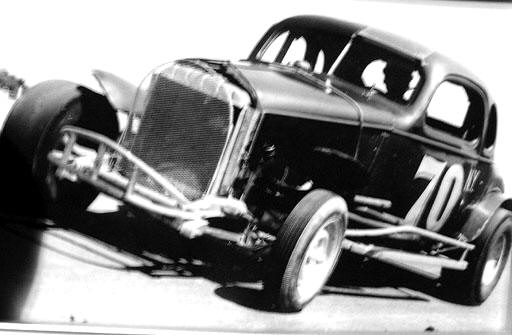 The Harold Healey 70 was a former Vic Wolfe car that had a successful second run [Courtesy of John Rock]
Bruno was not just dominating Airborne. He traveled over to the new track in the cow pasture at Waltham, Vermont – Otter Creek Speedway, a NASCAR affiliate – and won the first feature ever there. He continued to run Saranac Lake, as well as tracks in Canada. He and Wolfe tried several visits to the legendary Fonda oval and did quite well there. The first year that Fonda ran separate points for Modifieds and Sportsman cars, while running them together in the same races, Bruno finished third in the points. Fonda bigwig Ken Shoemaker did not like Bruno, who sometimes drive the Allie Swears #51 coupe down there. The Shoe rammed him after one feature after Bob had made a last-minute pass to take away a top five position.
It wasn't often easy. Once, in 1961 at a particularly late race in November, Bob remembers competing against the biggest names in NASCAR that year, including Nephew and Wimble who were locked in the famous national points battled that ended in a dead tie for the 1961 NASCAR National Sportsman Championship. It was so cold that day, the team was experimenting with covering portions of the radiator grill with cardboard to get the heat up [much like you see them do with International brand school buses in the winter]. When the short – lived but infamous Victoria Speedway was featuring Fonda and Lebanon Valley drivers in the early 1960's, Bruno ran there under the assumed name of Bud Smith. It didn't matter, he was caught and stripped of points anyway.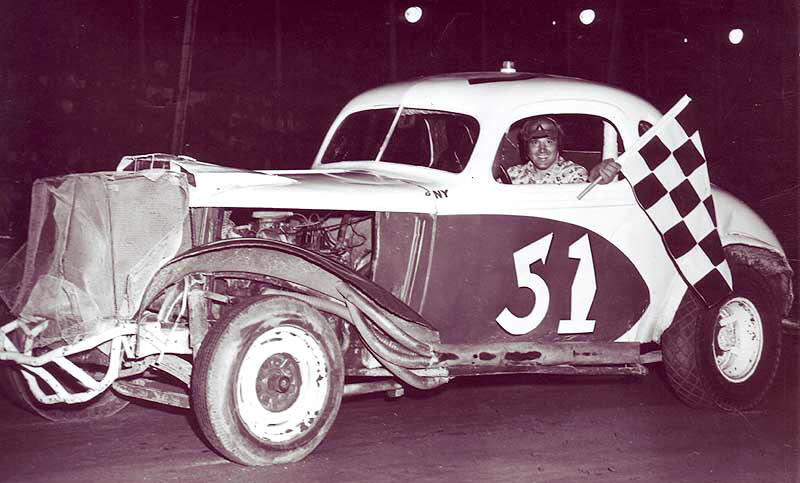 Bob frequently drove the Allie Swears coupe- here has won at Fonda. [Mike Russo Photo]
Bob won qualifiers for the big Trenton race more than once, but he didn't really like running the big Trenton track. The first time he ran Trenton, he had been at Fonda the night before. He donned his light plastic dirt goggles and headed out, onto the Trenton mile, to practice. The high speeds sucked the goggles right off his head. Once his equipment was adapted to the speed, Bruno proceeded to lead the big race around lap 130,when the engine decided to die. He also had no love for the Syracuse track. In one race he lost a drive shaft, slowed, was rammed in the rear, and had his car tank rupture - burning the car pretty much to the ground.
Bob, by now, was a school principal and a supervisor for the town of Schuyler Falls. In New York, a supervisor is a pretty important political job, and the board hated to let him off to go racing. So, when the modern new track, Catamount Stadium, opened in 1965 across Lake Champlain in Milton, Vermont, Bob was late every week because the supervisors met early that very same evening. He would try to help competitors get a leg up whenever he could. One neighbor [who shall remain nameless] was having a tough time competing at Malletts Bay, because he could never get the running restarts down pat. Over and over, Bob pointed out that the cars always sped up on the backstretch and that the driver should pick his mark at which to speed up. It turns out the guy had terrible depth perception and had no idea, not only how close the "mark" he had picked was, but also he could not judge how deep to enter the turns. Some things are just not meant to be. It would turn some peoples' blood cold to know this guy went into the era of really powerful, high-speed, modified coupes with those eyes.
A long racing career has its share of hairy moments. Bob and Vic had gone down to Southern New England and had come home with the new, state-of-the-art 15 inch steamroller tires for the #66. Bob was using the tires at Airborne to lap a backmarker when the guys misjudged and clipped Bruno, flipping the #66 into a retaining wall and blowing all four new tires at $125 each. Another time, Bob had tried racing while sick with the flu. He wanted to get up front fast and be able to coast on home. He said that Dick Nephew was always his toughest competitor to pass because Nephew ran a diamond pattern even on dirt. On the outside of Nephew, Bruno saw someone else spin out and head into the oncoming field. He hit the guy head on, bending the frame. The steering wheel hit Bob in the face. Bob was one the first to wear a chest strap with his seat belt. That probably saved his life that day.
Another time at Airborne, Bob was participating in practice, when he left the track, and went up, through the tin fence that separated the racing area from the parking lot. He said he could see the roofs of the parked cars way down below and thought to himself "This is gonna hurt". It did, but he missed all the cars. The accelerator had stuck and he had gone over a sand barrier that had acted like a launching ramp. At Saranac Lake, he wasn't so lucky. He went through another metal fence, having slid across damp evening grass. This time, he nailed a number of cars in the parking lot, including a recently – restored Willys coupe. The owner ended up to never forgive Bruno. To make matters worse, the guy eventually became a political rival of Bruno's.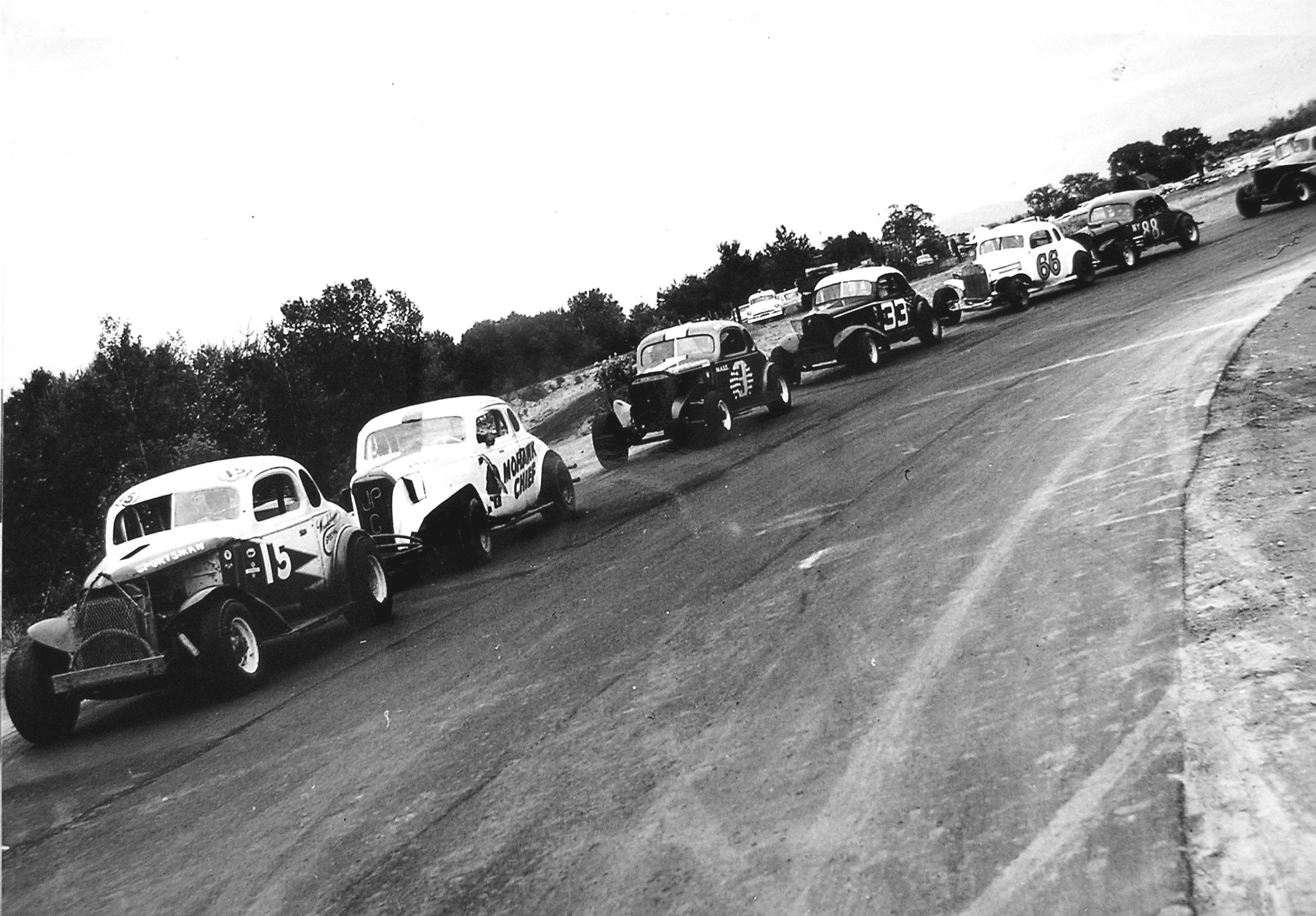 The #66 is buried in the back of a typical Airborne heat from the early 1960's. I recognize Gahan, Cabana,
Charland, Wimble, Bob, Ernie Reid, and Corey. [Courtesy of John Rock]
Bob remembers little things about the glory years – particularly in the 1960's. He recalls the big points race and how Wimble ran every race that summer at Saranac Lake with borrowed cars because his owner, Dave McCready, was apparently unwilling to trot the #33 all the way up North to Saranac Lake. He also maintains that the best dirt surface he ever ran on was Fort Covington, a Northern New York track whose third turn was almost in Canada. The track sat by a river that acted as part of the border; and the clay from that river was superb. Bruno recalls they did so little to the track that it would grass growing on it during the week between race programs, but it was always a great surface.
There are also the sad stories like following Dick Nephew's car and team home from Saranac Lake. Nephew would either drive the #6 or sometimes it was driven by local driver Bernie Kentile. A crewman named Reyell and another man were in the Nephew truck when it left the road. The car and trailer came forward and crushed the cab of the pickup, killing Reyell and seriously injuring the other man. Bob and Vic had the misfortune of being right behind the truck when the wreck occurred. He remembers the great Jean-Paul Cabana losing part of his nose in a crash at St Jerome Speedway, a track where they featured pari-mutuel betting – just like horse races.
One of the last cars Bruno had with Wolfe was a more modern, 1973 Pinto pavement mod with a powerful 700 horsepower engine. That has been restored today and was shown to Bob this past August at Bob Bruno Night at Airborne. When Wolfe left town and moved down South, Bruno got a call from Canada to run a late model sportsman in the Northern NASCAR circuit that ran out of Catamount Stadium in Vermont. The Roger Chadore #32 had been vacated by Beaver Dragon not long before, and was an ill-performing beast. Bruno, being so familiar with Airborne, was able to win a feature with the Nova. Money was no object to Chadore in racing, and the celebration at Al's Patchwork Pub near the track was no less liberal. Bob seems very glad to have made Chadore's year with that one success in an otherwise dreadful year.
Towards the very end, Wolfe had built a Chevy Nova to race against the Northern NASCAR late models. When the driveshaft fell out in the first week's racing, many people thought Wolfe and Bruno might have been over the hill, unable to deal with the likes of Johnny Rosati, Ron Barcomb, the Dragon Brothers, and Cabana. But the team then proceeded to win the next six Airborne features in a row. In the final race of that streak, Danny Bridges and Charley Trombley had beaten Bob. But, in protesting each other, they both got disqualified and handed it to the third place Bruno. Bob once won a race at the legendary Thunder Road backwards – because Dick Nephew and someone else had tangled on the last turn, spinning the trailing Bruno but sending him across the strip ahead of them.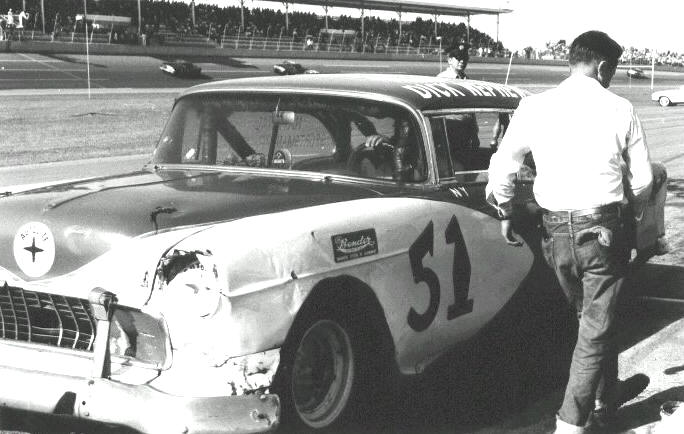 Dick Nephew and Allie Swears during practice for the sportsman race in 1960
in the car intended for Bruno [Nephew Family Photo]
Many of us are familiar with the photos of Dick Nephew, in the Allie Swears #51 '55 Chevy sportsman at Daytona Beach around 1960. Bruno points out [and few realize] that he, the Airborne Champion, the guaranteed a starting spot and appearance money in the Daytona sportsman race in February, so Swears built them a car. Then Bruno's school board would not let him go to Daytona during the school year, and the car had to be given to Nephew. Swears was a little on the unorthodox side, and he once built a coupe for Bruno to dive in Canada with the brake and clutch pedals reversed [for some forgotten reason]. Bruno managed to do all right until he hit the wrong pedal and flew out of the place entirely. That was the only Swears car to be demolished until Dutch Reed put Allie's old faithful '37 Chevy coupe to rest at Fairmont in 1961.
Not just racing – but life – has been good to Bob Bruno. He has an impressive family and devoted grandchildren. He has a satisfying career in education, as well as in New York politics. He is an absolute legend at Airborne and didn't do too shabbily anywhere else, either. Bob is a young-looking man who seems very healthy [unlike many of those he ran against in that era].The man to whom checker flags and unruly students were sent in equal numbers, appears to be very happy with how it has all turned out. Who came blame him ?
Return to the Columns Link Page
Return to the Main News Page