THE BILL'S BACK IN TIME COLUMN PAGE
Copies of my column in Mark Thomas' "Racin' Paper"
Column #2 [All previous columns unavailable]
BILL'S BACK IN TIME
By Bill Ladabouche
A BLACK JACK AND OTHER ACES IN THE HOLE
One of the most enduring memories of my visit to the Rotterdam Mall show for Fonda Speedway last year [I didn't make it this year] was meeting a quiet, unassuming guy named Bob Novak. Bob is a rare quantity today, or in any other recent racing era. He is a Jack DuBrul fan. Being from Amsterdam, New York, rooting for a not – particularly successful driver from Northern Vermont made Bob a little unique [or maybe nuts, as he described himself].
Jack "Black Jack" DuBrul is a success businessman in the Greater Burlington Vermont region, owning Automaster Motors, among other enterprises; but, in the early 1960's, he was the charismatic owner of one of Burlington's coolest night spots, the Cave. Better than that, DuBrul operated a speed shop called "Speed and Race Engineering, and he fielded the self-described "Hottest Damned Race Cars in Vermont". It just so happened that Jack had to travel some to field his NASCAR – legal sportsman car, so he ended up at Fonda and Victoria Speedways in the 1960's.
DuBrul was quite dashing a figure in those days, arriving in a black Corvette, while his crew would deliver the black Chevrolet coupe on its matching 1952 GMC flatbed hauler. Blackjack is of above average height, and often was accompanied by a stunningly attractive woman. This was all a little too much for young Bobby Novak, who could overlook the fact that DuBrul didn't exactly tear the ass off Fonda. But he looked GOOD not tearing the ass off Fonda !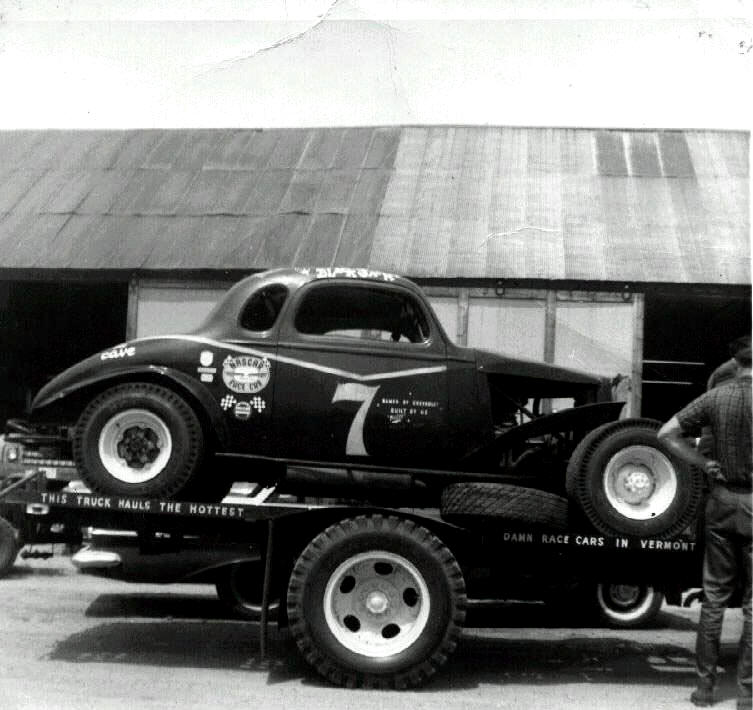 Bill Ladabouche Photo
The slick – looking Chevy coupe would arrive on a matching hauler.
Note the slogan on the truck's bed.
DuBrul likely got started at the old Malletts Bay Speedway, just north of his Burlington base, and soon ended up running a few races at the dusty Otter Creek Speedway, a NASCAR affiliate in Waltham, Vermont, about twenty minutes to the South. For these races, DuBrul had acquired the services of car builder Royce Tucker, brother of one of Otter Creek's owners, Lee Tucker. Tucker had constructed DuBrul a beautiful 1937 Chevy coupe, which had then been carefully color-coded with a black and bronzish-brown graphics package.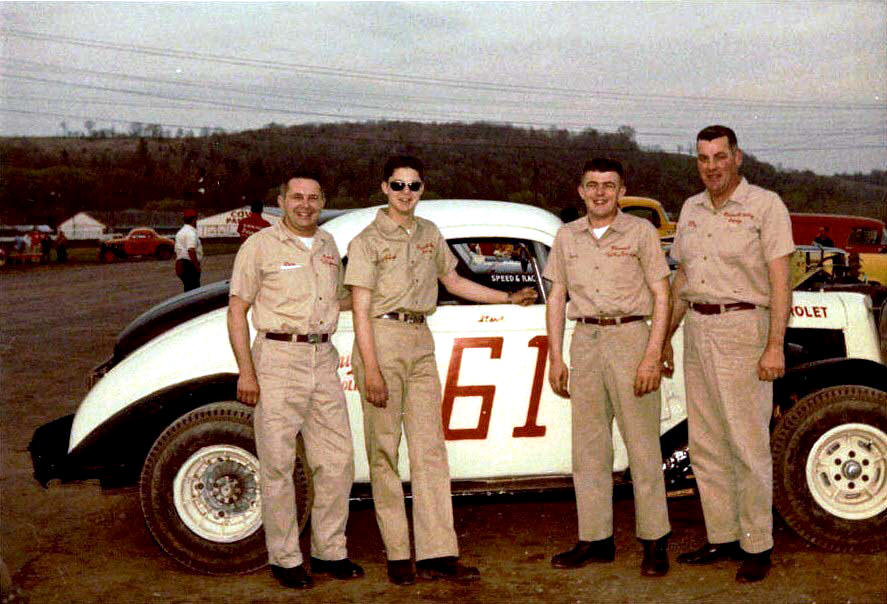 Danish Family Photo
The Steve Danish team poses at Fonda around 1962, The black
DuBrul coupe can be seen directly behind, pitted right next to Steve.
Almost whenever he could, Jack would pit next to his the man he apparently admired the most at the New York races – Steve Danish, the legendary driver from Cropseyville. According to Danish's son, John, they would assist DuBrul with engine design and, to this day, John Danish still maintains contact with DuBrul. The 7VT was fairly successful at Otter Creek – especially when big points races did not attract the likes of National Sportsman Champions Bill Wimble or Dick Nephew; or Ken Shoemaker; or future champion Ernie Gahan; or Massena, New York's Ernie Ried. Ironically, Ried would end up being injured in another Tucker – built coupe – the beautiful yellow and black 14VT [most likely a mathematical offshoot of 7VT].

Bob Frazier Photo Courtesy of C.J. Richards
The two Tucker – built cars are seen at one of C.J. Richards' All-Star races at Fairmont, around 1964 . The tall DuBrul towers above the others in the middle, while the ill-fated 14VT sits behind him [driver unknown].
Jack DuBrul had already been running two different types of cars by the time I first saw him at Otter Creek around 1961. He was running the NASCAR-style sportsman coupe wherever he could, and he had a Thunder Road – legal 1934 Ford to run at the Barre, Vermont oval. He may have occasionally taken the Ford to Otter Creek, but it is not clear, because I, at age 14, could not attend every race. The Ford was, graphically, a matched set with the Chevy, sporting the number 11, the whole swashbuckling gambler theme, the ad for The Cave, and the ominous black color. Again, he had some success at Thunder Road, but did not become one of its legends.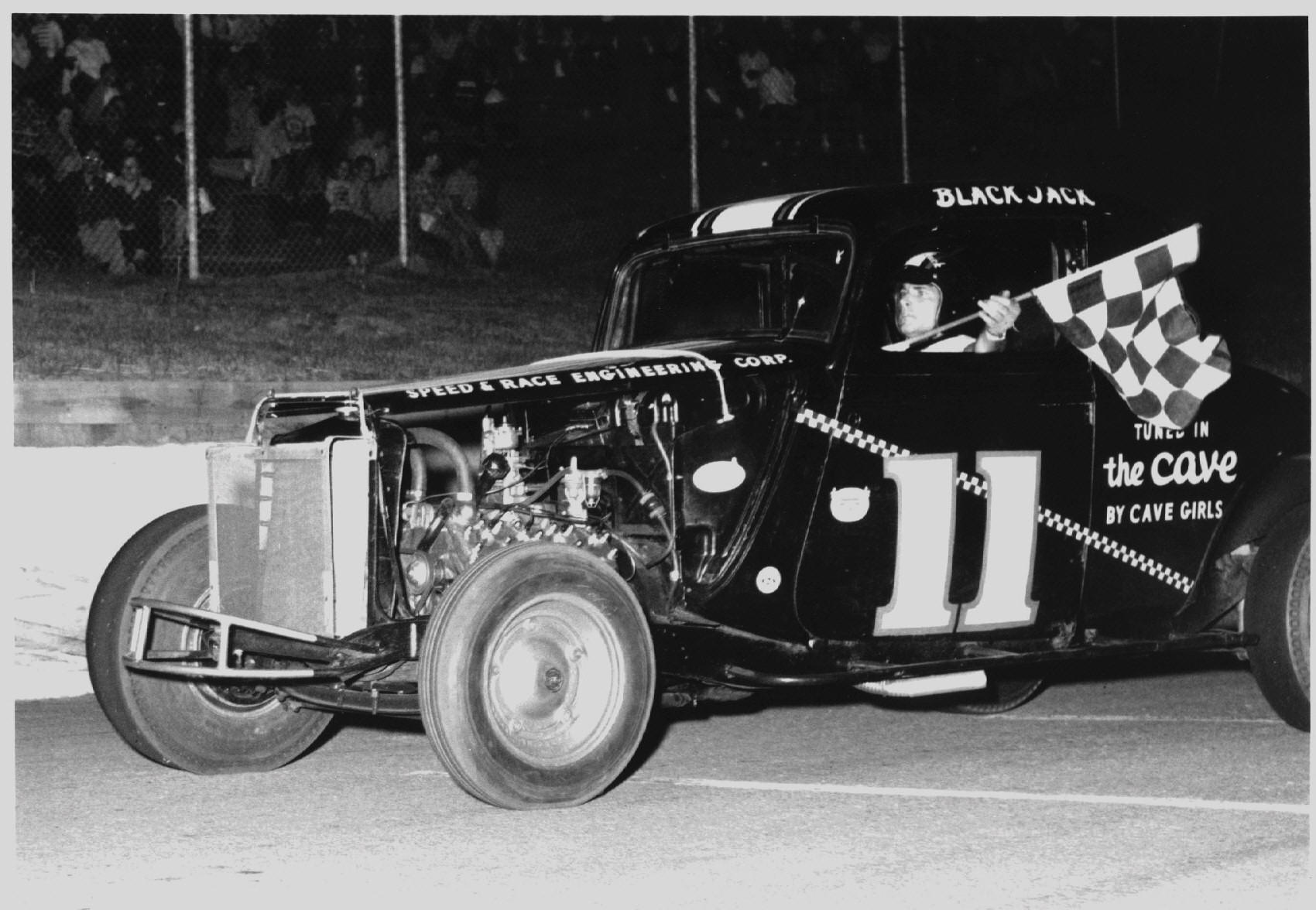 Photo Courtesy of Cho Lee
Here Dubrul has picked up a win at Thunder Road.
I first saw Jack at Otter Creek around 1961, but I didn't realize how interesting he was until he showed up at Fonda the following year. I became a fan, at that time – pulling for the only Vermont driver at that prestigious arena of the gods. Coincidentally, Otter Creek Speedway began to attract the bigger name NASCAR sportsman drivers again in 1962, with points races that the contenders couldn't pass up. By then, Jack had a slightly different paint scheme, but the same coordinated hauler and all. He was about to experiment with Daytona Speedweeks, having bought a 1959 Pontiac – which he apparently displayed at Thunder Road. I never saw him with it, although I saw the car re-appear with different owners later.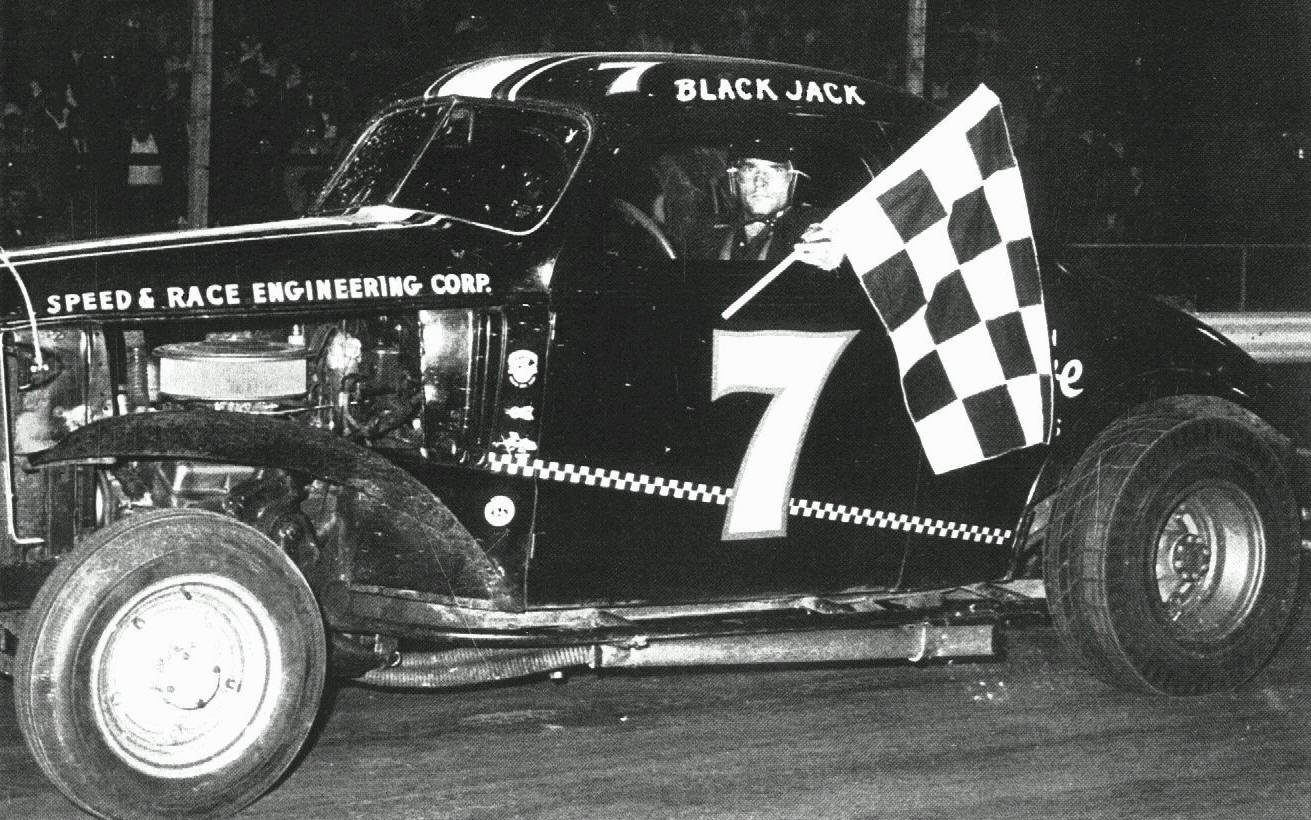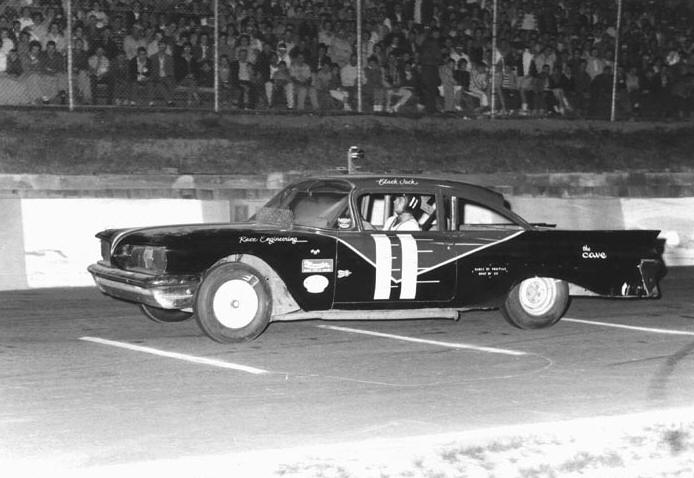 Photo Courtesy of Novak Courtesy of Cho Lee
[Left] A consi win at Victoria [Right] The Langley – built Pontiac at Thunder Road.
In 1963, Fonda started its history of running long distance Championship – style races, at least once a summer. DuBrul, whom I hadn't seen for most of that year, showed up with the same old hauler and car, albeit a different paint scheme. He ran creditably that night in the 300 lapper, and finished somewhere in the midst of the pack. While others sped around [and crashed and burned, so to speak], DuBrul ran a Grand National – style approach, cruising around the track on the inside with consistent [if not unspectacular] lap speeds, and managed to finish ahead of some of the bigger names. I believe his hero, Danish finished high in this event.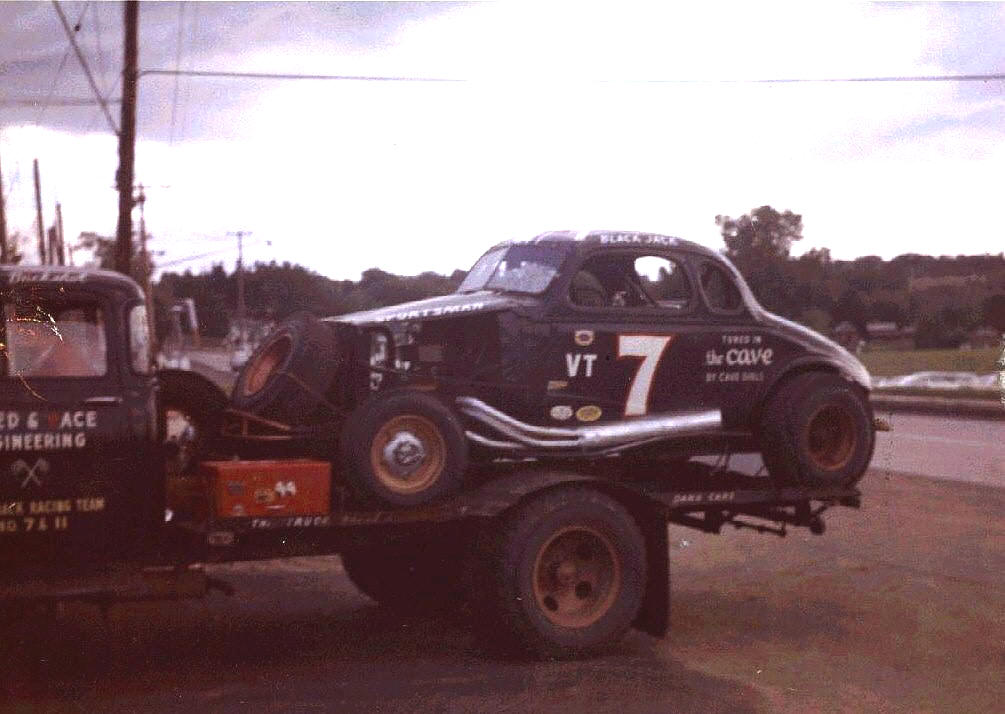 Bill Ladabouche Photo
This dusky photo captures the DuBrul group arriving at Fonda for the 300 lapper in 1963.
Jack DuBrul clearly made a mark on Vermont racing in 1965 when he joined a visionary group of Vermont racing people and businessmen in establishing and building Catamount Stadium, in Milton, Vermont. Although Jack was in the management and ownership end of racing then, he continued to come up with novel, innovative, and state – of - the – art cars during the 1960's. Jack would come out with the 1VT, the first car to run tuned headers in Vermont. He didn't drive it long, and the car seemed to only run asphalt. Russ Shaw, a star at Devil's Bowl, ended up running the car for a man out of Massachusetts who had bought the car from Jack. It ended up having most of its race action with the well-known Fort Edward, New York driver Nelson Moore at the helm. At that time, the car was numbered 8VT, but it looked much the same as when DuBrul had it.

Outside Groove Website Photo
Jack got busy with Catamount in the mid 1960's.
What ensued was a sort of pattern for Jack after Catamount was begun: buy a really innovative car, drive a bit, tire of the project, and sell. By now, he owned Automaster Motors, a prestigious dealership of Mercedes and Honda on Shelburne Road, in Burlington, and he clearly was developing other interests, as well, such as hot air balloons. He had a 1964 Chevelle built for Catamount's burgeoning late model sportsman ranks, but only drove it a few times. He purchased a NASCAR Grand American division Javelin to try at the only Grand American race Catamount ever hosted, and late tried the car as a modified – but then sold it. There was a 1968 Chevelle late model, as well; but it didn't fare any better.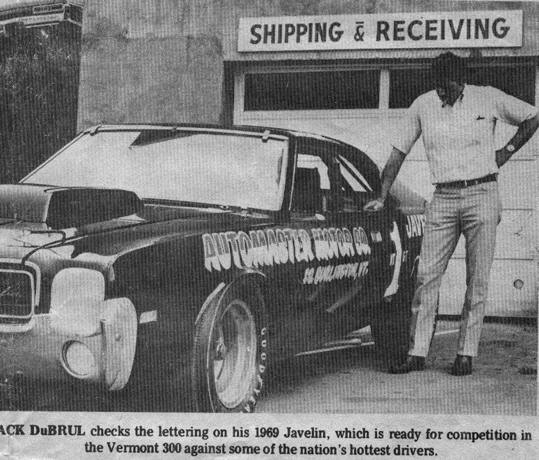 Burlington Free Press Photo Courtesy of Rich Palmer
The Javelin, which saw little time on Vermont tracks, as it turns out.
By the 1970's, one of the most colorful and pioneering figures in the history of Vermont auto racing was largely out of the picture, much the dismay of fans like Bob Novak and me. But his mark on the sport will be felt for a long time to come. He had helped to bring Vermont stock car racing out of the cow pastures and into the considerable prominence it enjoys now – on par with the bigger states on it borders. Some day, I want to try and sit down for a long talk with DuBrul, and learn all I can about what it was like to be on the cutting edge of racing back in those golden years of racing in the 1960's

Photo Courtesy of Bob Novak
Jack DuBrul, with another familiar figure in Vermont racing, Bardahl's Bob Doyle.
On other fronts, I drove by the site of the former Stateline Speedway in North Bennington again recently. Although I have a much better idea where the track actually sat, I still cannot see any trace of it on the property now. There is a trucking concern on one part of the site, and the prominent brick house that sits across the road is still there. From what I here, it was a tavern of some sort back in Stateline days. From what I can gather, the track was mostly in Vermont, but a little bit in the Empire State, as well; and the covered grandstands apparently were built so close to Route 67 that one could almost touch them while driving by.

Herbert Family Photo
This picture of Jeep Hebert in Victory Lane at Stateline shows the unique grandstands and, through the stands, you see the brick house across Route 67.
It appears as thought the fourth turn of the track was extremely close to Route 67, necessitating a crude wooden barrier fence, but I can't seem to see where there is any remnant of any of these structures now – or even a bit of contouring left on the ground. If anyone can email me and fill me in on details of Stateline, I would be most appreciative. I know that people like Ted Vogel [with driver George Baumgardner], A.J. Caprara [mostly with driver Jeep Herbert], Joe Wunderlich, Steve Danish, Don Rounds, and Spencer Parkhurst were some of the big names at the track, but I haven't been able to get much solid information.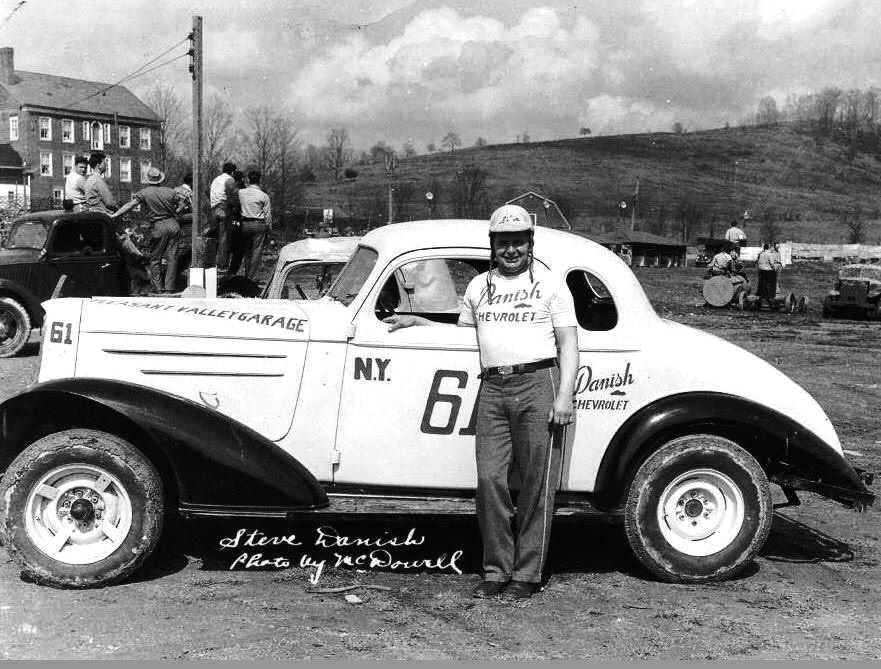 Herbert Family Photo
This old McDowell photo of Steve Danish at Stateline shows the brick house across the road. The white barrier to the right is right against Route 67. The barn framed above Steve's head is still there, as well.
I would to do more with Stateline, but I will have to depend on the kindness of others, who know more about than I. I look forward to hearing from anyone who can help.
Please email me at wladabou@adelphia.net if you have any photos to lend me or information and corrections I could benefit from. Please do not submit anything you are not willing to allow me to use on my website - and thanks. For those who still don't like computers - my regular address is: Bill Ladabouche, 23 York Street, Swanton, Vermont 05488.
AS ALWAYS, DON'T FORGET TO CHECK OUT MY WEBSITE: www.catamountstadium.com
Return to the Main Page
Return to the Columns Link Page
Return to the Main News Page