THE BILL'S BACK IN TIME COLUMN PAGE
Copies of my column in Mark Thomas' "Racin' Paper"
Column #29 from Column 42
BILL'S BACK IN TIME
By Bill Ladabouche
BOB N' JACK
This column could start with exactly the same first sentence as last week's: "When I recall those early years of the 1970's at Catamount [and, of course the other tracks in the circuit] I think of the huge fields of late model sportsman cars the tracks of Northern NASCAR were drawing." One of the dozens of popular stars in that busy era of Northern NASCAR [and especially Catamount] was Jack Anderson. I didn't know much about Jack except he had a transmission business on the Intervale and scads of people thought he was the best in the business as fixing trannies.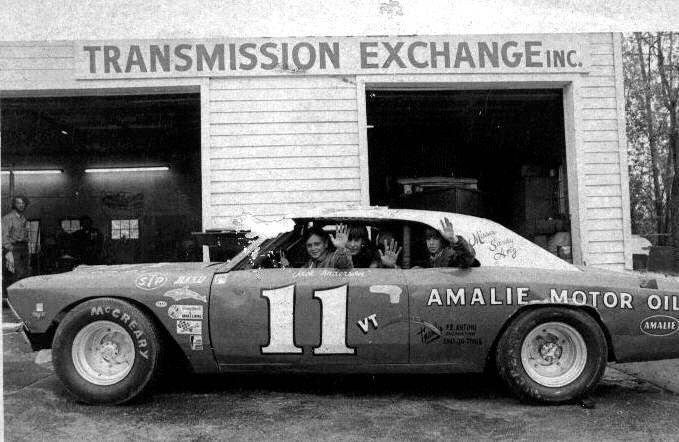 Jack and an employee keep a watchful eye from inside the garage as some local kids
ham it up for a photographer. [Anderson Collection]
I never had much reason to be around Jack; but, in my nearly three year quest to gather in all the Vermont stock car history I can, I had run into his name, time and time again, from so many different angles. Finally, I got to hear from Jack, himself, from Florida – where he now calls home. When Jack offered to meet with me this past week, he came bearing mostly pictures from another guy – not himself. I have come to know this is the consummate Jack Anderson. He's very understated and humble, and he'll have a fit when he finds out I wrote this.
The family whose photos Jack brought me could be called the Ralph Bushey family, because the famous Bob Bushey [and his more famous car the SPUD 19] was son of Burlington's wholesale potato dealer for decades – Ralph Bushey. From almost the beginning of stock car racing in Northern Vermont, Ralph Bushey was an active supporter; and, after a fashion, it was his son, Bob whom he put into the Bushey – sponsored cars.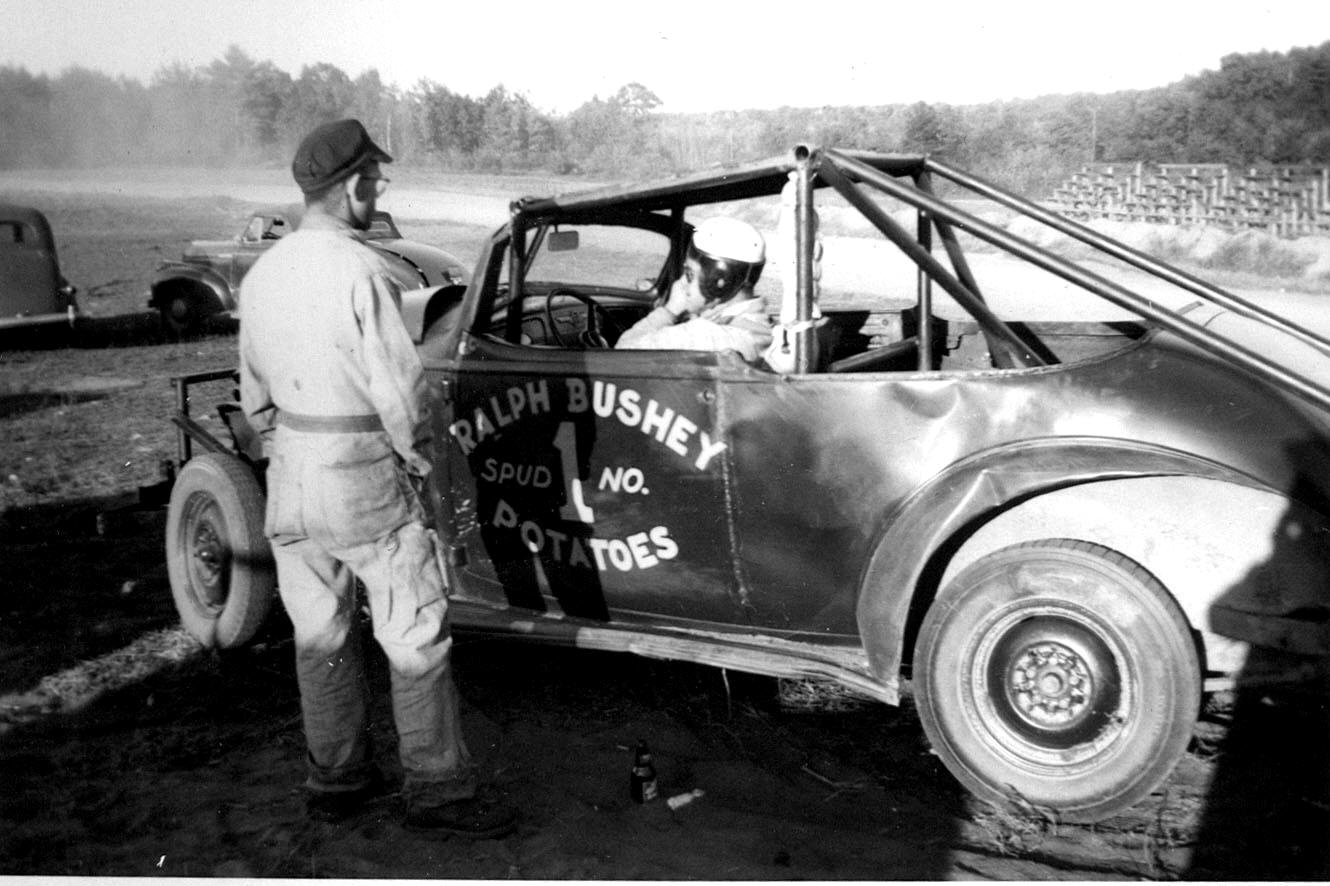 Gordy Owen, Ralph Bushey's first driver, confers with a mechanic at the Green Mountain track
, around 1951. Quite the "stock" car, n'est-ce pas ? [Bushey Family Photo]
Ralph and Bob got hold of a five window coupe, numbered 358 and promptly converted it over to the moniker that would become legendary at tracks like Malletts Bay, Green Mountain Speedway, Colchester Raceway, and a few north of the border in Quebec, like Adamsville, Quebec: the SPUD 19 [in obvious reference to Ralph's business. In those earlier years, the car ran with help and support from Mac McDurfee of Mac's Repair Shop, in the Queen City. From Ralph's first car to the final SPUD 19, the cars were always professionally lettered and in better repair than many of their competitors'.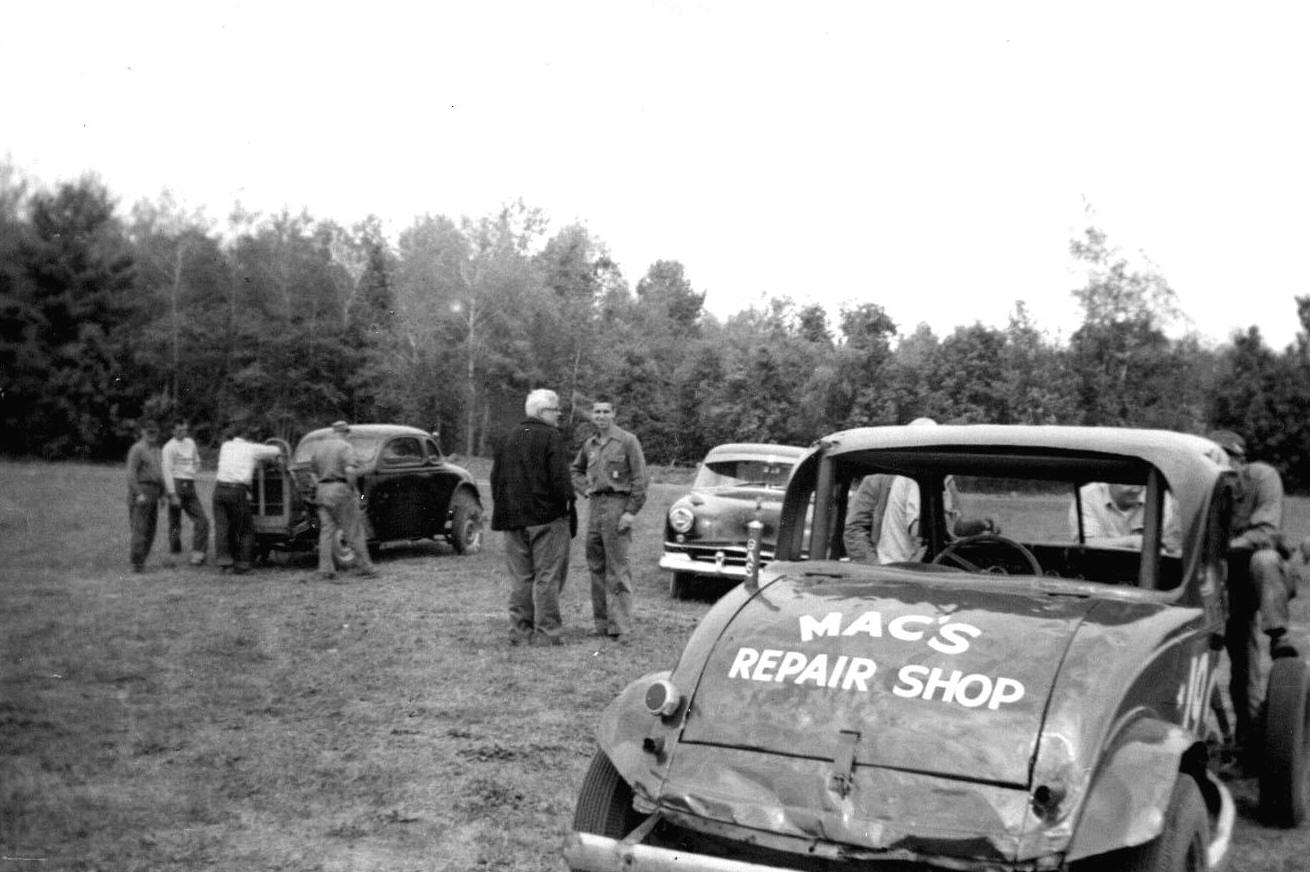 The first Spud 19 gets some care from Bob Bushey as Mac McDurfee, [gray-haired man in the center] gets in some pit chatter. This could be at Malletts Bay. [Bushey Family Photo]
After a run of undetermined length with the five window coupe, the Busheys built the last [and probably best] SPUD 19 – apparently a 1936 Plymouth coupe. The car was a champion at Malletts Bay – the Colchester-Bayview Speedway. It was also run a Ivanhoe Smith's Green Mountain Speedway, on the Colchester / Essex Junction town line. The car was in the field at the Champlain Valley Exposition fairgrounds track in the early fifties, when the race was marred by the death of Art Bessette, a bystander in the infield.
In my studies of the Chittenden Country / Northern Vermont racing scene of the 1950's, no car was ever mentioned more than the SPUD 19. Bushey raced in an era filled with great competitors. From the immediate area, he raced against Gordy Owen, Ed Charbonneau, Jackie Peterson, Ronnie Farnsworth, Rex Shattuck, the Trayah brothers, and dozens more. From outside the county, he was likely to face Johnny Gammell, Dick Nephew, Charlie Trombley, George Bridges, Sonny Rabideau, Art Cody, Bill Wimble, and an almost unlimited number more because racing was still affordable then and everyone was not running carbon copy cars. Still, the name you hear, over and over again, is Bob Bushey. I never saw him race, but he must have been something !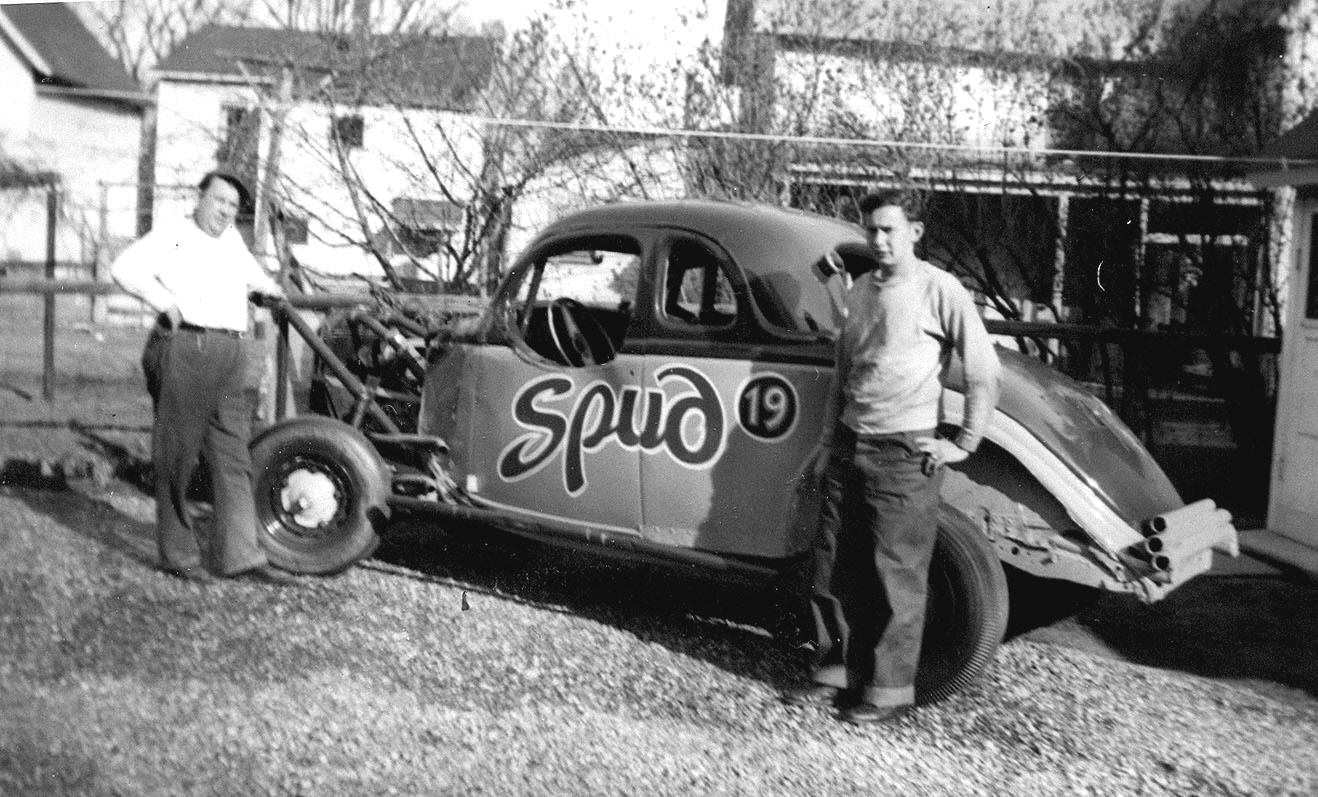 Ralph [left] and Bob [proudly pose with the new Spud 19 in their yard. The Bushey cars were always professionally lettered, from looks of things. [Bushey Family Photo]
Jack Anderson, Bushey's best image promoter, was pretty good at keeping what he did a secret from the average race fan in the 1970's. Catamount fans think of his good-looking red and black Amalie – sponsored Chevelles, numbered 11. A few of us knew his garage was often the base for visiting superstars like Tiny Lund or Bobby Allison, but we weren't sure why. As it turns out, Jack was leading a double racing life. While running up here, he also was right in the middle of the Carolinas / Georgia racing scene down South. Just like Paul Connors, whom I wrote about recently and with whom Jack shared many a late model race track, Jack was running in there with the Allisons, the Tom Pistones, the Lunds, and the Wendell Scotts we all read about. He was one of them.
Jack did not start at a mature age, He was only fifteen when he somehow managed to get out onto Smitty's Green Mountain Speedway with an old coupe. The men he was running against were often ten and twenty years older than he; and he was saddled with the nickname "Gunner" [the only name many of the retired stars know him as today]. Jack probably wasn't too much older when another teen, Harmon "Beaver" Dragon, made his successful debut at Malletts Bay, winning the first feature he was ever in.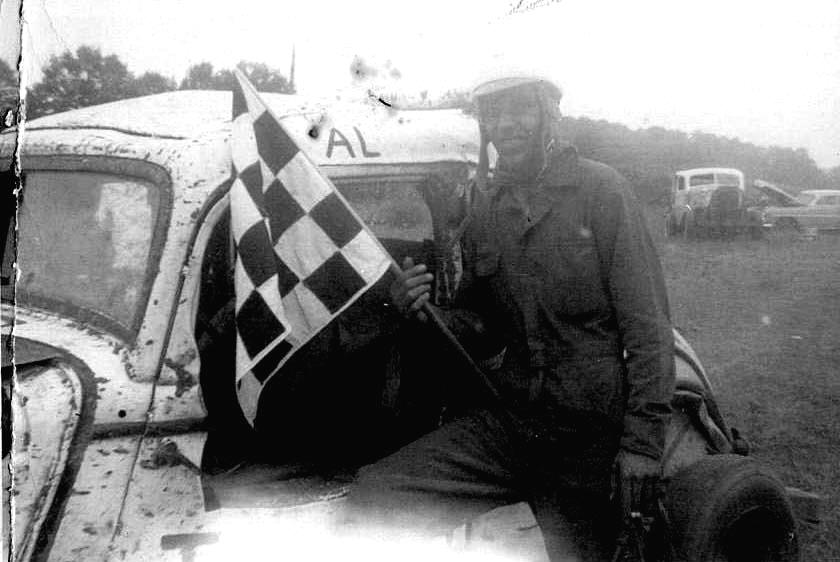 Although he doesn't look it in this grainy old photo, Jack is only fifteen here at – at Green Mountain Speedway, around 1952. [Anderson Collection]
After a few rides with other owners, Jack had decided to just run his own cars. He had signed on to drive the Nash LaFayette coupe of Lionel E. LaValley [the number 737 was LaValley's initials upside down]. Jack ended up rolling the Nash at Airborne around 1960, thus losing his ride. With help from his lifetime buddy, Bill Boisvin, Jack began fielding sportsman and modified coupes at Catamount on his own. He got to meet and know the greats of the period, like Eddie Flemke, Leo Cleary, Bugs Stevens, Don MacTavish, and the dozens of other big name NASCAR drivers who had to run Catamount to maintain points. Some of those relationships would pay off in the future.\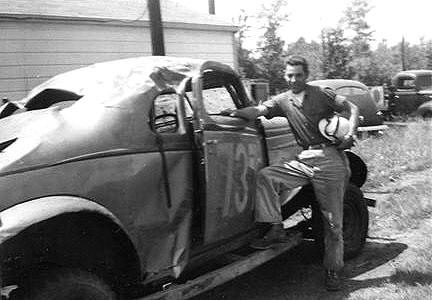 Jack wanted to take the Nash and fix it up. Lionel didn't. [Anderson Collection]
Jack and Bill fielded a fairly competitive coupe when Catamount opened, running it there and at Airborne. They may have tried Thunder Road, as well, because many of the cars were trying to run all three tracks per week. One of the enduring stories surrounding Catamount was finally tied together for me by Jack Anderson this past week: the infamous Ray Forte fire. Forte came to Catamount with a beautiful brand new red Chevy coupe, #30. That night, there was a wreck during the feature and Forte's car burned to the ground. Apparently, as modern as it was, Catamount did not have the proper fire equipment to deal with such an eventuality.
Jack was the guy who struck the Forte coupe – right in the fuel tank – and they didn't have fuel cells then. He had been involved with Bob Brunell, from New York, Forte, and a fourth driver – Anglophone driver Kenny King from Rosemere, Quebec. With no place to go, the Forte car was plowed into and the rest is history. Jack and Bill's coupe suffered a twisted frame, pretty much putting them out of the coupe era. Jack tried building a late model – bodied modified, with the engine near the ordinary front seat area and the driver sitting essentially in he back seat. He claims NASCAR officials at Catamount rejected it as too radical.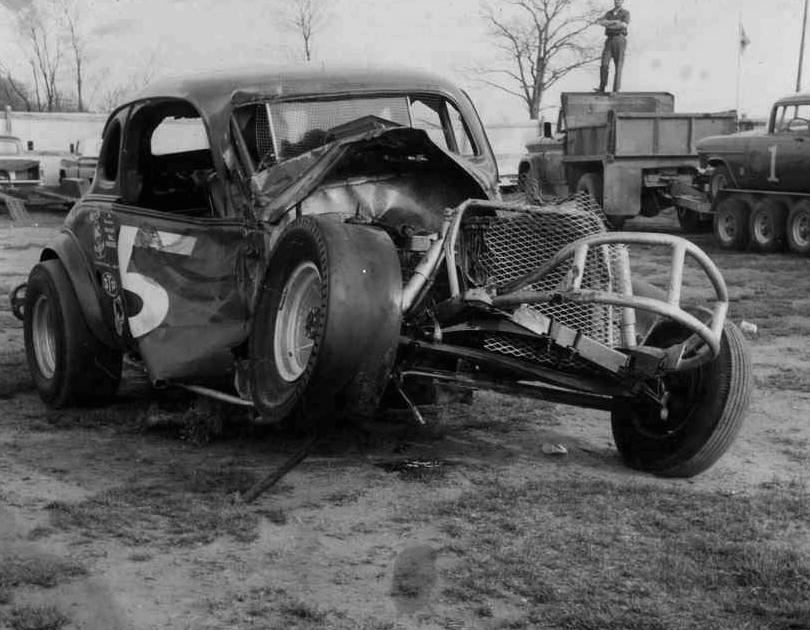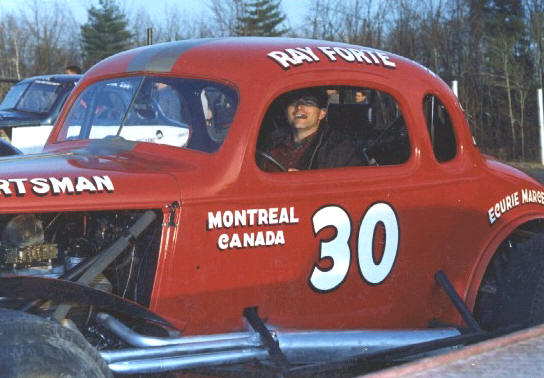 [Left – The remains of Jack's #5 coupe after the Forte crash. [Anderson Collection] [Right] Ray Forte smile from his beautiful coupe earlier that evening. [John Grady Photo]
Jack went on to field late model cars by the late 1960's. He sometime combined with Rene Maxfield, running the original Flying Tiger division. In the early 1970's Anderson had a curious – looking 1964 Chevelle, which ran in the early late model sportsman races – mostly at Catamount. The strange look came from the fact that the original Chevelle had been wrecked and, when they built a replacement, they used a convertible. Jack found a way to put the old roof on the convertible body; but it always looked a little off, as Jack points out. By 1973 Jack was driving a very attractive 1966 Chevelle that had actually, at one time, been one of Bobby Allison's Grand National cars. How Jack trimmed out all the excess weight we will never know because – compared to late model sportsman cars, a GN was a tank.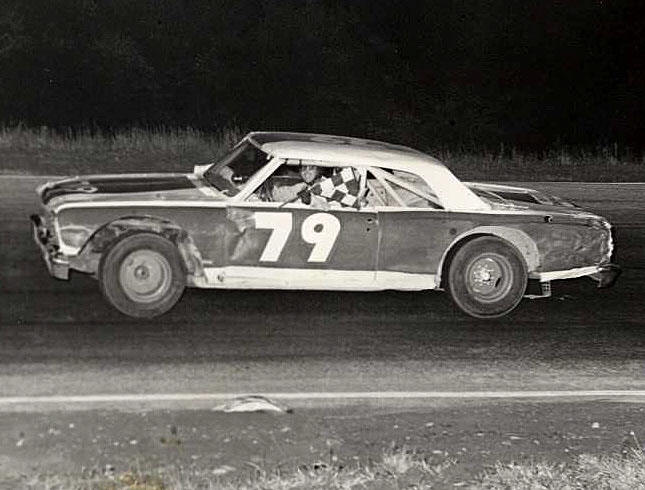 The strange Chevelle picks up a win at Catamount. [Anderson Collection]
During a good part of this period, Jack was commuting between Vermont and the Carolinas, running the Chevelle up here and maintaining a late model effort down there, as well. For a time, he had Kenny Bucklin as crew chief and Bucklin's assortment of motorcycle clubbers like Phil Bowler and Ox Osterman as the crew. Bruce Donaldson may have been part of that gang, as well. Jack would trust only Bucklin to qualify the car in his absence, even though few of us had any idea Kenny could drive. This went on for a short while until the Bucklin gang went on to crew for Claude Aubin, while the Quebec contractor was still allowed across the border into Vermont.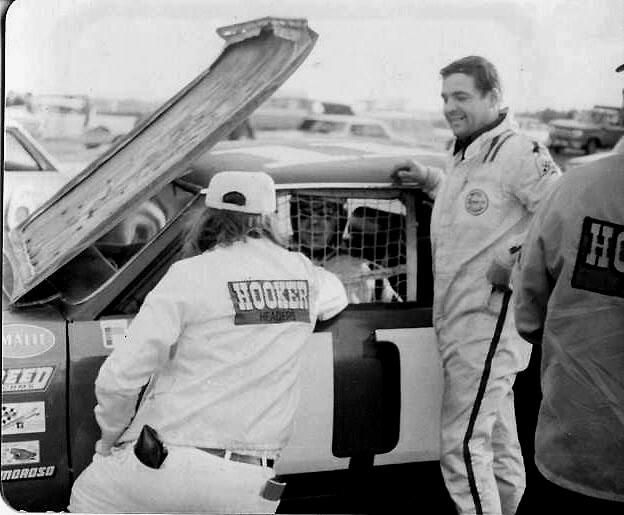 Kenny Bucklin, still in uniform, has just stepped out of the #11 from qualifying and Jack is headed out for the semi-feature or something of that nature. Phil Bowler is kneeling. [Anderson Collection]
Jack eventually ended up back down South, more or less permanently – at least, from a racing standpoint. While still active in the racing circles down there, he accomplished such things as building a Baby Grand Pinto, for what was then a semi – major NASCAR division that supported the Grand Nationals at a number of races. Jack also helped take one of the Harry Gant #77 Novas and convert it into a #8 late model sportsman for Dale Earnhardt, Sr.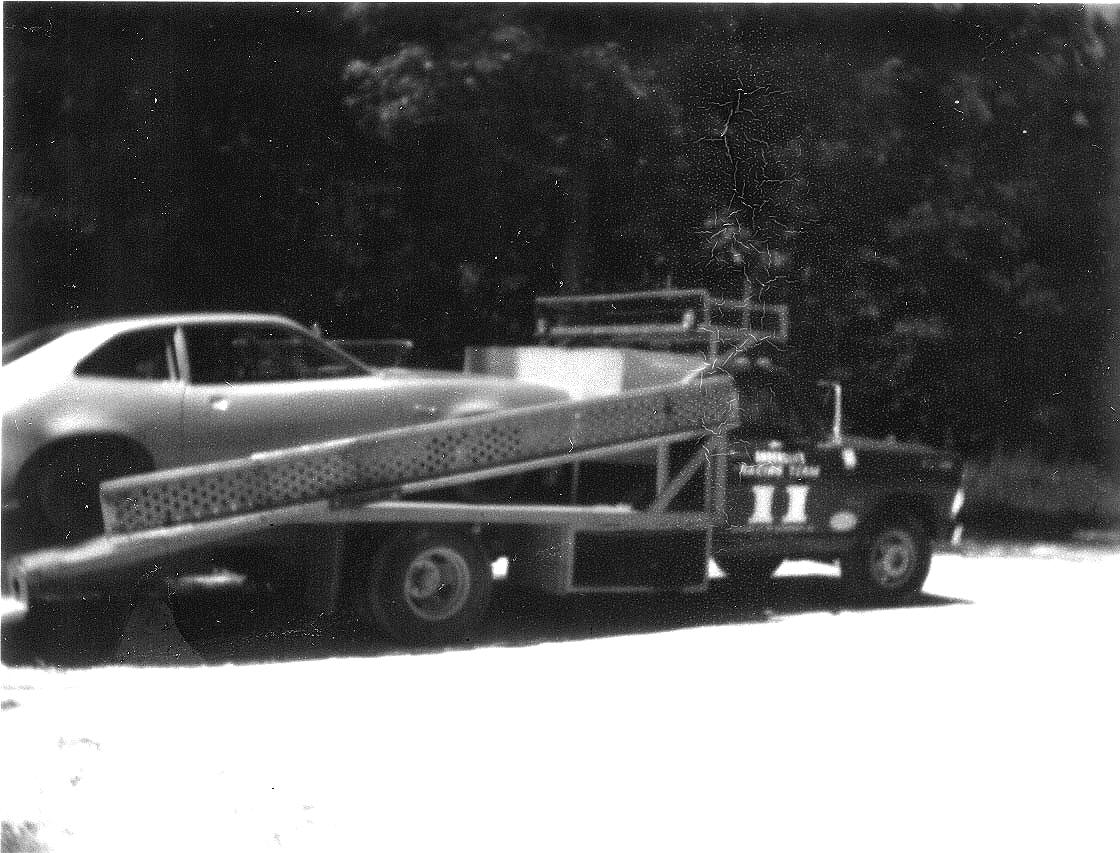 Jack's hauler, familiar from Catamount days, hauls the Baby Grand to a track like Charlotte to support the Grand National program. [Anderson Collection]
These days, Jack is a charter member of Living Legends of Auto Racing, Inc., a high – profile club that puts him in regular companionship with David Pearson, Ray Fox, and many of the other legends of stock car racing. From what I can see, Jack fully belongs in that organization – and with the same deference paid to him as those more obvious names. Jack has not only raced successfully with some of the best in the business, but he is tireless and devoted preserver of the history of the sport.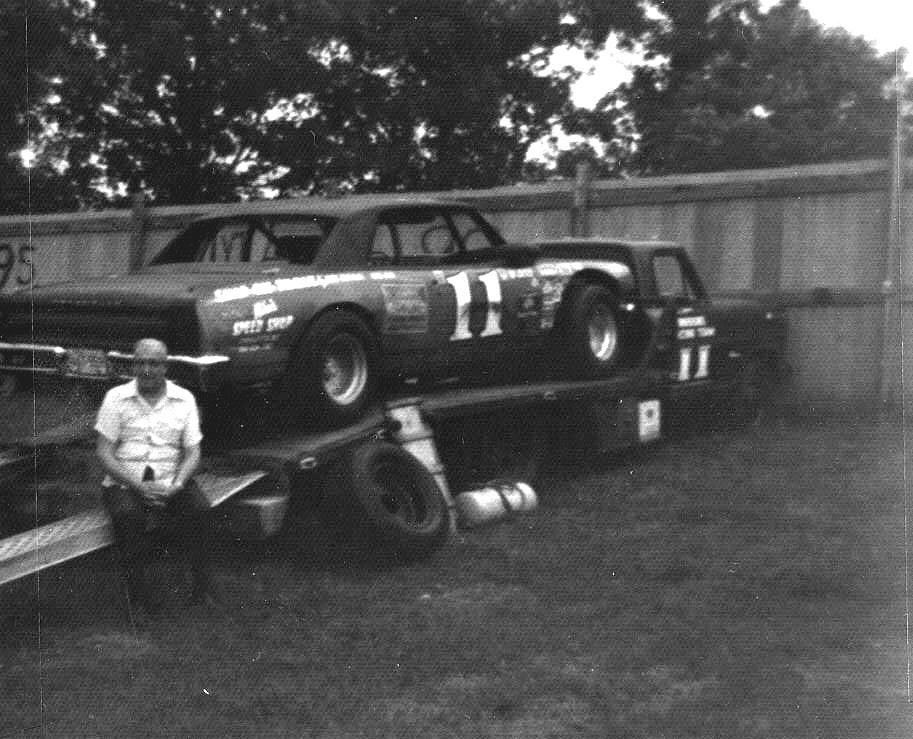 One of Jack's favorite shots, the only time his dad went to Catamount with him [Ladabouche Photo]

Return to the Columns Link Page
Return to the Main News Page