THE BILL'S BACK IN TIME COLUMN PAGE
Copies of my column in Mark Thomas' "Racin' Paper"
Column #28 from Column 41
BILL'S BACK IN TIME
By Bill Ladabouche
THE BRIEF DIRT INVASION OF NORTHERN NASCAR
When I recall those early years of the 1970's at Catamount [and, of course the other tracks in the circuit] I think of the huge fields of late model sportsman cars the tracks of Northern NASCAR were drawing. There were several factors: this was mostly just before the Great Fuel Crisis scam of 1973, Devils Bowl had been paved and had joined the circuit, interest had spread to Southern New England, and you could still field a car for less than a king's ransom. As a result, the old adage that went something like "pavement is pavement; dirt is dirt; and never the twain shall meet" kind of went out the window because – barring Bear Ridge – there wasn't any dirt to race on unless you ventured into central New York, Bear Ridge, or Canada. Hence, many of the big names from the region gravitated towards the Saturday night shows at Catamount.
The first of these invaders was Vincent Quenneville, Sr. – Devil's Bowl and Fairmont legend. Quenneville, with probable backing from C.J. Richards, first brought a 1968 to Milton in 1972 and then, about a year later, came out with a little '64 Chevelle that seemed more successful. Quenneville, as is true with most dirt mavens, was never all that thrilled to be trying to keep the car's rear end from sliding, but he did win a few races here and there.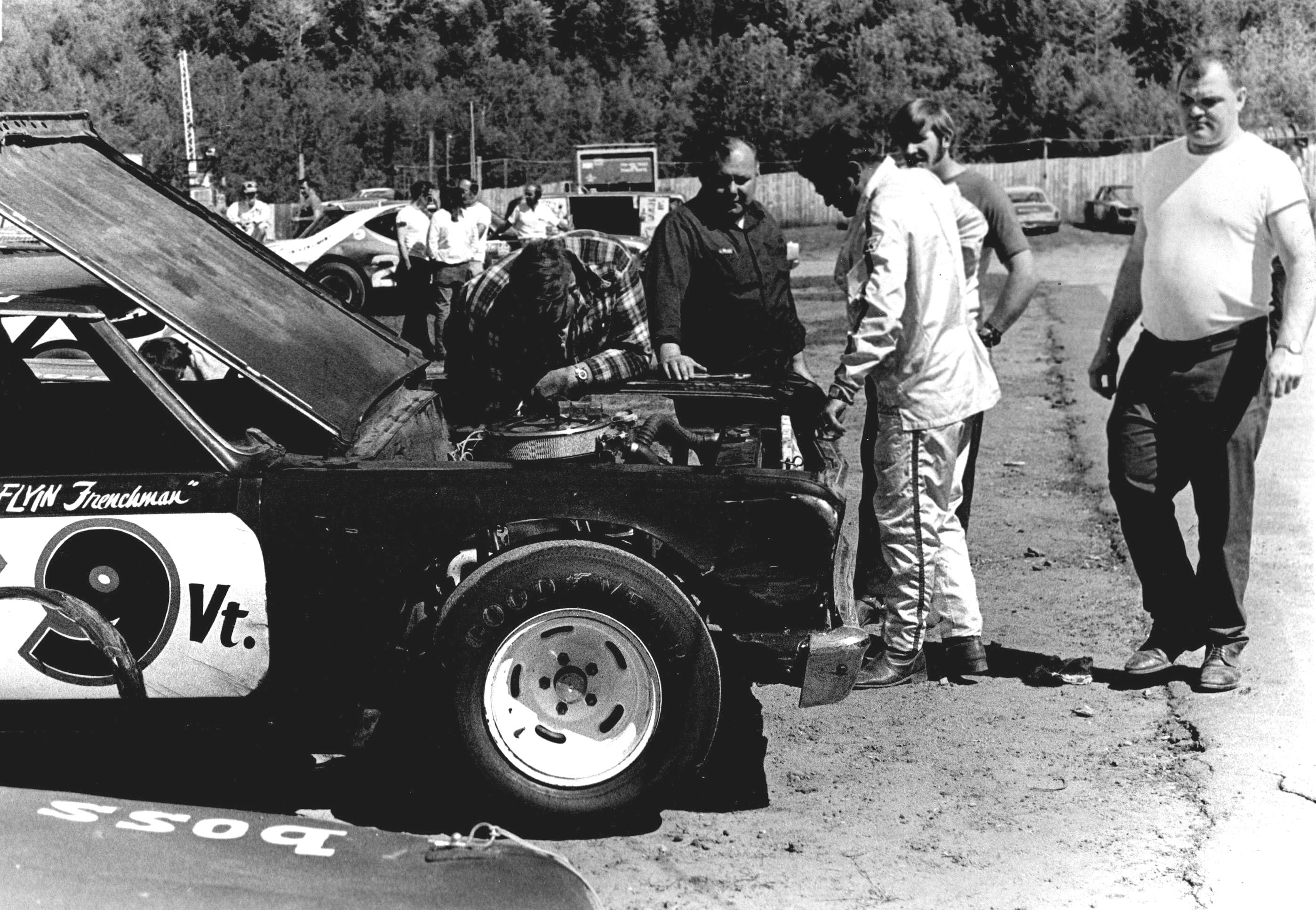 Courtesy of Cho Lee
This is quite the group around Vince Quenneville's car in 1973: [from left] Norm Scarborough, Al Ryan, Quenneville,
Lyle Yantz, and Lee Delphia, future Catamount Official.
When Devils Bowl first paved around 1971, its regulars had no real place to go. C.J, was running some unfamiliar pavement modifieds that usually ran Malta and Plattsburgh. It was somewhat of a break when the track teamed up with Northern NASCAR for the 1973 season. Several Bowl teams decided to build of them disgustin' full-fendered late model things and try their luck. For many, they had to choke back their basic philosophy that dirts' fer racin and pavement's there just to get to the track.
Among those trying a late model sportsman were: Chet "The Jet" Doaner; Johnny Bruno [father of present day star, Mike]; Jay Brown; Quenneville; Austin Dickerman, the flamboyant car owner from Brandon; Charlie LaDuc; and Ray Richards, car owner and brother of C.J.. Donnie Drown, of Salisbury, scarcely settled into Devils Bowl's support division when the terrible paving occurred, held his breath and built a Plymouth to join the big boys.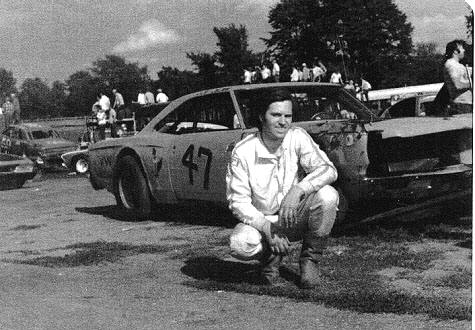 Courtesy of Andy Boright
Small – timer Donnie Drown took a chance and joined the bigger names from the Bowl in trying his luck on the circuit.
The transition was not kind to most of the Devils Bowl crowd. Whereas some of the NASCAR sportsman crowd from central New York had spent years running dirt and pavement in the same week – especially with the All-Star League, they were had more experience and they WERE driving familiar coupes all the while. The D Bowls had totally unfamiliar cars on a totally unfamiliar racing surface; and it didn't produce many good results.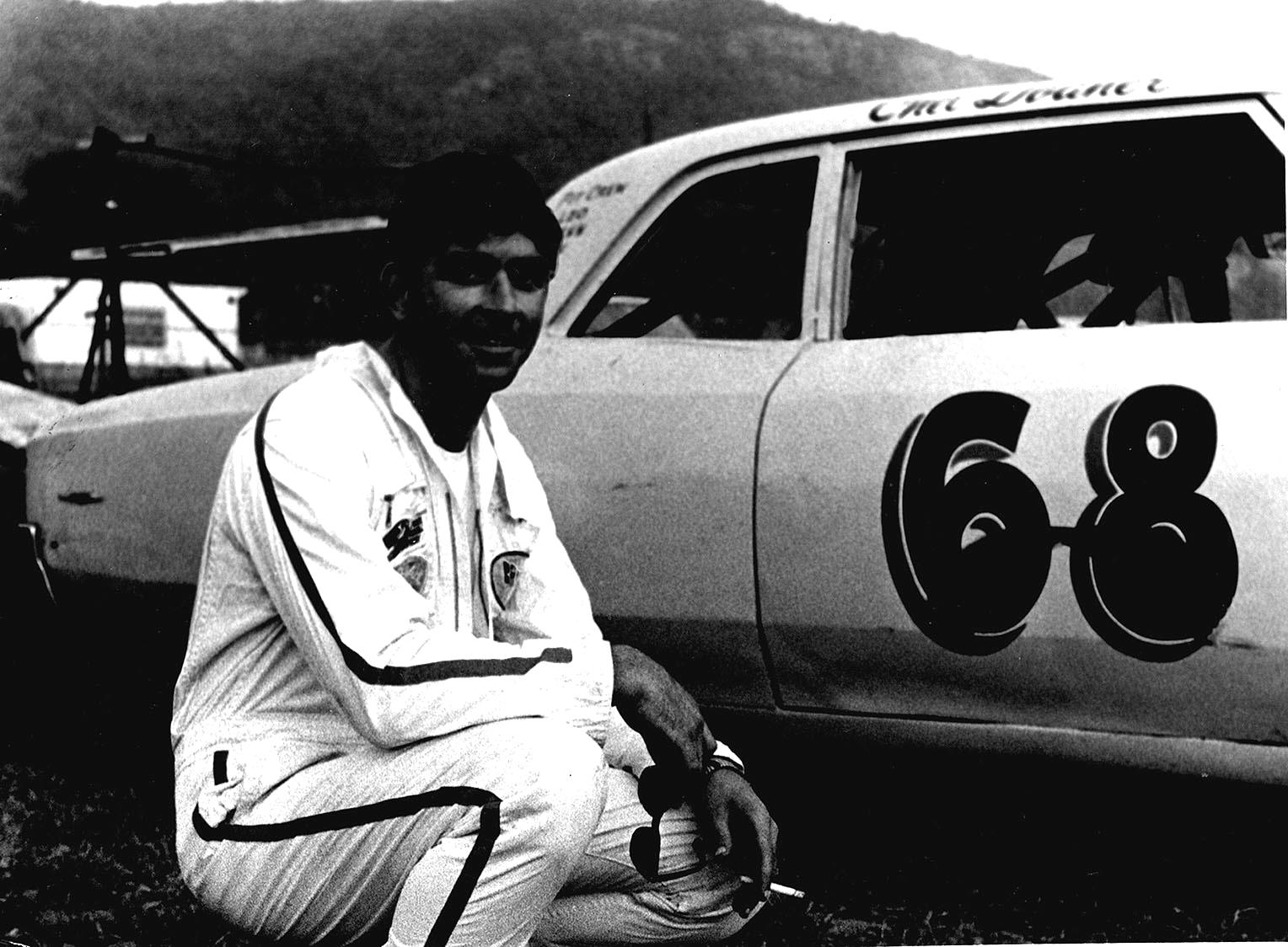 Courtesy of Cho Lee
Chet Doaner, always a big feature winner for the CVRA, has trouble even looking happy
here with this late model he and his group constructed.
The invasion did not end with the Bowl crowd, as a group of veteran Airborne teams also built NASCAR – legal cars and came across the pond to race – primarily at Catamount. 1961 NASCAR National Sportsman Co-Champion Dick Nephew, of Mooers Forks, brought in a big Dodge with sponsorship from the local mopar dealer; Bernie Griffith had another big Mopar [this one a Plymouth]; and Airborne support class star Wild Bill Branham brought the first of what would be several Chevrolets to Catamount.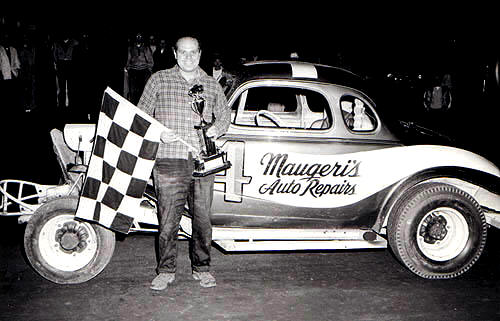 Courtesy of Bill Fifield
Lou Lazarro was one of those New York coupe guys who could switch his car from pavement to dirt, from night – to night and do just fine.
Rene Charland, another National Champion, had joined with the Jay-Lin group out of Massachusetts and they arrived with a 1968 Chevelle similar to that of Quenneville. This came in conjunction with the high-profile John Rosati Ford effort out of the same region as Charland – Riverside Speedway territory. While Rosati made an immediate hit, with success, the Charland program sputtered and he didn't not stay all year – if I remember correctly. Da Champ's main claim to fame that year was actually vaulting the "Widowmaker wall on Turn 4 at Thunder Road and ending up on the lawn above it. This is not an easy task.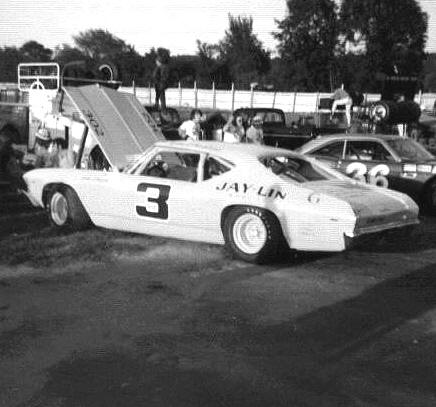 Ladabouche Photo
Charland's Chevelle, with the big sponsor and prominent builder, sits next to the Rosati operation in the pits at Catamount.
Some of the Southern Vermont boys rarely made the attempt to follow the circuit, running mostly at Devils Bowl. Others tried their best to do the whole ridiculous, grinding Northern NASCAR schedule of 1973. West Haven, Vermont's Bob Ellis, having grown up practically in the shadow of Devils Bowl, had only experience in the track's lowest support division when Austin Dickerman ended a brief Northern NASCAR adventure with driver Ed Foley and sold his bright yellow and blue #57 [Jack DuBrul's old '64 Chevelle] to Ray Richards. Richards put the young Ellis in the car, and Bob had arguably the second best season of any of the dirt track boys that year.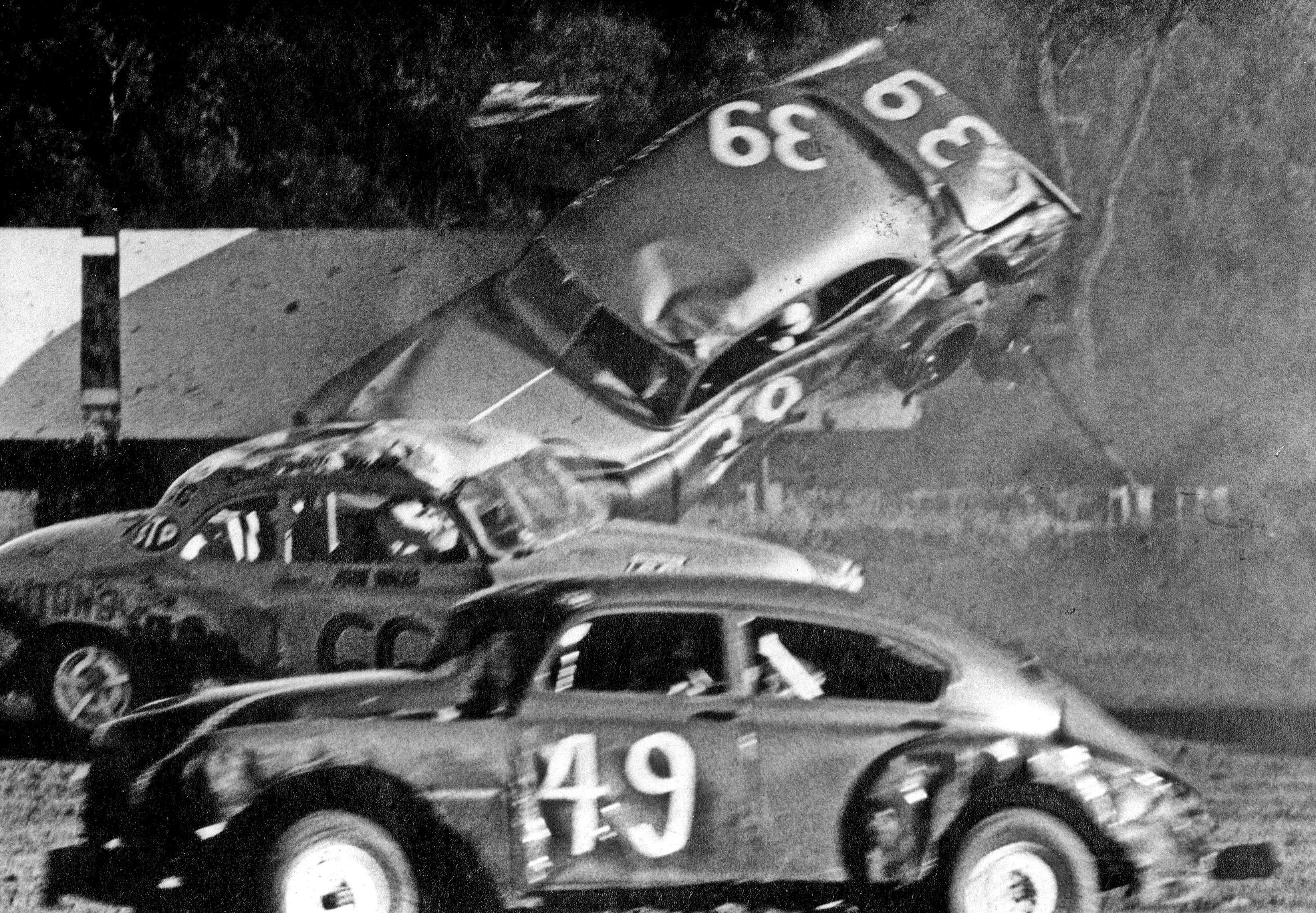 Courtesy of Ed Fabian
Cars of the Dare Devil division crash in Turn One at Devils Bowl during the first year of operation. That's Ellis on
the wall, destroying C.J. 's new metal barriers.
Devils Bowl fans, during that period, either developed new favorites, rooted in vain for most of their out-of-the-element dirt boys, or settled for the satisfaction of watching Beaver Dragon, a sometimes Bowl regular, have a whale of a year – winning the first Devils Bowl feature of 1973. The remainder of the Bowl troops did whatever they could until, mercifully, the Bowl tore up the pavement and went back to what they all did best.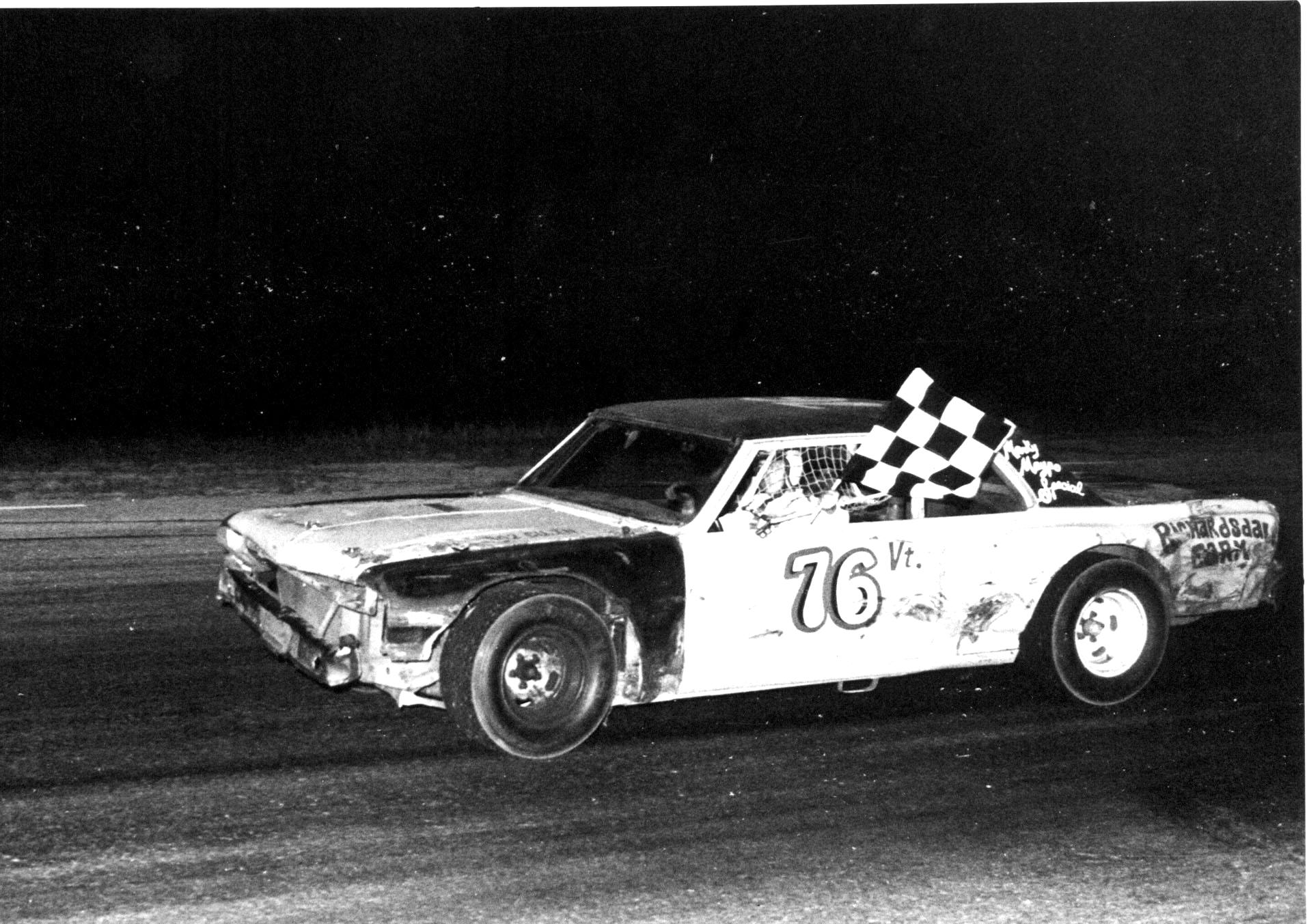 Courtesy of Chris Companion
Bob Ellis, winning a heat at Catamount, looks to be improving in that strange environment.
Ellis was persistent and had a very commendable year with the ex - DuBrul Chevelle.
Return to the Columns Link Page
Return to the Main News Page