THE BILL'S BACK IN TIME COLUMN PAGE
Copies of my column in Mark Thomas' "Racin' Paper"
Column #25 from Column 37
BILL'S BACK IN TIME
By Bill Ladabouche
MORE ABOUT ASHLAND PARK
I've been very fortunate lately, getting a lot of communications from various people offering little bits or whole bunches of information on one vintage track or another. The biggest such contributor was Ben Gurney, a resident of Arizona, who grew up in Warrensburg, New York and whose life revolved around the old Ashland Park Speedway there – the 1950's. Like so many of us, Ben and his friends went to every single race they could manage and spent much of the rest of the time racing anything that could be painted and numbered like their favorite cars: go – carts, soapboxes, bikes, etc. And, just like me, when he was old enough, Ben went to the races armed with notebooks and chronicled much that he saw. While the notebooks and photos are gone, many of the memories are not, thank God.
Ben points out that no one around Warrensburg called the track Ashland Park; they simply referred to it as "the fairgrounds". Ashland Park may have come from Maurice Ashe, proprietor of Ashe's Hotel, the local watering hole at the gateway to the old fairgrounds. Apparently, Ben's paternal grandfather, and dozens of other locals, housed horses at the fairgrounds and raced them regularly until around 1950. One bit of evidence to that end was a rickety, old building Ben remembers that was known as "the Paddock" - situated easterly of the grandstand. It was used for dances and the like, but was demolished (or fell down) sometime during the stock car racing era, as were the smaller horse stables behind the grandstand.
Ben relates as to how his father, a faithful patron of Ashe's establishment came home one day with news that was to affect Ben's young life for years to come. As Ben writes: "One day in 1952, my father, who preferred to spend his summer afternoons at Ashe's Hotel & Bar near the entrance to the Fairgrounds, brought home a cardboard poster he'd been given by Maurice Ashe, the proprietor. I can still see it: "STOCK CAR RACING AT THE WARRENSBURG SPEEDWAY." "THRILLS, SPILLS, PLENTY OF EXCITEMENT". It was to change my life, as well as the lives of many of my friends."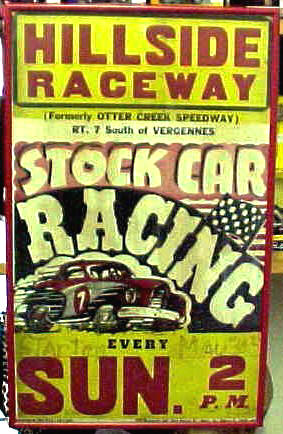 Ladabouche Photo
The poster seen by Mr. Gurney was probably a lot like this one from Hillside, a track in Vermont a few years later.

Ben's recollections of that first race experience in 1952 are similar to ones I had of my first few times, when I was actually old enough to remember. He writes: " The horse track had been converted by the addition of banking of the turns, with a berm constructed around the outside of the track. (I never missed a week of racing!). The track was said to be one-half mile. (Makes sense…it took Wally LaBelle 30 seconds to make one lap!) I believe the photo on your website would be turns #3 & #4, not #1 & #2, since Echo Lake was at the westerly end of the track, and the starting line was on the southerly side straightaway. Outside turn #4 (in the circle of trees you mention), beyond the berm, there was a red horse barn whose roof was used by freeloaders who didn't want to pay the price of admission to the grandstand. They soon put a stop to this practice."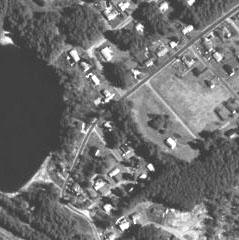 As can be seen in the circled area, turn can still be made out in this Terraserver Satellite photo. Ben thinks they were three and four. [USGS Photo]
Ben goes on to say: "The old grandstand and judging stand from the horse racing days were still usable. I believe the announcer's name was Bob Jennings, and the flagger's name was Les Hillis. The pace lap: "Comin' down, now; they're lookin' good…..and there they gooooo……." The noise, the chaos, the dust…..it was wonderful! I can still hear my father exclaim, "If Pop could see this, he'd turn over in his grave". He adds that, while the kids were thrilled with this new sport in the town, the nearby neighbors were not. The dust was terrible, until it finally dawned upon someone to run a water truck over the track between events. I imagine the technology of pouring thousands of gallons into the track before race time was still undiscovered.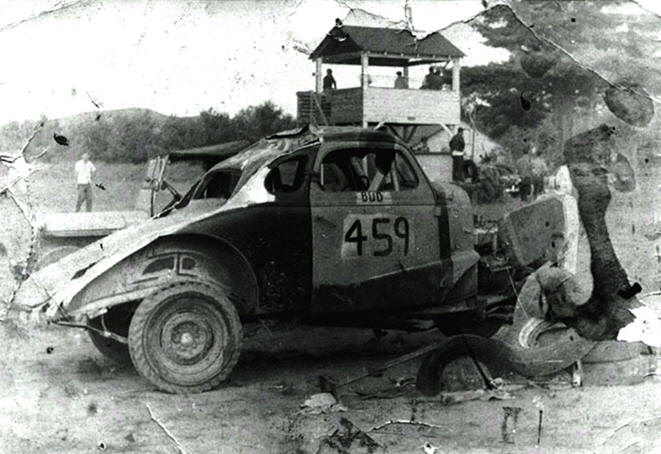 Courtesy of Mike and Julia Visconti
Many of the cars there were crude local jobs. This is Art Visconti's first car in the pits
after being wrecked.
Many of the cars there were very crude local jobs, with only a few showing any signs of any racing knowledge, let alone professionality of any kid. Gurney speaks of Saratoga Springs' Spencer Parkhurst coming up with his #36 [a car I had seen at Pico around the same era]. Ben notes that , while most of the cars came in on a chain, stiff hitch, pushed or may on the back of a hay truck, Parkhurst arrived with a specially – made trailer outfit and a hired driver named Smokey Stover. Stover, whose picture is shown in the Fonda book, didn't last long as the driver. He went off the track, rolled, continued driving in the Netherlands outside the track apron, and appeared back in the race with a scuffed vehicle. After that, Parkhurst tried fellow Saratogian Georgie Baumgardner, who might not have been much easier on the car. I am not quite sure why Parkhurst didn't driver himself; he was an accomplished driver.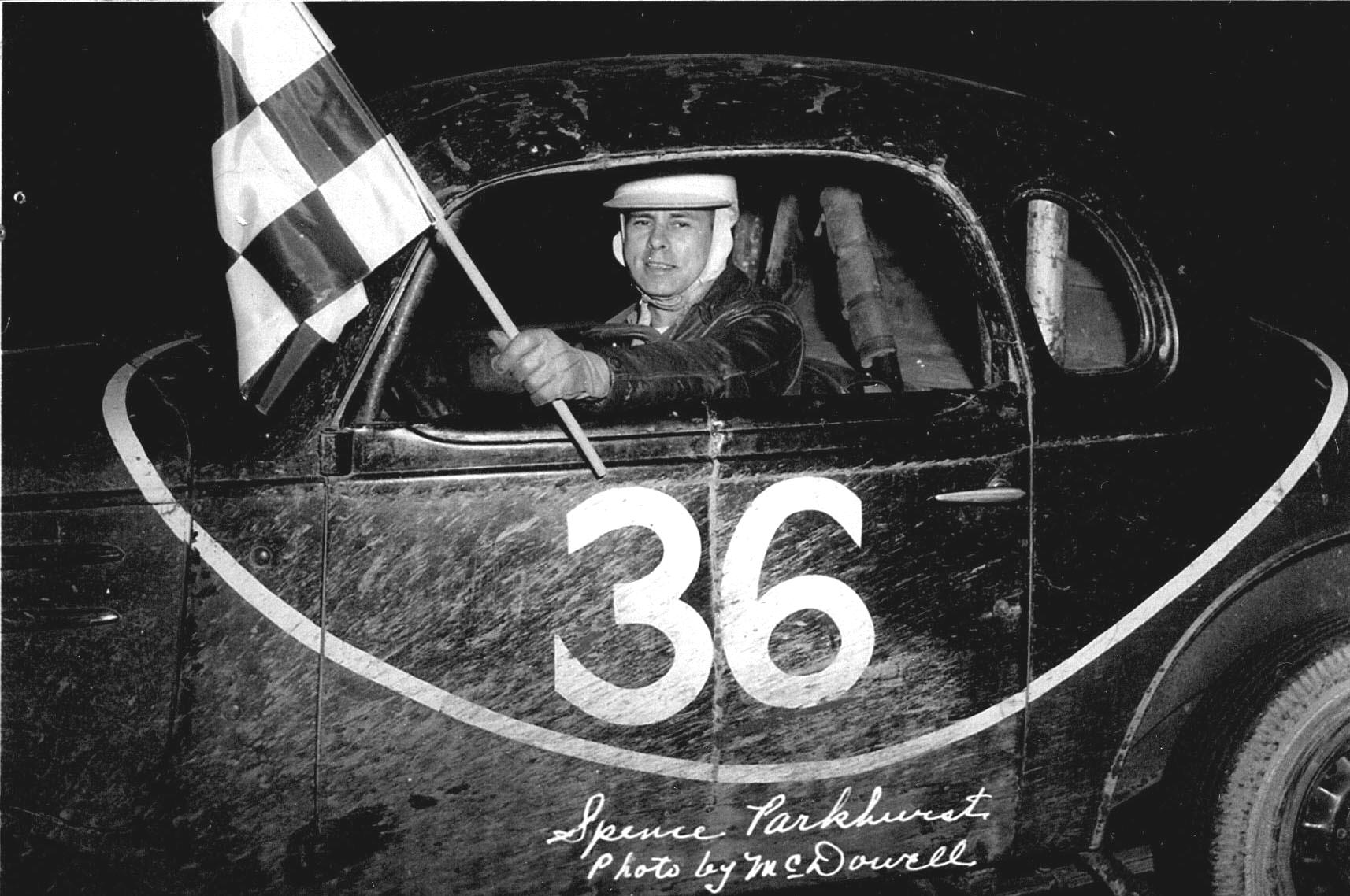 Courtesy of C.J. Richards
Spence Parkhurst, a year after bringing Stover to Warrensburg, posing in this shot
at Stateline Speedway.
Another of the invaders from a bit south was the Argyle Racing Team of Bob Hoffer. The fact that the car seemed to be professionally lettered seemed to make a big impression on the locals. From what I can gather, Hoffer either drove the 1940 Ford himself or used Roger Gauthier, a youngster out of Fort Edward, NY. I recall that car as one which enjoyed a long life, having later been used by Vince Quenneville, Sr., Art Visconti, and Irish Ed Kelley. The X9, Hoffer's car, never made any big waves when I saw, but I don't know how they fared in Warrensburg.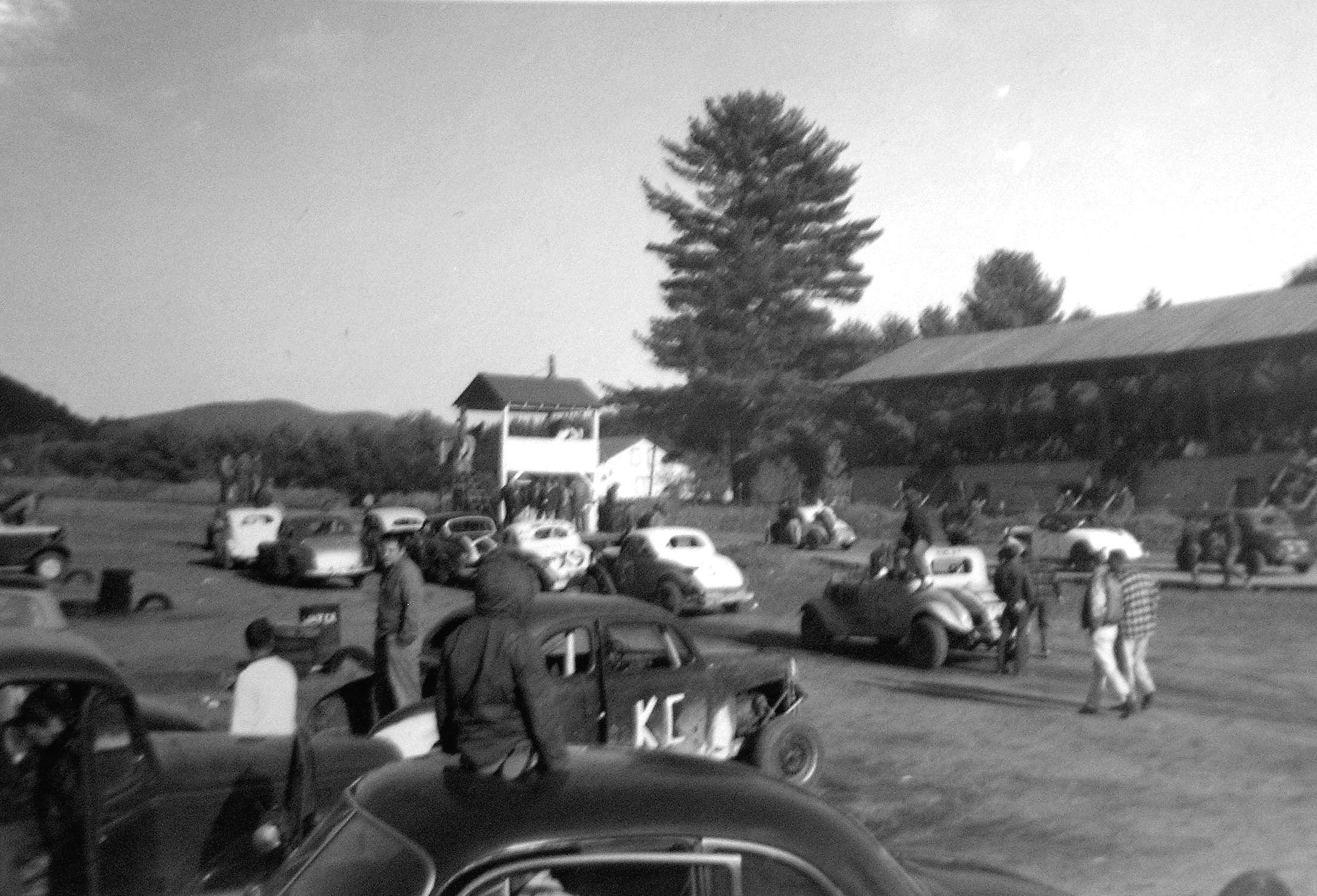 Courtesy of Hackel Family

The X9, with Bob Hoffer sits in a pit lineup at Ashland Park. Behind him is a car he sold that year, and the car
in the rear is the 6Pac of Wally LaBelle.

There is a ton more to glean from the information Ben Gurney has sent. The next column will be another installment of that. I want to offer apologies to Eugene Bushey and his family for calling him Ernest in the last column I did. Natural error as Ernest was his father. Eugene is the man who has saved the remains of the Gaylord Rowe T-800 at his business near Ellenburg Depot, NY. Eugene has some more for me to see, including some memorabilia from Airborne Speedway. I will be spending some time in the North Country with him and Gary Nephew ASAP.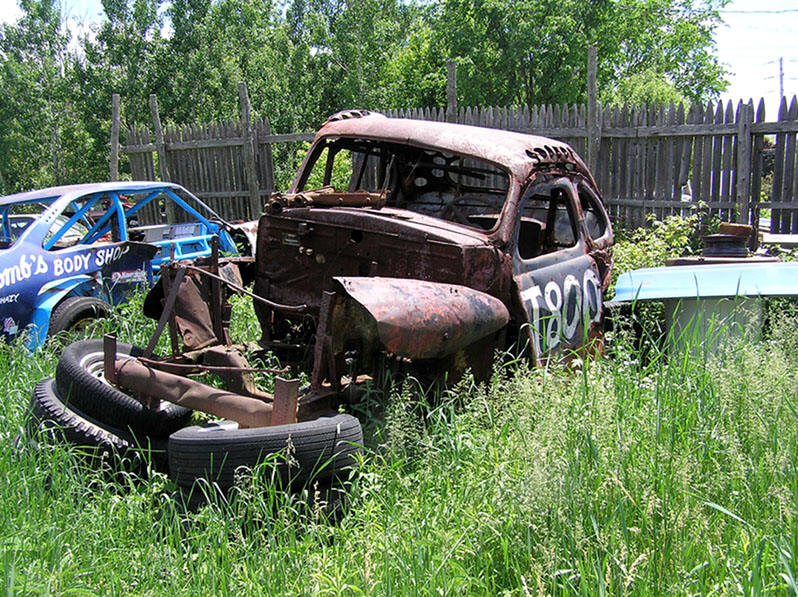 Another view of the T-800 remains out at Eugene Bushey's garage. [Bill Ladabouche Photo]
Another topic I wanted to hit upon briefly was that of Rutland, Vermont's Pico Raceway. I have gathered what I could for information on this, the first track I ever was brought to for seeing the sport of stock car racing. I was aware of its beginning, with Gino Franzoni, Abe Newman and Patsy Romano – around 1951; but, historian John Nelson happened upon some other information in the Middlebury College library microfiche collection. Nelson sent me the information recently in that exciting flurry of emails I received this past week. According to the info dug up by John, Fairmont Motor Park Speedway had a one year's jump on Pico and the two had to split the fans. Pico tried to expand its seating; but it seldom ever managed to fill the 4,000 seat capacity. Both were bowing out by 1953, and much stronger programs had opened at Mettowee, in Granville, NY and Stateline, in North Bennington, Vermont.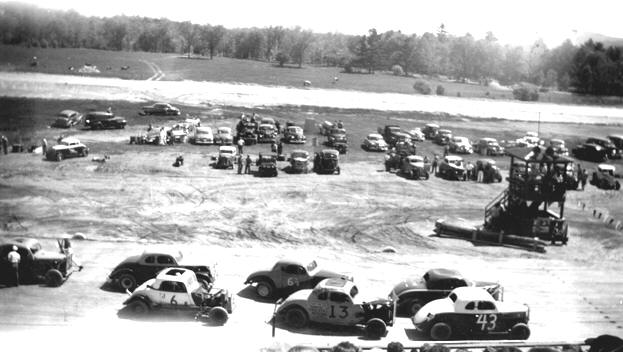 Courtesy of Jerry King
A 1952 heat race is ready to go at Pico Raceway in 1952.
As previously mentioned in this column, tracks like Warrensburg were also vying for the limited number of race teams and the fan support. Fairmont never opened again until 1961,when C.J. Richards had a run of four good years before starting up Devils Bowl. As Nelson puts it, there were two abortive attempts at re-opening Pico: "Rutland Speedway (1954) and Green Mountain Speedway (1955). In the latter case they announced a Midget and Big Car race for Memorial Day (no stock cars), but the Herald carried no results and never mentioned the track again."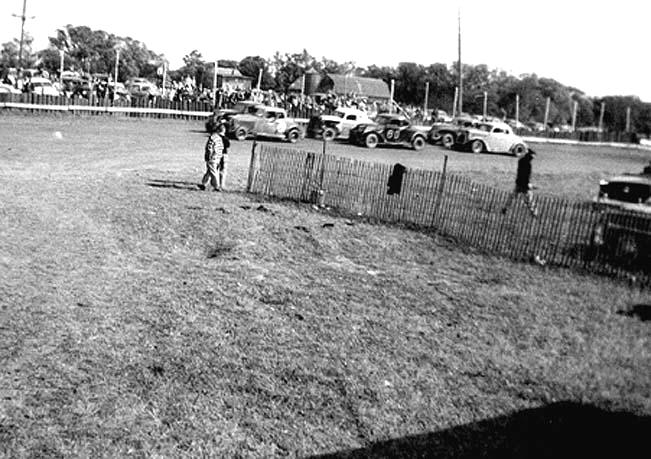 Courtesy of Owen Family
A heat race starts at Colchester Raceway, a competitor to the Colchester version of Green Mountain Speedway.
That is quite a bit more than I knew before. The Romano family threw out all their records of the track about five years ago, before I was working on the history preservation aspect. That particular loss is one of the main reasons I started getting involved. The 1955 Pico name of Green Mountain Speedway is the second such name of record. The 5/8ths mile track near Williams Road in Colchester, Vermont – on the Brigante property – was also supposedly named Green Mountain, according to Milton resident Craig Lewis.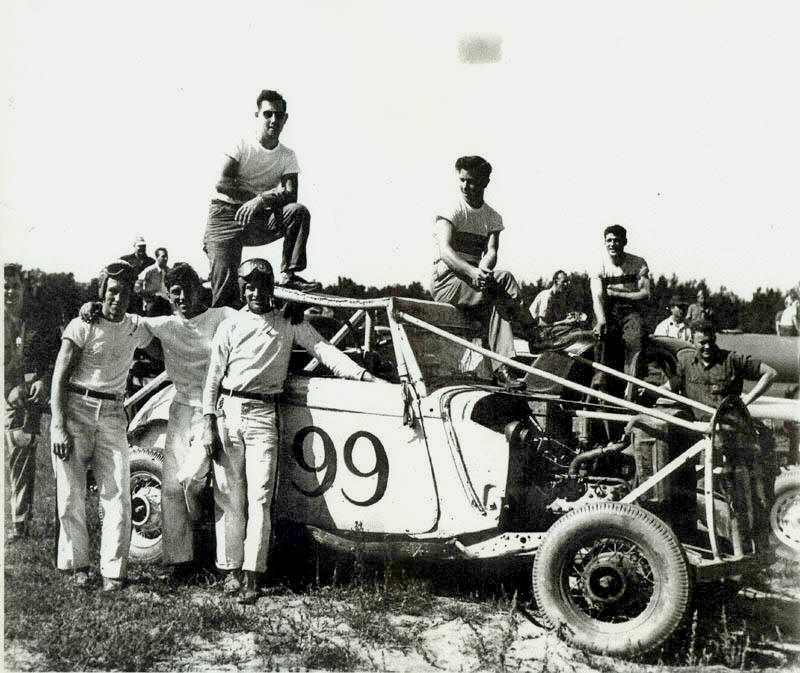 Courtesy of Jodie Trayah, via Steve Jangraw
A group of drivers at the Green Mountain track around 1950.

Return to the Columns Link Page
Return to the Main News Page