THE BILL'S BACK IN TIME COLUMN PAGE
Copies of my column in Mark Thomas' "Racin' Paper"
Column #24 from Column 36
BILL'S BACK IN TIME
By Bill Ladabouche
FINDING A LOST TREASURE
I'm sitting here wondering how many people noticed that I forget to change the column heading on the last column I did. Talking about New Yorkers can hardly be construed as The New Hampshire Invasion. Oh well, with all the extra people milling around my house right now it is a wonder I know who I am. Also, please forgive the slow progress of my website. I am restricted to dial-up right now as my high speed modem died and I can't afford another right now.
Twenty – plus years ago, my youngest son and I were journeying up through the wilds of northernmost New York, almost to the Canadian border, to see the former 1961 NASCAR National Sportsman Co-Champion Dick Nephew, in Mooers Forks, NY. Dick was quick to point out that we had better be looking for the turn to Cannons Corners, because he really lived there and not in Mooers Forks. If you ever talked to Dick, it was quite apparent that he had strong ties to French-speaking Quebec – and that area of New York actually resembles the Eastern Townships of Quebec almost more than it does other areas of New York State.
At any rate, Seth and I were really looking hard for that sign for the turnoff when I stopped my old El Camino dead in the road, on Route NY 11. There was this ancient junkyard, next to a barn; and, sitting in the midst of the wrecks was the most perforated old stock car body I ever did see. The 1941 Ford coupe was riddled with holes around three o four inches in diameter – all over everywhere except the doors. I was fascinated, but a national champion awaited. So, off we went and saw Dick. Seth had one experience that he has not forgotten today, despite now being 33 and having survived a roadside bomb in Baghdad. But that's a story for another day.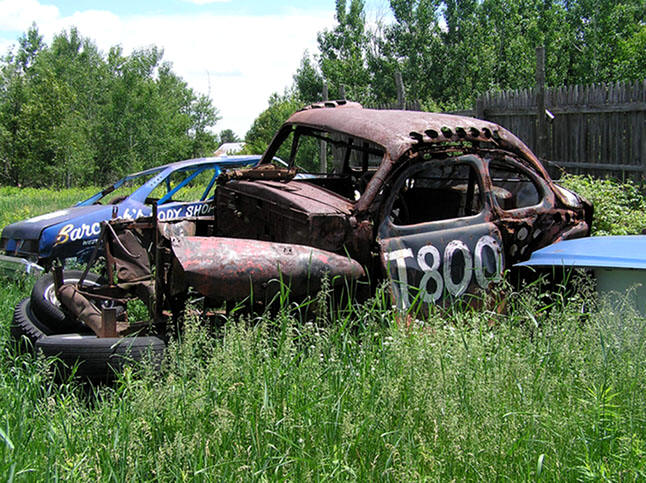 Ladabouche Photo
The T800 sits, in its new resting place in Ernest Bushey's junkyard, presenting a strong contrast
to the modern era late model Chevy next to it.
I had mentioned finding the derelict to a number of people including Wes Moody, and I think he may have actually known what it was; but, time went on and I didn't get back to it. After all, I wasn't hooked on the kind of history work I am currently doing. Several times after, in the 2000's, my present wife and I would go on rides and I would tell her about the mystery junkyard and the hole – riddled car; but, we never saw it. I insisted that it should have been near a particular barn on Route 11 south of Ellenburg Depot.. The improved barn suggested the owners had decided to start using it again –and I assumed the junk must have been hauled away and probably crushed somewhere.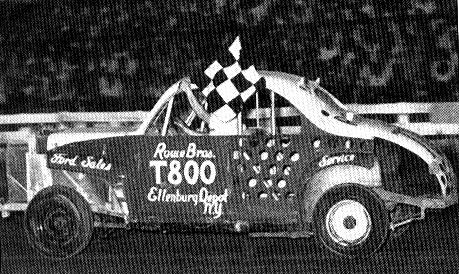 Wimble Collection From Fonda Book
Wimble takes a victory in the highly – unusual – looking Rowe T800 around 1955. [Bill Wimble Collection]
Except for the nagging notion of where the car went, I knew nothing until the Fonda Speedway book was written by Lew Boyd, Jim Rigney, and Andy Fusco. There, in the chapter on Bill Wimble, was this number T800 – a car from Ellenburg Depot. It was described as one of the two cars from the Gaylord Rowe stable, a team which brought Wimble the 1955 track championship at Airborne Speedway and statewide prominence by the following year.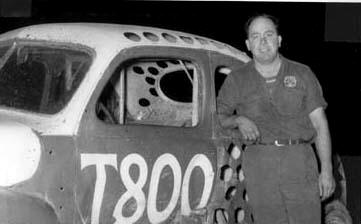 Mackey Photo Courtesy of John Rock and Bobby Castine
Mooers Forks driver Dick Goodelle poses with the hole – riddled
T800 at Riverside Speedway in Montreal. Goodelle is leaning on metal the
Wimble photo does not show. Different car or alterations ?
A tall, unassuming man, Fink was surprised and very grateful to be recognized and to talk about the good old days of racing in Eastern New York. He enjoyed seeing an album full of old Fonda era photos and that loosened up some memories for him. It turns out that Carl was racing well before his participation in the Golden Era of Fonda. He even had brief experience at Burden Lake, Harold Garstang's track late 1940's track that was so old, they practically had to shoo dinosaurs off it before they started watering it for the day.
Wimble reportedly drove the swiss cheese – looking car for Rowe for two years, although I suspect the Rowe #26 was probably used at more tracks because it conformed more to most people's rules. The very potent T800 eventually ended up being driven by a Dick Goodelle – probably from Upstate New York, and was run primarily north of the border at tracks like Riverside, near Montreal. Then at some point it ended up beside Route 11. Sometime between the Wimble era and the Goodelle era, the body was added to – because I note that the present car and the car in Goodelle's photo has side window metal, while Wimble's shot has none.
I continued to question people about the disappearing wreck until I happened to be at the Burlington Chopper and Cycle Shop of Darryl Tucker, in Vergennes, Vermont. Tucker, a son of a former car builder and track owner, has the same interest in racing history as do I. He told me that he and his friend, Ox Osterman, had ridden their Harleys up towards Ellenburg Depot and had stumbled onto a junkyard run "run by a little French guy" and that he had actually laid his hands upon a car riddled with holes all over the body.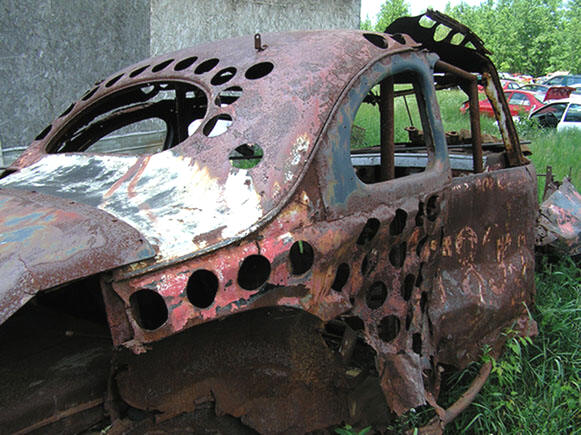 Ladabouche Photo

This other side view shows evidence that replacement body panels may have been added before the demise of the car. [Bill Ladabouche Photo]
It still took me another year of driving up there unsuccessfully before I met Ernest Bushey, the owner of the junkyard, at Mike Perrotte's pre-season Airborne show at Plattsburgh's Crete Civic Center. Bushey explained to me that – yes, the car had been moved from where remembered – and yes, I could go up there and photograph it. I finally found the car on June 10. It was like Indiana Jones finding the grail – with almost as many snakes involved.
Finding the car is the kind of good stuff we historians enjoy. Cho Lee has unearthed a former Geoff Bodine car in Northeastern Vermont, the car having survived years at Bear Ridge Speedway. Otto Graham has many photos, as does Rick Parry, of car hulks sitting out the weeds behind the buildings of men who refuse to part with them. I know Rudy Charbonneau's last Devils Bowl car sits out behind a barn at his place in Whiting. I had rescued a 1937 Chevy coupe, along with the late Harry Rathburn; but, upon Harry's death, the car ended up crushed. If anyone can help me with whose car it was – I'd be obliged.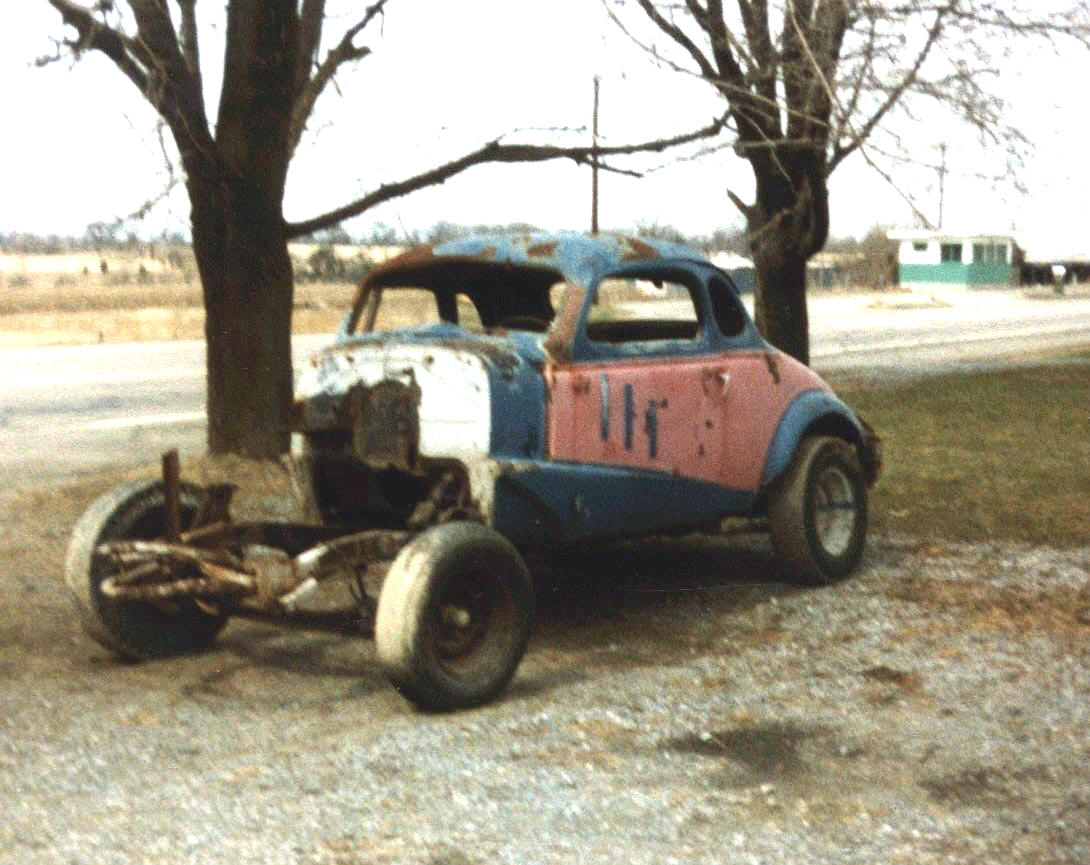 Ladabouche Photo
This was going to be a project of mine and Harry Rathburn's. Does anyone recognize it ? It probably ran at either Malletts Bay or Otter Creek. It was pastel pink and blue.
I can add to the original article that I now know "the little Frenchman" who owns the T-800. He is my friend Eugene Bushey and he isn't that little. It is my absolute delight to remind Gene that he is actually younger than I am, and so I like to ask for him to respect his elders. [Which of course he does not]. We have gotten a few more good shots of the old hole-riddled 1941 Ford since.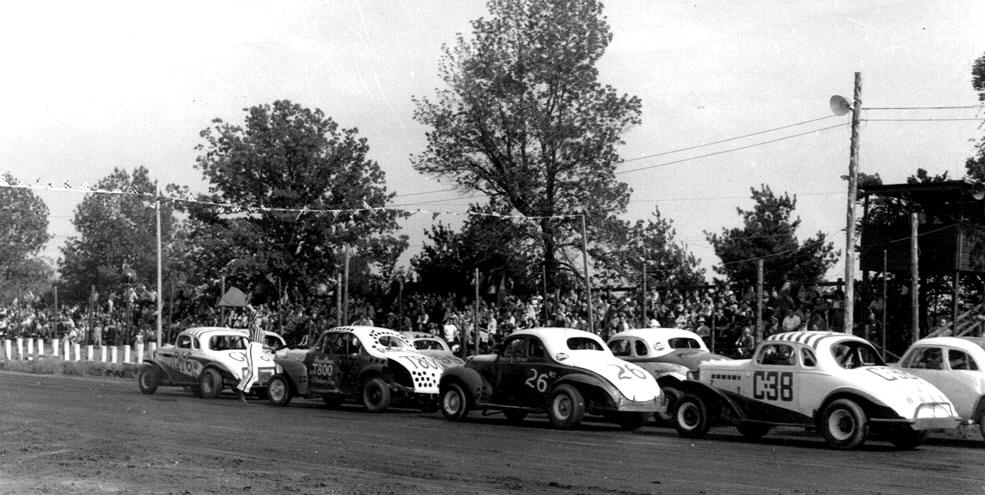 Bob Mackey Photo Courtesy of John Rock and Bobby Castine
This beauty shows both Rowe cars - T-800 and 26. Probably Goodelle in front of Wimble. GM6 is likely Dick Woodley; 99, Charlie Trombley in the Mose Suprenant car; George Baumgardner outside Wimble, C-38, Buck Holliday in the Floyd Geary car; and an unknown in the rear. Good stuff !
Return to the Main Page
Return to the Columns Link Page
Return to the Main News Page