THE BILL'S BACK IN TIME COLUMN PAGE
Copies of my column in Mark Thomas' "Racin' Paper"
Column #21 from Column 33
BILL'S BACK IN TIME
By Bill Ladabouche
AN UNEXPECTED TREASURE TROVE
I found myself standing around the pits at Thunder Road on the Saturday before the season opener – virtually by myself. As is the tradition, the cars were almost all down in Barre, at a car show. I remembered they would then be driven – through the streets of Barre City – up Quarry Hill, to the track…. and that had not begun yet. I had just about concluded that going straight to the track was a mistake when I happened upon a small group of guys near the huge Busch Series - style hauler of Brian Hoar.
I recognized my old friend Ed Companion, a former Hurricane division competitor at Catamount and a fellow public school teacher. Ed had with him a cousin, Chris who let me know right off that he had a "box of pictures " for me – when he'd remember to bring them to the track. I was interested, as usual, but figured I might be lucky if I saw them that summer. But Chris was determined, and he called his wife, right then, arranging to have them unearthed for the following morning.
Sure enough, when I strolled over the hauler of the eventual first-time winner, Scott Payea, there were the boys with the pictures ! I took them out back, on the tailgate of one of the trucks with a somewhat-interested Jim Payea looking on. It was then that I lost touch with where I was and with the thousands of people in close proximity with me. Definitely Twilight Zone time !
What was coming out of that beat-up photo box, which had been rescued from the tower at Catamount the afternoon the Milton Fire Department got to use the structure for hose practice, was an unbelievable mixture of photos from not only Catamount, but of tracks from the early 1950's, on up ! Chris [and father, Randy] had no idea what they had lent me. There were better copies of photos I had struggled to scan from stained old track programs; there were shot of tracks like Fairmont Speedway and Stateline, which may have never been seen before; and there were scads of Catamount pictures – from the early 1970's.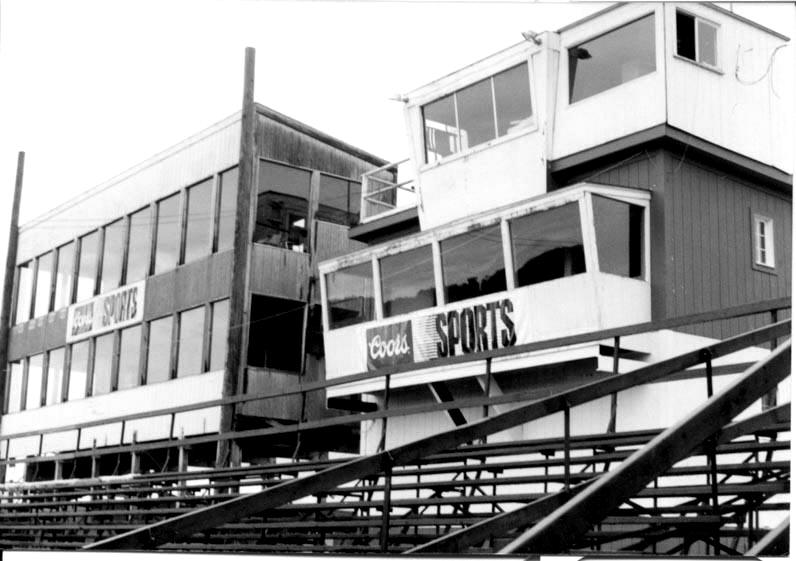 Steve Pecor Photo
The final version of the Catamount tower, with luxury boxes, before being burned by the huns.
I theorized this was a bunch that Rene LaBerge, Sr. must have used in a number of program productions, stashed them in the press section of the tower for future retrieval, and forgotten them there. But how early Lebanon Valley and possibly Whites Beach photos got put in with pictures of Hurricane driver Perry Poquette and one-year late model driver Fast Eddy Ruggieri made no sense to me then – and still does not. When I had finally gone through the impressive stack once, and turned, now alone, and realized I was at a busy place with hundreds of other people ! This collection was that good.
My hope is to get some of the unknown photos out in columns like this and hope that someone will help me identify some of the people or cars. I realize a lot of this stuff would do better in a paper that reached more of New York, but I'll give it a try with this one. My first photo [by Irv Conroy] is one of a rough and ready – looking group of drivers who, almost certainly, ran at the long – closed Whites Beach Speedway near Saratoga, New York. The guy in the middle with the well-coordinated jacket, the cigar, and big smile was Jollie Ollie Palmer, from the Albany area of New York. I wonder if the fguy on the far right might be Orlando Papa, who is mentioned in the Fonda history book. The rest are not familiar to me at all.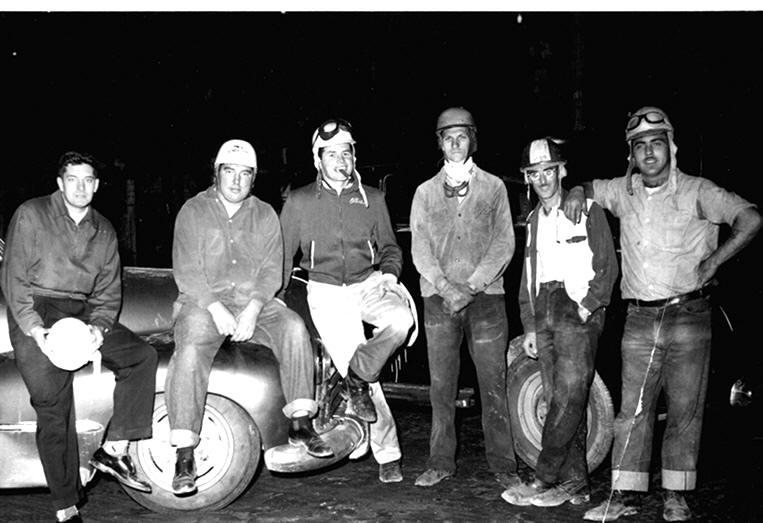 Irv Conron Photo Courtesy of Chris Companion
This is the drivers' group shot from what appears to be the late 1950's, possibly at Lebanon Valley.
From left: Howie Westervelt, Lou Palmer, Ollie Palmer, Lou Hacker, Bob Kudlate, and Henry Bouchard.
The next shot that fascinates me is the Ray Williams photo taken of a late model car at Lebanon Valley Speedway – around the same time as the Whites Beach shot. A bunch of guys, mostly hamming it up as straw hat – wearing farmers, pose in front of a car whose numeral is hidden. Now, I am not a Valley expert, but the guy in the middle who is not wearing a getup looks a lot like Joe Messina. On the car, it looks like it might say that the driver is someone named Goodermotte – and that could be Kenny or Dee. If anyone know what this rare shot is all about, let me know. Joe Grossetti, whose dad was active at the Valley in this era, couldn't ID any of these men.

Courtesy of Chris Companion
This rural-looking crew somehow just doesn't look like they spent all day walking around with a piece of hay in their
mouth. It is Lebanon Valley stalwart Dee Goodermotte and crew, pulling a spoof.
There are few shots from the Fairmont era that I ever got to see because I took a lot of my own pictures and I didn't have the dough to buy from the photographers' stands in those days. Four of the photos in the box were professional shots I had never seen before. I recognized ones like Chet Doaner and Vince Quenneville, Sr.; but, there was this #15 which I am not particularly familiar with. It really looks to me like Ray Richards, brother of CVRA founder and then-track promoter C.J. Richards. I know a car of similar body with the number 15 did pass through his hands on the way to the late Jimmy Spaulding. But, I don't know if this odd – looking rig is Ray or not.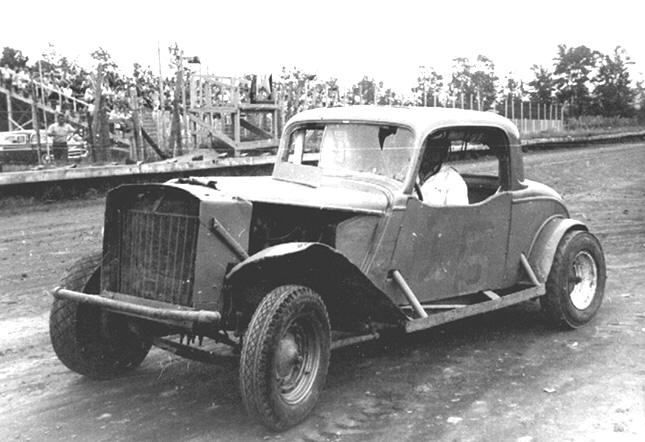 Bob Frazier Photo Courtesy of Chris Companion
Ray Richards, brother of the Fairmont promoter, with one of his cars - at Fairmont.
The final photographs for this time are from Stateline Speedway, in North Bennington, Vt. Of that, I am sure. They are from the earlier era, when the bleachers did not have the roof over them. I would guess mid to late 1950's. In both shots there is a #27 which very well might be the late George Welch, a New York driver who was killed while serving as a flagger at a New York track. One car is the #99 of Doug Garrison, and one is clearly the mighty Steve Danish. The rest, I don't recognize. Email me or write me if you have ANY information on any of these photographs.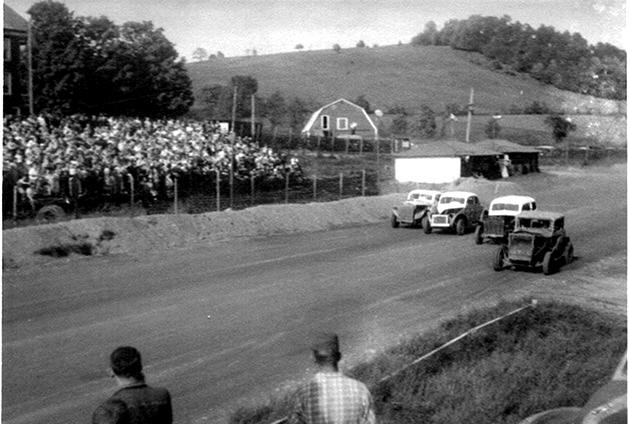 Courtesy of Chris Companion.
A heat comes down the frontstretch four abreast at Stateline. Not the safest track ever, note the buildings practically on the racing surface. Steve Danish [outside], George Welch, and Doug Garrison. Car inside unknown. [Courtesy of Chris Companion]
I want to take a chance to give Chris Companion a public and well-documented "thank you" for this favor that he has done me and all the racing historians in the area. Cho Lee and Paul Zampieri were salivating over them before I took them home. We know how significant this kind of discovery is, and we realize how much it does to help preserve the history of racing in the Vermont region before it is lost forever.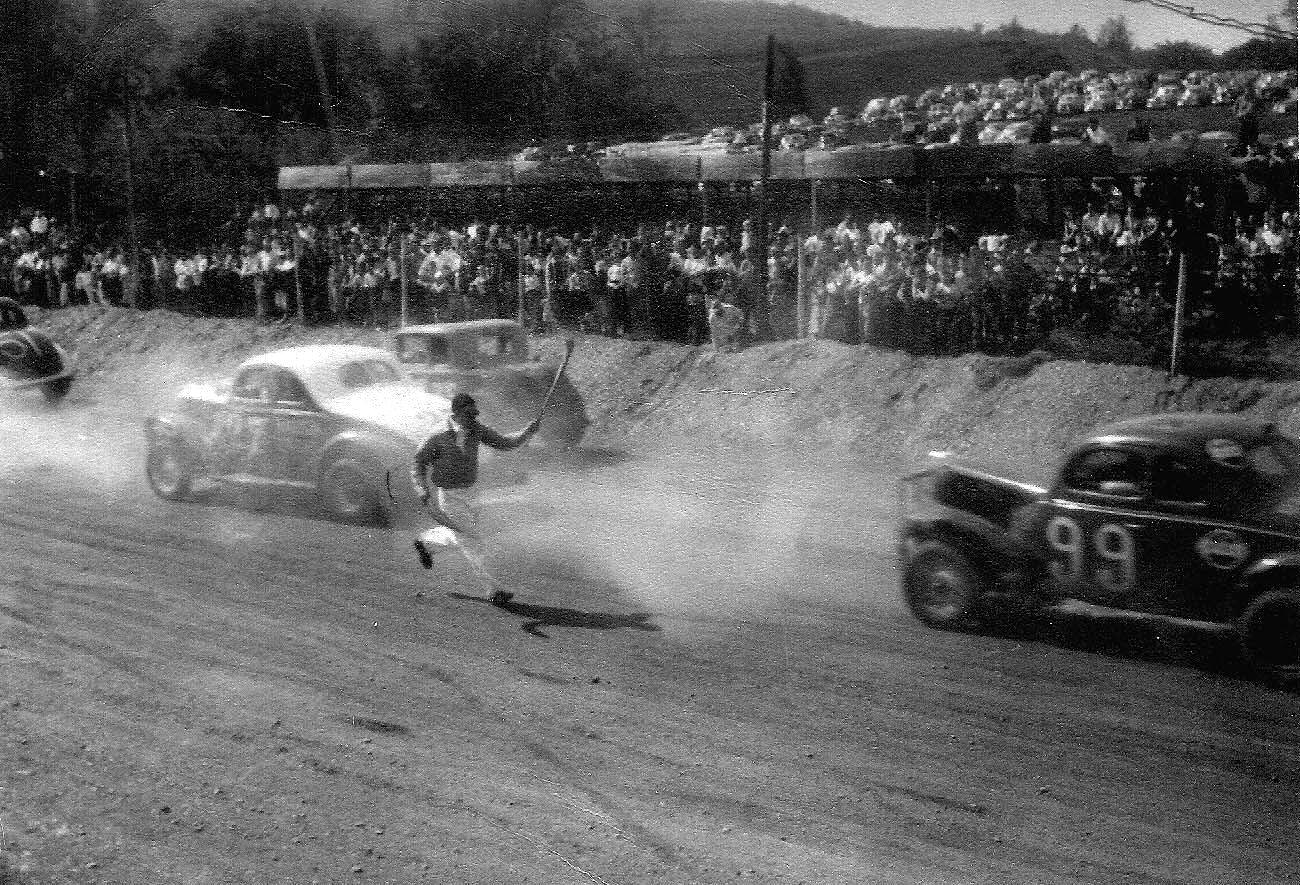 Courtesy of Chris Companion
A field of cars takes the green from Chet Hames at Stateline.
27, George Welch and 99, Doug Garrison.
Return to the Main Page
Return to the Columns Link Page
Return to the Main News Page